Working on the Future: Students gain invaluable real-world experience through ESU 9's 18+ Program partnerships
Working on the Future: Students gain invaluable real-world experience through ESU 9's 18+ Program partnerships
By Tyler Dahlgren
Cesar Ramirez doesn't let working in a soap factory keep his hands from getting dirty.
They might always smell good, one of several perks of working at Pacha Soap Co. for a trio of ESU 9's 18+ Program students who spend their mornings at the company's fulfillment facility in downtown Hastings, but they're not unaccustomed to the dusty residue of a solid day on the job.
"Getting my hands dirty and meeting new people, that's the best part of my job," said Ramirez, a student from Harvard High School. "We have fun, and we work hard."
Harvard provides transportation for Ramirez and classmate Eric Holt each morning. Claire Johnson arrives from Adams Central at the same time, and the three student employees sit down with 18+ Program Director Sally Carter for a brief meeting to preview the day before heading to their job site, which rotates throughout the school year. The team recently started working at Earl May, for example, just in time for spring.
"Then we get in the car, and we go to work," said Carter. "When we start a new job, we work maybe an hour, an hour and a half. As we're there longer, and as they get more used to it, that time increases. By this time of the year, we're up to two hours and sometimes more."
ESU 9's goal is to provide the students with a variety of first-hand experiences and, ultimately, a steady job when they're ready to make the transition to independent living.
"This opportunity gives the students a practical foundation and an experience that teaches them much more than just talking about these things," said ESU 9 Special Services Director Joe Haney. "What we really try to do is bridge these young people back into their communities."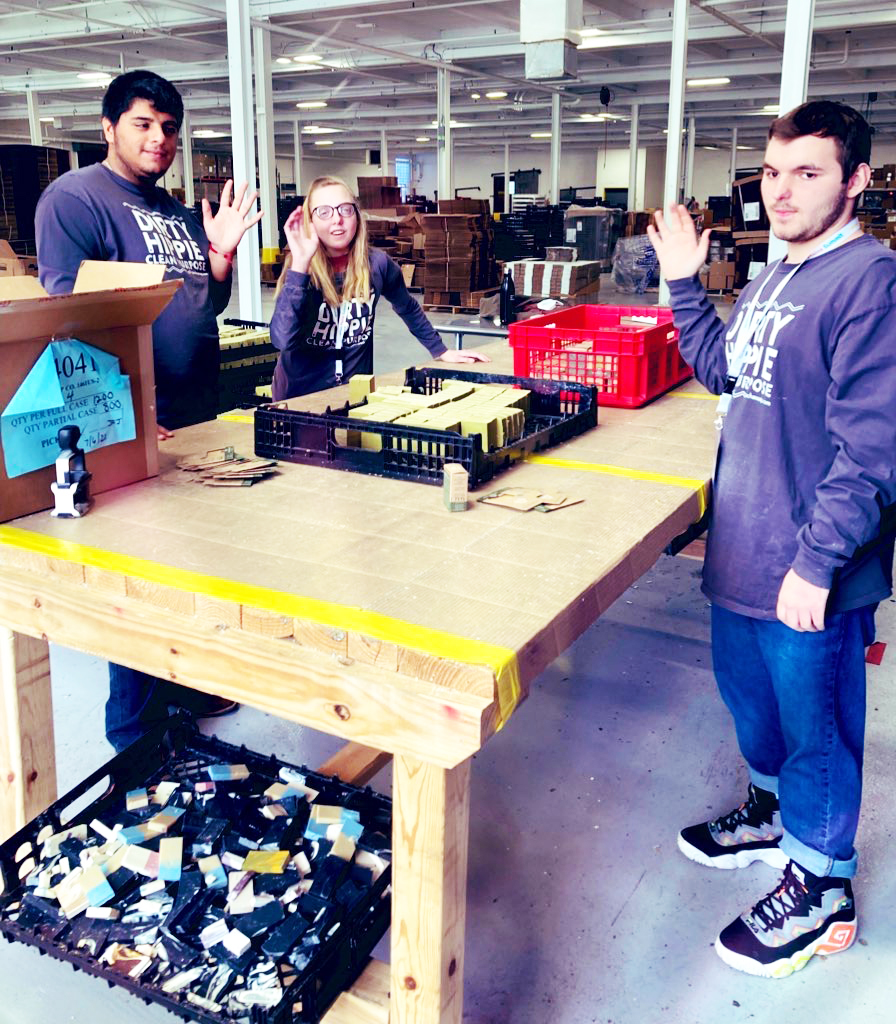 Students who enter the 18+ Program are commonly on Individualized Education Plans (IEDs), and sometimes deal with emotional or cognitive issues that require personalized attention. The objective is to open as many doors and foster as many relationships, connections and life skills as possible.
"We're trying to give them experiences that will help them not just survive, but thrive in their hometowns," said Haney. "This opportunity with Pacha Soap Co. was an excellent opportunity that helped us do just that."
Additionally, ESU 9 has formed partnerships with Casey's General Store, Dollar Tree, Early May, Tractor Supply Co. and more. The program has held job tours and hosted representatives from the Air Force and the Navy. They've taken the students on apartment searches and brought in real estate agents to help with the process. Anything to help with the next step.
"The relationships we have with businesses in the Hastings community are super important," said Haney. "Nebraska is set up on relationships, and if you don't foster those, then you don't have a program. It's that simple."
Carter jokes that her program is the best smelling in the state, though aligning the partnership with Pacha Soap Co. took some persistence and, because of the pandemic, patience, which ended up paying off.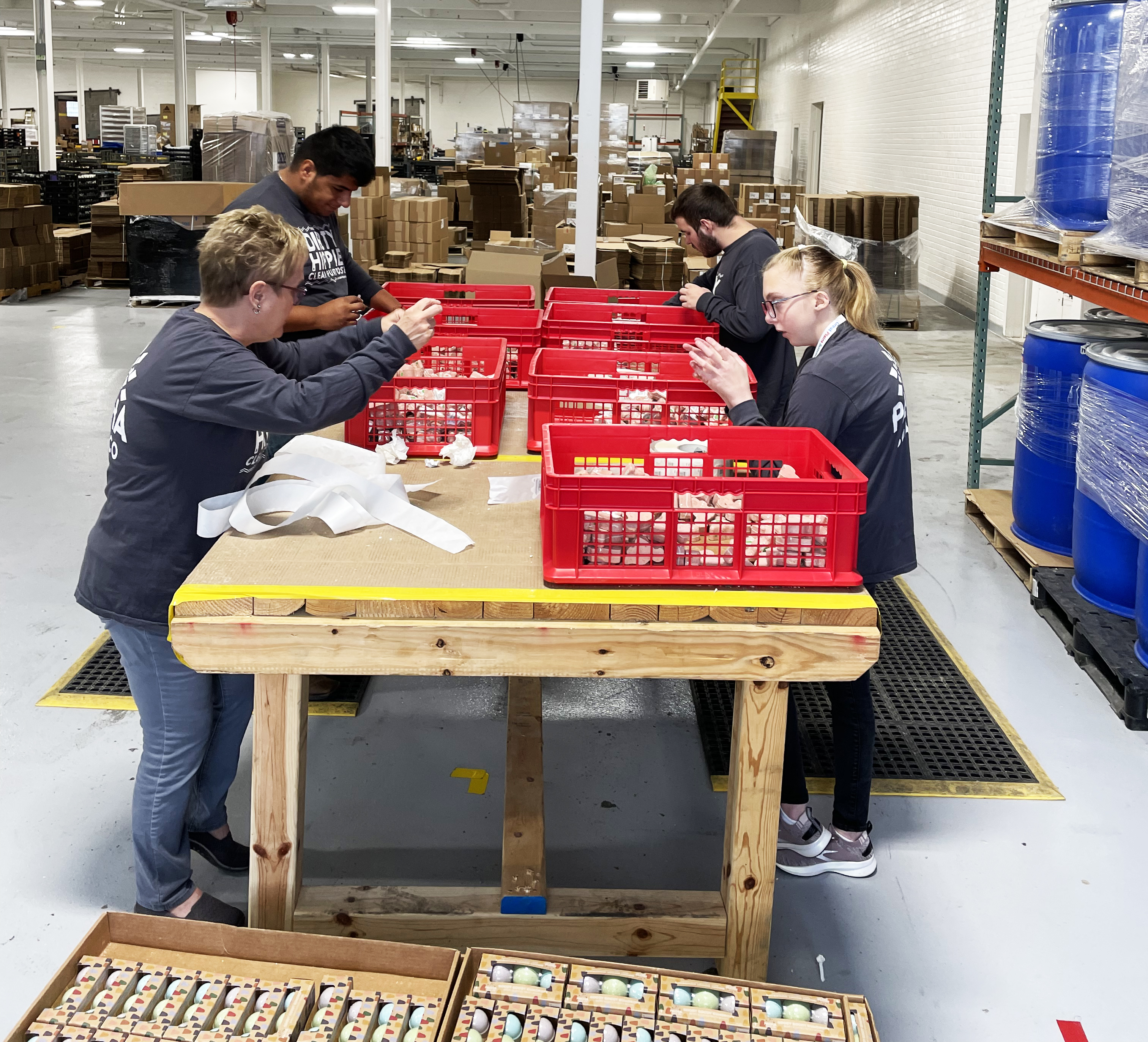 "It's neat that I was able to get in touch with them and that they took a chance on us," Carter said. "Cesar, Claire and Eric have blown them away. Sometimes, we box up to 500, 600 boxes of soap in two-and-a-half hours."
Those numbers received a huge boost after Carter and her students devised an assembly system suited to their strengths. With each clock-in and clock-out, the students became more comfortable with both their responsibilities and surroundings. Before long, they became part of the team.
"This gives them a way to connect with people, a way to learn," said Carter.
Learning, she explained, comes with a curve.
"They needed to learn that sometimes when you go to work, it's boring and you have to do the same thing over and over until you get it done, and that's a big thing to learn," Carter said. "We'll start a project, and even if it's time to go because everybody says they're hungry, we don't go until we get it done."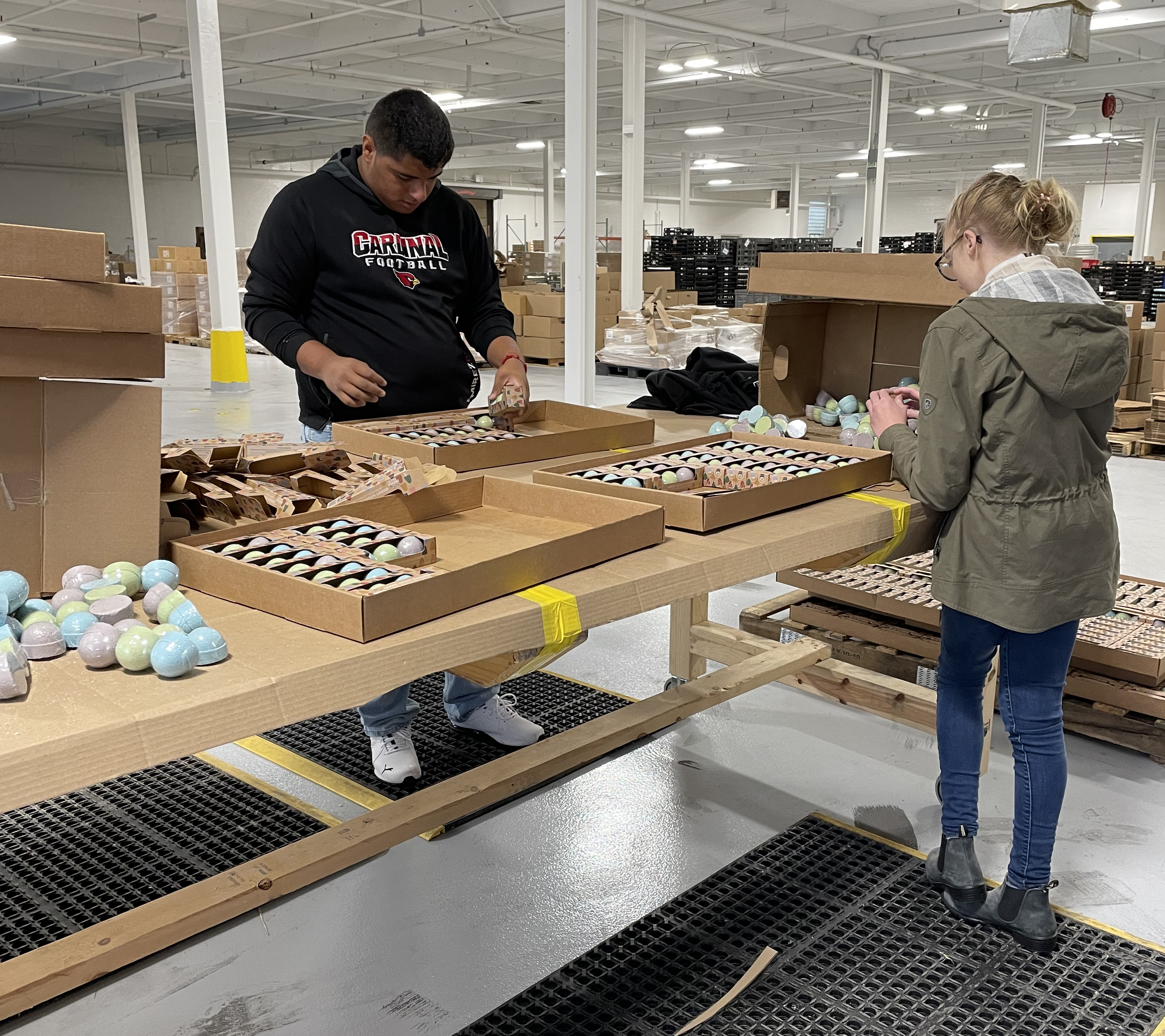 Watching the students grow in several facets is by far the most rewarding part of Carter's job. She watches them pass milestones and it fills her with pride. There's no accomplishment too small to celebrate.
"When we first started, Cesar would go, 'You go ask them where the boxes are,' and I'd go, 'No, this isn't my job, it's your job,'" Carter remembers. "Eventually, he started to take initiative. That's so awesome to see. I'm just there to facilitate. They're there to work."
The people at Pacha Soap Co., Carter continued, have been wonderful to partner with.
"It's an awesome company to work for," Carter said. "I could see anybody starting out there and working up the company. It's a neat place."
In fact, the company already has extended a job offer to Ramirez for when his time in the 18+ Program comes to an end. Next school year will be Ramirez's last, and he has a good idea of what the future will hold. In Pacha Soap Co., he sees more than opportunity.
Ramirez sees a future, and he doesn't want to let that slip through his hands.
"After graduation, I want to keep doing what I'm doing," Ramirez said. "I want to keep working for Pacha."
Hearing that puts a smile on Carter's face. She lights up talking about the success former students have found beyond ESU 9's program, like the full-time courtesy clerk at Russ's Market who recently crashed his scooter and broke his arm but still made it to work on time.
"My goal, and it's one that's very important to me, is for these students to find success and happy lives when they leave us."