Where All Means All: Gothenburg's Swede Foundations leaves no student behind
Where All Means All: Gothenburg's Swede Foundations leaves no student behind
Friday, February 21, 2020
By Tyler Dahlgren
It's amazing the difference 22 minutes can make.
Half the length of a regular period, carved into a mid-morning slot from 9:46 to 10:08 four days each week, Swede Foundations is advancing academic progress and enriching school culture at Gothenburg Public Schools.
The program, in just its third year, is doing so while strengthening existing relationships, and paving the way for new ones. In fact, that was one of initial goals of the leadership team at GPS which developed Swede Foundations.
"We wanted every student to feel like they had an adult who they could talk to if they needed to," said 7-12 Principal Seth Ryker, who spends each Swede Foundation period popping in and out of classrooms throughout the school. "It started out as an academic advisor piece, but we anticipated it would become more than that."
Quickly, it has. The model is unique, blending 7th through 12th-graders in a setting that naturally encourages mentorship. It's early still, but already the original mentees are assuming the role of mentors.
"I like helping the younger kids who come in, because, when it started, I was a seventh-grader going to the older kids for help when I didn't understand something," said freshman Emaleigh Rosse. "It's really nice to be able to help the younger kids."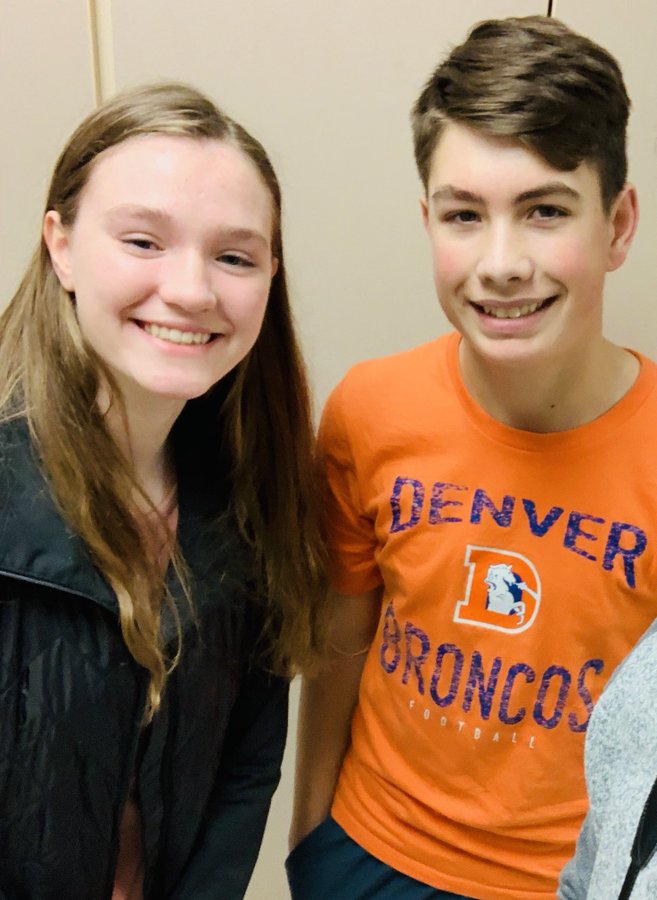 Swede Foundations has adopted the motto "All Means All". While observing different classrooms during the 22-minute period, it's easy to understand why.
"Though it shouldn't be, it's fairly easy for students to kind of feel like they've been lost in the shuffle at times," said Ryker, who was part of the Gothenburg team which presented on Swede Foundations at the Nebraska MTSS Summit. "We want to make sure that doesn't happen. We want to make sure every student in our school has positive connections and that's a big part of this process."
Gothenburg, Ryker explained, is making a concerted effort to reach every student. How they're doing it is innovative.
"It's done a lot for the kids," said high school foreign language teacher Kelly Morgan. "You'll have some who are, at first, unorganized and don't have a ton of responsibilities. It has helped there. Now, those kids are coming into class and saying 'I need to get this and this and that done.'"
Accountability is an important piece of the puzzle. With upperclassmen to look up to, the middle schoolers develop the study habits they'll need to thrive in high school. At the same time, the older students are learning what it means to be a mentor.
"Swede Foundations has taught the older kids about leadership," said Maggie Miller, who also teaches foreign language at the high school level. "They're seeing that sometimes you do have to step up and have a good attitude about things. They're realizing that people will follow your lead if you do that."
There's a payoff for the educators, too, many who feel Swede Foundations has helped them grow stronger in areas like communication and engagement.
"As a teacher, it gives us an opportunity to pull kids in that are missing a concept so that they can really better their understanding and better their learning," said science teacher Margaret Tiller. "I definitely feel like the relationships are stronger amongst staff and students."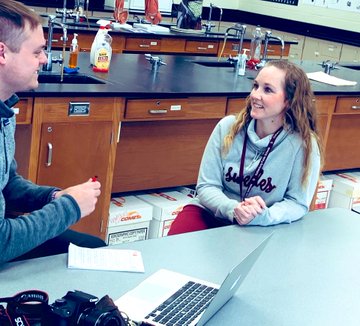 Tiller was caught off guard on the first day of this quarter's Swede Foundations when, upon matching up kids for an exercise, some students didn't know each other's names. Getting to know each other better became one of the goals for the quarter.
"And they have," Tiller said. "The culture has improved because of the intermix of classmen. We have a comfortable family atmosphere, and I've watched the older kids become role models without even realizing it."
Eighth-grader Kooper Koehn said there's a common comfortability among the younger Swede Foundation students when it comes to asking for help.
"The kids who are failing or having trouble with a class can look to upperclassmen who have taken that class, and they're always there to help," he said. "Everybody knows each other. You'll always get a 'Hi' from the older kids. They're always looking out for you and wishing you the best of luck."
Mondays are used as grade report days, when all students email their grades to parents and their Swede Foundations teacher. Tuesdays and Thursdays are devoted to homework, interventions, enrichment and peer mentoring. Fridays are for team building. And, most importantly, fun.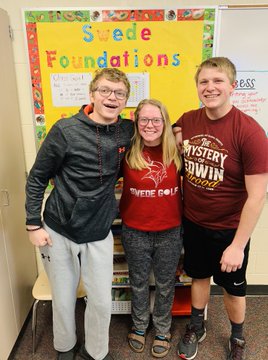 "Everybody kind of does that differently," said Miller. "For my class, we watch Netflix movies on Fridays. We've done door-decorating contests and March Madness brackets. The Swede Foundations Breakfast has been fun, too. There's freedom with that."
While hard work is the, well, foundation of Swede Foundations, fun is at the program's core.
"It's a constant cycle of setting goals and then celebrating when we accomplish those goals," said Ryker. "We will go out to Mi Ranchito and eat lunch and do fun stuff like that.
Fun is key, and the celebrations serve as motivation.
"Sometimes, we celebrate with fist bumps, and, sometimes, it takes tacos," Ryker laughed.
Goals vary from class to class. Some are structured around reaching academic marks. Some, like Miller's, are geared more towards behavioral goals. Teachers aren't afraid to set lofty goals. Reaching them boosts the climate in the school's hallways.
"Our teaching staff makes this the best school out there are far as I'm concerned," said Ryker. "Across the board, they maintain a growth mindset and they're willing to push themselves. They embrace new ideas, always."
Since the inception of Swede Foundations, staff members at GPS have felt themselves grow closer, too. Additionally, many feel the program has helped them grow as educators, too.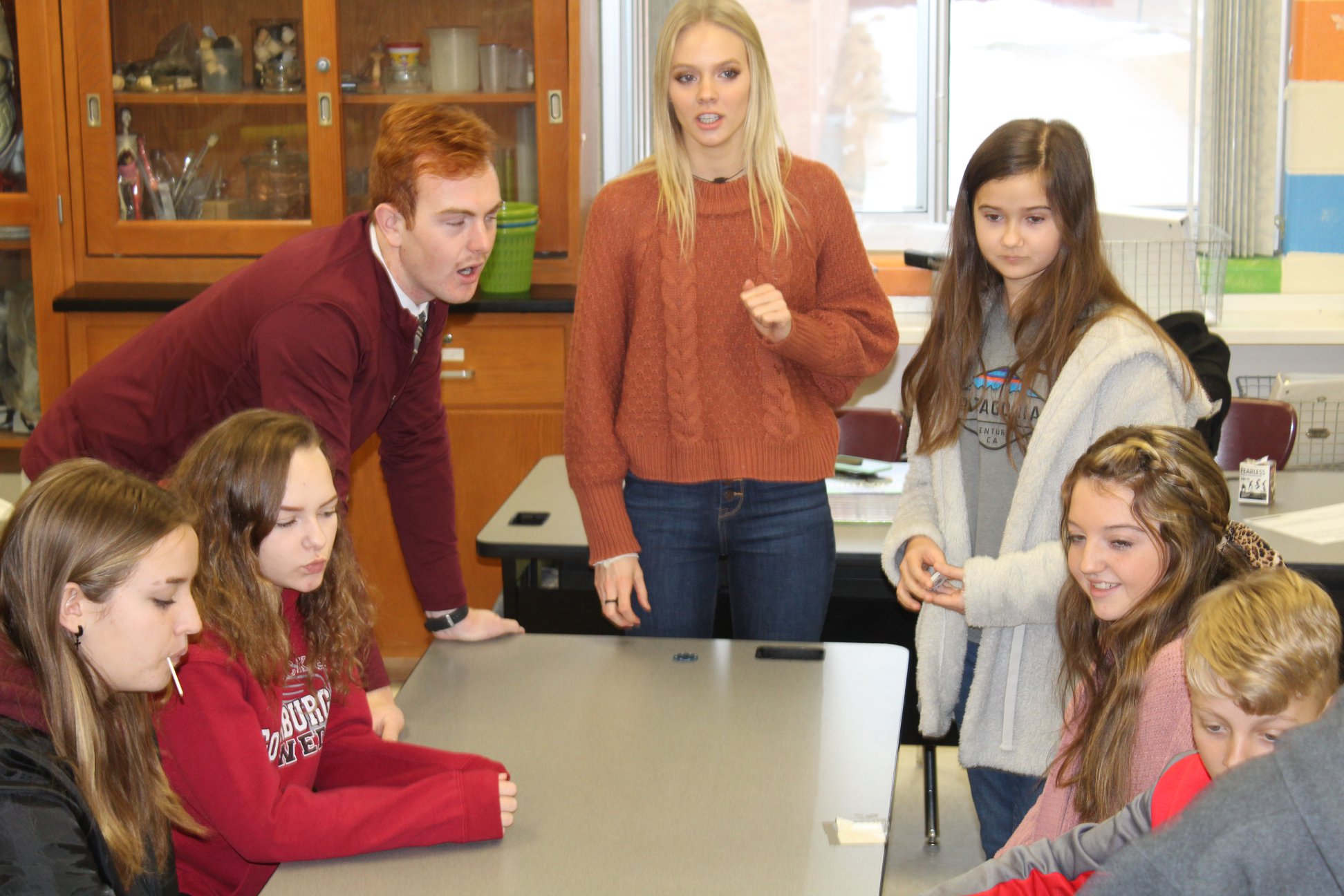 "You learn a lot from the kids and you learn more about their needs," said Morgan. "I feel like I've become more patient, and have been able to take that into a normal classroom setting."
Tiller has seen the way she evaluates grades evolve.
"Swede Foundations has caused me to really reflect on what grades mean and how I assess learning," she said. "It gives us plenty of opportunities to have those conversations centering on how to become a better student, but on the flip side, it allows me to reflect on how I can deepen their understanding on a subject, on how I can be a better teacher."
Swede Foundations is suddenly key to the district's culture.
GPS, Ryker said, moves forward together. All means All.
"And we're not leaving anybody behind."