Track Town: Rooted in tradition, Bertrand's program is the cornerstone where a district and its fiercely supportive community meet
Track Town: Rooted in tradition, Bertrand's program is the cornerstone where a district and its fiercely supportive community meet
By Tyler Dahlgren
Moments after claiming the D7 district championship in the pole vault and punching his ticket to the Nebraska Track & Field Championships, Bertrand senior Arik Ackerman was poised to give an interview when he abruptly cut off the first question and countered with one of his own.
"Do you mind if I go and get Owen? I want him to be a part of this, too."
With a shake of the head, Ackerman was off to find Owen Kaps, dodging an infield packed with spectators, coaches and athletes before catching up to his sophomore teammate and D7 pole vault runner-up a (literal) football field away.
It might not have seemed like a huge deal at the time, but that simple act of selflessness spoke volumes about the spirit of the program, one rooted in tradition and year-to-year success and fiercely supported by a small but undeniably proud community.
"Our track meets are usually pretty full," said Ackerman in-between a handful of congratulations and back-pats. "The community always comes out and supports us. Going through town, people will stop and congratulate you and ask how you're doing. This is a pretty big part of our school."
Track & Field in Bertrand is a family, and no one knows that better than longtime coaches Bill and Martha Ford, who have seen 23 seasons of success from their posts near the pole vault pit. A photograph has the power to tell a story, and the one capturing Ackerman's winning vault and Bill's signature leg-kick to help will him over the pole does so perfectly.
"The senior, Arik, allows the sophomore, Owen, to do really well," said Bill, the industrial technology teacher at Bertrand. "He celebrates his success and at the same time Owen wants Arik to do better, too. It's just a good supportive thing."
There's no jealousy in this program, added Martha, and that hangs true in any event. Ackerman thinks back to the leaders he looked up to as a freshman and sophomore, and hopes he's had a similar impact on the younger Vikings. One of the things he'll remember most about the 2021 season is the emergence of Kaps.
"I've had such a great leader in Arik, and it really pushes me and helps him, too, because I'm here to support him," said Kaps, who qualified for state in multiple events after the pandemic wiped out his freshman campaign. "He really teaches you. He's got a lot of great pointers and he'll share from his experience and that really helps."
The pair of pole vaulters will head to Omaha Burke with a shared goal.
"Fourteen feet for both of us and a one-two finish at state, that's our goal."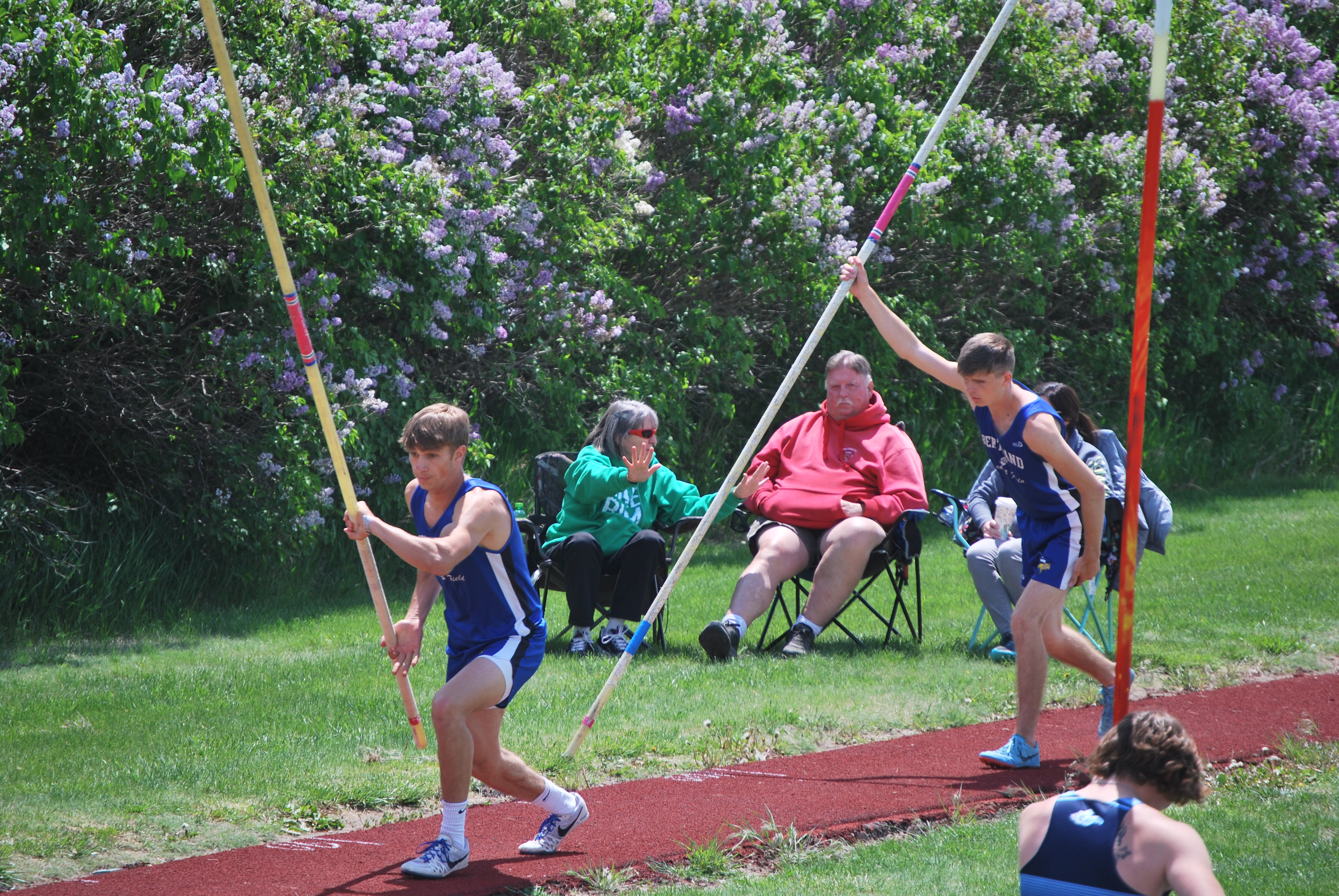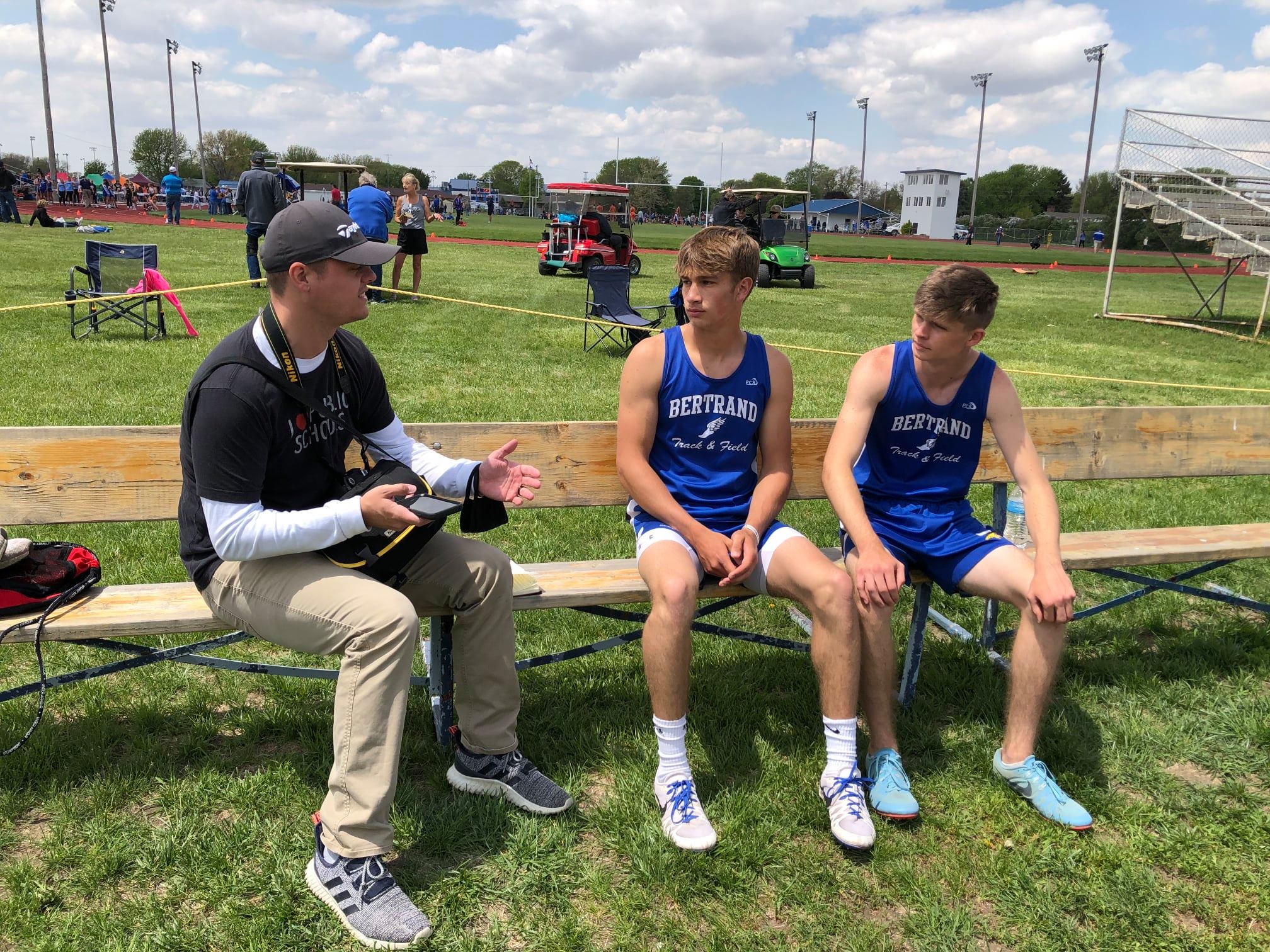 ---
Bill and Martha's journey with pole vaulting started in 1998, when their son Michael was a freshman on the Bertrand team. By the time their daughter entered high school a couple years later, they were already hooked.
Since then, they've been mainstays within the program, even patenting a pole vault training machine, the Swing Up Invert, that has been utilized by teams across the country for the last 18 years.
"They've donated a lot of material things on their own, which has benefited our program greatly, plus all the hours and hours of coaching," said head coach Brad Renken. "They're so dedicated. They coached their son, their daughter, their grandkids, and have had a positive impact on the lives of our athletes throughout that time."
Bill jokes about Martha's new kitchen cabinets, the ones that do not exist, when thinking back to all the poles the coaching couple have purchased out of their own pocket for kids throughout the years. That number, somewhere around 30, doesn't even come close to matching the memories made along the way.
A small price to pay for the joy they find in even the smallest triumphs, and an investment they'd make a million times over.
"With the great kids, the ones setting records and bringing home medals, it's easy to celebrate, but there's a lot of great things that happen outside of that, too, with…," Bill said before trailing off and giving his wife a chance to round out his thought.
"With the kids who need us," Martha said. "With the kids who need our pole vault family."
On Wednesday morning, Bill and Martha sat in lawn chairs until it was time for the Bertrand vaulters to take the runway. Then it was time to coach. To do what they've loved to do for over two decades.
"These are just awesome kids," said Bill. "They're good-hearted kids. There might be an ornery one, but we've never had a mean-spirited kid at all."
The Fords receive wedding invitations and attend college graduations and are delighted when they find a photo of a former athlete's first-born child in the mail. Since 1998, there's been no other place in the world they'd rather be, and there's no group of kids they'd rather be surrounded by.
"We've been blessed by the kids so much more than the other way around," Martha said. "It's a family. We're a part of that family, and that's special."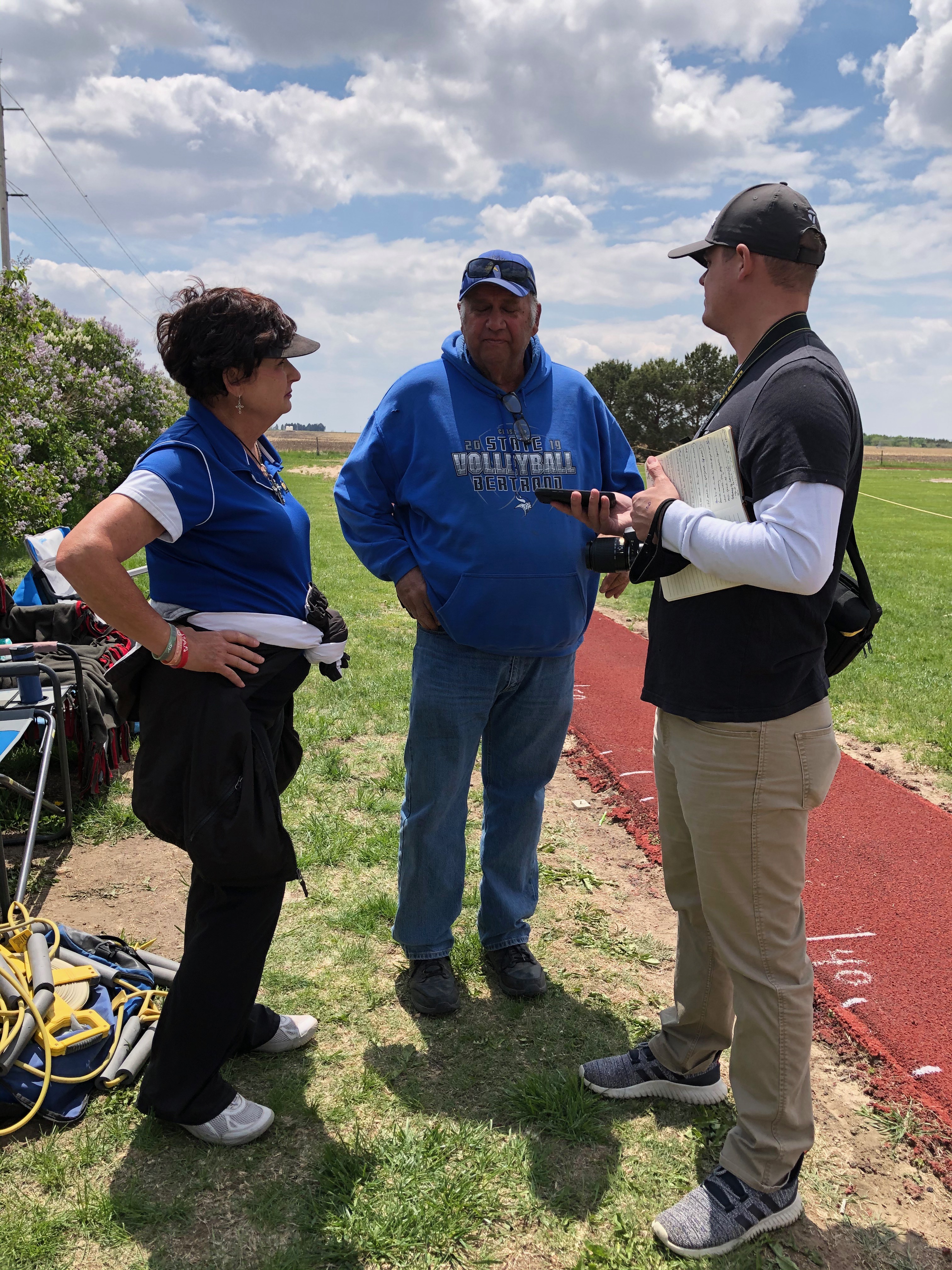 ---
Family, that's what the Bertrand Track & Field program is all about. The cornerstone where a school and a community meet to cheer their Vikings through another finish line.
"All of our coaches and all of my teammates are super supportive, and they start you at a young age, too," said senior Aleya Hueftle. "At our home meet for the junior high kids, we run the meet. We try and help the younger kids as much as we can, telling them where they're at on the board and what they need to do to improve."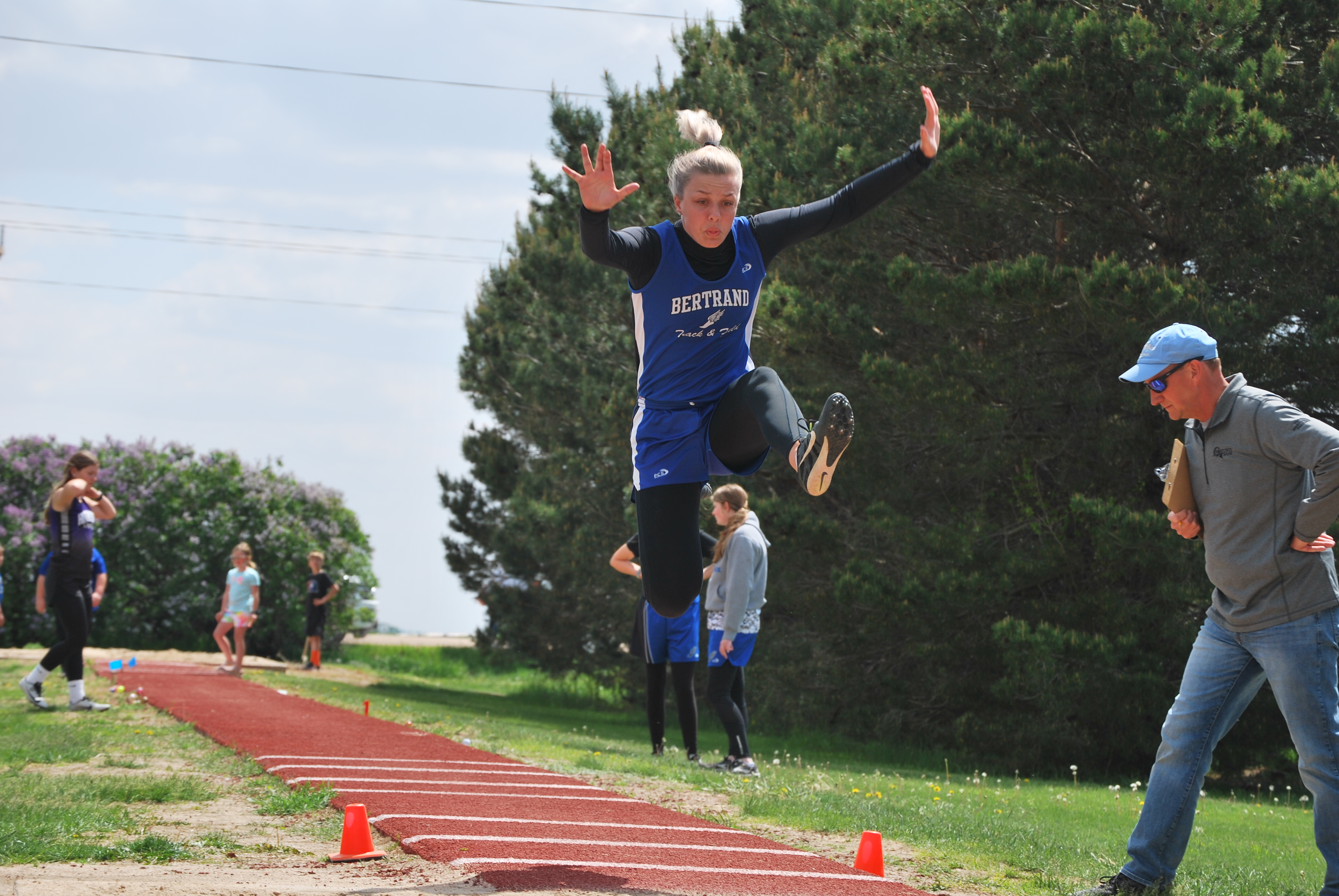 Hueftle said it starts with the head coach. Renken inherited a program rich with tradition from Nebraska High School Sports Hall of Fame member Jerry Stine, and has successfully carried on what his predecessor cultivated.
"Kids come out for track for various reasons," said Bill Ford. "Some of them are here to set marks and some of them are here to be a part of a group. Coach Renken accepts that there's all kinds of reasons for coming out for track, and relays to the kids that it's all about doing your best."
Along with great parents, tradition and the backing of the Viking community, Renken said it comes down to the quality of student-athlete he's been blessed to coach.
"They're just competitive," said Renken. "They have that track attitude that is maybe not as prevalent at other places. They won't give me a hard time if I ask them to run a mile relay instead of their usual 100 meters. They'll compete. They're not afraid to try something like that. I'd say it's just an overall track attitude."
The program branches out into the community and down to the junior high, too, where the Fords have a grandson already clearing 12-06 in the pole vault.
"I always watch those junior high teams, and I give a lot of credit to our junior high coaches for contributing to our success from year-to-year," Renken said. "Because when they're done with those kids after those two years they still enjoy track and field enough to come back, and that's all I can ask of a junior high program."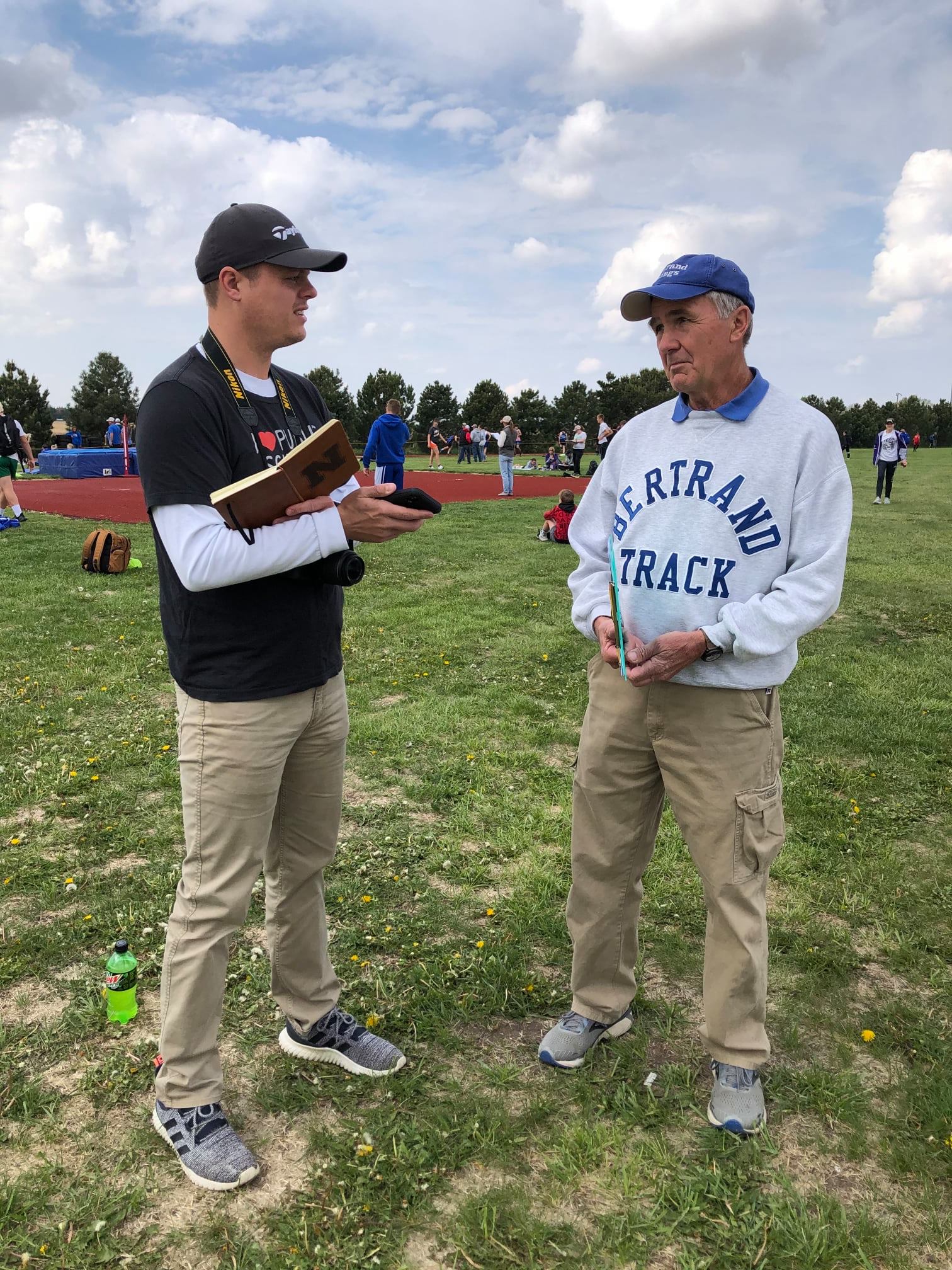 ---
When Diane Balcom joined the Bertrand coaching staff, she did so with a pretty good idea of the environment she was walking into.
"I knew I was coming to a track town," said Balcom, who spent 35 seasons coaching at nearby Holdrege. "The fans here really love track and field."
While Renken roamed to different events Wednesday morning, Balcom coached up the high jumpers. She specializes in the hurdles, and has enjoyed every minute of becoming a member of the Bertrand track & field family.
"I love the competitive spirit here," Balcom said. "The kids work hard and they're competitors. They treat track as a true team sport. Sometimes it's more of an individual sport, but not here. It's a team deal, and that's important."
For the athletes, lessons learned in the spring extend beyond the track. Whether it's helping someone out with a homework assignment or setting up chairs for an event in the community, Kaps said the Vikings feel more inclined to do so because of their experiences in Renken's program. Hueftle felt the same way, too.
"It's definitely helped us become better people," she said. "Our coaches and our teammates hold us to a higher standard. We just have to keep that up. That's been a big part of being involved in any sport here, being a team people want remember for its character."
The pride Bertrand's athletes take in representing their town immediately stood out to Balcom.
"They take great pride in that and the community supports them on that representation," Balcom said. "I love the kids here. They do everything."