The Tie That Binds: Storm Families keep culture going strong at Creek Valley
The Tie That Binds: Storm Families keep culture going strong at Creek Valley
Thursday, February 13, 2020
By Tyler Dahlgren
The high-schooler walked hand-in-hand with the kindergartner through their school's gymnasium in Chappell, a small town in the Nebraska Panhandle.
Heartwarming moments like these are growing more common at Creek Valley Public Schools, since the implementation of "Storm Families", an innovative mentorship model that is binding the entire district.
Tessa Fraass, Creek Valley's K-12 Principal, just wishes she had taken a picture.
"It was this brief realization of 'This is what it's all about'," said Fraass. "I'm really all about relationships and making sure that everybody feels a part of our school."
And when Fraass says everybody, she means everybody.
There isn't a person associated with Creek Valley Public Schools, a consolidation of the formerly-separate Lodgepole and Chappell districts, who isn't a part of a Storm Family. Students join a family in Kindergarten and, according to the plan, will stick with their pack until graduation. Staff members, including teachers, custodians, cafeteria workers and bus drivers, are in families, too.
"It's a perfect way to get people together who wouldn't normally be together," said Superintendent Patrick Ningen. "Even with staff. It's not every day that one of our cooks in the kitchen is with our science teacher, you know? It's created a pretty cool dynamic."
And it's boosted school culture in a positive way, too. Little moments, they've learned, are some of the most impactful.
"Last year, a sixth-grader came up to me at a basketball game and said that a high-schooler walked by and called her by her name and said hello," remembers Fraass. "She said, 'That would have never happened, but she is in my Storm Family.' It's created some really great relationships."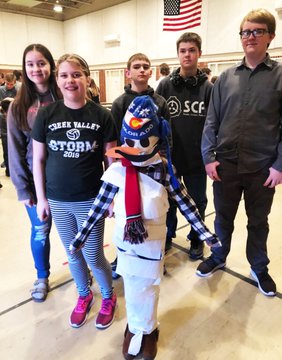 The younger mentees benefit in the obvious ways. Having someone to look up to, a role model in the building, is an invaluable dividend of Storm Families. The experience pays off for the high-schoolers, too. They learn the power of mentorship, and the importance of setting an example.
"When they get together in these diverse age groups, they're getting along and helping each other out," said Ningen. "They're compassionate about one another."
This is evident in the hallways, at sporting events or even out in the community. Students care about each other, no matter the age gap.
"For the younger kids, it's cool to see the older ones at a ball game and get pointed out somehow or receive a fist bump or something like that," Ningen explained. "The older kids enjoy that too."
How the families spend their time together ranges, usually dependent on what time of year it is. In the first year of Storm Families, the administration team came up with activities on their own. As the program has evolved, staff has joined in on the process. Families meet once a month, usually on the monthly 1:00 p.m. dismissal for staff in-services, when everyone is encouraged to wear their "Storm Strong" t-shirts.
Last holiday season, for example, tables were set up in the gymnasium and covered with Christmas cookies and hot chocolate. The idea was simple; Sit with your Storm Family around the table, talk, and enjoy each other's company. Simple, sure, but it was one of Fraass's favorite gatherings to date.
"We played Christmas music and took a big family picture," she said. "There's kids who don't have those family connections and don't usually get the chance to gather around a table. Now they do."
The staff at Creek Valley has embraced Storm Families with open arms, especially so since the teachers became involved in the activity-planning.
"Our staff realizes the importance of having positive relationships with the kids and the difference it can make," Fraass said. "One of the things I feel super proud of, and this fills my heart, is that our kids feel safe and connected to a lot of adults here in the building."
Fraass had her eyes opened to this at a recent MTSS meeting, where she routinely asks high school students two questions: Who do you feel most comfortable with? And who do you have the best relationship with?
"The student mentioned an elementary school para, and I tilted my head and asked 'Well, how do you have a relationship with them?'" Fraass said. "And the student said, 'Well, she's in my family.'"
What'd Fraass think of that?
"Oh, it's so cool."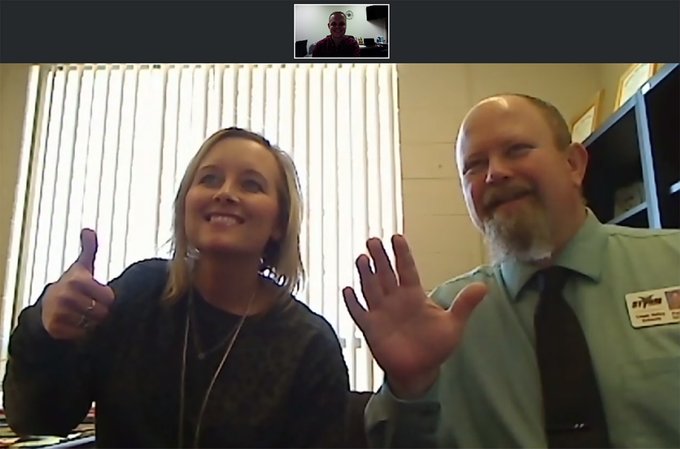 They Said It!
"With the pressure of assessments and standards, and it's been six or seven years since I've been a teacher, but I remember feeling like it was hard to just let that go and be with your kids. Be with your students. That's when the magic would happen. I loved going on field trips with my classes because I could just be with them and get to know them in a different way. I think that's a big part of this. These activities allow everybody to just be with each other and create strong relationships."-Fraass
"It's a pick-me-up. When the weather gets nicer, we'll be doing some things outside again. It's just that neat time to jump into the week and get things rolling. It's a boost."-Ningen
"In the back of my mind, I've thought at some point we could get the kids involved with creating the activities. Maybe in a couple of years, when the kids have been doing it long enough, they could take some ownership in it, too. I think they'd really enjoy that."-Fraass
"The climate in the hallways has changed for the better. Not just between the kids, either, but with the staff. Staff some of the students might not have interacted with much, depending on what building they were in or what role they have. Those interactions, even outside of family time, have grown and become more positive."-Ningen