Student Spotlight: Syracuse-Dunbar-Avoca Junior Danni Schutz
Student Spotlight: Syracuse-Dunbar-Avoca Junior Danni Schutz
Thursday, September 27, 2018
By Tyler Dahlgren
When Danni Schutz was six-years-old, her eyesight began to fade.
Her family figured she was just getting older, and needed glasses, but the problems persisted. Countless visits to several different eye doctors over the next couple of years produced few answers, until a trip to Iowa changed everything.
"In third-grade, I was sent to a specialist in Iowa City, and they figured out I was losing my central vision," she remembers.
While other kids learned to write in cursive, Danni, under the tutelage of her vision teacher Jennifer Haralson, took on braille. Academically, her life changed drastically.
"They took out parts of my education and changed it," she said. "It was a big adjustment."
Her life outside of the classroom changed, too.
"I stopped playing softball, because we figured it was kind of dangerous," Danni said. "I wasn't really able to be active like some of my friends were."
For most, revisiting the moment you realized you'd live the rest of your life legally blind might sound like a taxing and arduous trip down memory lane.
But Danni is not like most. She sits across from me, at 9 o'clock on a rainy morning in Syracuse, and smiles. The smile never leaves her face, and it hasn't very often since she decided to live her life on the bright side.
"Once I got to junior high, I was like 'Why can't I do these other things that my friends are doing?' the Syracuse-Dunbar-Avoca (SDA) High School junior said.
She could, and she has.
Danni is a cheerleader and a golfer. She marches in the band and is a member of FFA. She volunteers for Students of Service, and, oh yeah, as a member of the National Honors Society, carries a perfect 4.0.
"I'm not going to lose it, either," she said of her GPA.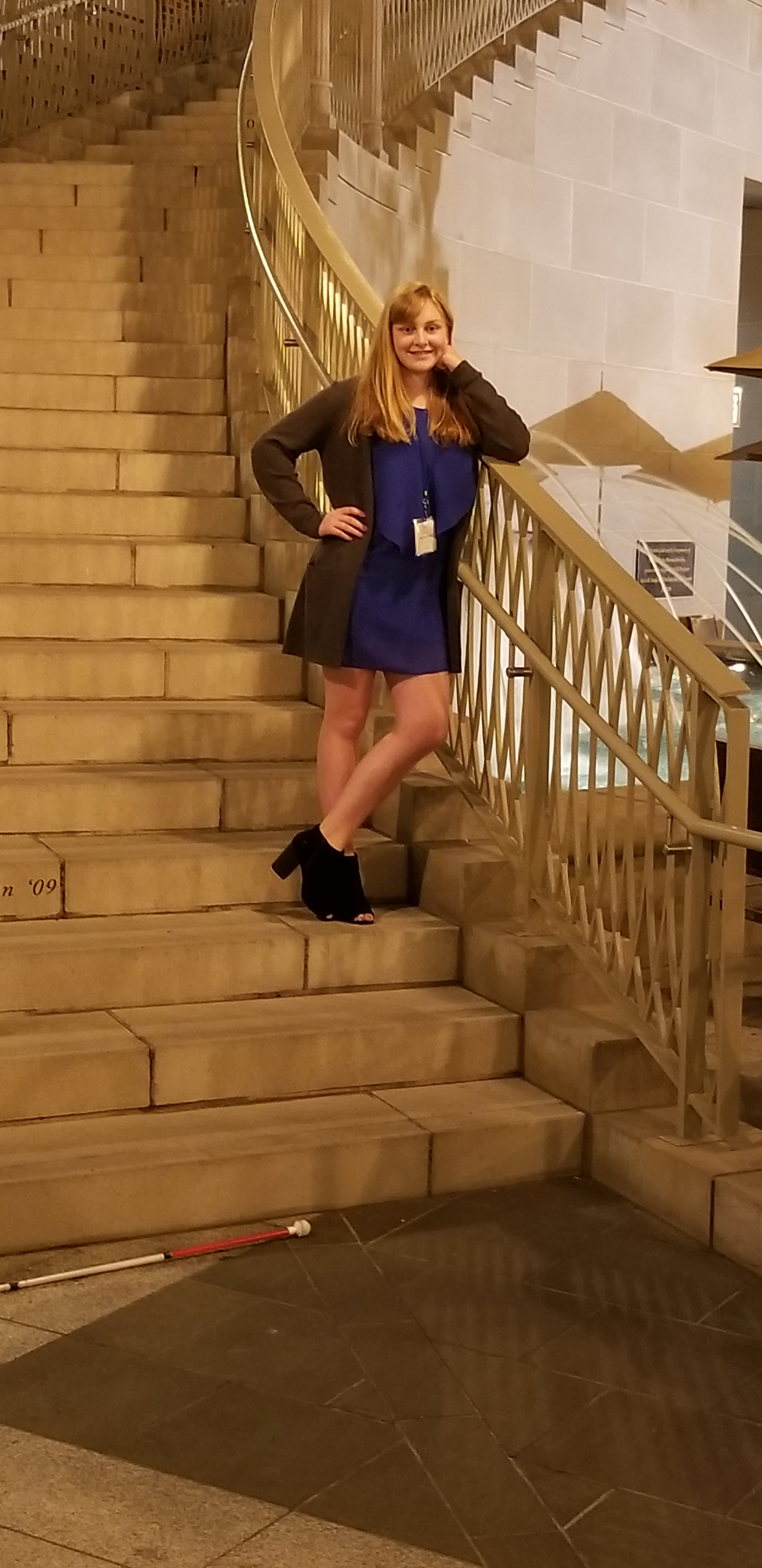 Spanish teacher Jacqueline Mohr has had Danni in her class for three years. Braille is different in Spanish, so the two are kind of learning it together.
"It is amazing what she does," Mohr said. "No excuses, that's her mentality. There are kids who use lesser hindrances to hold them back, but she is bound and determined to be as successful as anyone else."
Mohr calls Danni one of the most hardworking students she's had throughout her 11 years at SDA. Her positive attitude is infectious in the classroom, and her sense of humor often provides comedic relief.
"Her confidence inspires me," Mohr said. "If she can put herself out there in situations that might not be easy, like marching band and golf, then anybody can."
Last year, Danni received a World Language Distinguished Scholar Award. She was nominated by Mohr, who felt motivated to learn braille after watching the spirited approach Danni takes to each day.
"She is very helpful. She is very smart and patient and she works with those who need a little extra bit of help," Mohr said. "I am very proud to teach Danni."
Danni's drive was evident last June, when she spent a week at the National History Day competition in Washington D.C. before flying to the National Braille Day competition in Los Angeles.
"I wasn't home in June," she joked of the coast-to-coast adventure.
While Danni inspires an entire building and community every day, she is inspired by those around her, including her teachers, peers, and especially Haralson, who has been by her side throughout her journey.
"Jennifer doesn't let simple things stop me," Danni said. "She doesn't let me get afraid or said. She has really pushed me."
Danni has heard horror stories about vision teachers and the struggle they encounter when trying to collaborate with teachers and paras on resources and instruction. That's not been her experience at all.
"Syracuse has been really good at getting me anything and everything I need," Danni said. "They are always willing to buy books that I need or new technology that my vision teacher thinks would be helpful. They haven't said no to anything, and I am so grateful for them."
Kyle Rohrig became the principal at SDA right before Danni's freshman year. His first impressions of Danni ring true three years later.
"She is an achiever and a go-getter," Rohrig said. "She enjoys her high school experience because she is so involved in clubs, activities and sports."
Rohrig sees the positive impact Danni has on the school. He sees it in the hallways and he sees it in her classmates.
"She is one of those people who is going to be cordial and positive and somebody that is going to make everybody's day better," he said. "We know she is going to do great things, and we are really excited to see what she is going to decide to be and do with her life."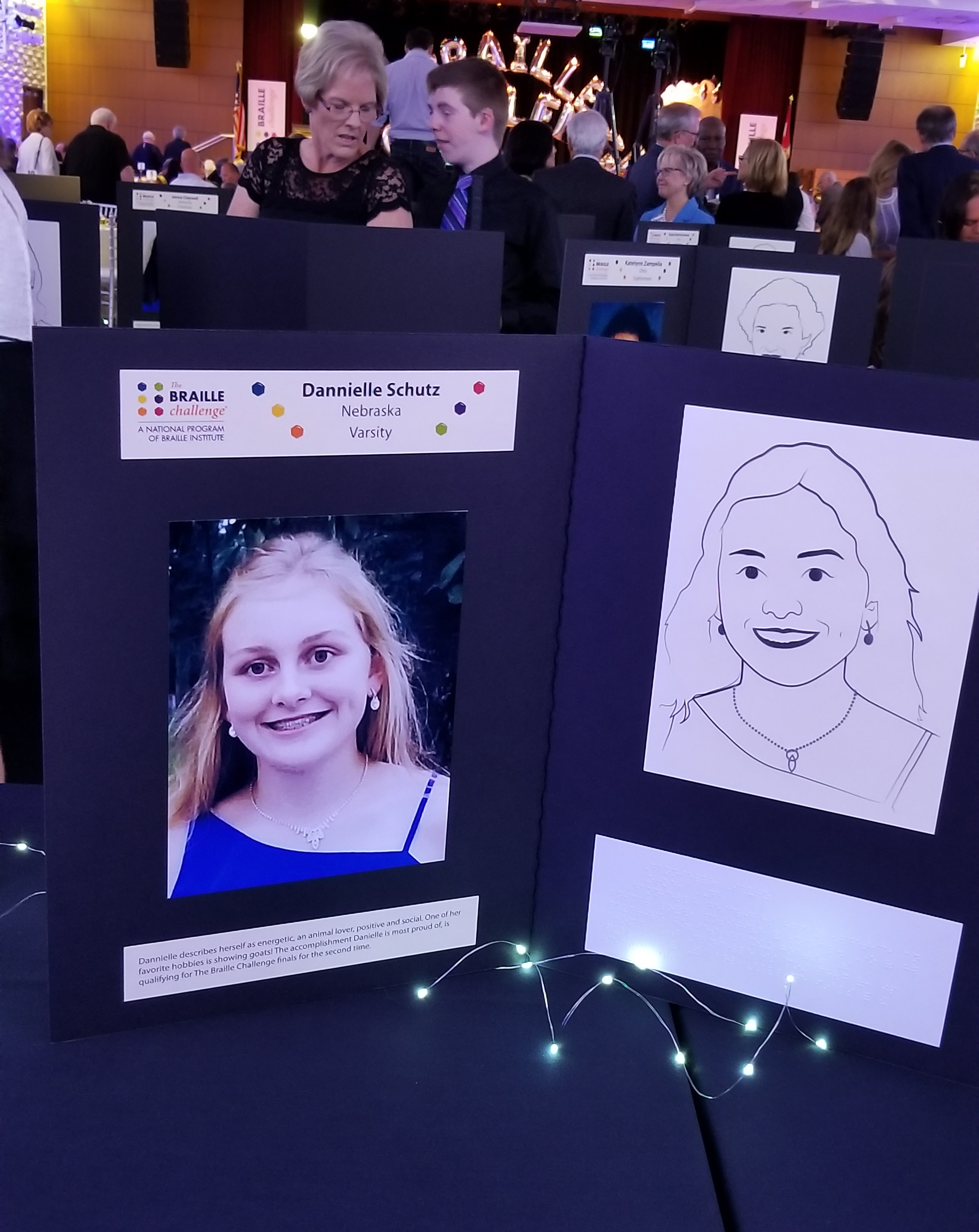 Danni plans on attending a four-year college, but isn't sure yet on what field of study she'll zone in on. For now, she's just enjoying life as a high-schooler.
Her family lives on a farm, and she shows goats with her older sister, Kirsten, who graduated last spring, and younger brother, Jacob, an eighth-grader.
"I love playing with my dogs, too."
Danni Schutz's story isn't about a blind girl.
It's about a girl who sees the good in her teachers, her classmates, and her school.
She sees the good in everybody and everything.
It's the story of a girl who sees the big picture, crystal clear.