Student Scribes: Inside the world of a high school newspaper
Student Scribes: Inside the world of a high school newspaper
Wednesday, February 20, 2019
By Tyler Dahlgren
Chapter 1: The Bulldogger
High schools are a lively place, vibrant with a full spectrum of emotion.
Joy, achievement and triumph. Sadness, failure and defeat.
It happens every day. In every school.
The school newspaper is responsible for capturing the pulse of its student body. The voice of a school, and a window into its hallways, student publications operate much like real newspapers.
This is especially true at North Platte High School, where Lori Larson advises the Bulldogger staff and asks her writers to use one question in particular as an operating compass of sorts.
"So often, you'll hear me say, 'What would a real reporter do?'," said Larson, who, before becoming an educator worked as a reporter and television anchor. "We run the newspaper, and I advise the newspaper, the same as they would experience in a professional setting."
The Bulldogger newsroom is authentic. A place where ideas roam freely in an organizationally-firm setting. A place where all kinds of students from all sorts of backgrounds work extremely hard to put out a tangible product that helps build a feeling of community within the school.
About 2,000 editions of The Bulldogger are printed every month. They're dropped off at the hospital, the middle school and the rec center. All over town.
The paper's online presence is excellent, too, both on social media and The Bulldogger website.
"When somebody in the community picks up our paper, what they might not realize is it started as vapor, as air, as an idea," Larson said.
Slowly, her staff's ideas come to life through an extensive process which starts with a "Pitch" session every month and includes read-arounds, design sketches, multimedia and social utilization plans, editorial comments, layout, formatting and more.
"And then somebody was contacted, and there were interviews done and analyzed," Larson continued. "It was organized into writing and there was a first draft and other people looked at it and gave their opinions. It was then revised and pictures were taken and graphics were made."
Then it's off to design. There is a layout editor on staff who helps each editor design their page.
This is how the Bulldogger ended up its reader's hands, but it's not even half of the story.
"When you're talking to somebody like the Editor in Chief, you're basically talking to a newspaper publisher," Larson said. "They're just a teenager doing it and not getting paid. I think they are just really phenomenal people."
Chapter Two: The Scribes
Ainsley Nichols hesitates before telling the tale of how she became interested in journalism.
"Should I tell him?" the senior managing editor asks a roundtable of peers, who urge their newsroom leader to share her story.
"When I was in elementary school, my brother was in high school, so I found out about the paper that way," Nichols, who plans to major in communications at UNL, said. "In fourth grade, I made my own elementary school paper."
No judgement here, she's assured. I used to wait with an eye on the mailbox every afternoon after school. I wrote for my school newspaper for three years, too. These are students I admire. We share a common interest, and I'm always intrigued to hear how their journalism journeys got started.
He may not have published an elementary newspaper, but Sports Editor Clay Stone is a junior who seemed destined for the world of high school journalism. He remembers his brother, now a sports journalism major at UNL, writing from a very young age. Will's Wacky World. He put pen to paper and became hooked.
"I joined because I wanted to take a class with him, and I ended up just really liking it," Stone said.
There are prerequisites for North Platte students wanting to join the newspaper staff, but freshmen, once they check them off, are allowed on board. People Editor Anam Vaziri is a junior already in her third year on staff.
"I always liked to read and write," she said. "I didn't expect to join the paper, but my sister recommended it and I've just really enjoyed it."
For Social Media and Advertising Editor Morgan Fischer, who worked with last year's editor-in-chief at J.C. Penney, positive experiences with writing in English and a persuasive co-worker swayed her to join the staff. It's a decision she's glad she made. Fischer will be majoring in journalism at Concordia next fall.
"I hear a lot of positive feedback from the community," Fischer said. "When I say I write for The Bulldogger, they'll say 'Oh, I remember this story. That was a really good one.'"
When asked about The Bulldogger's editors, Larson said she sees a group of excellent leaders from several different socioeconomic backgrounds with one thing in common.
"With the newspaper, you find people are pretty self-motivated and self-driven," Larson said. "These kids get a chance to be creative and in charge of something in a way they might not experience for a while, maybe five to eight years."
Along the way, Larson's students learn how to think through certain situations. They work under the weight of constant deadlines and develop the innate ability to solve problems, real world skills that will stick with them long after their Bulldogger days are over.
"I am more confident than I used to be," Nichols said. "I'm more comfortable talking to people and I'm not afraid to interject during a conversation. My writing has grown too. I've gotten better at being concise and conveying the message. Organization, too. I could not organize to save my life when I got here."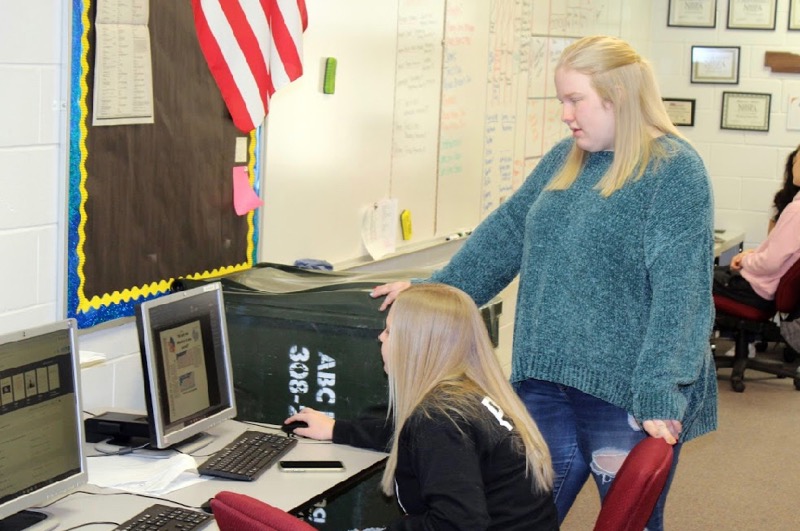 Above: Managing Editor Ainsley Nichols is a senior in her third year on The Bulldogger staff. She intends on attending UNL and majoring in Communications after graduation.
Larson has a hard time believing that, considering Nichols is perhaps the most organized person in the newsroom. She's not the only staff member to discover some previously-reserved confidence.
"I'm a lot more confident in my opinions," Vaziri said. "I didn't really used to talk much because I didn't want to offend anyone. I've written controversial stories over the last few years, and I'm more comfortable with it now."
Fischer has seen her communication skills blossom. Before joining The Bulldogger staff, she couldn't imagine making the number of phone calls to strangers, whether it be an interview source or a business, she's required to in her position.
Stone was initially overwhelmed by deadlines. He found it difficult to manage time, material and content simultaneously. Life as a sports editor has a way of teaching efficiency and breeding productivity. Almost out of necessity.
"I make my deadlines now," he said. "I want to make sure I'm getting as much done ahead of time as possible. Journalism is all about that."
Each story written and published is an addition to a young portfolio, not to mention a source of gratification for the author who spent hours researching and constructing the piece.
"They find out what they're doing really matters," Larson said. "And that instills a lot of pride in the students and what they are doing."
Chapter Three: The Story
This is high school, where stories aren't difficult to come by.
It's the way The Bulldogger staff tells these stories which makes their publication stand-out.
"We always try to dig for the deeper story," Larson said. "Even on something that seems ordinary. We try to find meaning behind every story."
Every story starts as a clean slate. Vaziri puts herself in the shoes of a reader. What would she want to know about? What would grab her attention?
"We find ways to make something that, in reality, might not be too interesting, intriguing to our readers," she said. "We find interesting angles. I feel like any story can be interesting if you find the right angle."
Their reporting remains true to the facts, so much so that The Bulldogger has garnered the reputation of a valuable news source in the North Platte community. It's important to Nichols and the staff for that reliability to extend beyond the walls of their school.
"Sometimes, you write a story that is kind of above a teenage audience," Nichols, who bravely reported on a highly-publicized murder trial this year amidst scrutiny, one of the most difficult pieces she's worked on to date. "You are writing for the teenage audience, but you want to come off elegant enough and provide enough information to serve the community readers, too."
As a sophomore, Vaziri tackled the issue of football players kneeling for the pledge. It was the hardest she's ever worked on a project, and she found herself becoming invested in the issue.
"I really cared about that one," she said. "I wanted to put a valuable voice out there."
Her current piece takes a look at teen dating violence, and the more research Vaziri does, the more inclined she feels to get involved. She's currently filling out an application to volunteer for the Rape and Domestic Abuse Program. Her participation has led to a passion.
For one story this year, Stone interviewed nearly 30 people. In another memorable piece, he observed the transition home-schoolers endure when enrolling in high school, something he experienced himself.
"That was beneficial," Stone said. "I really cared about that piece. To see the opinions of everyone else and to offer advice to people coming in was impactful."
Larson commends her staff for conducting their own research. They push out surveys and become experts on the subject matter. Their investment is unique for high school journalists.
"The part of journalism that is really cool is every single time you write a story, it's like you are taking a new class on a subject," Vaziri said. "After three years, you look at all the stories you've written and appreciate all the things you know now which you wouldn't otherwise."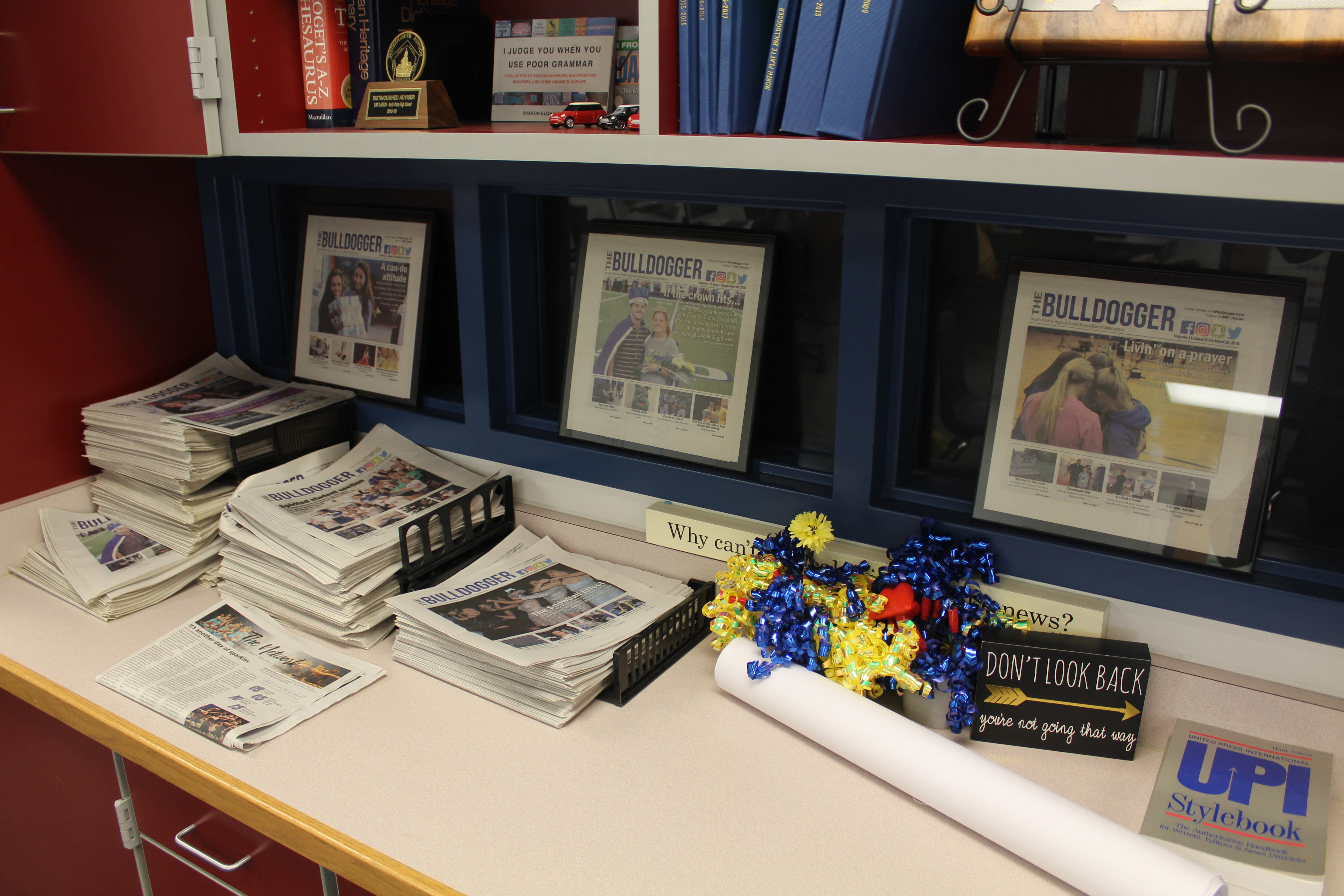 Chapter Four: The Byline
Print journalism has been lying on its proverbial death bed for what seems like the better part of two decades.
Or so they say, at least.
The industry has moved online, and The Bulldogger has taken advantage of those outlets. Uploading stories online has allowed students to share their work at the snap of a finger with friends, their parents' friends, grandparents and a broader scope of consumers. For Stone, the online platform has enriched the sports coverage the paper has been able to provide.
Timeliness always matters.
At the same time, the printed publication has forged a presence in the North Platte community for The Bulldogger. People still like to hold an actual newspaper. They like to fill up a cup of coffee and they like to flip a page.
The writers still like to see their name on a byline. No matter how many times it's printed, the mystique of holding a finished publication that your staff worked so collectively hard on never wears off.
"Journalism has given me a great sense of accomplishment," Vaziri said. "I have this paper I wrote in every month. Right in front of me. It's a source of pride."
People haven't stopped reading the paper yet. The Bulldogger flies off shelves now the same way it used to.
"Even if people stop reading our paper, which hasn't happened, this is still a class that teaches us well beyond the subject," Stone said. "We get a sense of accomplishment. It's fun. We joke around, but there are times when it can be brutally serious. We are working hard."
Say what you want about the future of print journalism. Say it's in limbo or in crisis. Say it's in the middle of a transformation. Say what you will, but keep one thing in mind.
"Communication is not dead," Larson said. "Being able to write well is a skill most people do not have. Being able to make your point succinctly. Being able to critically think about an issue. The importance of those skills aren't dead at all."
The task, Stone said, is to tell a story truthfully. One which everybody not only wants to hear, but needs to hear. Their main purpose, Vaziri adds, is to validate the questions those outside of their building might have.
"That's how we are the voice of our students," Stone said.
It's with this that I let the staff get back to work.
The next deadline is looming.
The next story is waiting to be told.