The Story of NCAPS: Dreamchasers, Endless Possibilities, and Bringing a Vision to Life
The Story of NCAPS: Dreamchasers, Endless Possibilities, and Bringing a Vision to Life
By Tyler Dahlgren
Part One: The Facility
On a Monday morning in April, I walked across the South Central Unified School District #5 parking lot, through a light snow and into the district's Nebraska Center for Advanced Professional Studies (NCAPS) facility.
Intent on telling the story of how this dazzling place came to be, I looked around and asked myself a question I imagine most students who flock here to Sandy Creek each morning often pose to themselves.
"Where do I start?"
In that question lives the magic of this place.
NCAPS is state-of-the-art, a model in the rare mold of rural career academies. And the opportunities students find along the many different pathways offered in here? Well, that's what makes this place truly special.
"We recognized in a rural area that there wasn't a lot of opportunities in the way of career academies, and we really wanted to offer what we saw going on in places like Grand Island and Lincoln to our students," said Dr. Stan Essink, District NCAPS Director.
SC USD #5, a unified district that is home to students from several small communities in the area, sent its administration down to Blue Valley Schools in Overland Park, KS to tour their CAPS. They were especially interested in the district's Capstone Project, which aligned students with a mentor, a professional in their field of study.
Blue Valley is a huge district with a total enrollment of over 22,000, so obviously SC USD #5's vision wasn't a carbon copy. For example, instead of students applying for the NCAPS program, they planned to make it available for all juniors and seniors.
Their goals were lofty, but four years later their vision has come to fruition. NCAPS is a reality now, a program with enough success stories to fill the pages of its own novel.
"In the beginning, there was some uncertainty about what we were doing and where we were going," explained Essink. "We've tweaked it every semester to make it better. We've been on this journey together, and one thing we've really done over that time is developing partnerships. We have about 120 businesses we work with, and some of those are consistent every semester."
It's taken a village-more than a village, actually-but the success of this place is fueled by collaboration. Very rarely, Essink said, do businesses ever turn down a chance to work with NCAPS students. Those partnerships, coupled with innovation, are the heartbeat of NCAPS.
Before we could dig further into the past, the digital bell rings and the two-story, open-spaced facility really comes to life and I find myself asking that question again.
So, where do I start?
As if synchronized, Essink and superintendent Julie Otero answer my question before I had to ask it.
"Oh, we have to find Noah."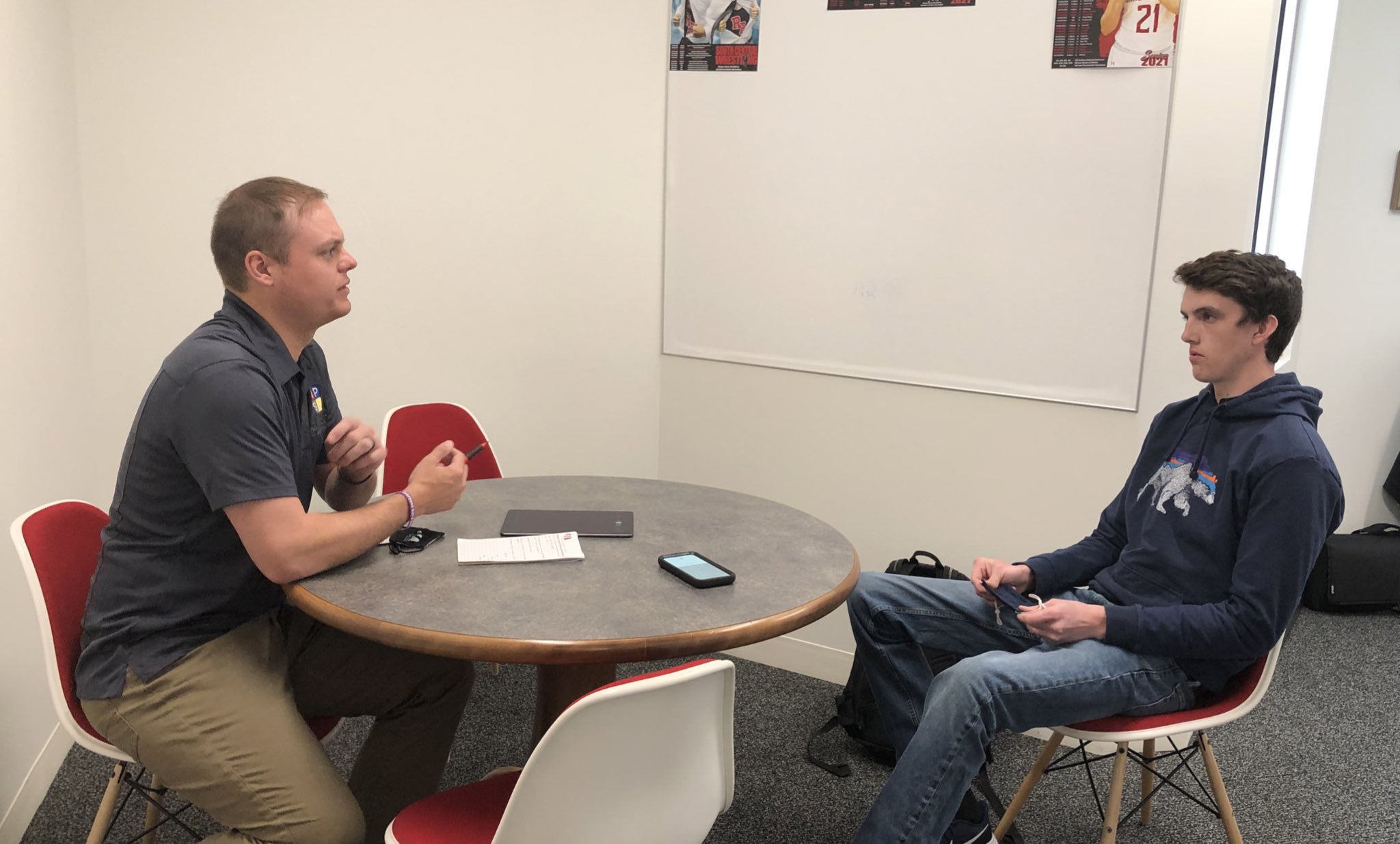 ---
Part Two: The Students
When Sandy Creek senior Noah Shackelford graduates next May, he'll do so with nearly two years of college credits already in the bag and a clear view of the career he plans to pursue.
For an aspiring doctor, two years of hands-on experience (and mentorship received at the Grand Island Surgery Center) goes along ways towards confirming aspirations.
"You learn a lot through traditional schoolwork, but there's something different about being somewhere and seeing a lesson in person and talking with people who live it day-in and day-out," said Shackelford, a National Merit Scholar finalist who will head to the University of Nebraska at Kearney (UNK) in the fall as a Kearney Health Opportunities Program (KHOP) scholar. "With NCAPS, whatever your interest are you can get a deeper glimpse into all that might include than you usually would. It's something you can't get any other way and it's super valuable."
For Shackelford, there have been both milestones and memorable moments along the way. Like the colonoscopies on his first visit. Or the time he was up close for an ankle surgery that included both screws going into bones and eye-opening moments.
"It just blew me away," he said. "Not only what they were doing, but how everybody had their own place within this large scale operation. I just thought it was really cool."
Like Shackelford, Lawrence-Nelson senior Mckenzie Ostdiek entered her junior year not set on any post-secondary pursuits and quickly found a passion while visiting mentors at Brodstone Hospital in Superior and an area pharmacy.
Now, Ostdiek has her Certified Nursing Assistant certificate, will test for her CMA (Certified Medical Assistant) next week, and, oh yeah, will take 28 college credits to college. She credits NCAPS for opening the doors that helped her find a future, and the real-world experience that showed her there's nowhere else she would rather be.
"I do learn better when I'm in a hands-on environment, and it doesn't get more hands-on than in here," Ostdiek said from the healthcare wing of NCAPS, sitting at a desk flanked by medical manikins lying on hospital beds. "For example, with the Med-Aid, we have pretend medications that we do and it just helps you memorize and familiarize with it. We're actually practicing what we're going to be doing."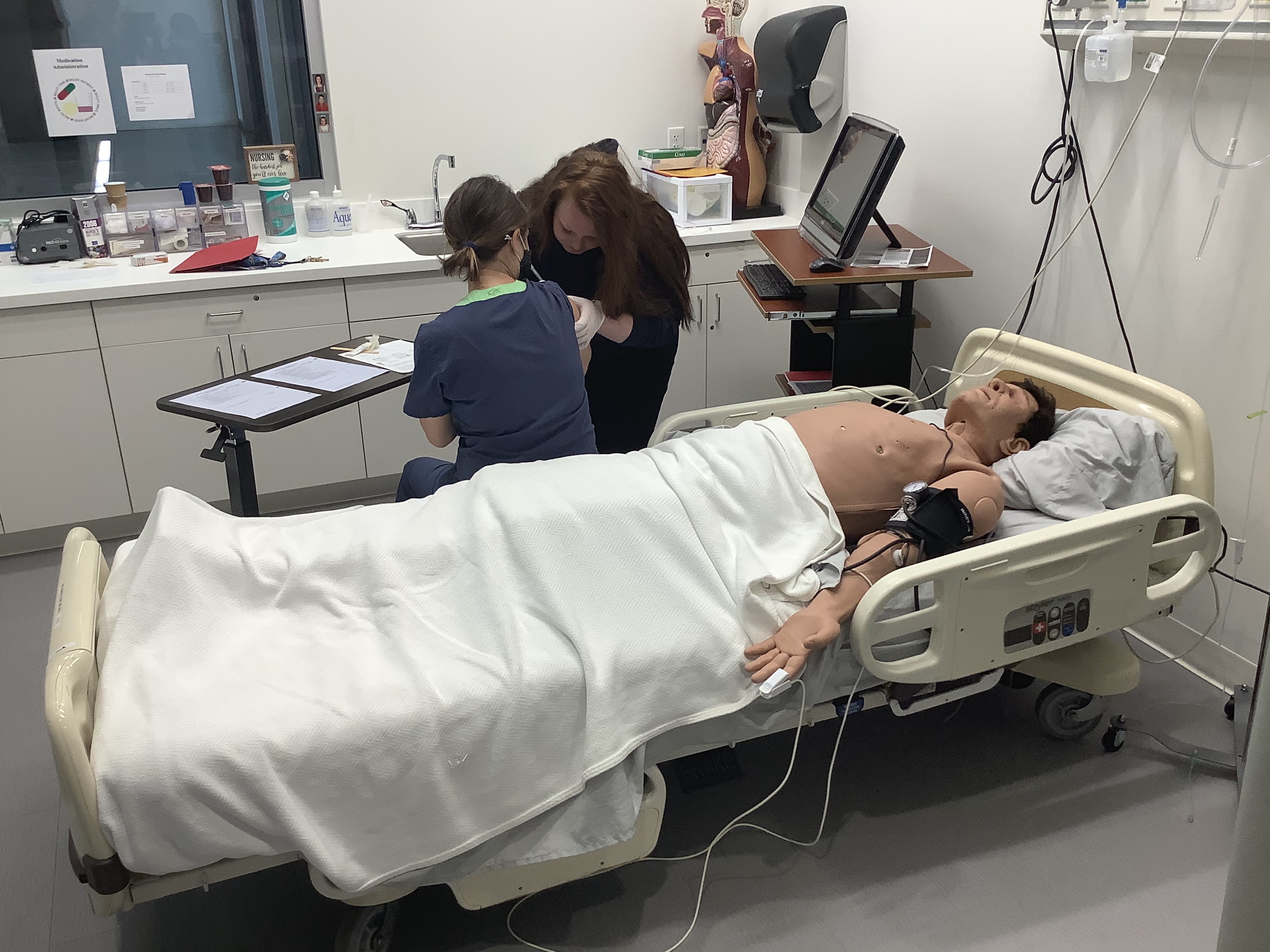 For every student that finds their calling, there's one who dips their toes in a field of study and discovers that it's just not right for them. And that's okay, a win all-the-same. Career academies don't pigeonhole students, contrary to what the model's naysayers might want you to believe.
Senior Derek Story has an obsession with Rubik's Cubes. He was first an expert at solving them. Now, he uses the CNC mill in the NCAPS manufacturing shop to make them.
Quite the venture, but one that was supported right away by Manufacturing Technologies instructor Spencer Schoof.
"We're pretty lucky to have all this equipment in here and to have that real work experience that gives us an idea of what we're getting into if we want to go into that job field," Story said. "We have a background level of experience you normally don't get until college."
As gifted as he is in the shop, Story plans to go into real estate after graduation.
"This has nothing to do with what I'm going to do as far as a career," he said. "But I did think about it for a little while, and while ultimately it wasn't for me I still really enjoyed being in here."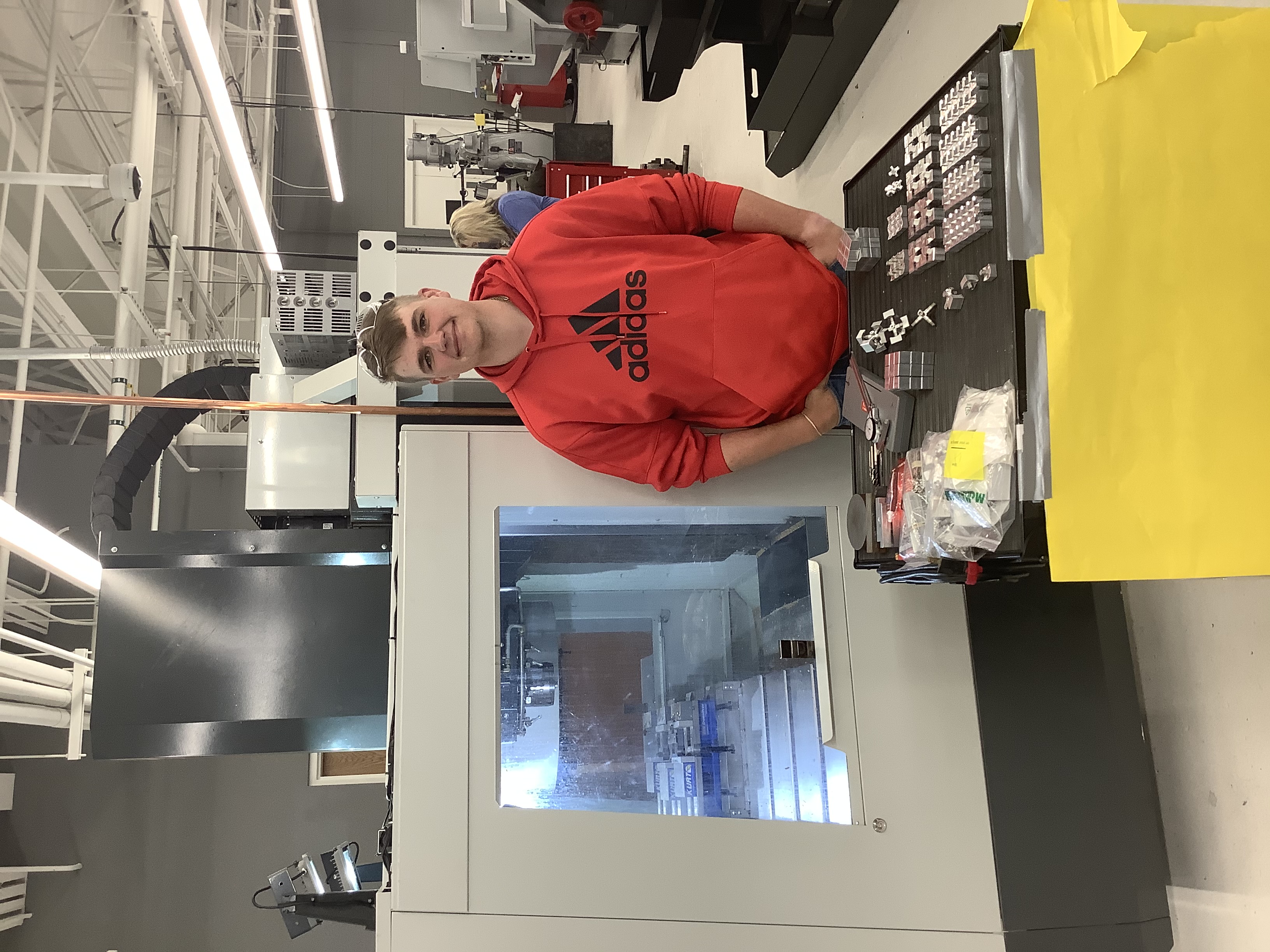 If a kid doesn't find out what they love to do, Schoof said, at least they might find out what they don't love to do.
"Then they don't have to waste time or money later in life figuring that out," Schoof continued. "Still, one of the main benefits of this model of learning is that possibility of a student finding a true passion for something."
Gone are the days of sitting still in a desk for hours at a time. NCAPS is alive all day, every day. Vibrant and bustling with projects, presentations (the juniors and seniors are set to give their big ones next week) and hopes and dreams.
"If they're doing the hands-on stuff now, they're going to be ahead when it comes to those skills when they get to their future careers or even post-secondary education," said science teacher Ashley Borer. "That's super important to us as a staff, just preparing them for the future no matter which direction they choose to go. We just want them to be prepared no matter where they go and what they do."
A strong majority of the students seem to prefer the new school way over the old.
"It's definitely more engaging than the (old) school, and gives us more experience than learning through a presentation," said junior Jenna Heinz, a student in the business pathway who, on this Monday morning, is busy in the culinary wing of NCAPS. "In the culinary classes, we definitely have to learn to communicate and read all the directions and work together as a team. Otherwise, the dish isn't going to turn out good."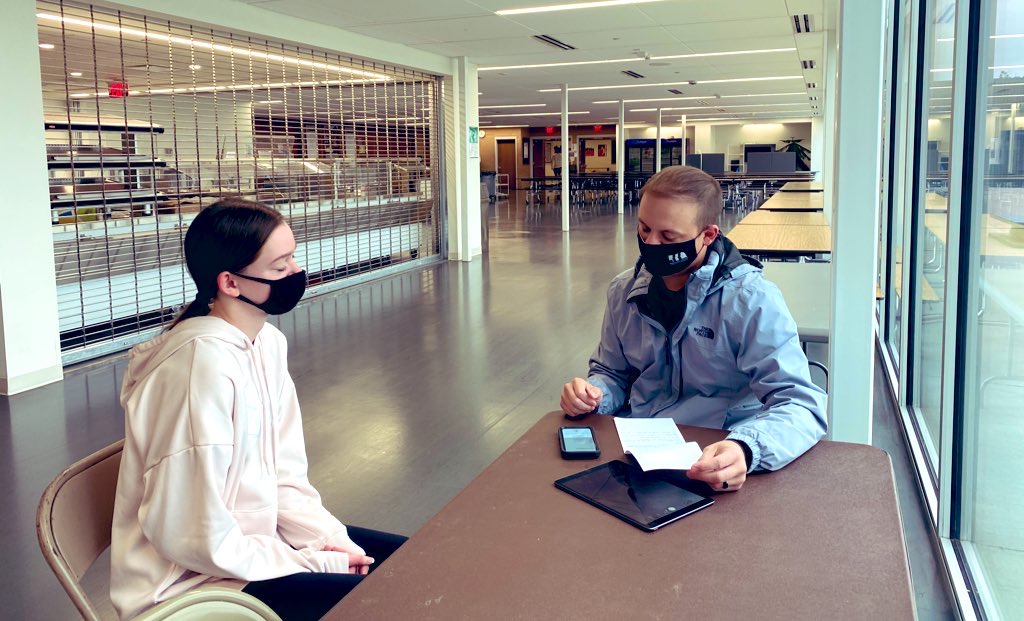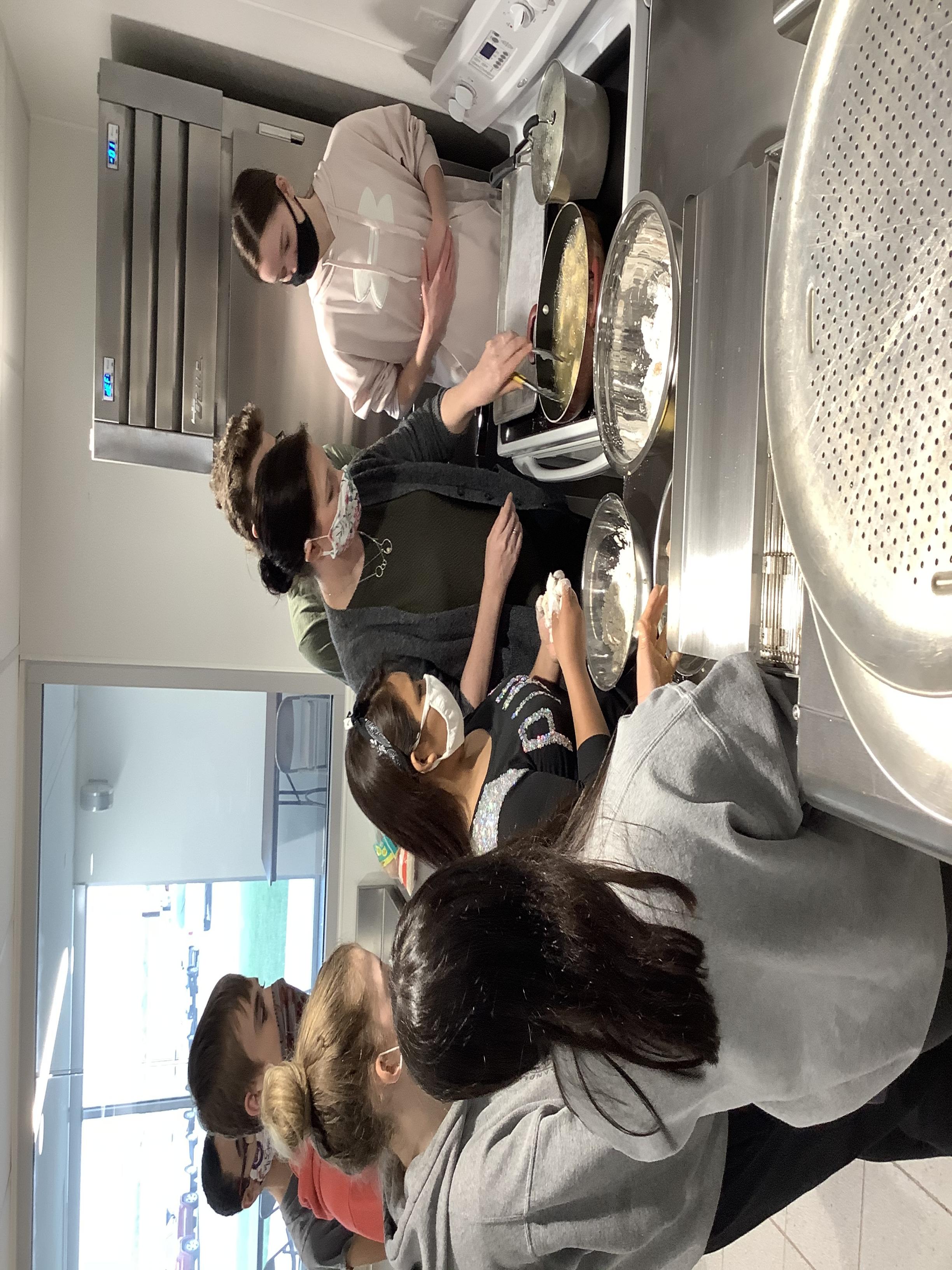 That's worth mentioning, too. For all the job-applicable skills and college credits being earned in this one-of-a-kind facility, students learn priceless life skills every single day.
"Presentation skills are definitely improved in here, as well as organization and professionalism in general," said Shackelford. "That was a big adjustment for me the first time I had to make a formal email correspondence and set up visits with my mentor. And then just being organized and attentive when you're there. Being respectful and personable, those are all things you make a priority along the way."
Those end-of-the-semester presentations and the mock interviews that coincide reaffirm to SC USD #5's administration why they're on this journey, why their district is doing what they're doing.
"The poise with which they sit in there and answer the questions and the eye contact they give you, I just cannot believe that they're seniors in high school," said Otero, who interviewed four Lawrence-Nelson students on a make-up day. "Goodness…I just couldn't believe it."
In fact, Essink said, it's part of the school district's job to make students uncomfortable at times. They're set on preparing kids for the real world, and a lot of growth happens outside of the comfort zone.
"Hopefully, we can get all those jitters out of our students prior to even graduating high school."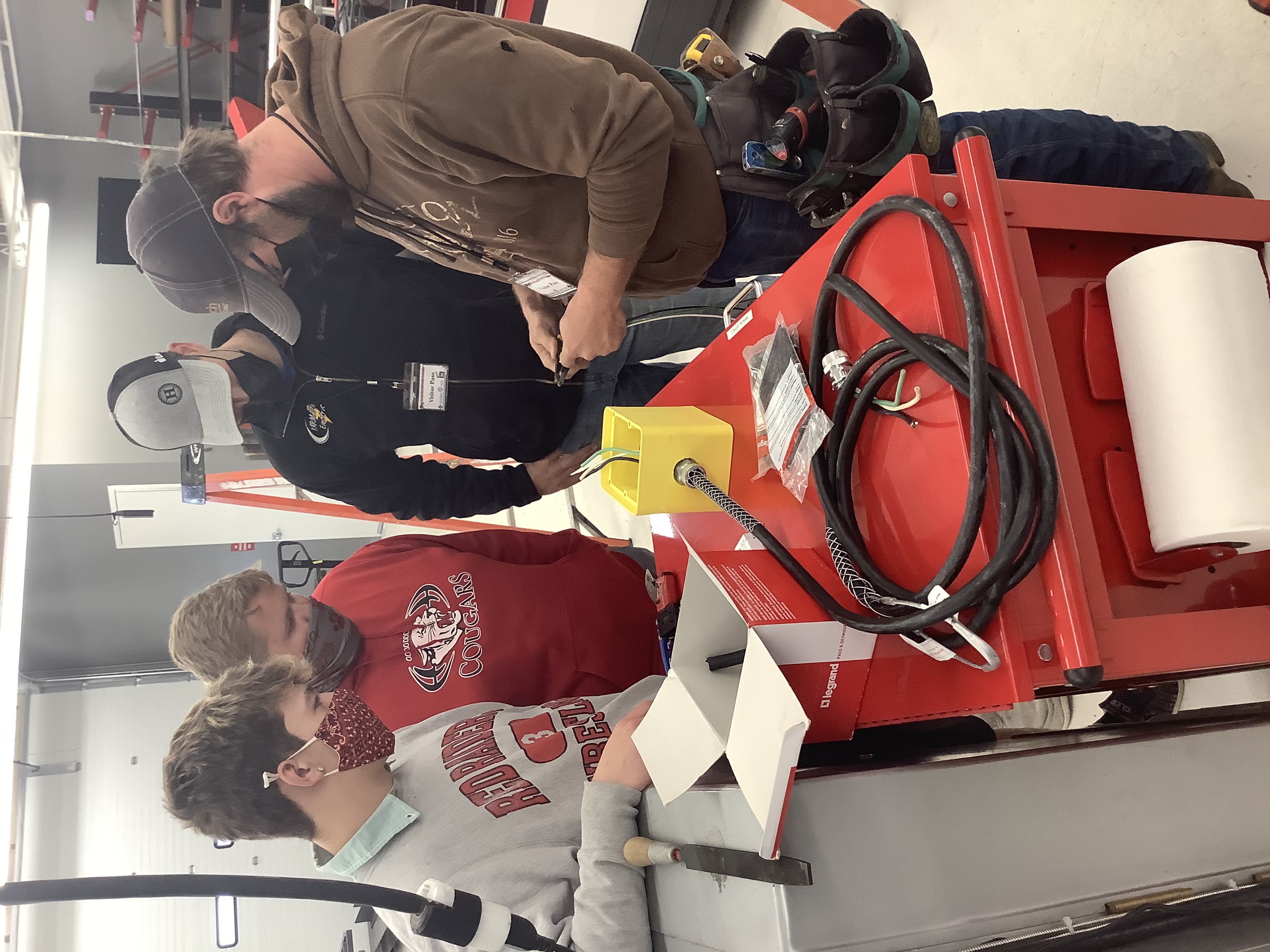 ---
Part Three: The Staff
So we're almost through the ingredient list.
There's the school district that took a big leap of faith and the community and businesses that supported and even invested in that academic revolution. There's the students who seize opportunities and see their prospective professions first-hand. There's this incredible building that looks more like Google's Headquarters than a high school.
But there wouldn't be a story without the staff. A collection of instructors not afraid to cross the line that separates standardized schooling and creative innovation.
"This is not how school was when I started teaching, and it's not how they're necessarily training teachers in college," said Jeremy Borer, Technology Director at SC USD #5 and one of the developers of 74 Creative, a student-run business we plan to write about in the near future. "Even the young teachers we get, this is not the norm for what they're instructed on. It's new and different for everybody, and that's fun. We come here without knowing what the day is going to bring. That's exciting."
Many come from straight from the professional fields they're here to teach, each one with a story of their own.
"We have been creative with how we recruit and hire staff," said 6-12 Principal Jason Searle. "In a rural district, you have to be."
Like Kristi Wehrman, who spends her mornings teaching Med-Aid and CNA classes at NCAPS while still working as a nurse in an area hospital. Wehrman would have jumped at a program like this when she was in high school.
"We all want to go to a job where we don't have to work, you know, because it's so enjoyable," Wehrman said. "And that's what we want for the kids. We hope they're getting an idea of what they want to do."
It takes a certain type of educator to thrive in this setting, where no two days ever really look quite the same. Their heads are on a constant swivel, because nobody in NCAPS is a stranger to swiveling.
"Flexibility is really key to what we do," said Essink. "We're flexible. Our staff might be switching rooms or they might have students going to meet their mentor at any time, sometimes even at the last minute. There's a lot of activity as opposed to just sitting in a classroom somewhere."
Ashley Borer's favorite moment is when something clicks for a student. In this setting, those A-Ha! moments are even magnified.
"They get to be more investigative in here, and I love seeing when they do accomplish something they've been working hard to accomplish," she said.
Otero added that the staff has grown accustomed to working closely together. The amount of daily collaboration and communication between instructors is a catalyst to keeping NCAPS running smoothly.
"I get to work with amazing people every day," said Secondary Business teacher Nanette Shackelford. "We have great, great teachers that are doing wonderful, innovative projects."
Ashley Wit, Associate NCAPS Coordinator, agreed.
"Our district is lucky to have the staff we do," Wit said. "This model came about five years ago, and it was hard, initially, to get everybody to see the picture of what this was going to look like. I We've evolved each year, and the staff is so supportive and willing to work with kids because they see the importance in the opportunities we're affording students."
Make no mistake about it, there are ample career opportunities waiting for NCAPS graduates, and they don't have to travel very far at all to find them.
"Industry is dying to have locally grown kids, students that can go out directly into the workforce or continue their skills in college and then go out into industry," said Schoof, who makes it a priority to develop strong relationships with companies in the manufacturing industry. "The place I worked after college said they'd hire five manual machinists and five CNC machinists that know how to do the work right now. There are opportunities like that everywhere for these students."
Though the program is still relatively young, it's been rewarding for SC USD #5 staff to see former students out in the workforce, making a living. Sometimes, they even cross paths.
"I'm so proud to say that I actually work with some of my fellow students now, the ones I taught in the CNA class," said Wehrman. "We are working right alongside each other in the hospital, and that's all you need to see to realize that this is a good thing for everybody."
For an educator, there is no greater reward than watching a student find and relentlessly pursue a passion.
"When you see kids working with the laser engraver and you can hardly get them to quit working on their project and go to the next class or home at night, that's the most exciting part of this," said Searle.
It's quite the experience, said Jeremy Borer.
"We're starting to get to that point where the kids have gone through it, they're getting into college and now we're seeing them land jobs and enter the professional world with the experience they gained here," he said. "It's amazing how it all ties together."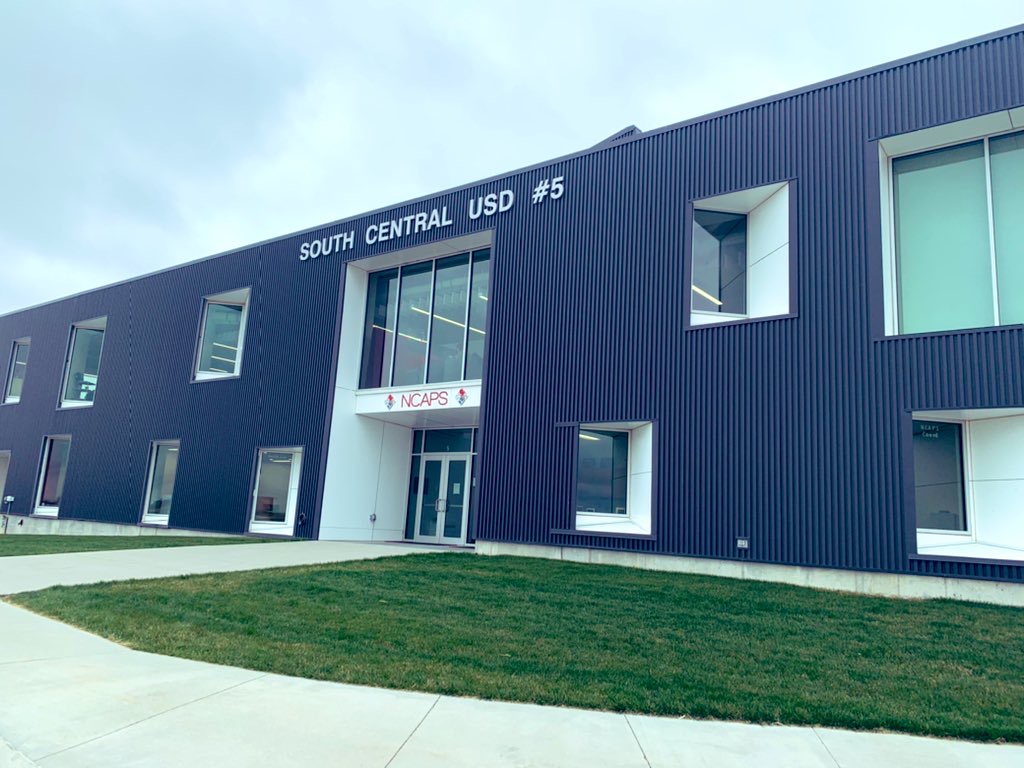 ---
Part Four: The Future
NCAPS started as a vision, and with the right amount of research and backing from the community became a district-defining reality.
So why stop there? Rest assured, they're not.
"When people have come up with ideas or dreams at some point, it's usually come to fruition," said Wit. "There's all this new equipment, laser engravers, and unbelievable creativity. The students are shooting commercials for real businesses. It's just surreal to have them producing work like that. Five years ago, that wasn't somewhere we thought we'd be."
The possibilities have proven to be endless, said Searle, and the staff's propensity to think outside of the box will only lead to higher and more impressive levels of project-based learning.
"It seems like we've done so much," said Wit. "It's hard to imagine what could be bigger and better than what we're doing."
And yet, that's exactly where they're headed.
Where to start? Well, pick a pathway and get on your way.
That's the magic of this place.