The Show Goes On: Kearney One-Act team grows closer, cherishes memories from challenging season
The Show Goes On: Kearney One-Act team grows closer, cherishes memories from challenging season
Thursday, December 10, 2020
By Tyler Dahlgren
Kearney's One-Act team learned over the course of a peculiar 2020 season to appreciate each and every opportunity to grace a stage.
Their path to performance was, after all, cluttered with obstacles. Quarantines and illnesses that sporadically separated cast and crew, and periods of time where it became uncertain if the curtain would again draw.
On the first night of December, after putting on their final and strongest performance of 937 by Don Zolidis, the team looked out onto an auditorium and graciously bowed. A common gesture, but one that was packed with gratefulness and, yes, relief.
"The circumstances of 2020 definitely caused me to be a lot more grateful for what I'm given and the opportunities I have," said senior Maleah Wright, a four-year member of the one-act team who played Elise in the play. "We didn't know if we were going to have a season, and then when it did start, we had to worry about it being cancelled half way through."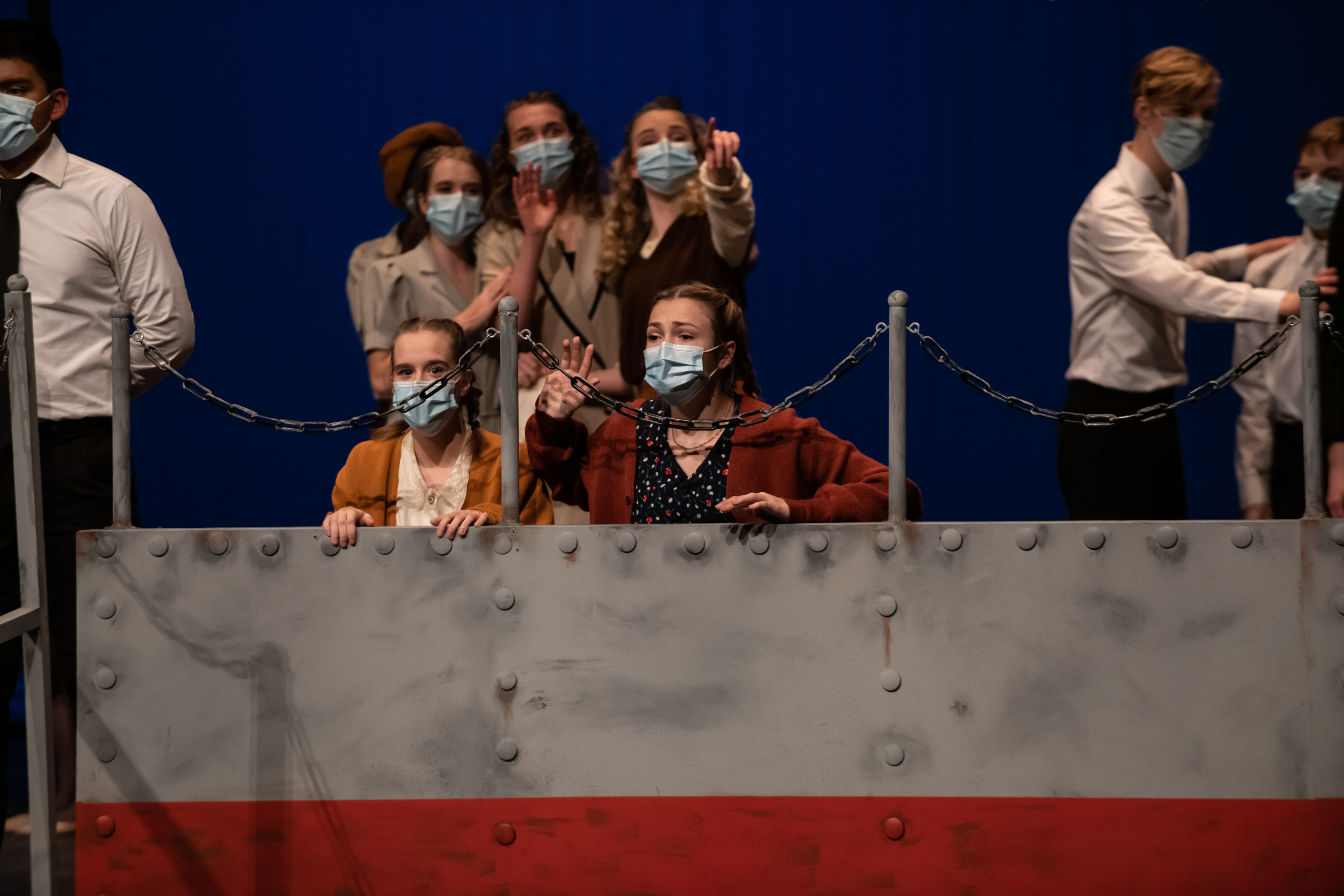 (Photo Submitted)
Michelle Bombeck is Kearney's One-Act coach, starting a new career in education at the beginning of the 2020-2021 school year. Quite a time for a career switch, she admits, but there is comfort in the fact that things are never going to get harder than they've been this fall. It's helped, she said, having such a high-character group of students to navigate the myriad of challenges that come with putting on a performance in the middle of a pandemic.
"I just kept telling them that this is the only day we have," Bombeck said. "So we're going to do our very best today, because that's all we're promised."
Bombeck and her assistant coaches Katie Sladek, Austin Shiers and Abigail Algueta took extra measures to make sure the team was prepared for any kind of adversity. They double-casted each role so that the production wouldn't skip a beat when someone missed time. When the team's head lighting technician was quarantined the week of districts, there were students trained to step in and assume her roles.
"I don't think I've seen this many technicians know as many different things as they do," said senior Lainey Schmeits, the team's crew chief. "Student leadership ended up being important."
More than important, Bombeck continued. It was paramount to the team's success.
"I've done a lot of different things in my life and I firmly believe that to be a good leader you have to put good people in important roles and allow them to do what they do best," Bombeck said.
The team placed third at districts, narrowly missing out on an opportunity to perform at state. They were disappointed, sure, but those feelings paled in comparison to the pride they felt for what was accomplished over the last two months against steep odds.
"It's not about winning, or getting the trophy, or the placing," Wright said. "It's about being proud of the story we got to tell and the people we got to tell it with. I'm proud of every single aspect of the show."
Telling the story, putting on a performance while following pandemic protocols and procedures, well that's a story all on its own. Acting on stage, at times in front of sparse audiences and at times in front of nobody. Portraying characters behind the guise of a mask, relying on physicality to relay powerful emotions. It was all part of a memorable journey.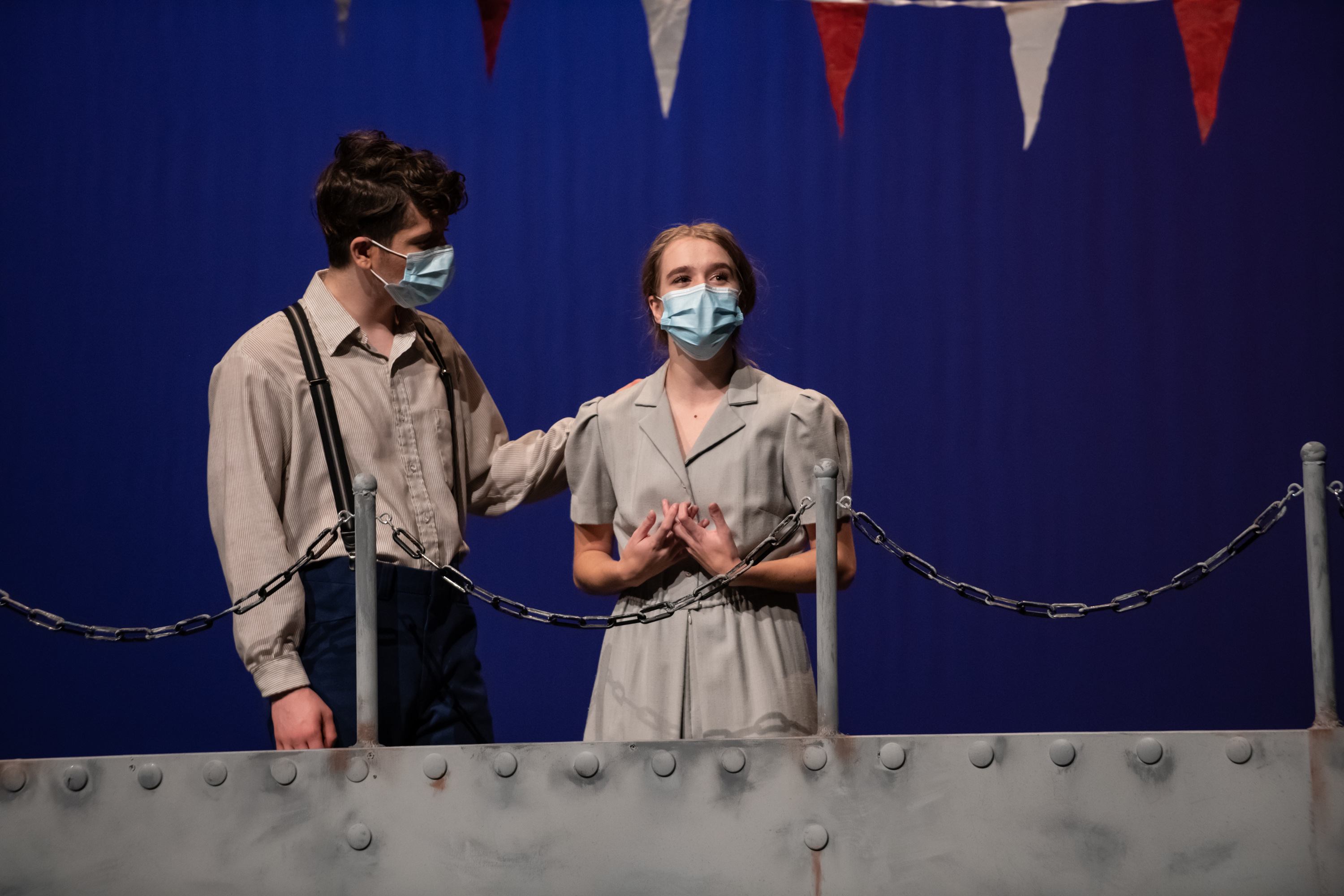 (Photo Submitted)
"We had to really make sure that every feeling was coming out in a different way," Bombeck said. "It took a while to get used to the masks, then we shifted our focus to finding other ways to show emotion."
Without microphones or overly elaborate costumes, this was a challenge, admitted Wright, but a fun one to tackle.
"We were able to focus on our projection, our enunciation, and getting the sound out over the masks and into the auditorium," Wright, who stressed the importance of communication, explained. "From day one, I had a gut feeling that our communication was going to rise simply because I've known Coach Bombeck for a couple years and I know that she's very much about communication, which I'm personally thankful for. That emphasis allowed us to become a closer team."
Acting, as the old adage goes, is reacting. Having a large audience pumps energy into the show. The stage performers feed off the crowd's engagement. In empty auditoriums, actors were tasked with generating their own energy. Wright and her teammates did so by diving deeper into character.
"When we got to those competitions where we knew we weren't going to have audiences, we asked ourselves 'How do we keep that energy?' or 'How do we tell the story the same exact way?'" she said. "That's where the actors tried to explore their characters more and really became one with them."
While Wright entered high school with long-time aspirations of acting on stage, Schmeits took a chance joining the one-act team. It sounded like it might be fun, she remembers thinking.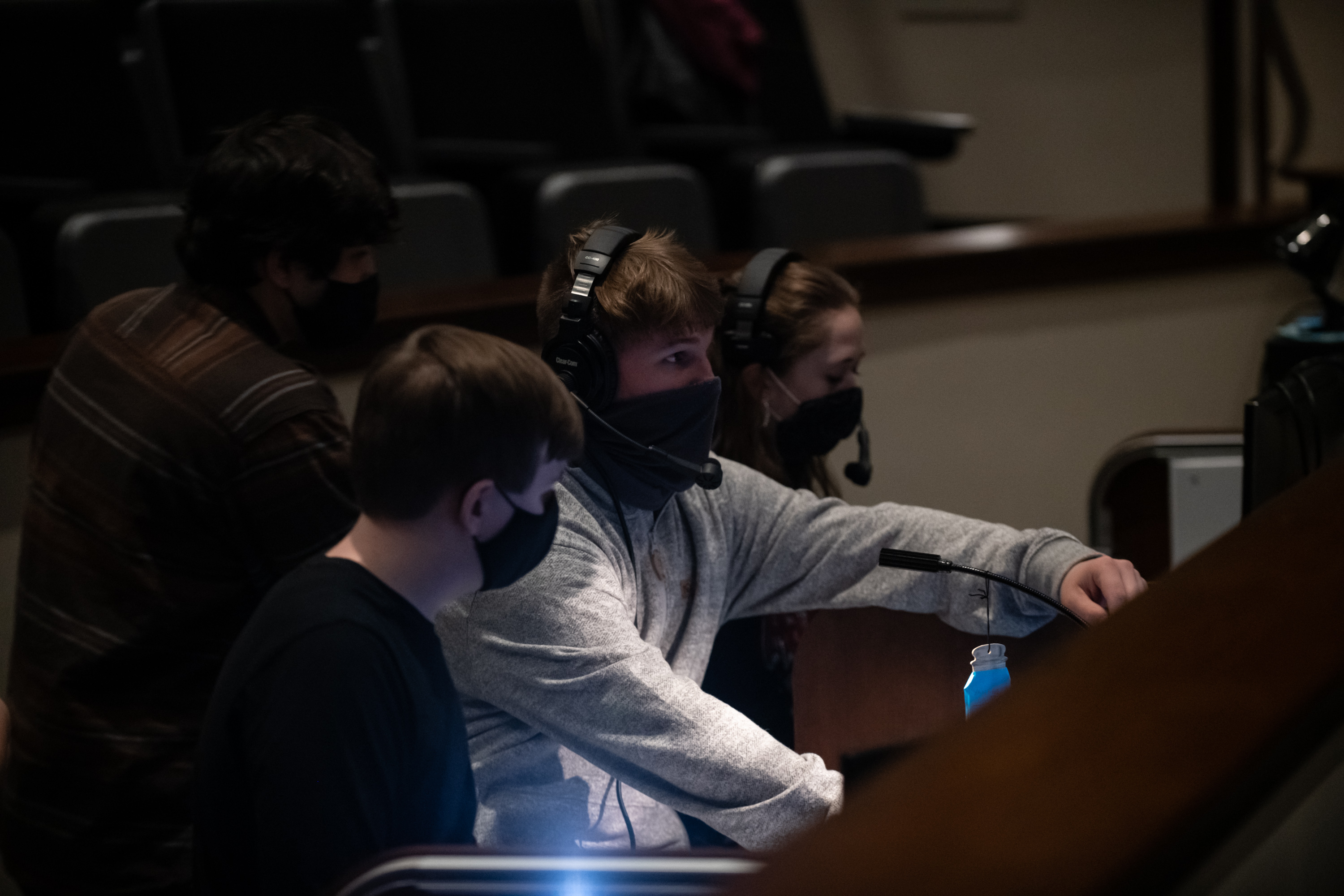 (Photo Submitted)
"I quickly fell in love with it," she said. "It happened by accident, but it was a happy accident. I have made a lot of friendships through this team, and I'm really grateful for that."
Bombeck will never forget this year's team, and not just because they were her first or even because of the unprecedented set of conditions the season took place under.
"We had a huge shift in culture and that was really freeing for those who embraced it," she said. "We have become a much stronger team than I ever thought we would be. That will be something I will always cherish and remember, just how tight the team grew."
Schmeits said the feeling before the team's final performance at districts was surreal. In that moment, one that is usually met with anticipation, build-up and sweaty palms, she took a moment to reflect.
"It was like all the struggles with COVID and everything we'd been through felt worth it," Schmeits said. "In that moment, it was worth it to have a season, to choose be on the one-act team this year."
Wright's moment came on stage, about halfway through the riveting story of a ship captain who sets sail from Hamburg with 937 Jewish refugees escaping Nazism for refuge in Havana, Cuba.
"Everything hit me all at once, the weight of our show and what was being talked about and the weight of what we endured to get here and the weight of this being my last performance, and I definitely cried during one of my lines," Wright said. "Four years of amazing plays all hit me, and I remember thinking 'Wow, look what I get to do.' I'm thankful for that. I'm proud, and there's no other way to put it."
Bombeck watched that final performance and felt a similar sense of immense pride.
"It was the best performance they've ever put out," the coach said. "I'm proud of the way they grew as individuals and as a team. I'm proud of the way they treat each other."
Competing in one-act teaches students so many skills that are transferable to other parts of life. Time management, responsibility and teamwork. Flexibility and, especially this year, patience, too.
"Oh, so much patience," laughed Wright.
It's not a solo job, said Bombeck. Nothing in one-act is. Each team member plays a significant role, and the puzzle isn't complete without every piece accounted for.
"If you're running a spotlight, your job is just as important as the lead role," said Bombeck. "These students work under serious pressure. It's competitive."
When the team returned back to Kearney from Lincoln, they watched the awards ceremony together. Third-place is nothing to be discouraged about, but missing out on state was met with a touch of disappointment. Thanks to perspective, that disappointment quickly gave way to appreciation.
"There weren't a lot of sad tears," said Bombeck. "Because we got to have a season."