The Shelves are Stocked: Beatrice High School's Mini Market helping students, families in pilot year
The Shelves are Stocked: Beatrice High School's Mini Market helping students, families in pilot year
By Tyler Dahlgren
For years, Officer Zac Lauenstein kept the drawers in his Beatrice High School office stocked with snacks to bridge the gap from meal to meal.
Pop-Tarts, granola bars, sweet and salty crackers-the good stuff.
Over his 12 years serving as a high school resource officer, Lauenstein hosted countless students in that office, their troubles wide-ranging, some more severe than others.
"I can't tell you the number of times that a student would come to me upset about something, and not all the time, but there's a percentage of the time where they were just hungry," said Lauenstein, who would then slide open the drawer. "Even if it's just a couple Pop-Tarts or a breakfast bar, getting some food in their bellies allows them to reset and go have a successful rest of the day."
Officer Lauenstein's K-9 partner, Toro, who trotted down the hallways disguised as a friendly lion the Friday morning before Halloween, eventually grew too big for that space. So the pair packed up and moved to bigger quarters in the main office, leaving the old office vacant.
It wouldn't sit empty for long.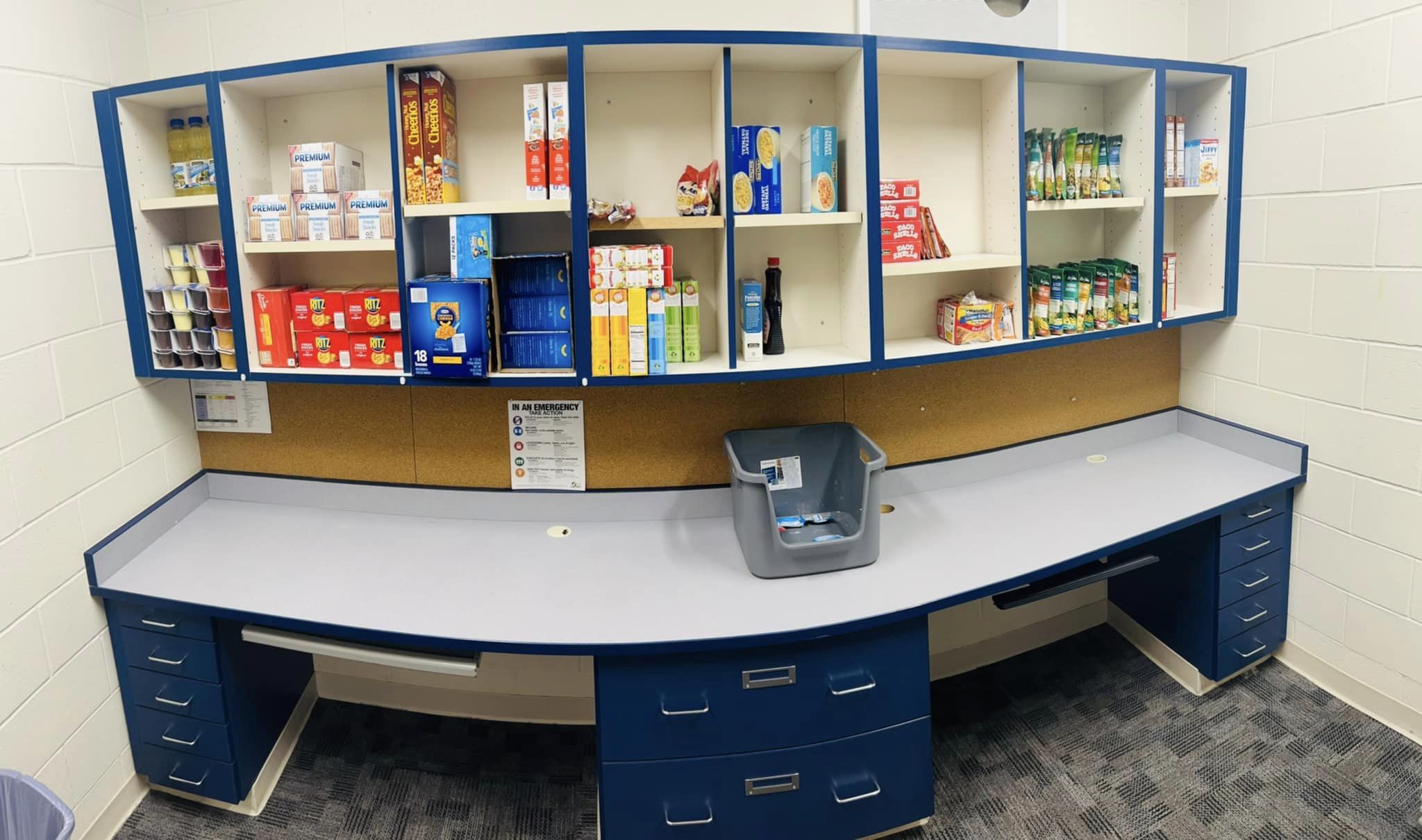 ---
Jason Sutter loves Beatrice High School. He's been engrained in this school district for 35 years, the last two decades as principal.
"I love our kids," he said. "I love the way our kids come to us with a desire to work hard and the recognition that if they work hard, if they strive for something better, they can achieve that."
Through the years, the school has seen an uptick in the number of students that qualify for free and reduced lunch. Right now, the rate fluctuates between 58 and 65-percent.
Sutter's always been invested in that type of thing, true to BHS's "One School, One Family" motto. In the past his staff has organized different fundraisers-coat drives, a clothes and hygiene closet, etc.-aimed at fulfilling student needs.
One day, Sutter and Lauenstein were chatting about the elementary school's ultra-successful backpack program. They were marveling at the support the program has provided to food-sensitive students and their families. Before long, as these kind of talks often do with educators, the conversation turned inward.
So, they asked themselves: "What about the high schoolers that are food-insecure and don't know for sure if they're going to have food for the weekend or even for the night?"
The wheels were turning. They had the perfect space in the SRO's vacated office. They had the infrastructure in place, and given the community's investment in their public school system, they could surely find the resources.
"There's a tremendous need for us to care about kids," said BPS superintendent Jason Alexander. "And there's a tremendous need for us to embrace all of the things that need to happen in order for kids to learn in our district."
This was one of those things. Students can't learn on an empty stomach, and the data told them that there were far too many empty stomachs inside Beatrice High School. Their eyes and hearts told them the same thing.
"Through our interaction with students, and our ability to form and develop relationships, we just knew this was something we wanted to address immediately," Sutter explained.
Officer Lauenstein picked up the phone and dialed the Community Food Pantry of Beatrice, an obvious move, and, as it turned out, the best thing he could have possibly done.
That was last spring. By this fall, the BHS Mini Market was officially open.
"We've been up and running since," said Sutter.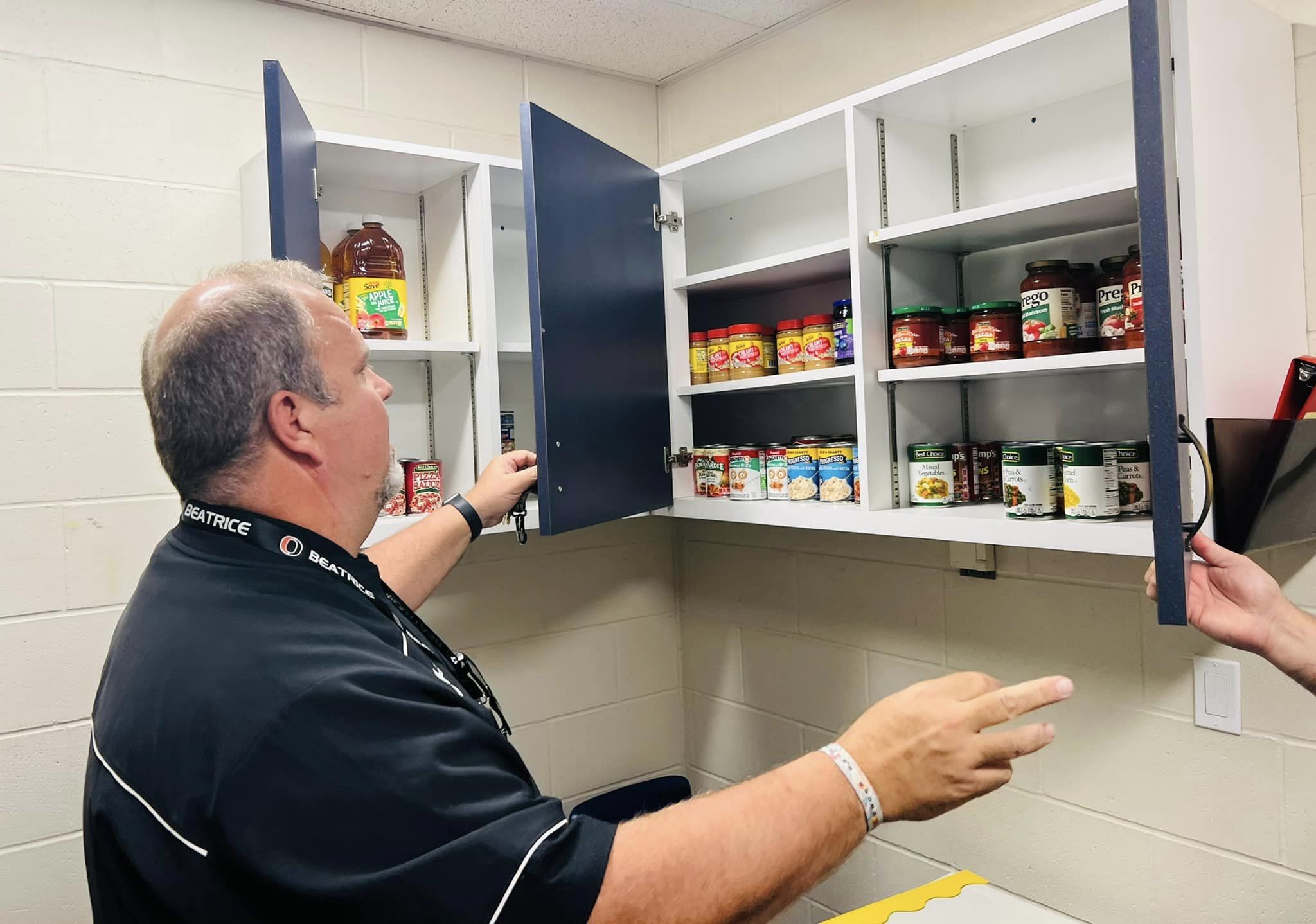 ---
A 2006 graduate of Beatrice High School, Tara Dunker is a Registered Dietician and a University of Nebraska Extension Educator in Gage County. She also serves on the community pantry board.
The community pantry was seeing a similar boom in clients. Unprecedented, actually.
"Our total clients served doubled in five of the first six months of this year compared to those same months in 2021," Dunker explained. "We're also bringing on an average of 12-15 new clients every month, showing that with the rise in grocery, gas, housing and general cost-of-living expenses, Gage County families are struggling to make ends meet."
Lauenstein and Alexander linked up with Dunker at a local MAPS (Multiple Agencies Partnering for Success) meeting. They talked, and the ball was officially rolling.
"She brought it up, and we talked after the meeting," Lauenstein said. "It quickly snowballed into this, and it's helped quite a few families already."
Dunker's the one who gave BHS's pilot program its name, and, more so, she's credited by Lauenstein for doing most of the leg work required to bring the Mini Market to life. The food is funneled through the community pantry, all of it through donation. Sutter said the school has received plenty of calls from community members wanting to help, and while each are met with tremendous appreciation, the good Samaritans are directed to the community pantry.
"We thought that was the more appropriate way to do it," he said. "They can check the shelf life, the nutritional values, and decide which things are appropriate for the mini market better than we probably can."
What's blossomed is a beautiful example of school and community collaboration. Dunker, who does the "shopping" for the items that are brought over to the high school, said the partnership couldn't be any smoother, while the BHS team said the program wouldn't be possible without the two working together.
"It really just benefits the community and us," said Lauenstein. "The food pantry's still able to do the good that it's always done while bringing in extra support that they're able to funnel back this way."
The BHS Key Club is responsible for hauling the goods in and stocking the shelves in Lauenstein's old office-turned-mini market. The audio and visual media production class developed the snazzy signage, a testament to the all-hands-on-deck approach that plays a big part in the program's success.
One of the school's priorities, Lauenstein said, was providing maximum dignity for those who use it. A key hanging from a chain gets the student inside, where they put together their bag of goods and stash it until the end of the day. After school, before his daily debriefing down at the police station, Officer Lauenstein will drop the groceries off at the student's house.
Total confidentiality. That's what they're promised and that's what they get.
"As good of relationships as we have with the kids, we also don't want to embarrass anybody," Sutter said. "We don't want to put kids out on a pedestal. We just want to help them and do so under the best circumstances."
Relationships. It all comes back to relationships. One school, one family.
"We're not unlike a lot of schools, but we really have focused on developing relationships with our students," said Sutter. "We have students that come to us from all different ranges of society, and we talk to our teachers about that often. We cannot teach our kids effectively if we do not know about them and what they're dealing with outside of here."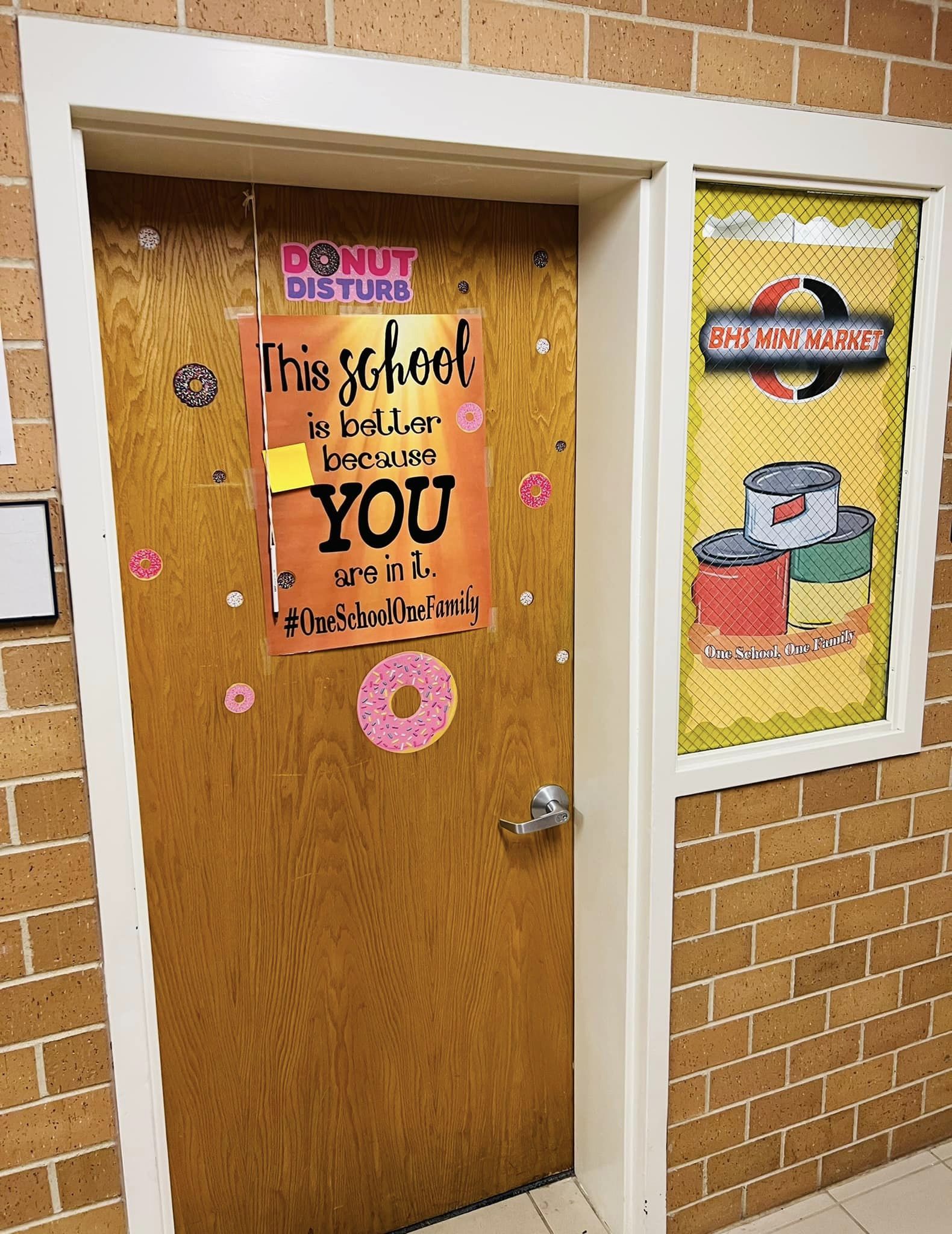 ---
We're 25 minutes into the story, gathered around a conference table, and Alexander has been mostly quiet. Quiet, but not disengaged.
He's listening to Sutter and Lauenstein talk, and he's brimming with pride.
"Oh, it brings tears to my eyes," Alexander said. "This program is a true reflection of the embodiment of human kindness that we have here at Beatrice Public Schools and in this community. It gives me a great deal of pride to know that we have people in all positions who really care about kids."
That extends beyond the school's doors, too, where an entire community in Southeast Nebraska isn't short on care. Not when it comes to kids.
"The Mini Market is a great example of what can be accomplished for our young people when caring members of the community come together to address a need in a way that makes sense for everybody," Dunker said.
Ultimately, everything circles back around the district's strategic plan.
"What's so cool about that," Sutter says, "is that it's developed by our community."
Lauenstein sees the school he serves as a microcosm of the city it sits in.
"I've been not only working here, but I live in this community, I've raised my kids in this community, and I'm passionate about this community," he said. "I've seen all the good this community and these schools can do for our youth."
After touring the pantry, we walk towards the front of the school, passing a snack basket accessible through an open window in the office.
"The bowl's always full, all they have to do is reach their hand in here and take what they need," Lauenstein says.
Officer Lauenstein and Sutter are stopped by a student here and a group of students there along the way. They talk. They laugh. They smile. One passing student tells a Halloween joke that cracks his principal up.
"I have no doubt that this building is the warmest place that some of our kids go to during the winter and the coldest in the late spring and summer," Sutter said. "The safest, too."
The BHS Mini Market shelves are stocked.
Today, and tomorrow, too.