The Secretary Series: Waverly's Warm and Welcoming Trio
The Secretary Series: Waverly's Warm and Welcoming Trio
Monday, February 25, 2019
By Tyler Dahlgren
The front office of a middle school, as Rochelle Johnson puts it, is a land of adventure.
It's a daily rat race, says Waverly superintendent Dr. Cory Worrell. An eight-hour dash to the final bell that, if it weren't for Johnson, Sharon Claussen and Carrie Morgan, might very well stray from the course.
"They just do an excellent job for us," said Worrell. "They are all very welcoming people, and they obviously communicate very well with parents and students. They're also aware of the day-to-day stuff families are going through."
For two decades, Johnson and Claussen have been the first faces visitors see when entering Waverly Middle School. Their motto is "Warm and Fuzzy", spun out of a piece of advice from long-time principal Dennis Bellinger about a dozen years ago, when the new WMS building opened.
"He told us that we were the first voice people hear when entering the building, and the first faces they'd see, so we needed to be warm and welcoming" Johnson said. "We have always tried to present that, and we've realized its importance."
Morgan is the relative newbie to the trio of secretaries, nearing her five-year mark. From observing her two office companions, she learned quickly how vital a skill multitasking can be throughout the course of a day. Each year has been a little easier than the last.
"I have excellent role models, and that's made a huge difference," she said. "They already know they can't retire."
It's coming, Claussen jokes. Her and Johnson have nearly 40 years of combined experience. Retirement is somewhere on the horizon.
"That's what I don't want to hear," Morgan petitions.
The three are kind of like sisters, Johnson explains. There's times when they can get admittedly "naggy" with one another, an inevitability when working a job which requires so much collaboration in such tight quarters. Mostly, though, their days are filled with cohesion and problem-solving.
"We communicate, and that's so important," Johnson, the school's health tech, said. "I fill in or help them if they have extra stuff. And I keep them in the know with what's happening back there, because if I am gone, they cover my office."
If a day turns frenetic, and often times it does, the trio remembers to find joy in the frenzy.
"We like to keep things light-hearted and humorous," Claussen said. "At this level, you have to."
There have been occasions, however, that have required poise from the school's front office. WMS Principal Ross Ricenbaw finds it difficult to put into words the value of Johnson, Claussen and Morgan.
"When they've had to respond to serious stuff, they've never been rattled," he said. "They've done so professionally, calmly, and with humility."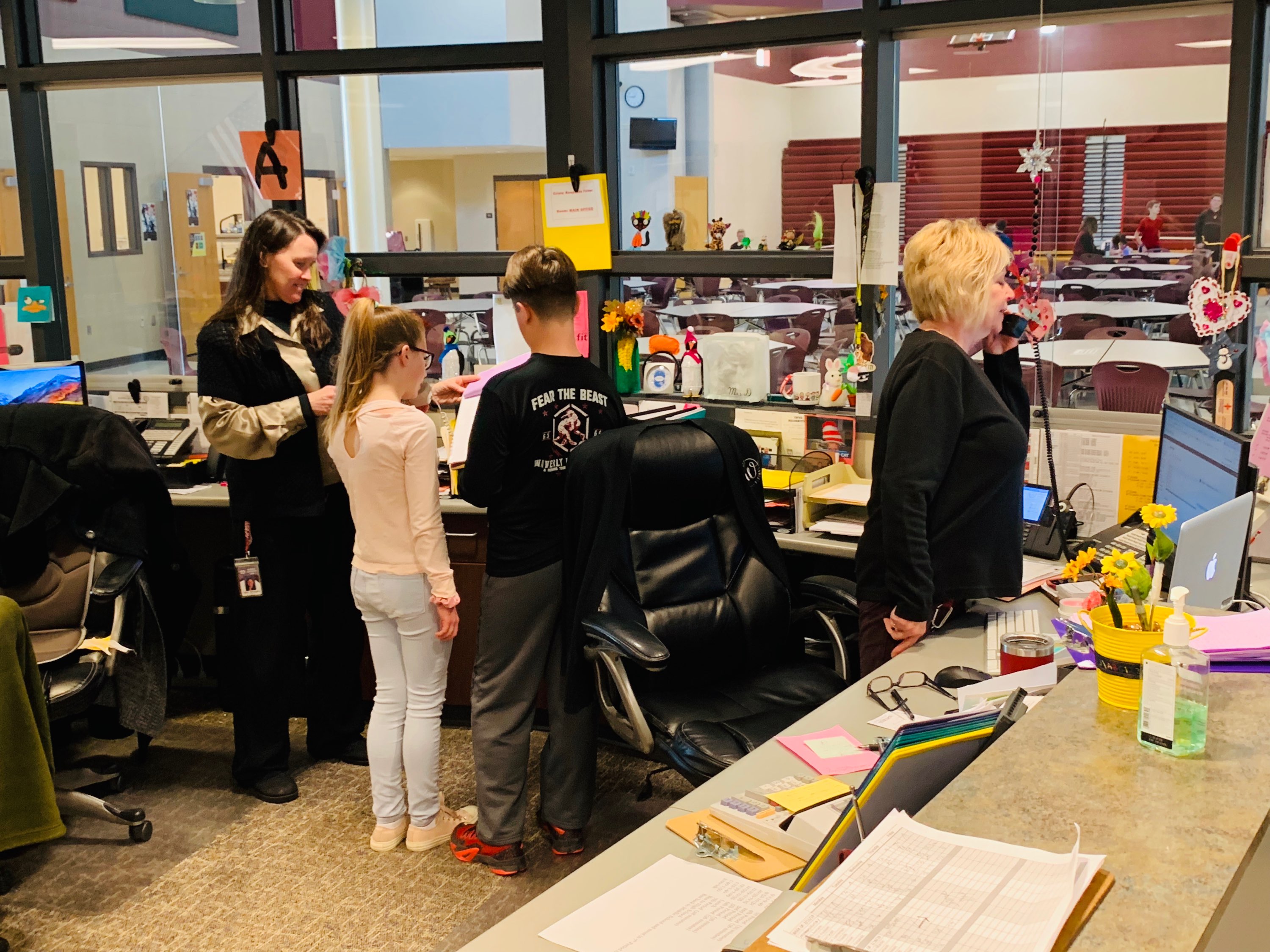 (Above: Carrie Morgan (Left) assists two Waverly students in reading the morning announcements and the Pledge of Allegiance, while Sharon Claussen (Right) answers a phone call during a normally busy Thursday morning at WMS.)
In their work, Ricenbaw notes, the three are incredibly efficient, but it's not their proficiency which impresses him the most. It's the human element of what they do, and the grace with which they do it, he admires most.
"It's beyond the stuff you see," he said. "Buzzing in doors and taking calls, that's the stuff they do. It's the human side, if there's a staff member who is ill and needs help, or a kid who is struggling at home with an issue who will come in at any moment and have a relationship with anybody in here, that really speaks to who they are."
When asked about the most rewarding part of their jobs, there's no debate. It's the kids. Like Ricenbaw illustrated, the three are a system of support for many students. Often, they interact with kids during a time of struggle.
"We need to show the kids that we care about them as an individual, no matter where they come from or who they are," Johnson said. "At this age, there is so much changing. They are trying to find out who they are. Each one of us really cares about each student."
Claussen sees a level of comfortability between Waverly students and Johnson, and open lines of communication throughout the school helps to make life easier on the entire staff.
"She's a huge part of emotional support, and there are things Rochelle learns about kids that maybe staff in general doesn't even know," she said. "We are also blessed with staff camaraderie, and that is huge. You just feel like you're in a circle where everything is going to be okay."
For Johnson, helping just one kid a day makes all of her team's hard work well worth it. After 19 years at WMS, it's the kids who put a spring in her step every morning.
"When they come in happy to see you and happy to be here, that's what keeps me going," she said. "And it's always exciting to see where they go. They change so much from the time they leave here to the time they graduate. Even though they're just going to the high school, a lot of times we don't see them much."
Because of Waverly's size, Claussen said, the secretaries are able to learn the names of all their students. When they come back after moving on to high school, Johnson is usually the first to put a name to a face. When a former student accomplishes something down the road, they beam with pride.
"When a student struggled here, and you see them excelling in something at the high school, and you see them blossoming, that's maybe the most rewarding part of what we do," Johnson said.
They may not know it, and they definitely aren't the type to take any credit for those successes, but Ricenbaw certainly doesn't understate the trio's influence within the walls of Waverly Middle School.
"They're a big part of setting these kids in the right direction, as far as just having a person who genuinely cares about them," he said. "It's neat to see."