The Secretary Series: Two Towns, One Culture for Riverside Public Schools
The Secretary Series: Two Towns, One Culture for Riverside Public Schools
By Tyler Dahlgren
Cedar Rapids
Tucker Tejkl is in first year as principal of Riverside High School in Cedar Rapids, a district he fell in love with when interviewing for its family feel.
As a new administrator, Tejkl is feeling his way through his inaugural school year, immersing himself in Riverside's infectious culture while learning the ins and outs of the job, a process which has been easier thanks to the building's two secretaries.
"I'm not just saying this to say it," he said of Sharon Bennett and Barb Newquist. "Without these two, I'd be lost, just because of how much I rely on them."
Bennett and Newquist have nearly 30 years of shared experience between them. Tejkl calls the duo the backbone of the school. Since 2004, they've been greeting visitors with a welcoming smile.
"You feel a welcoming presence as you walk in to our building," Tejkl said. "Even if they're busy, they'll make time for you. They're just very friendly."
Creating a warm atmosphere is only part of what Bennett and Newquist are asked to do. For secretaries, no two days are ever quite the same.
"You work with a lot of lists," said Bennett. "You start the day with a goal, but you realize within the first 15 minutes of the day that your goal is gone or needs to be shifted."
Usually, said Newquist, time dictates what needs to be at the top of the priority list. Fluid lines of communication between the front office and the rest of the staff are a necessity.
"They work well together, and we try to help them and keep them organized in any way we can," Newquist said of Riverside's teachers. "We really help each other."
If it weren't for Barb, Sharon jokes that she wouldn't ever have the chance to use the restroom. The two lean on each other often throughout the course of a day. Their true reward comes from watching the students grow.
"Their successes, that's probably the most rewarding thing for us," said Bennett. "To go to their music programs and their sporting events and just to see those smiles on their faces. When they're having a good day, you can have a good day."
Newquist has worked in different schools throughout her entire career, and there's just something special about Riverside.
"I enjoy coming to work every day," she said. "I enjoy the people, I enjoy the place and I enjoy the kids. I just love this school system."
Spalding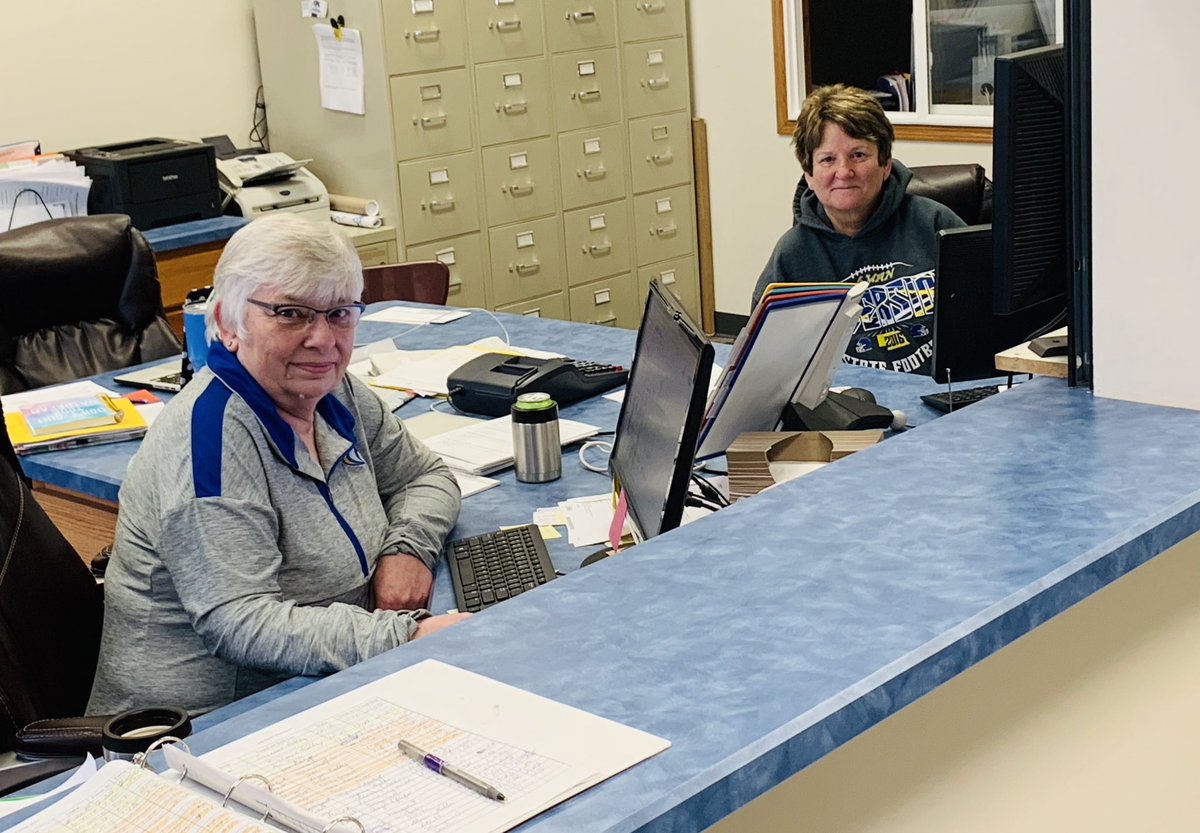 You can't visit one RPS campus without swinging by the other.
"When we did the merger five years ago, our culture expanded all the way up to Spalding," Bennett said of the home of Riverside Elementary, where Nancy Hendrickson and Sherri Molt cultivate a similarly inviting atmosphere.
Hendrickson started as a part-time bookkeeper at the school in 1977. Twenty-seven years later, in 2004, she became full time.
"I love it, or I wouldn't have worked here for over 40 years," Hendrickson said with a laugh. "The coworkers and the kids make this a special place. There's a real family feel."
Every day, students pass by the front office on their way to lunch. Hendrickson and Molt know all of them by name. Each year, the kids grow a little taller.
"It's rewarding to see the kids grow up and how they mature," said Molt, who subbed in the kitchen and several other roles before taking over her current role nine years ago. "It's fun to watch them in ballgames and other stuff down the road. We feel like we're a family."
Kids and teachers alike feel comfortable coming to the front office with questions or simply just to talk.
"There's just something about Nancy and Sherri that make people feel comfortable," said Melissa Weltruski, Riverside's Land Manager. "They care about the kids and the staff, and the kids and the staff care about them."
On any given day, Weltruski adds, Hendrickson and Molt play the role of school nurse, too. Their list of responsibilities is a long one.
"They do so much more than meets the eye," said Weltruski, who says the same about Bennett and Newquist in Cedar Rapids. "You just never feel like you're inconveniencing them."