Scripted for Success: Small pocket of northeast Nebraska is rich with One-Act talent and tradition
Scripted for Success: Small pocket of northeast Nebraska is rich with One-Act talent and tradition
By Tyler Dahlgren
Chapter 1: Setting the Stage
After a decades-long run of One-Act brilliance, the trophy case walls at Wausa and Hartington-Newcastle are starting to close in.
In early December, "Wausmond" (the school started a play production co-op with nearby Osmond four years ago) brought home the C-1 title from the State Play Production Championships in Norfolk, its 13th in the last 16 years. Hartington-Newcastle reigned supreme in C-2 for the ninth time in the last 10, a staggering run for two teams who are plenty familiar with one another.
It's a small pocket of Nebraska, less than 25 miles from Wausa High School to Hartington-Newcastle. The area has become a mecca for one-act talent, but there's nothing special in the water. No highly-coveted secrets to success or magic blueprints for state championships.
Just two special programs with high standards and students willing to go to great lengths to uphold them.
"You need a little bit of talent and a lot of good, hard work," said Wausa senior Brandon Kristensen, who started his one-act career on the stage crew in 7th-grade.
One-act is part of the area's culture, said Hartington-Newcastle superintendent A.J. Johnson, who has coached the Wildcats for the last 15 years.
"Having such good competition around the area really pushes everyone to get better," Johnson explained. "We compete with each other every year at conference. When we've won, it fires them up to get better, and when they've won, it fires us up to get better. We try to beat each other, but we're also very supportive of each other because we're never in the same class at districts or state."
There's nothing better than beating your friends and laughing with them about it later, said Osmond senior Kenzie von Rentzell.
"We make each other better," added Holly Jensen, another Osmond senior. "And we support each other behind the scenes along the way."
Support for the arts is never in short supply. In Wausa, it's not uncommon for parents of the 60-member production crew to volunteer time building sets or baking brownies and other goodies to serve at the concession stand during performances. For a few years, someone even donated a semi-truck to haul the set from location to location.
"People in Wausa are big fans of one-act, speech, music, any program like that," said senior Cole Story, who is in FBLA (Wausa has one of the best programs in the state), NHS, and on the speech team, too.
"We are lucky in our area," said Wausa senior Tyler Baue, who was drawn to the stage after watching a Wausa production of "The Birds" when he was younger. "I know a lot of districts push sports, and that's definitely a huge thing, but I think our communities do a really good job of showing the same amount of support for our theater programs."
The students are grateful for that support, and Baue said the team knows it's not like that everywhere. It's with them each time they step on the stage to perform.
"Our kids don't want to let the community or those crowds down, because everyone knows that when Wausmond steps on the stage, or Hartington-Newcastle steps on the stage, it's going to be a good show," said Wausa superintendent Brad Hoesing, who has coached the team with his wife Sheila for 16 years. "They wanted to do something to make their community proud. They wanted to be remembered."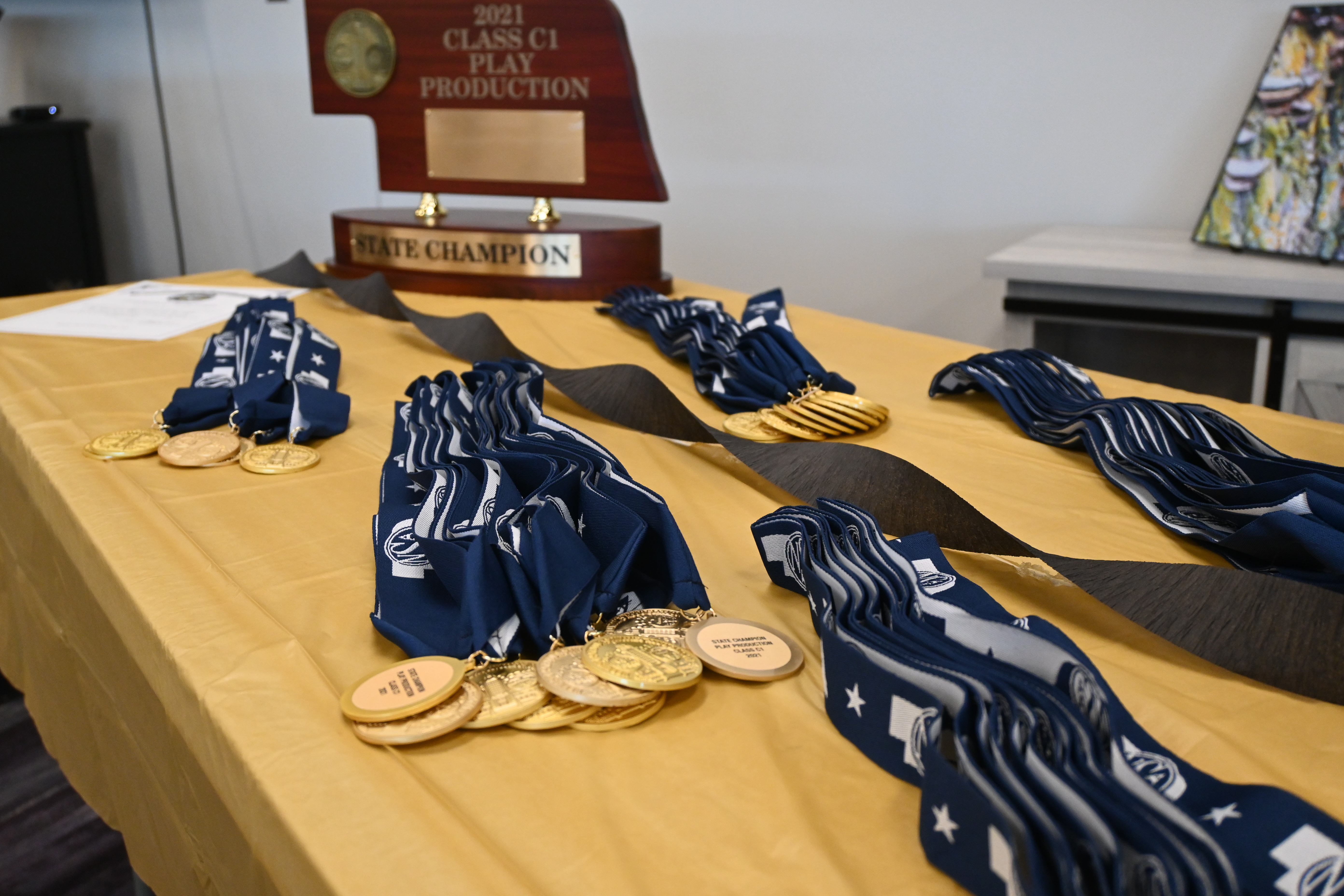 ---
Chapter 2: The Plot
When it came time to pick a play, Wausmond flipped the script.
Normally known for dark, dramatic plays, their performance of "And to Death We Shall Return (Reasons NOT to be a Mortician)" had the audience roaring with laughter and earned three perfect scores from the panel of judges at state.
"This is only the second time we've done a comedy, but this year we had a lot of strong comedic actors," said Story.
"We also did a comedy about death," interrupted Kristensen.
The dark humor landed, and the cast pulled it off so well because of how closely the script mirrored their strengths. It was almost as if the play was written specifically for their collection of (off-stage) characters, and that's because, well, it was.
"My wife writes the productions, she writes them all," said Hoesing. "In the 16 years we've been here, Sheila has written 12 plays. That's an advantage to us, because she knows our kids so well and writes productions that tailor directly to their strengths."
Having an accomplished playwright on-hand is a story in itself, but it wouldn't matter without Sheila's ability to connect with the students. She's the Family and Consumer Sciences and Media teacher in the district, and shared a hug with each member of Wausmond's cast and crew during a second medal ceremony and celebration on January 18.
"Having your director write your play is really nice because everyone has their own strengths and weaknesses and if you try and put them in one script that's already written it can be blocky at times," Kristensen said. "Our scripts click. There's always a great flow to them."
For Sheila Hoesing, it helped to have such a dynamic collection of actors.
"We are all so different, in the best ways, that we had to find a way for everybody with these extremely awesome talents to showcase them," said Baue. "Mrs. Hoesing did a good job of writing the script and allowing that uniqueness to shine through."
Hartington-Newcastle's rendition at the Johnny Carson Theater of "A Funny Thing Happened on the Way to the Forum" missed a perfect score by just one point (179/180), and drew its own waves of laughter from audiences.
"As I read the script, I could just see our kids playing those roles, bringing the play to life," Johnson said. "It had the potential to be very funny, and our kids brought out a lot of that physical comedy humor. They were great."
It takes courage, to stand on the biggest of stages and lay it on the line when the lights are at the brightest.
"This group of kids was willing to do anything, and I mean anything," said Johnson. "They weren't concerned about what others thought of them because they knew that if they did it and they did it full, all the way, that the audience would love it. And they did."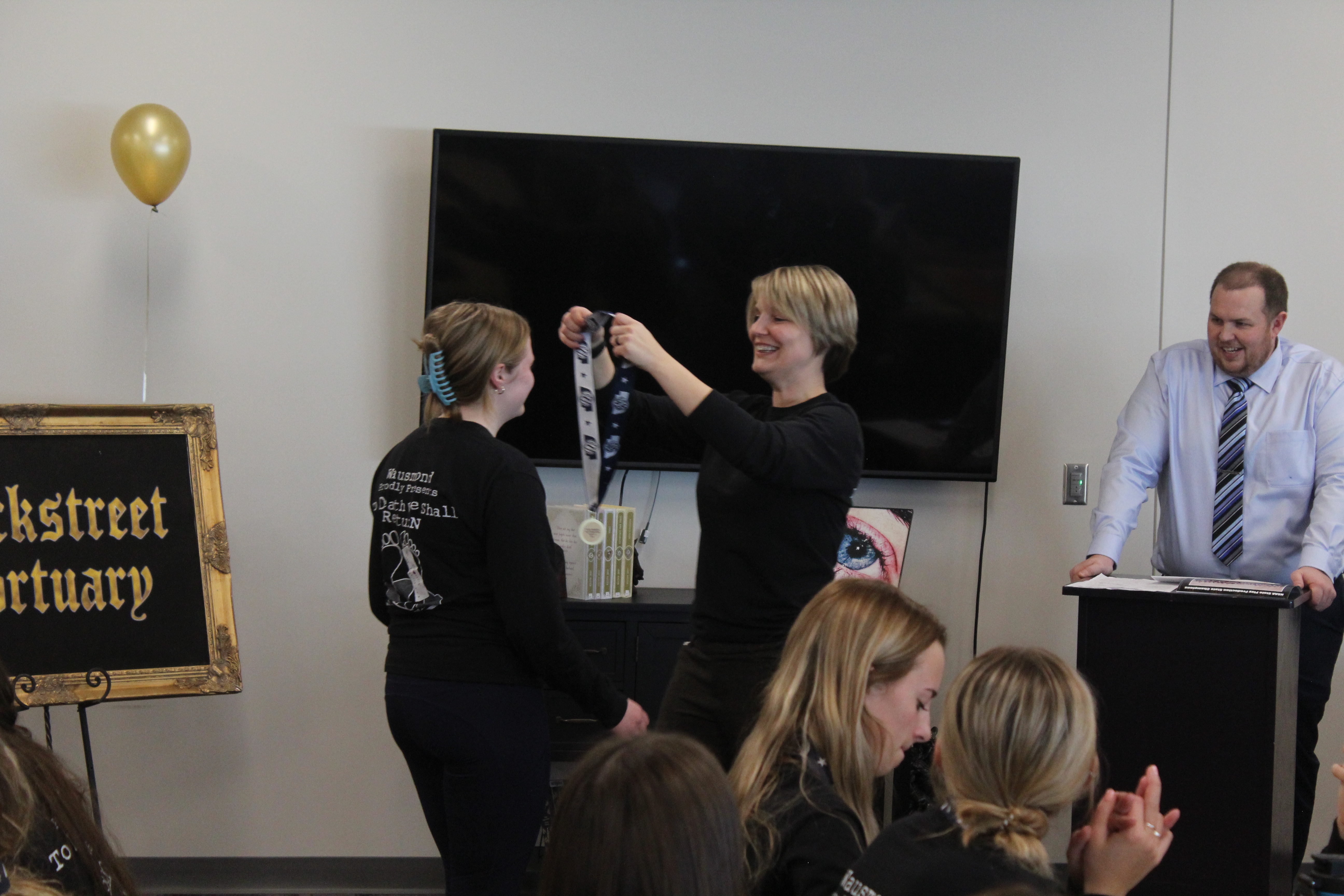 ---
Chapter 3: The Cast
Participation is the beating heart of a small school.
"It's just the culture," said Hartington-Newcastle senior Jake Peitz, a standout multi-sport athlete for the Wildcats. "That's just what we do around here."
It's less of a burden, and more of a source of pride.
"You get to be involved in everything in a small school, and that's an awesome opportunity," said Hartington-Newcastle senior Leah Reichle. "You can be on so many teams and be a part of so many special things. You get that real sense of community, and that's a great thing to experience."
It takes sacrifice, especially for schools in a co-op, said Wausa senior Leah Bloomquist.
"Being a consolidated team, it's hard for schedules to match," she explained. "You really have to work around everybody's activities."
For Wausmond, transportation was something that needed to be considered daily, too. The 10 kids from Osmond would travel 15 minutes each way in order to rehearse. Fortunately, Hoesing said, that Osmond group is full of hard-workers and their principal, Kurt Polt, is very involved in one-act.
"I think the partnership speaks to the character of the students from both schools," Hoesing said. "To make it work, our kids have a commitment that is above and beyond."
The two schools meshed well with time. They were vying for a common goal, which certainly helped.
"I was definitely a little scared when the partnership first started," said Osmond senior Kaden Polt, who, despite the nerves, was excited to learn from the Hoesings. "But everyone here at Wausa was really accepting, and we started to form this bond that has just grown over the course of four years."
That's just Wausa, said Baue, welcoming and open.
"Like Kaden, I was a little scared, to do something that hold such high standards for with people I didn't even know, but the experience was great," he said.
Those relationships have extended beyond the stage.
"We were accepted right away," said Osmond senior Riley Wagner. "We've all made friends that we hang out with on the weekends. That friendship was there from the start."
Those relationships pay dividends when the curtain draws. One-act teams need to be in-sync and on the same page. One-act teams that combine for over 20 state championships in a 15-year span, that is. That's among the many things Hartington-Newcastle and Wausmond have in common.
"Even with the background chorus, just how they'll take criticism from each other and the way they work together is really impressive," said Reichle. "Teamwork is essential. If something isn't communicated, it's not going to happen."
We asked both casts to come up with a list of key ingredients to a successful production, and chemistry was at the top of both lists.
"That's pretty important," said Hartington-Newcastle junior Jude Krie. "We are all working towards the same thing, and it'd be hard to bring a scene to life, to make it believable, without that chemistry."
Don't discount the importance of chemistry.
"Another big thing is trust," said Baue. "Just knowing that we're all going to put in the work and the time, that we're all going to be there for each other, that's as important as anything."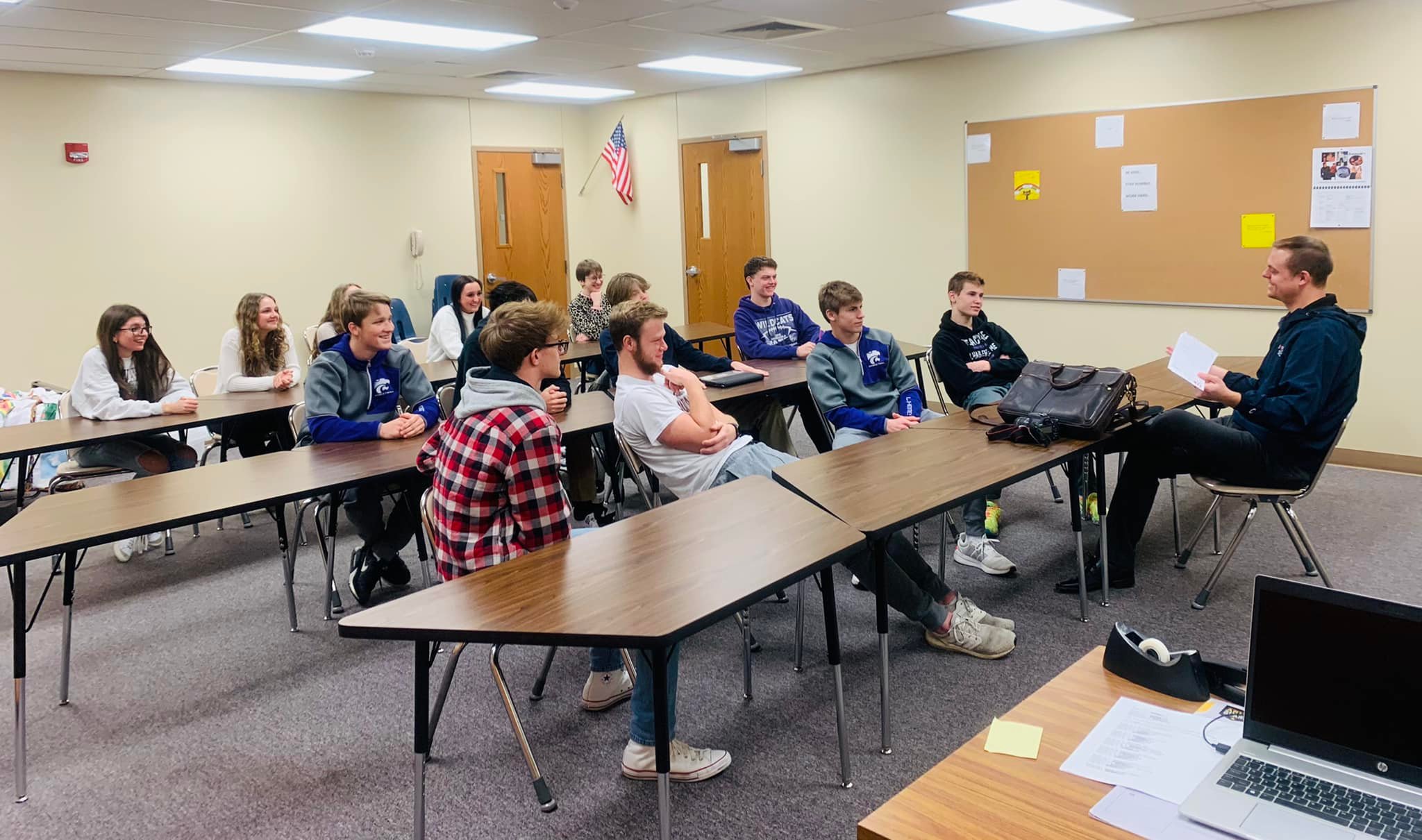 ---
Chapter 4: Show Time
Stage fright is, simultaneously, a myth and a very real thing.
Before a production, time seems to stand still. Those moments are heavy, but it's when some of the best memories between a cast are made.
"You just sit there and hope for the best," said Polt.
Sure, there's the Mario Kart sessions and the goofing around during hair and makeup, but there's something bonding about that silence.
Before their final performance, sitting in a quiet hallway in Norfolk, the team from Wausmond realized, all at once, that this was it. Their last call.
"We were sitting across from each other and just, like, balling," said Wagner.
Then the lights turned on, and they were in the zone.
"You don't even think about what you're saying or if you're going to remember your lines," added Baue. "You just do. You practice it so many times, you just go out and do it."
You perform how you practice, said Reichle. She'll vow for that adage time and time again. Hartington-Newcastle's pre-play pump-up songs and chants helped, but preparation was undeniably the foundation for their success.
"This year was all about becoming our characters," she explained. "You're not just playing your character. You ARE your character, and that was emphasized all year. It made the performance real."
Leadership is essential, and has been for both teams for a long time. Without it, such levels of steady success would never have been able to be attained.
"The juniors and seniors showed us the ropes," said Hartington-Newcastle Dayton Sudbeck. "They held us accountable and got on us if we weren't doing something right."
Baue said that a huge part of being a good leader is being a good person.
"You can be the best actor on the stage and you can have the most lines, but if you're not a good person or not a good influence outside of One-Act, then that goes out the door," he said. "Striving for greatness, giving it your all in everything you do, rubs off on the underclassmen."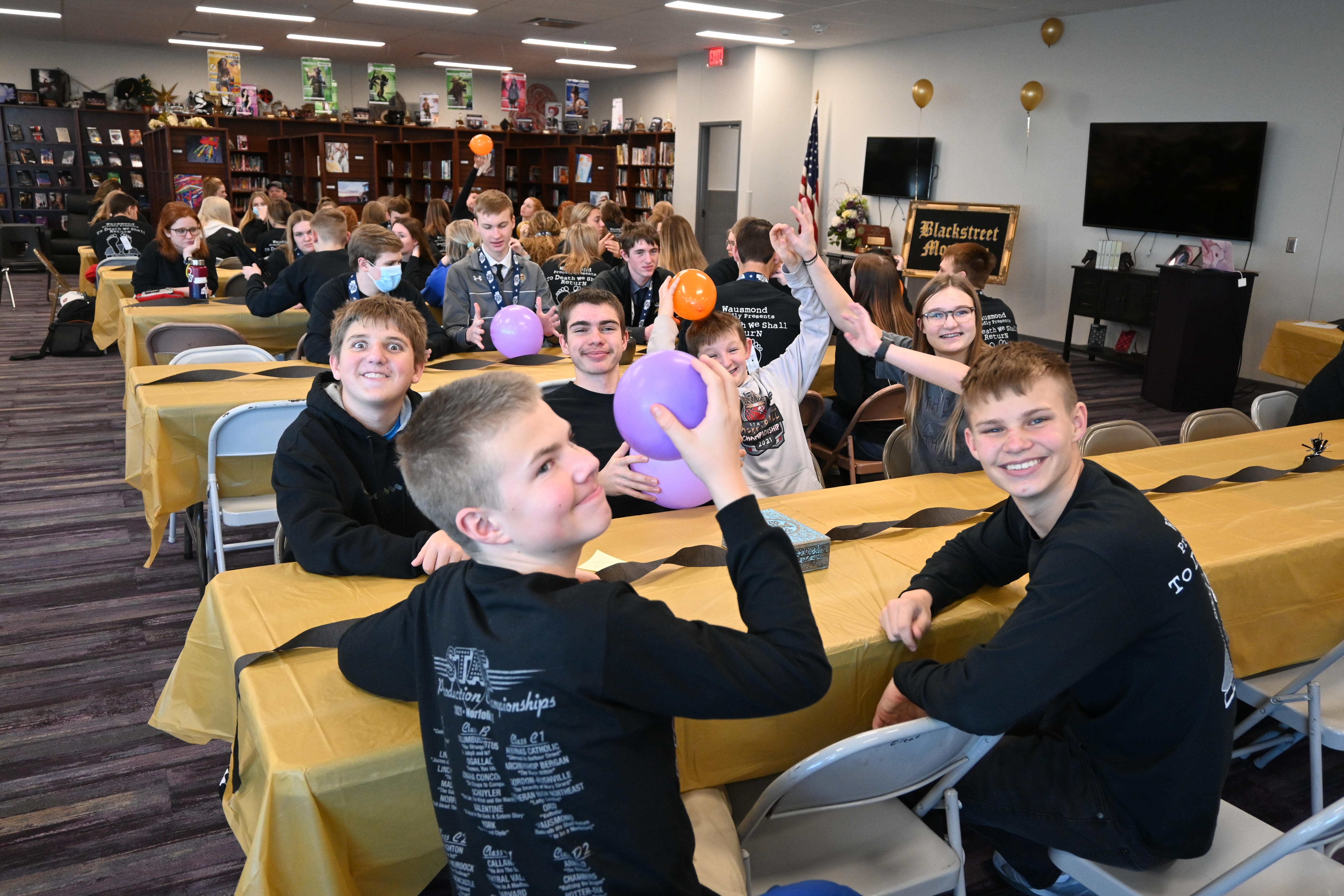 ---
Chapter 5: The Curtain Call
For both teams, the goal for next year is almost always understood.
"We want to run it back," the Hartington-Newcastle team said, practically in unison. "We want to repeat."
Their friends from Wausmond will be down the road, cheering them on while vying for another state title of their own.
"That's always the goal up here," Kristensen said. "You always strive for excellence, and a state championship is usually a good measure of excellence, but it's not the only measure."
Aiming for a repeat is only natural.
"Like any kids, they want to defend their title," Hoesing said. "The standard around here is high. It's been high. But I think the bigger picture, they want to go out and do something that makes their community proud."
Because just as fiercely as folks in their towns care about the teams' success, the kids care about representing the places they call home as well as they can. They're from Wausa and Osmond and Hartington, and they wear that pride on their sleeves.
"We tell them, 'You're representing your teachers, you're representing your coaches and your school, and, most importantly, you're representing our parents in our community,'" Hoesing said. "Our kids work really hard to do that. Win or lose, they really do."
Around here, where play production dynasties exist on both sides of well-traveled highways and county roads, that's the only measure of success that matters.