Scottsbluff's Diesel Tech Pathway comes together like the perfect storm: "The right people, the right industry, and the right school district"
Scottsbluff's Diesel Tech Pathway comes together like the perfect storm: "The right people, the right industry, and the right school district"
By Tyler Dahlgren
The thought of teaching never really crossed Tony Brown's mind.
Brown has built a career at Murphy Tractor & Equipment Co. in the Scottsbluff valley, where he works as a service manager. He never pictured himself instructing a group of Scottsbluff High School upperclassmen through the ins and outs of diesel technology.
And yet, there he was earlier this year, running errands around town and answering to "Mr. Brown" without giving it as much as a second thought.
"Who was that?" his wife would ask.
"Oh, just one of my students," Brown would answer.
One of his students from the shop. The Triple D Shop, to be more specific, is the headquarters for Scottsbluff Public Schools' newest career pathway. It sits on the grounds of Aulick Industries, one of six community businesses (NMC Cat & Truck Centers, Aulick Industries, Floyd's Truck Center, 21st Century Equipment, Inland Truck Parts & Service and Murphy Tractor & Equipment Co) to partner with the district in efforts to pair local juniors and seniors with local, high-paying positions.
The pathway was piloted last school year, and has been met with resounding success. Juniors spend a year in the shop before interviewing for senior internships. So far, 80 percent of students have successfully completed the program.
It doesn't take long to open their eyes to the opportunity that exists right there in the Panhandle.
"Even just here in town, it surprised me," said junior Christian Fees. "You can drive around and see all these places, but before we didn't know the potential there was. You start working with these guys, and just how much money you can make, the career you can build, is insane."
Fees, who started working on engines with his grandpa, a mechanic, back in 2016, appreciates that his school works to come up with innovative ways to provide opportunities. As an educator, there's nothing more rewarding than that.
"We want to prepare our students to enter the workforce right after high school if they're not pursuing a post-secondary education," said Dr. Andrew Dick, superintendent of SPS. "At the high school level, we want to provide them an authentic learning experience that exposes them to the vast opportunities that await after high school. The diesel tech industry happens to have those high wage, high in demand positions."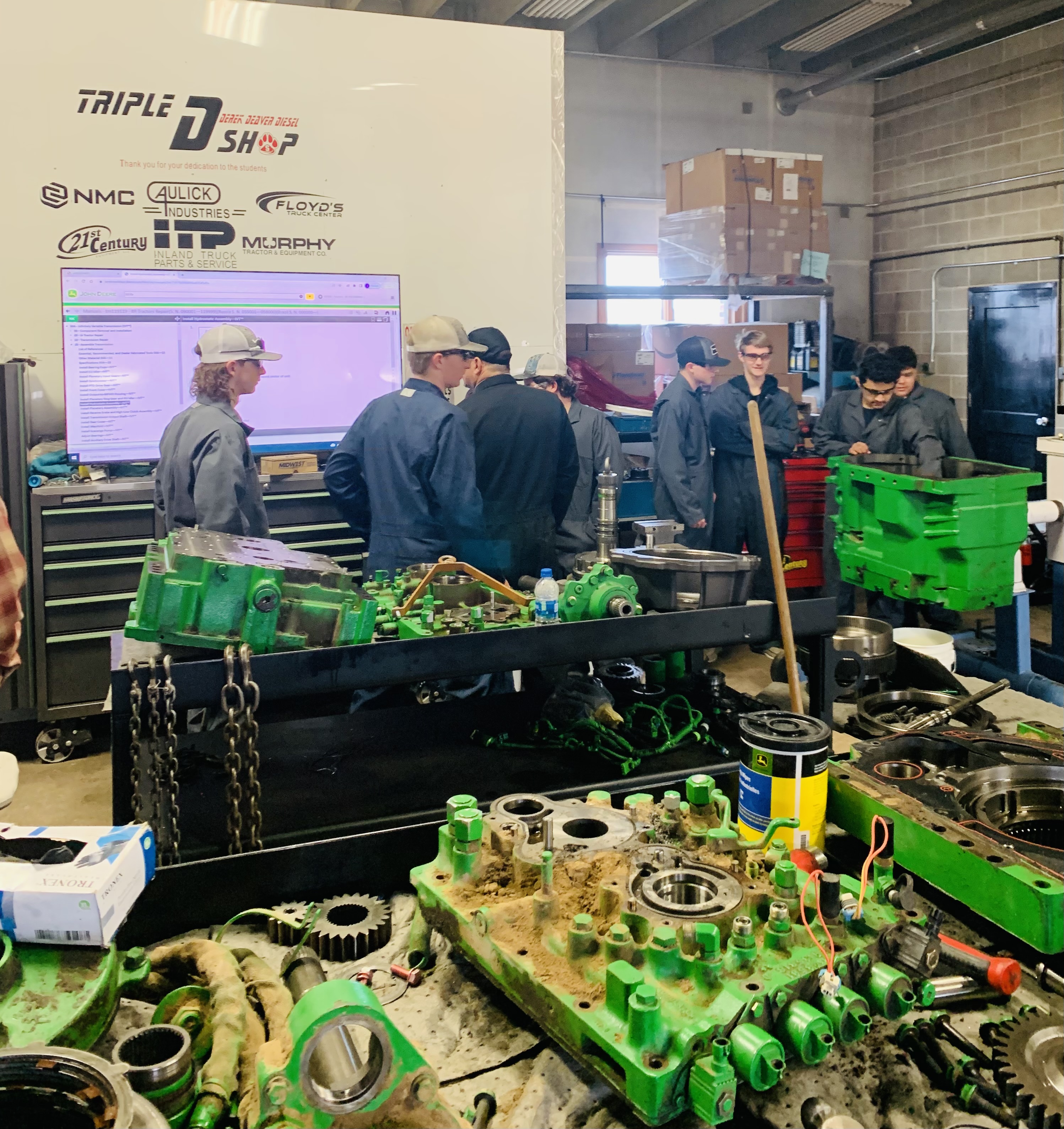 Dick said it's important for SPS to listen to the larger employees in the area. The district has had strong relationships with local businesses dating back some time, especially with Aulick, who spearheaded the program's development and implementation. Cheyanne Marcy, human resources director for Aulick, has been instrumental in keeping the program on track as well, the entire group concurred.
"It was a great idea, and we caught the perfect storm," said Derek Deaver, Scottsbluff's internship coordinator and a longtime coach and business teacher in the district and the Triple D Shop's namesake. "It was the right people in the right industry coming together to fill a need for our students and the community."
A true win-win, Deaver said. The feedback SPS has received only further proves it so.
"We're creating skilled workers for our community, and we're creating great job opportunities and potential careers for kids," he continued.
The saying "Grow Your Own" is gaining popularity through an uptick in partnerships between schools and communities, especially in rural areas. In the Panhandle, that saying is more than a saying.
"That carries a lot of weight for this group," said Jake Aulick. "We like our way of life, and if it's homegrown, that shouldn't have to change."
It's one of the reasons NMC Cat & Truck Centers was so quick to jump on board. That, and Derek Deavers' reputation for preparing students for life's next step.
"I really liked the opportunity for our kids to stay home, to have the ability to work here locally and to not have to move out of the community," said NMC branch operations manager Bob Sorok. "This is a great opportunity for them to learn the trades and work for some great companies here in our valley. It brings a large talent pool to the businesses around here, too."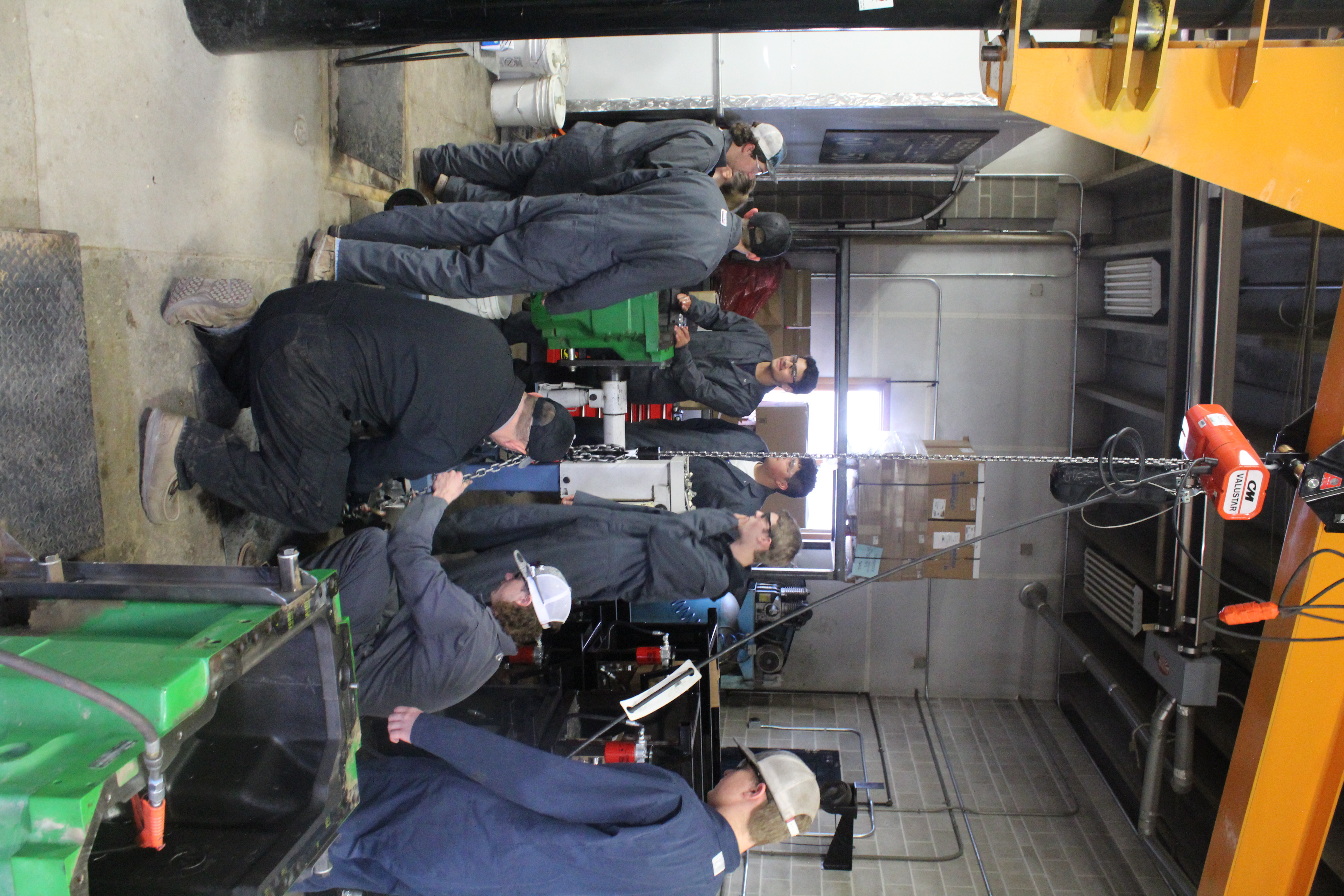 Many of the students who enter the diesel tech pathway learn better in a hands-on environment. It doesn't get any more hands-on than the Triple D Shop, a place that's always bustling, from one project to the next.
"The main reason for doing this was to give the kids exposure that the schools couldn't," Aulick explained. "The best thing we can do for any young person is to provide exposure in a safe, neutral environment that is open for them to learn at their own pace in their own way."
The students weren't the only ones facing a steep learning curve. The pathway's innovative model put real local professionals from the six partners in front of the class for two weeks at a time. Like the students, they caught on quickly.
"I never knew how rewarding it would be to be a teacher or an instructor," Brown said. "I have a newfound respect for that group. Not that the kids made it hard on me by any means, they were great, but two hours will wear you out."
The instructors and students clicked right off the bat. Hearing from real people out in the field was an engaging experience, said senior Xavier Marsh.
"Learning firsthand from the people who have the firsthand experience, it can't get any better than that," Marsh continued.
Managers from the six partners started noticing employees coming back to work with an extra pep in their step after instructing a session down at the shop. Sharing knowledge was giving them a boost in confidence, and, in some cases, in professionalism.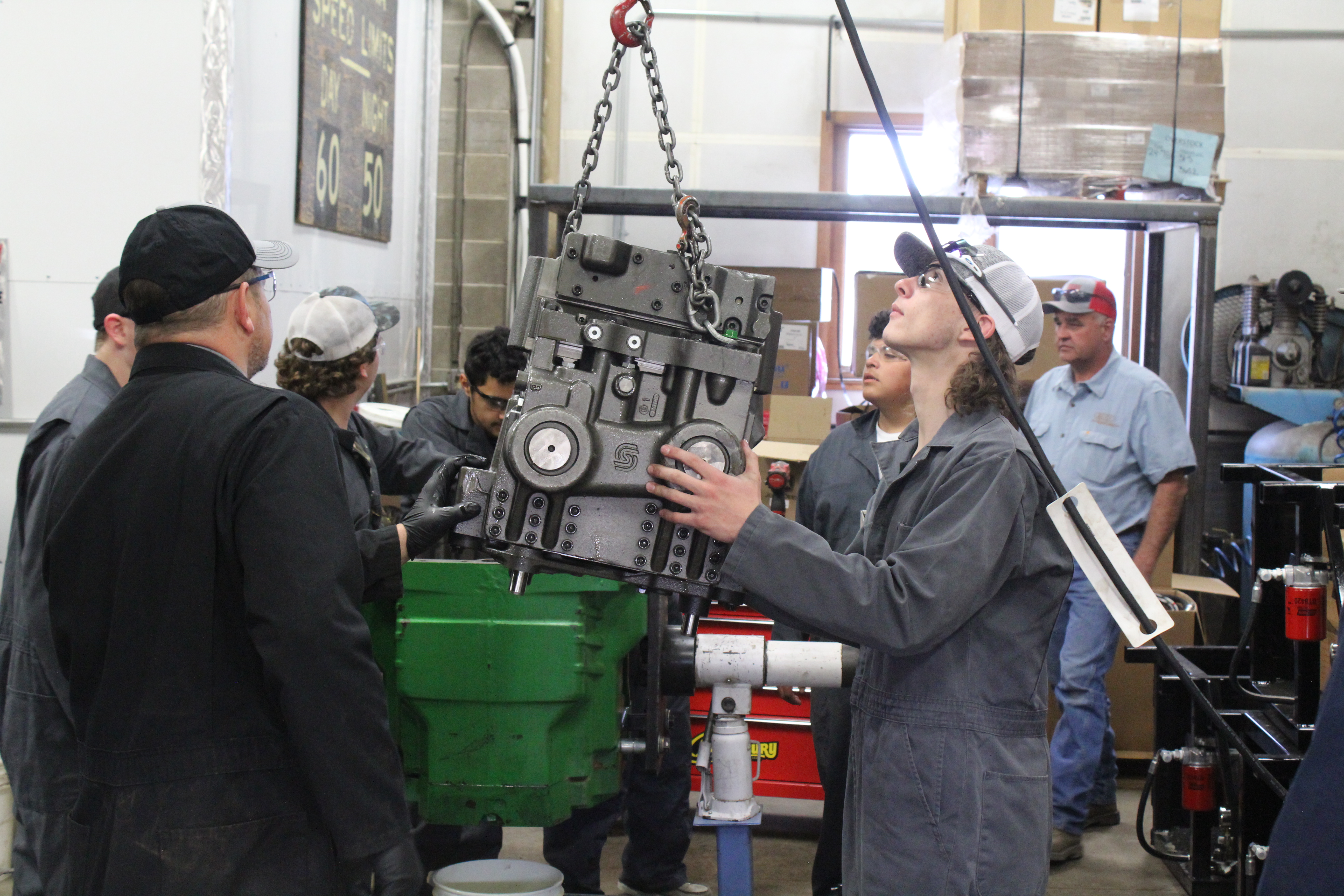 "You can't cuss and holler at these kids," Aulick said. "You have to be to them a dad, an uncle, maybe a brother that they may not have had. When you get that opportunity to do that for these kids, and you see it return to you tenfold, there's just no better feeling in life than knowing what you did made an impact.
Once acclimated to the head of the classroom, or, in this instance, the shop, Brown and his counterparts quickly discovered that they knew these kids better than they'd thought.
Sometimes, it was like looking in a mirror.
"Tony and I both have a desire to help young men and women," said Joe Blanke, the branch manager of Murphy Tractor and Equipment. "We came up in (the industry) through tougher circumstances. We know how to make them successful, and we feel fortunate to be able to give them a head start, a push forward."
Blanke and Brown have worked their entire careers to reach where they are now, he continued. Students who enter the Triple D shop can get there, too. And in half the time, to boot.
"The valley we live in is very, very rich in history in terms of agriculture, construction, trucking, etc., so the kids that are coming into this environment have been exposed already," said Cody Bohl, service manager at Floyd's Truck Center. "It's a generational thing around here, and we're seeing students coming into the program now that are going to have an easier path than we had. This program, and that generational knowledge they enter the program with, give these students a leg up."
Inland Truck Parts & Service general manager Travis Hedman was pleasantly surprised with where students were entering the school year. He expected to start from scratch, but that wasn't the case. The kids hit the ground running.
"It was an awesome experience," said Hedman. "All-around as rewarding an experience as you could ask for. It was enjoyable to watch the students develop and grasp what you're teaching them."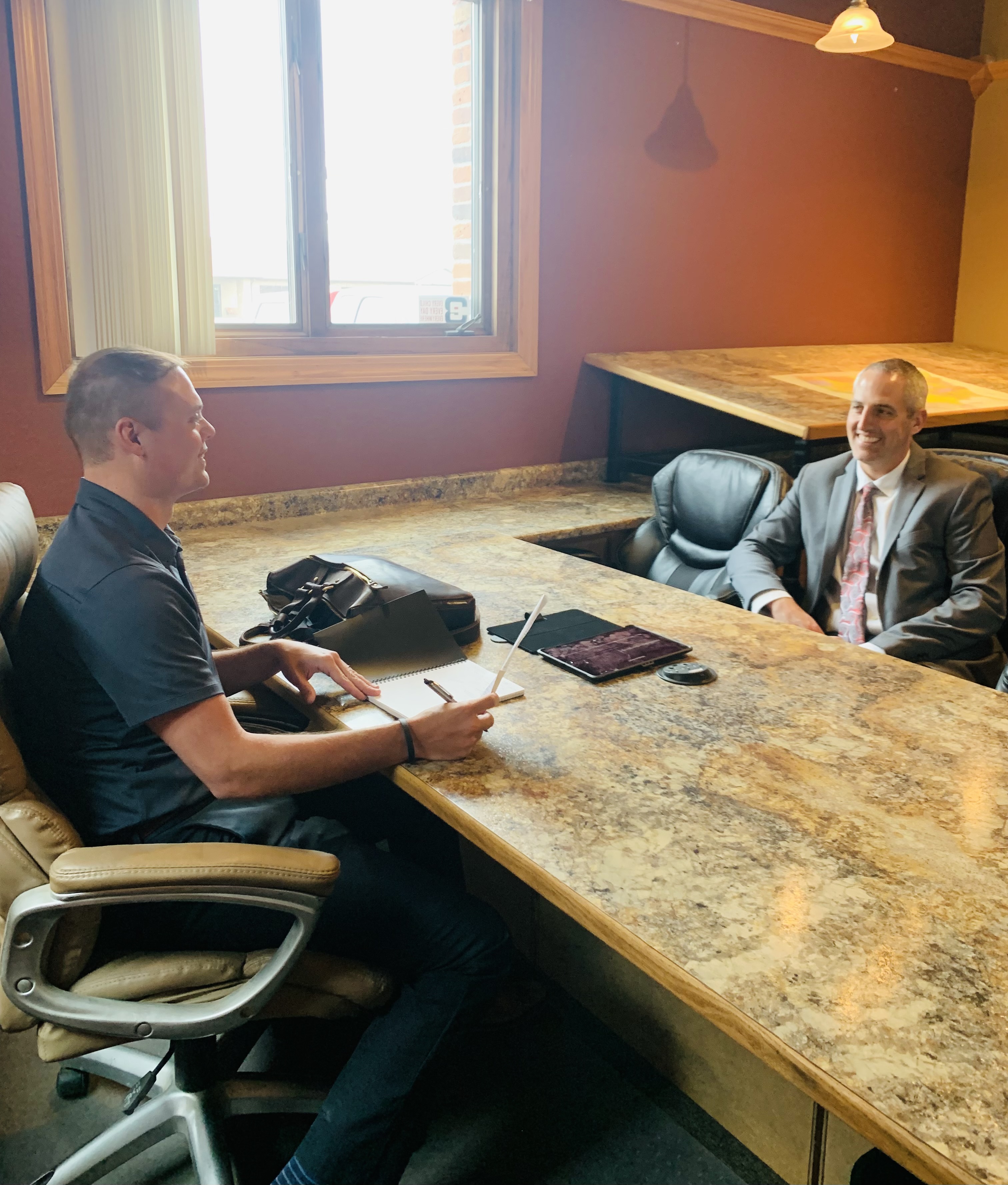 This pathway is paved and ready to be traveled like an expressway in rush hour. Skilled workers have never been in higher demand.
"It's about keeping the kids local," Blanke said. "You only need so many bankers in a town, only so many lawyers. But how many electricians do you need in town? How many plumbers and technicians do you need? This is about providing local jobs for local students."
Dick said the school district couldn't be more grateful for the partnerships that helped turn the Triple D Shop from a vision to a reality.
"Our career academies would not be flourishing and thriving like they are if it wasn't for these six industry partners and the many others we work with and depend on in the community," he said.
The bond between school and community is stronger than ever, and their mutual commitment to skills and trades, though reimagined and reinvigorated, never went anywhere.
"This group has shown the community that we can do this as a whole," Aulick said. "This program's going to be long-lived and have a great amount of success because of everyone in this room."