Science Fair Showcases Creativity, Innovation at Waverly Middle School
Science Fair Showcases Creativity, Innovation at Waverly Middle School
Wednesday, December 18, 2019
By Tyler Dahlgren
Each fall, science teacher Gary Brown gives his eighth-grade students at Waverly Middle School a set of paramaters, assists them in finding an idea, and sets them loose.
For the next 10 weeks, students freely explore the science behind a proposed solution. The eighth-graders, some partnered up and some working solo, creatively craft their projects, meeting a myriad of deadlines along the way. Their hard work culminates each December with the school's prominent and well-celebrated Science Fair.
Throughout Tuesday, their projects filled the hardwood floor in the WMS gymnasium, as contestants, dressed to impress, presented their projects to a collection of judges in a round-by-round system that ultimately rewards the top five contestants with a trip to regionals. The Science Fair has been a popular event at the school for nearly two decades, and has become a part of Waverly Middle School's culture. More often than not, the school sends students on from regionals to state, where students have routinely finished in the top 10.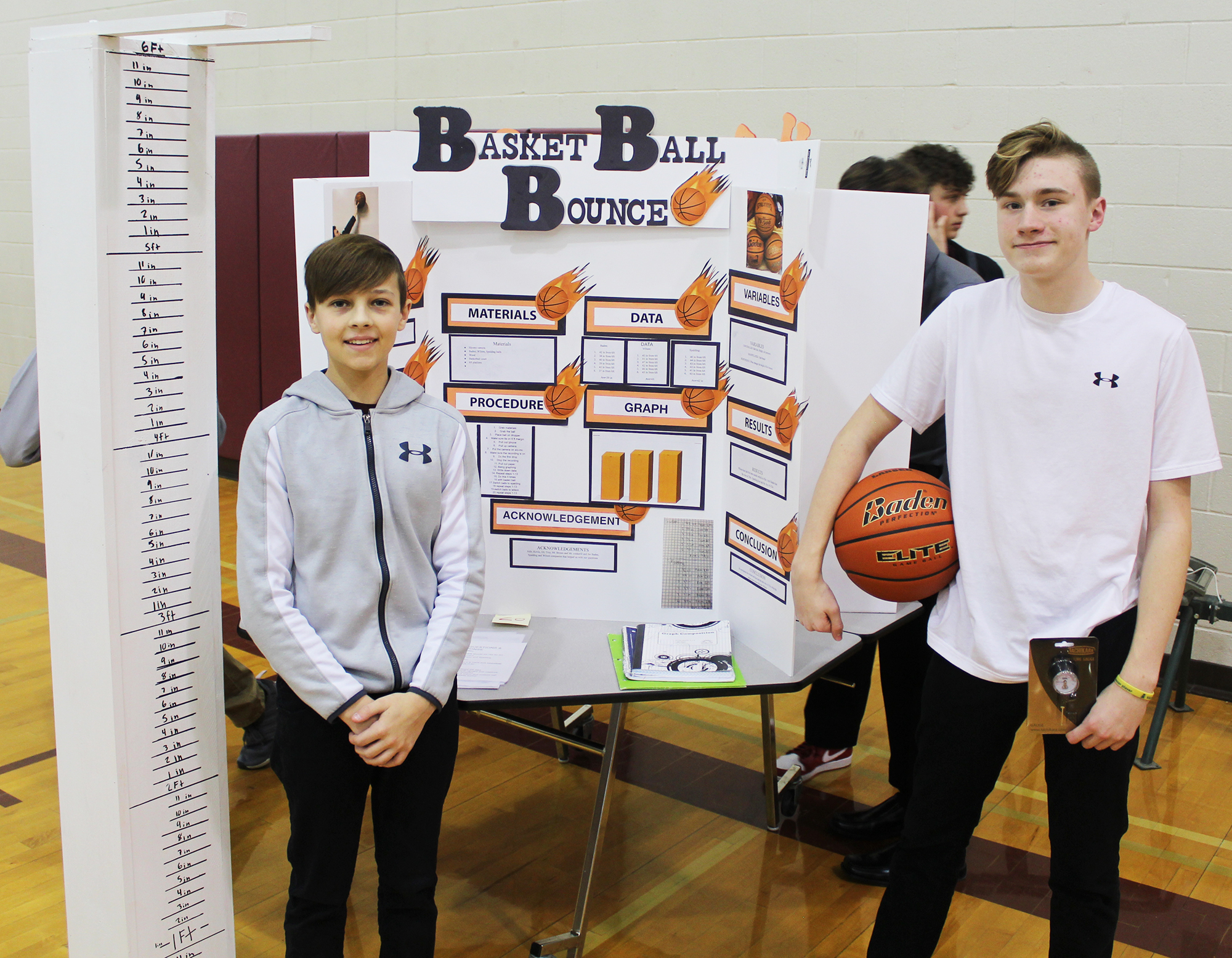 "The hard work and dedication from the students is the number one thing that makes the science fair special," said Brown, who has been involved in the event for 15 years. "The support from the parents, and the support from our administration and the community is right up there, too."
Judges trickle in to the school throughout the day, and come from everywhere. Past students of Brown, community business leaders, high school students from Waverly and nearby districts, you name it.
"Anybody I know, and, thank goodness, after 32 years in education I know quite a few who are willing to come back," Brown said. "Former students of mine and former players. I used to coach at another school. It's really cool to see. It's like one big family reunion every year."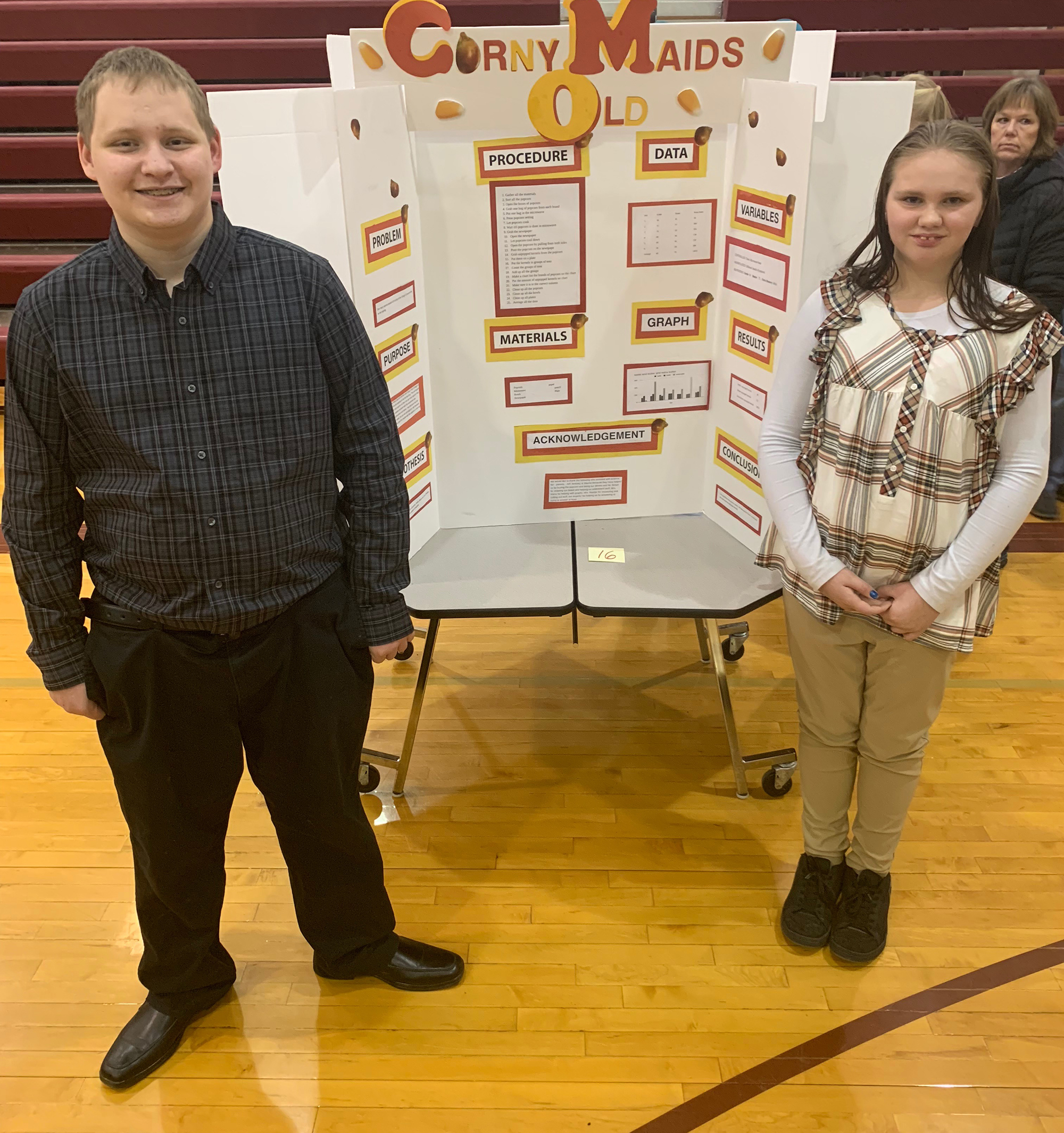 The curricular-based project extends beyond science. Each department is involved, from English to Math to History, and the buy-in is incredible, said Brown. What the students take away from the event extends beyond science as well. Participating is a life skill, providing the kids with an opportunity to speak in front of a crowd, set goals, meet deadlines and handle adversity along the way.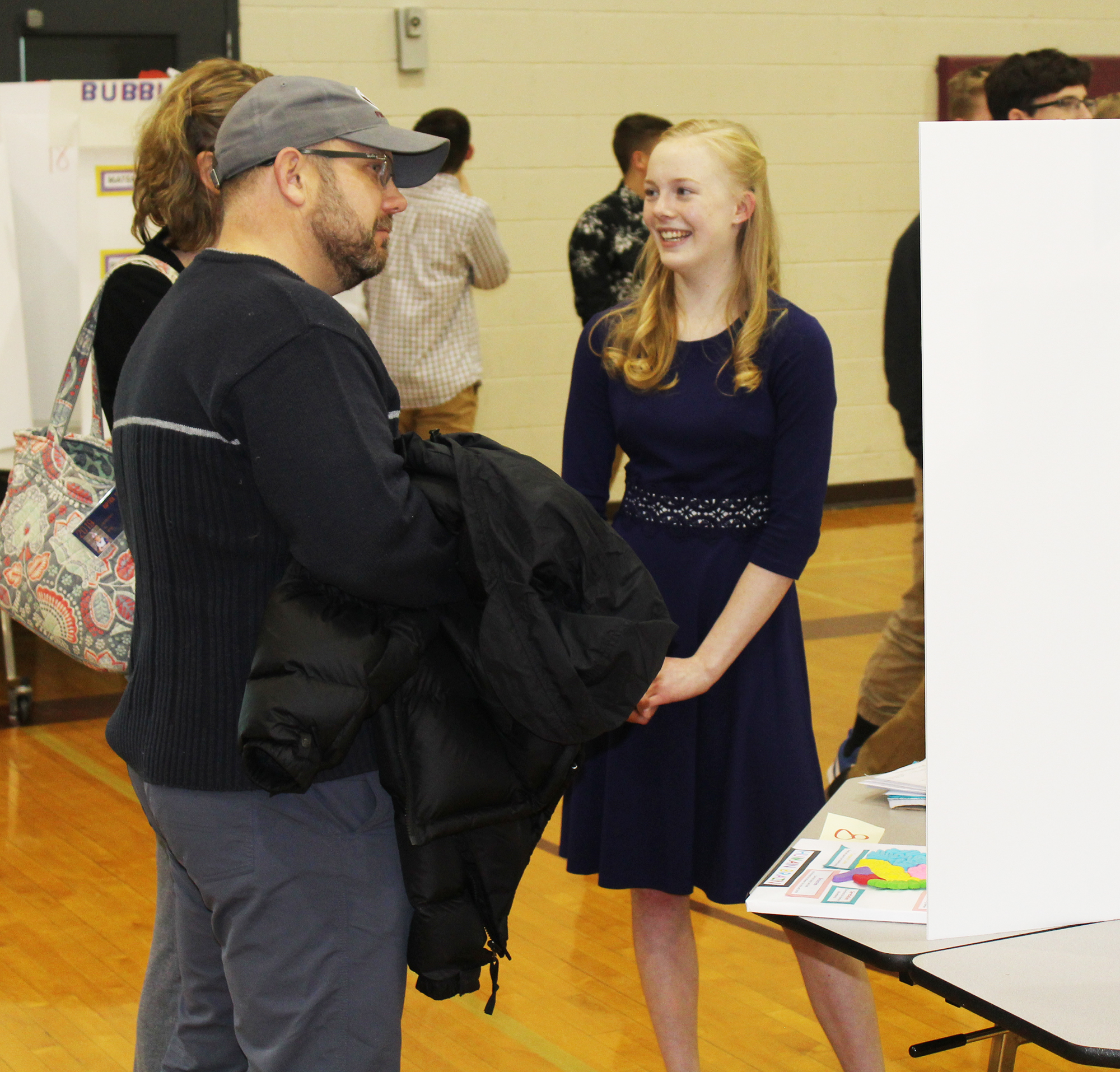 "I am getting more comfortable with the public speaking as the day goes along," said student Drew Moser.
Moser and his partner, Nolan Maahs, presented their project entitled Can You Hear Me Now?, one of the more highly-technological designs on display. Even more impressive, the project was fully-functional. Maahs, like his partner, picked up confidence talking in front of crowds as the day progressed.
"It definitely got easier throughout the day," he said.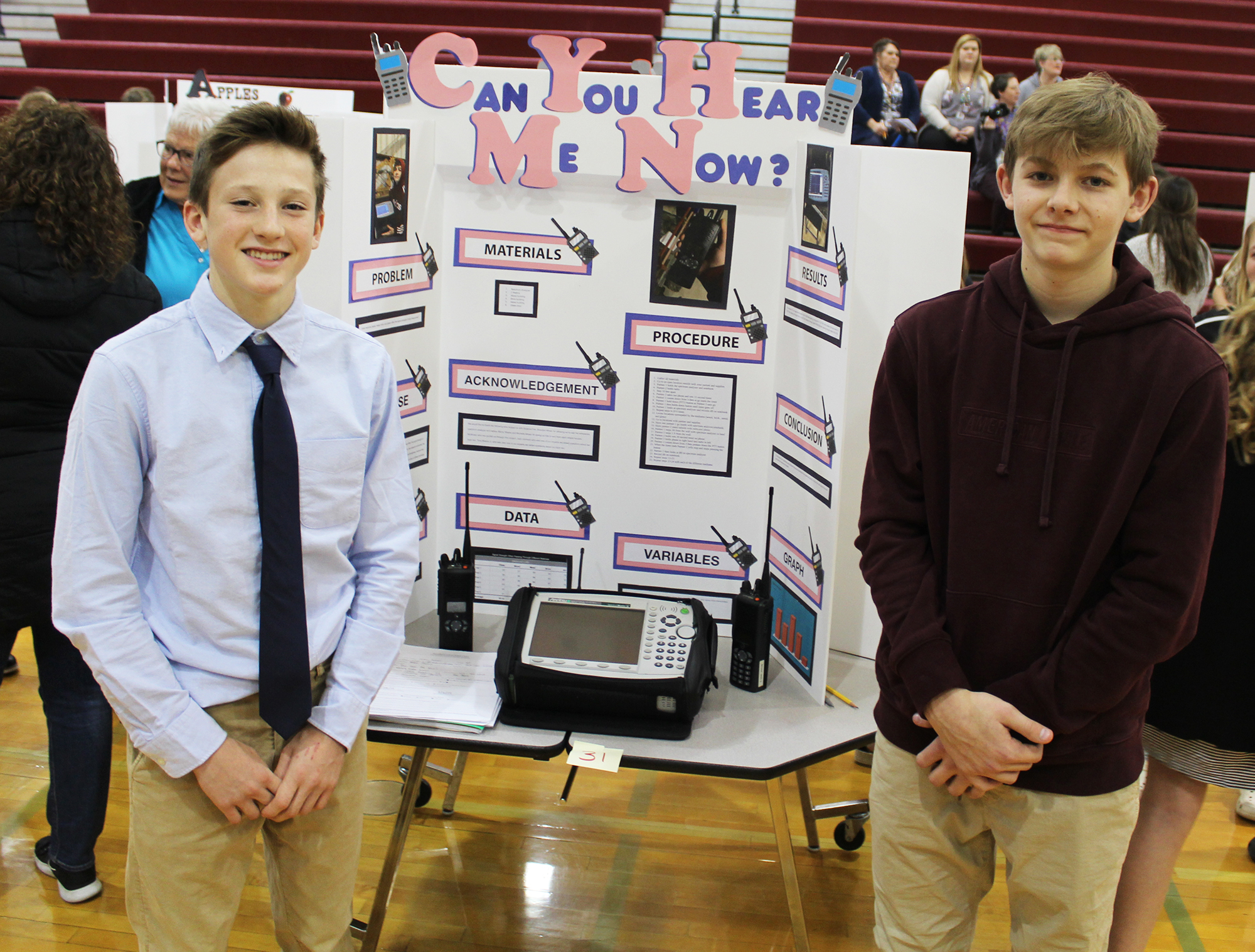 The Science Fair, because of where it falls on the calendar, helps to put students and staff in the holiday spirit. Many projects, like Makayla Gail Anselmo-Gilliam and Zoe Moore's Oh Baby, It's Bright Outside, incorporate a Yuletide theme. Their project measured the amount of light emitted by solar-powered Christmas lights as opposed to regular strands of lights.
"Because the Science Fair is on December 17th, and so close to Christmas, we thought 'Why not do something centered around the holidays, but also something that incorporates renewable energy into the holidays," said Gail Anselmo-Gilliam.
The two constructed their miniature house using 2x4's and hand-painted the project for an added level of authenticity.
"We did have to ask the parents to help with the saw," said Moore with a smile. "Because neither of us are allowed to use it."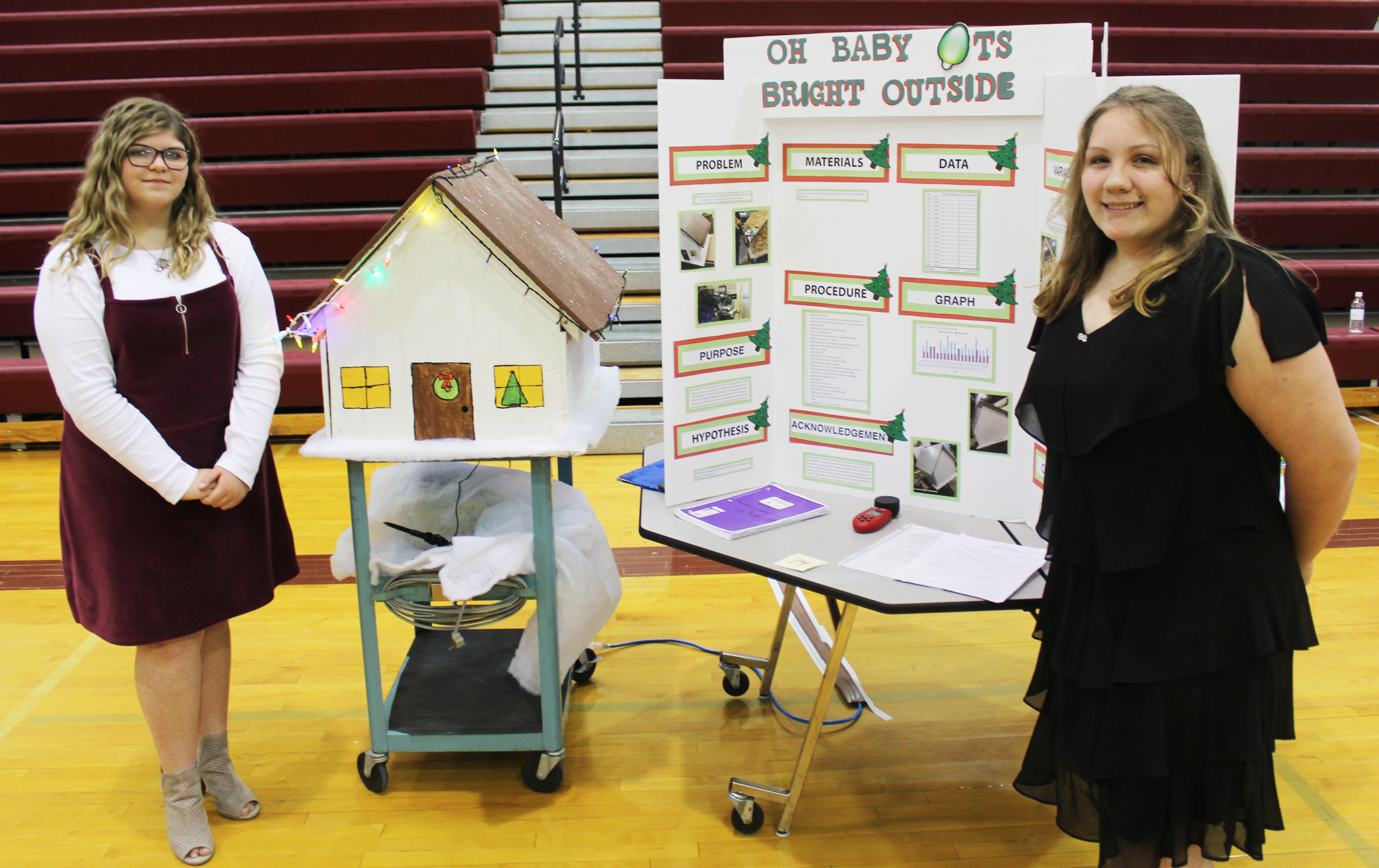 The Science Fair is a culmination of 10 weeks of hard work, work which usually places the eighth-graders in unfamiliar situations outside of their comfort zones, a tremendous way to grow.
"We are contacting experts and making phone calls to complete strangers to get feedback before we test," said Brown. "It's a lengthy process, but, again, it's one that is well worth it. We are able to get our curriculum in and we've done quite well with all of our assigned state test scores through the years. It's a process that really works well."
For their project, Get On My Level, Rosalie Tvrdy and Jordyn Behlen took an in-depth look into the PH Levels of different brands and types of water, because, as Tvry put it, "water is one of those things everyone has to have, and PH Levels should be one of the first things people consider when choosing a bottle of water, but they don't."
"It was pretty stressful, getting everything done on time and meeting deadlines every single day," added Behlen.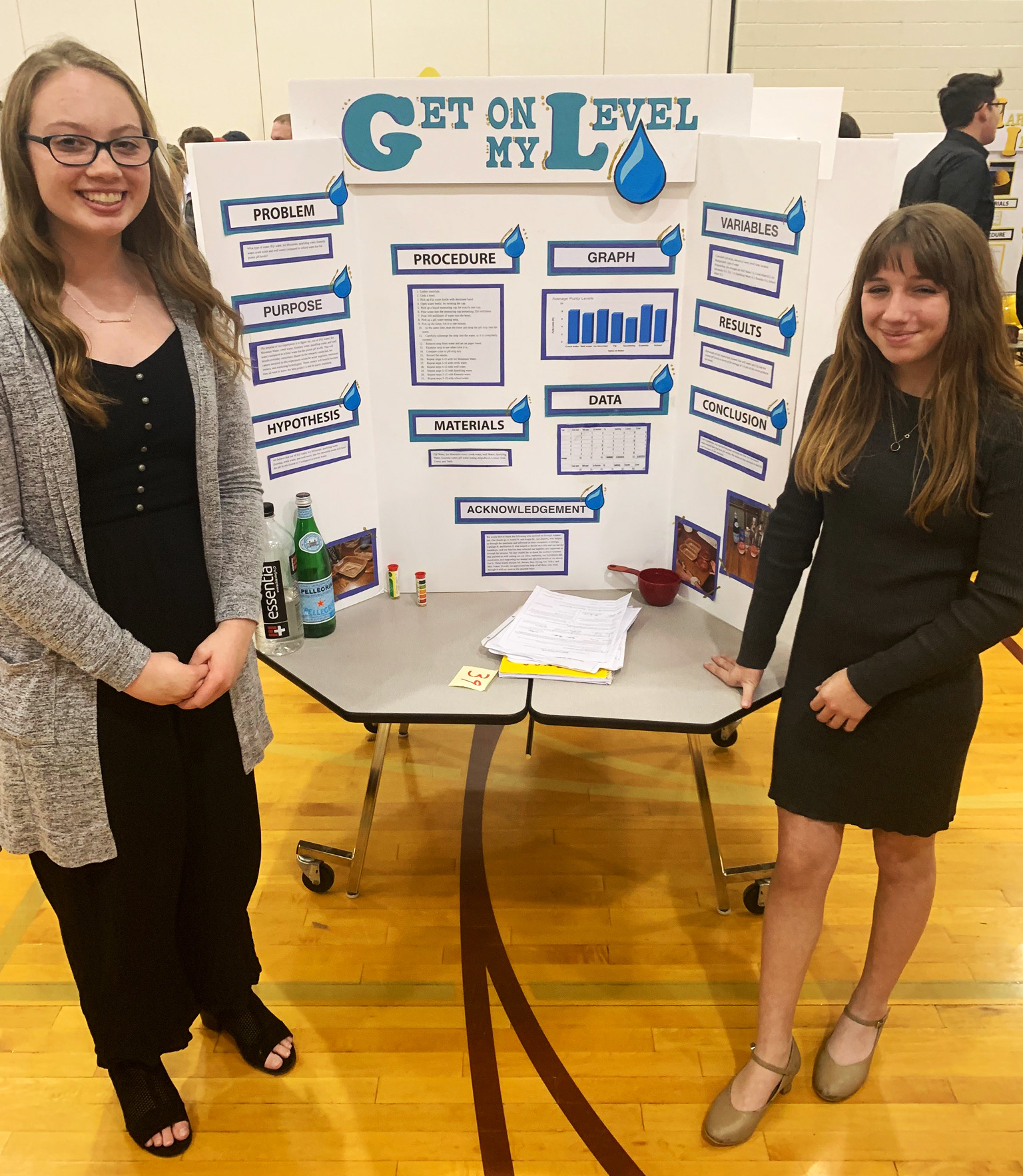 Brown is constantly impressed by the creativity and ingenuity of his students. Their final projects are crisp, conventional and well thought-out. When it comes time to present to strangers, they're ready.
"Each individual has strengths and weaknesses, and for some, their strength may be creating a very outstanding board, and for others it might be their presentation skills and tying things in with the presentation," he said. "The Science Fair really offers a platform for each student to foster their work to their strengths."
The Science Fair has become a part of the school's culture, one of the largest project-based learning projects completed by a Waverly student during their time at the middle school.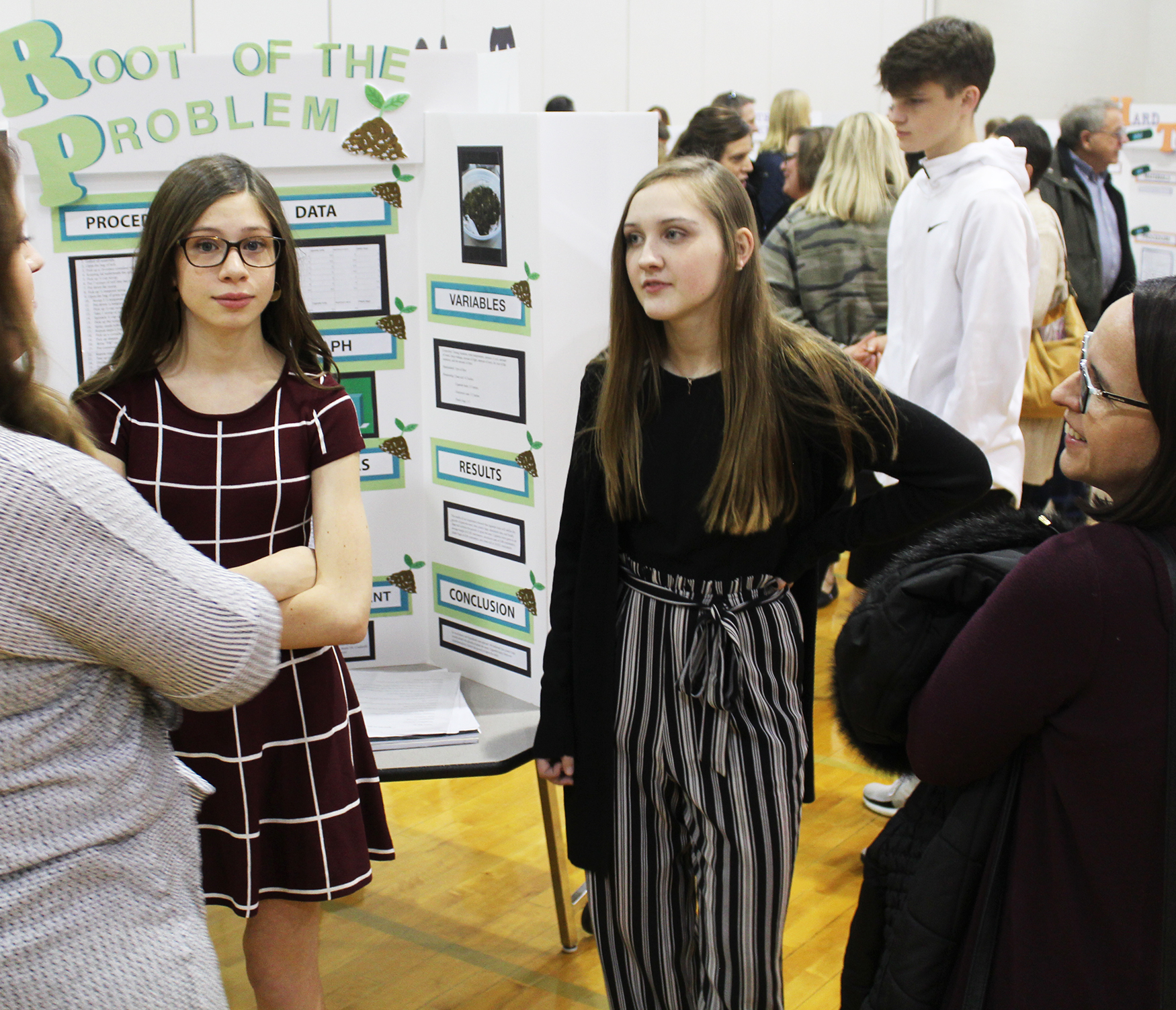 "It's something our school is very proud of, because we take it very serious and we have a lot of fun with it," said Brown, who spends the day hurrying from project to project, navigating the crowded gym flood and providing assistance when he's needed.
For students like Harrison Drake and Chase Miller, whose Safe and Secure project took aim at providing a solution to a very real-world problem, Tuesday was an opportunity to share the product of more than two months of hard work.
"We looked at all the problems going on in the world and just wanted to do something that might make the world a safer place," Drake said.
"We're definitely most proud of the fact that we put it all together ourselves," said Miller.