Sandy Creek's Storytellers: Digital Media team leaving its mark on South Central USD 5
Sandy Creek's Storytellers: Digital Media team leaving its mark on South Central USD 5
Wednesday, November 23, 2022
By Tyler Dahlgren
Folks around Fairfield will be talking about the 2022 football season for a long, long time.
Their Sandy Creek Cougars played eight-man football for the first time in 55 years, and they played it well, racking up six wins and advancing to the second round of the Nebraska Class D-1 State Playoffs.
It's quite a story. One the players, their families, the coaches and fans will never want to forget.
Thanks to the district's cutting edge digital technology program, which is housed in a corner pocket on the second floor of the gorgeous Nebraska Center for Advanced Professional Studies (NCAPS), they'll never have to.
Now is a good time to introduce senior Connor Peters and junior Mason Hinrichs, two of program director Jeremy Borer's best and brightest cameramen and the minds behind a six-episode documentary that takes viewers on an exclusive ride through the Cougars maiden voyage into eight-man football.
"The documentary means a lot to me because I have friends that I have watched grow on that football team," Hinrichs said. "It's really cool to tell their story from how they transitioned in a year like that and made it all the way to the second round of state. It's important to me to do a good job, because I have friends on the team that I'm really proud of. That's what it boils down to."
Peters and Hinrichs aren't exactly programmed the same. Peters is meticulous. It'll take him hours to pick out a song for a hype video, for example.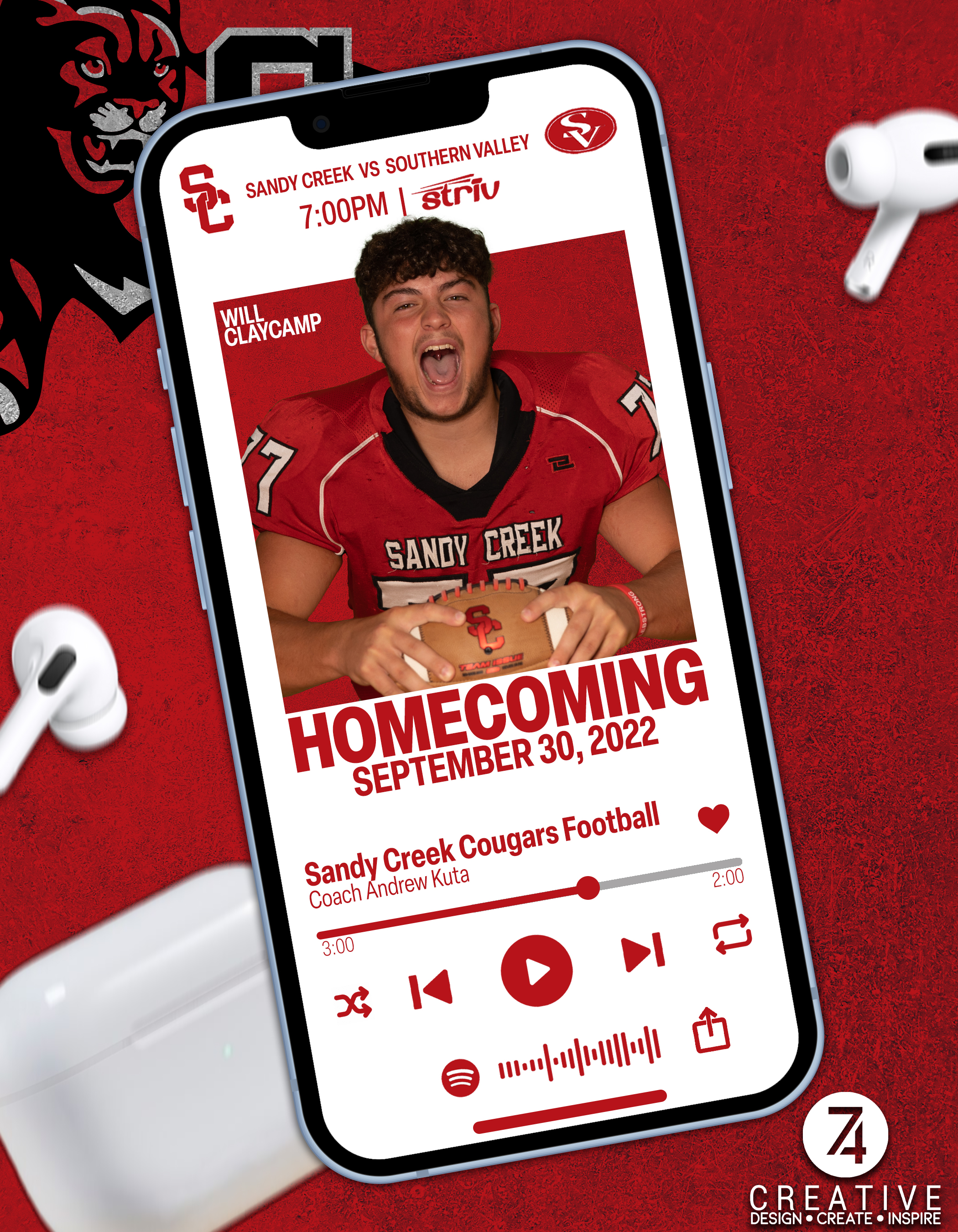 "He's picky about the music, won't do anything until he has the right song picked out," Borer laughed. "But it always works out. He doesn't miss. They're always great videos."
Hinrichs isn't your typical high school media man. He's been at this since the fifth-grade, when he helped on a Sandy Creek Striv broadcast team for the first time. He may have only been 11 years old, but he was hooked.
"I found out I enjoyed using the creative side of my brain while working on anything digital media related," he said.
Peters and Hinrichs may go about things their own way (in fact, that's encouraged in Borer's space), but they're absolutely dynamic when working in tandem. That's why Borer was so excited and encouraging when the pair came forward with an idea for a documentary.
Most of what's produced by Borer's classes and 74 Creative, a literal student-run business that has produced videos and other content for real businesses, is geared towards social media.
The documentary would be longform. A huge commitment from the students in digital media and on the broadcast teams.
"I said, 'Yeah, that sounds awesome. We can do that,'" remembers Borer, who ran the idea by an approving staff of football coaches. "This is completely student-led. I help them, sure, but at every football game I had three kids on the sideline filming with our cameras, capturing the entire game and night from different angles. I had kids filming coaches, talking to players, filming the crowd, getting all the shots you need to put a documentary together."
The crew uses gear and equipment that would make any news station envious. The administration at South Central USD 5 has been uber supportive of Borer's program from the start. That was back in 2012, when a video board was installed in the school's gymnasium, changing Borer's life forever.
He was working as a social studies teacher and coaching, too, when the school's activities director told him about the video board. Then he asked Borer if he knew how to use iMovie. He said he did, and in doing so roped himself into a new job title: Tech Director.
The vision was to emulate what they did on the big screen at Husker games. Borer was all in, but he knew he'd need more resources and more time. Content doesn't produce itself. So he approached his principal and superintendent and asked for a class catered to student-led digital media content creation.
They obliged, and five kids signed up that first year.
"We didn't know what we were doing," Borer said. "I mean, we had no idea. We'd all been to a Husker game before, so we were like, 'Oh, we can just do what the Huskers do up there,' and found out really quickly that we can't. There's a learning curve."
Riding that curve, Borer has to admit, has been a blast. A decade ago, he never thought he'd teach anything other than history. Now, he has around 40 students enrolled in four different technology classes, all the way down to a group of 7th-graders.
They're a motivated group, too. In the last six years, two have gone on to work for HuskerVision. Peters and Hinrichs could be next in line to do something similar. They certainly possess the potential, said their teacher.
"If you like to be creative and enjoy taking the time to sit down and learn, teach yourself some stuff, even if it's by watching YouTube, then this will be a great experience for you," Peters, who will attend Hastings College next fall, where he'll major in communication arts, said. "This class and this career path is all about learning."
It's a haven for discovery, and Borer fosters that freedom intentionally. He likes to say that his classes "play" around most of the time. They keep trying things until something works. So far, it's been a formula for success. Their productions are regarded as some of the best in the state.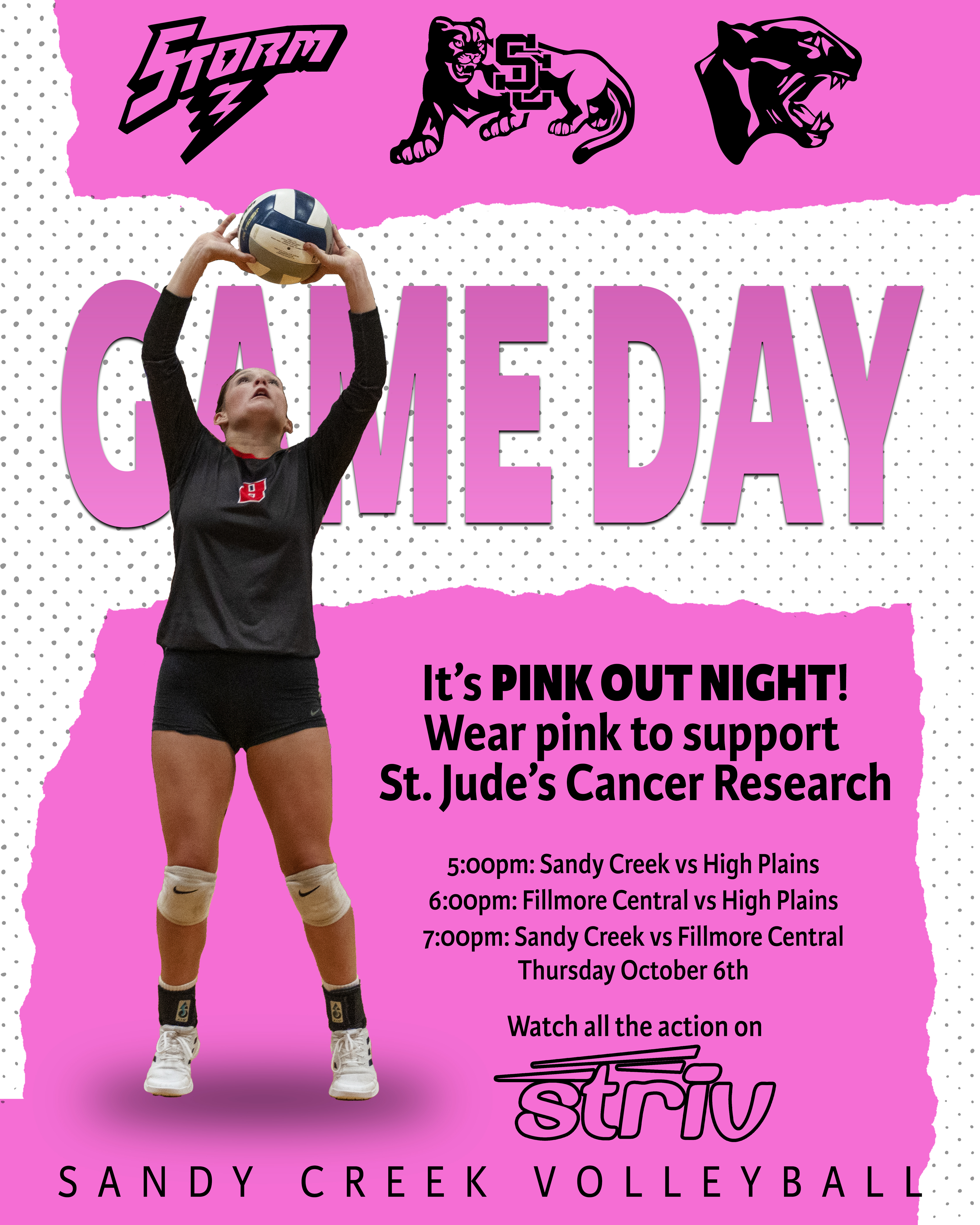 "We don't learn from a textbook or carry around any user manual," Hinrichs said. "We don't download a PDF giving us step-by-step instructions on how something works. We do trial and error and we just think of all the different things we can do to make something unique, and then we do it."
Up in this wing of NCAPS, where tall windows provide vast views of farmers' fields and gravel roads, every day is a doozy. There's not much downtime between the deadlines. Things move fast, and that's the way they like it.
"Every day of the week, everyone in here will be working on some sort of project," Peters said. "Everyone gets involved and everyone makes their own thing and everyone gets excited to watch someone else's. We have a good time making them. They're not overbearing projects. They're just really fun."
And they're used. Their content is viewed and enjoyed by thousands of Sandy Creek stakeholders. Borer makes it a point to give specific credit to content creators. These teenagers are building real portfolios, all while being the primary storytellers of a school.
The students learn life skills, too. Responsibility, accountability and communication come to mind. Collaboration is a big one, too. Especially for Fairfield's newest documentarians.
"Connor and I have different ways of starting a project and editing a project, but we're collaborating pretty well right now as the two main editors for the documentary," Hinrichs said. "Our two styles blend together really well."
The pathway has continually led students outside of their comfort zones, too. On this day, for example, Peters and Hinrichs were heading to different sites to work playoff games with students from other schools.
"Collaboration is a big deal in the digital media field," said Hinrichs.
That's the cool thing about this pathway, Borer said. This is real work. These are real experiences.
"Everything we do has to tell a story," Borer said. "Probably half the work we do is promoting something that's happening in our school, promoting our sports teams, promoting our other activities, the special things happening in our elementary and middle school. That's a big focus of ours."
The school year moves fast. Heck, four school years move fast. Soon, they'll be somewhere else, surely putting what they learned in Mr. Borer's digital tech program to good use.
And, yet, these projects, all the stories they've told, will be saved and on-file well into the future.
That's the beauty of video, Peters said.
What they produce, it'll live forever. For a group of storytellers, that's pretty neat to think about.
"I was in fifth-grade when I did my first Striv stream, '' Hinrichs said. "I didn't expect anything to come of it. It was like, 'Mr. Borer is a good guy. I might as well help him out a little bit.' And then it turned into something that has changed my life."
Hinrichs believes he and Peters, under the guidance of Mr. Borer, have left their mark on the school. One they can be proud of.
"Our Striv streams have become top tier, our graphic board design and videos have become top tier and our digital media program has become, in my opinion, one of the best there is."