Sailors Stick Together: If it takes a village to raise a child, Sutherland is that and "so much more"
Sailors Stick Together: If it takes a village to raise a child, Sutherland is that and "so much more"
Wednesday, August 4, 2021
By Tyler Dahlgren
At the end of each school year, Sutherland Elementary parents receive a carefully crafted note from the school intended to identify any possible student needs for the fall.
School supplies, backpacks, clothing, etc. Things that can easily be taken for granted. Things that a student cannot succeed without.
Usually, eight to 10 families will respond yes, and just as many or more will ask how they can help, and that's just the start of this story about a community full of Sailors sticking together.
"We have a very generous community," said principal Josie Floyd. "It's very easy to get those backpacks and supplies to our kids, and we know that every student deserves to start the school year with brand new pencils and brand new markers and clean sheets of paper."
It's been that way for as long as Floyd has served this small school in this small but special Central Nebraska town, where all students K-12 share the same roof.
Floyd is entering her 17th year as principal and 21st overall as a Sailor. You could pardon the pun and say she's anchored in Sutherland. To her, there's no better place to be.
"When they say it takes a village to raise a child, Sutherland does that and so much more," Floyd said. "Even without sending notes home requesting for help, our community is constantly reaching out to us to offer help, whether it be supplies, coats, or food for families."
Floyd feels the success of the school's backpack program points to the relationship the district shares with its community. Their support is fierce, and it's felt throughout the year. For the last seven years now, an anonymous donor has worked closely with Maline's SuperFoods, the town's grocery store, to provide 10 families with weekly gift certificates that go towards a gallon of milk, two pounds of hamburger, eggs and bread.
"That goes year-round, too," said Floyd. "It's pretty awesome that someone in our community is willing to reach out and help our families in that way."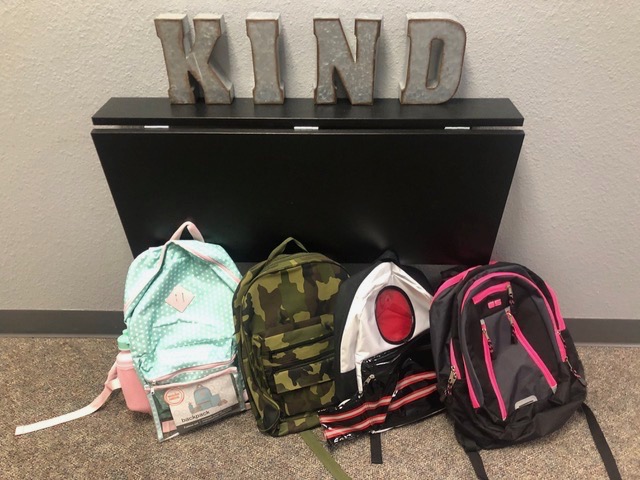 For many years, Food Bank of the Heartland has also contributed 16 backpacks filled with food for students. That level of generosity is a difference-maker for students, Floyd said. Sutherland Elementary also holds a yearly coat drive, and Floyd said her staff monitors these kinds of things throughout the year.
"Our office is filled with school supplies right now, and if at any time there's any students who need supplies to get them through the school year, we have them, and our teachers are aware of that," she said. "We know our kids. Our teachers are amazing at building strong relationships. They meet their kids at the door every morning."
Relationships. That's what it all comes back to. Relationships open doors. They make all of this possible.
"They're imperative to making sure our students are successful in school," Floyd said. "They see their kids the minute they walk in the door. They know if they've have breakfast or not. And if they haven't, they're pulling a granola bar out of their desk drawer or they're sending them down to me or to our breakfast program, where we make sure they get the fuel they need to have a successful day."
As Sutherland sails to the start of another school year, they hope to do so on a first semester's worth of smoother waters. The pandemic was tough on everyone, but Floyd says she felt truly blessed to be a Sutherland Sailor through the year, which saw students in the building from beginning to end.
"Things were hard, things were difficult, and we had to make changes throughout the year," Floyd continued. "But it was our community and our school and our students coming together that helped make it a successful year."
Soon, Sutherland's gymnasium will be packed for the annual "Back to School Night" celebration, a night that will culminate with an exuberant pep rally and an excited student body ready to take on the new year.
Their community will be there, too.
Just like they always are.