"Run Like the Gingerbread Man!": Logan View Students are the Pulse of Raider Run
"Run Like the Gingerbread Man!": Logan View Students are the Pulse of Raider Run
Wednesday, September 12, 2018
By Tyler Dahlgren
The sun was sinking fast below the rolling hills west of a six-and-a half mile stretch of gravel road linking Logan View Public Schools to the village of Uehling.
Runners navigated the dips, dives and steady inclines of County Road D, some travelling in packs and some keeping their own pace.
Somewhere in the middle of the herd, there I was, trying my best to put one foot in front of the other. The cramps struck first around Mile 8 of the Raider Run Half Marathon, and came in periodic waves the rest of the way. Should have had that pre-race banana.
"Do your best!"
"Run like no one is watching!"
"I wish you luck and run like the gingerbread man!"
Each runner, in the 5K, 10K, half, full and ultra-marathon, received messages of encouragement from Logan View Elementary students. These were the notes in my bag. And so, like the gingerbread man, I ran. Or hobbled.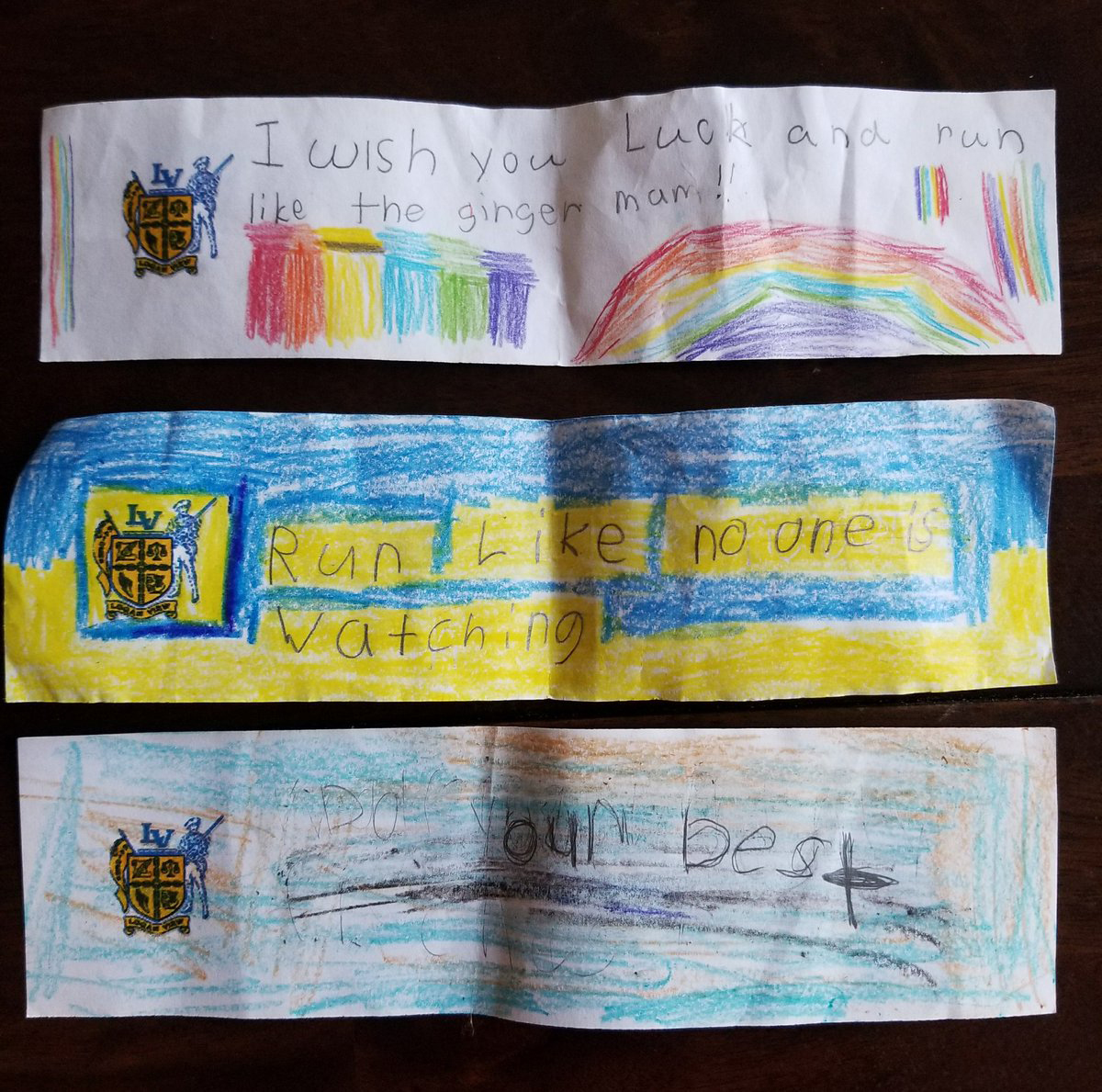 "We get the most positive comments on the notes," said Susan Kment, Co-Race Director. "Everybody loves the notes."
August 18 marked the seventh annual Raider Run, a unique, student-driven event which filters all proceeds back to student organizations. Kment and the race's other director Amy Kremke see student volunteers as the "lifeline" of the Raider Run.
"The collaboration that goes on behind the scenes is huge," said Kremke. "The school is completely involved, from the high school kids all the way down to the kindergartners. We try to get everybody involved, even if they can't be there to help on race day."
Every couple of miles, students man aid stations and pass out water, sports drinks and orange slices. Most kids wave glow sticks, a shining sign of reprieve in the darkness. The nourishment, coupled with clapping and cheering, serves as a boost to runners.
"Handing out waters and having them say thanks, it makes us feel good," said fourth-grader Anthony Oberg. "We came up with encouraging things to help keep them going. It was a lot of fun."
Kment never worries about the aid stations, trusting that Logan View students will represent their community and their school the right way. She loves hearing feedback from runners who enjoyed their aid-station interactions.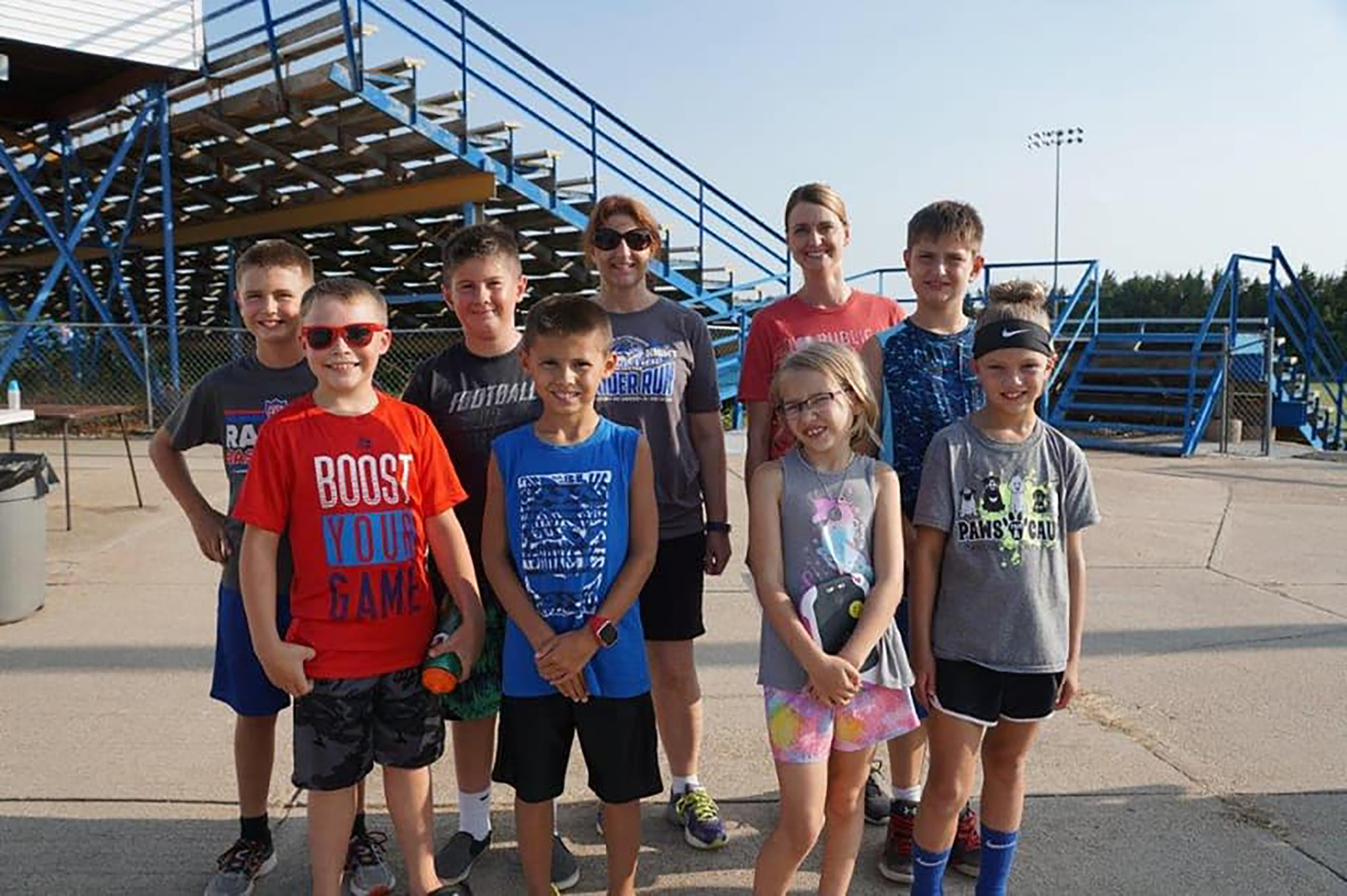 "The kids are always enthusiastic," Kment said. "We get responses from the runners every year about how great the aid stations were and how supportive the kids are."
For junior Elizabeth Hull, helping others reach a personal goal is the most rewarding part of the Raider Run experience.
"It's a good thing to portray your school in that kind of manner," she said. "All of these people have different goals they they have set in mind and helping them along is a cool thing to be able to do."
With their race fees going to a good cause, and a beautiful course, runners are inclined to return the next year. It's the kids who ultimately draw participants back to the Raider Run. Volunteers, like junior Noah Fowler, feel the appreciation is mutual.
"A lot of these people are taking lots of time out to come to our school, which is kind of in the middle of nowhere, and running for our causes and our different organizations," said Fowler, who stayed at the school for nearly 12 hours and greeted all participants. "It is cool to see people in the community who don't even have kids here, but still want to help out and support us."
Afterwards, everyone gathered for a BBQ meal to cap the night. Some of the meat was donated from Hormel's, while some came from Huey's Smokehouse. Joe Kreifels of Nickerson's Maple Hill BBQ smoked the meats, while Z's in Scribner provided the coleslaw and Kment's husband, Jay, made the beans.
"We try to get as much donated as we can, so that the money we would have spent on food and that kind of stuff goes back to the kids," said Kment. "The foundation gives at least one $1,000 scholarship. Some years it has been two. Everything goes back to the kids."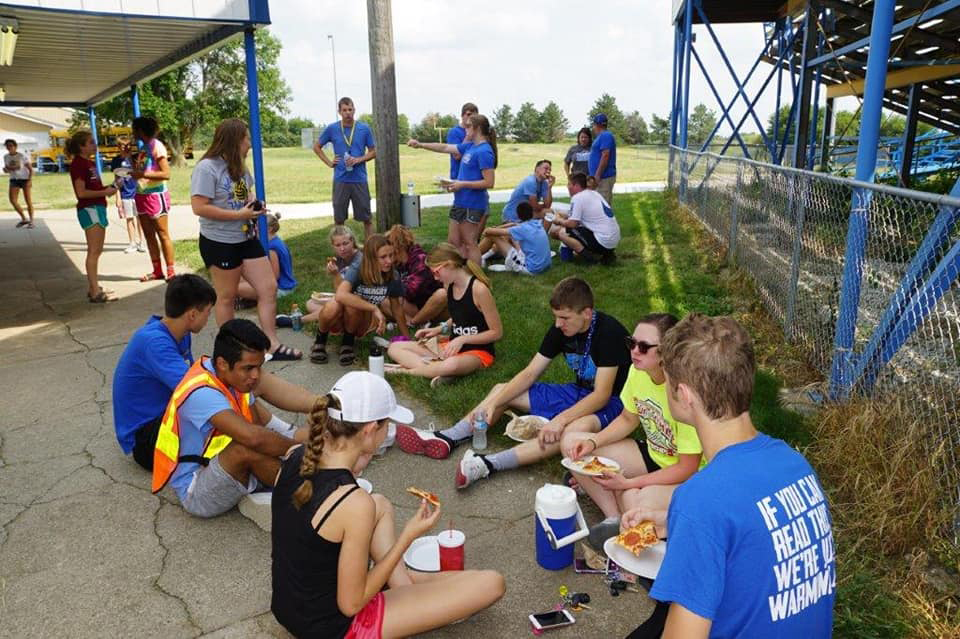 Since moving the races from morning to night, the meal opens a window for fellowship between runners, Logan View Education Foundation members and student volunteers.
"They talk to you about what different organizations you are involved in," said sophomore Valerie Uehling. "We get to see what they thought about the race and where they came from."
Some travel short distances for the Raider Run, coming from maybe a couple of towns or counties away. Some come from afar.
"It's awesome to see different people from so many different places coming to your school," said junior Taylor Ruwe. "You don't really expect to see somebody from another country running by you in the middle of a cornfield."
Logan View is a rural school, drawing students from different communities. During the day's downtimes, students bond with each other, a nice kick-start to the new school year.
"The Raider Run gives us the chance to reconnect with people we haven't seen all summer," said junior Dean Moeller.
The event also brings together an entire student body. Younger kids relish the opportunity to help the older ones.
"It is fun to get the chance to work with the older students and be a part of this with them," said fourth-grader Grayson Krause.
For the older students like senior Brady Hull, who is used to being cheered on by the community under Friday Night Lights, volunteering time towards events like the Raider Run is an important way to reciprocate the support he feels throughout the year.
"It shows that we give back to our community and it shows we care," said Hull. "Not just about ourselves but about our outside environment and about the people in it."
Junior Elizabeth Polk agrees.
"As students at Logan View, we always feel great support from the community," Polk said. "We feel that every day and this is a chance to give it back."
Kment and Kremke will take their customary month off before diving into planning and initial preparations for the 2019 Raider Run.
"Every year, we get a little smarter about how to do things," said Kremke.
One addition this year were trivia signs, which drew several positive remarks and kept runners distracted while racking their brains for the answers to Nebraska-themed questions spaced a carefully-calculated distance throughout the course.
Kremke's husband posted the questions, one of which concerned Nebraska's state tree.
"He drove down the road and looked at the answer, and low-and-behold there was a big old Cottonwood tree," Kremke, whose son ran the half marathon, said. "He put the answer down and drew an arrow in magic marker to the tree."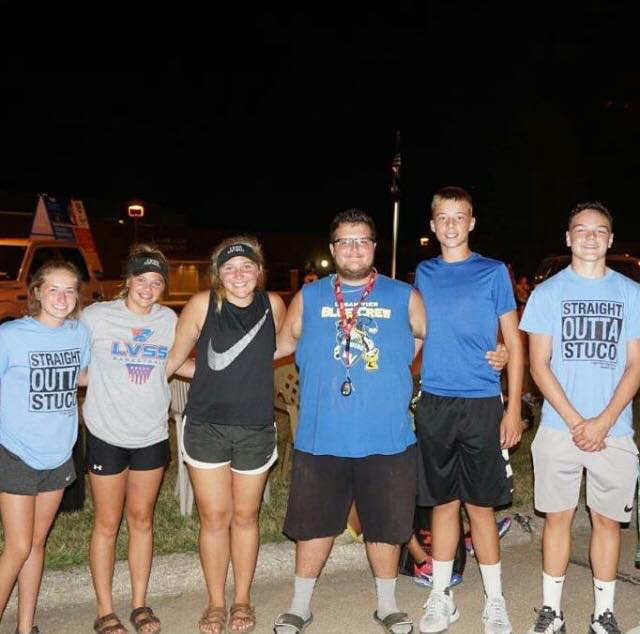 Distractions to keep the mind occupied are welcomed by those trying to complete the Raider Run, especially those on the uphill back stretch. When it becomes completely dark, the track can become quite lonely, and, for first-time visitors to the area, even mysterious.
"We had a runner last year who commented that while they enjoyed the run, the neatest thing about it was when it got dark and he didn't really know where he was, travelling by map, it was almost like an adventure," Kremke said. "An adventure you're kind of going on alone."
Well, not totally alone. Glow sticks in the distance mark another aid station. Another pack of Logan View Raiders.
Another boost of morale.
"When we started hearing footsteps, it was like 'Grab the water, somebody is coming!'" Ruwe said.
On top of the race's last demanding hill sits the school, where student volunteers shine their headlights.
"We don't have a ton of runners, so sometimes people are out there alone, and the stations and those students are those people's lifelines," said Kment. "Without them, they couldn't do it."
The kids won't leave until the last runner crosses the finish line.
Photos courtesy of the Raider Run Facebook Page.