Robots in Rural Nebraska: Sky's the limit for RoboMath students in Arapahoe
Robots in Rural Nebraska: Sky's the limit for RoboMath students in Arapahoe
Tuesday, September 22, 2020
By Tyler Dahlgren
The Andy Griffith Show's unmistakable theme song rang out from the Piezo buzzer on Diana Hanzlick's Arduino board as four fellow students gathered around the Arapahoe-Holbrook senior. The iconic jingle never missed a beat.
In the background, Daniel Schaben's classroom bustled with normal Wednesday morning operations. For his 10 RoboMath students, the best way to learn is to do. And time is of the essence.
"If we had eight hours a day, we'd be patenting things by the end of the year, and I really believe that," said Schaben, who started the program a handful of years ago when the Nebraska Department of Education provided a thousand dollars and directions to do something at the school that wasn't already being done. "We only have an hour each day, but we make it count."
When Schaben made the initial purchase of 10 beginner Arduino kits, he knew nothing about electronics. Like his students, who, over the years have built everything from radios to quadcopters to remote control turkey decoys and a Christmas-themed hat that lit up when faced towards the North Pole, Schaben has been learning as he goes.
And it's been one enjoyable ride.
"You can learn anything right now," he said. "The sky is the limit for these guys."
The students start the year on the Arduino boards, using an RGB light to change colors and creating songs on the Piezo buzzers. Schaben estimates that his students have orchestrated nearly 50 songs in the last four years. Around the holidays, the students build a two-wheel robot from scratch. They can control the robots from their cell phones.
"After that, I turn them loose and just say 'Hey, go create something,'" he said. "To get them thinking innovatively, that's my goal. And to have fun."
His students quickly took to the hands-on classroom setting of RoboMath. Let them loose, and watch what they can accomplish.
"You either learn how to do something or your project isn't going to get done," said senior Austin Roush, who originally took the class as a schedule-filler. "It's easy to get into a project and all the things we get to come here and do are pretty fun."
---
We asked other RoboMath students to tell us what they enjoy most about the program. Here's what they had to say:
"I'm learning disabled, so it takes a long time for me to really get into things. When the material is on a PowerPoint or just being read to us, it's in one ear and out the other. Since I'm on my own and doing this at my own pace, I learn it better."-Junior Dominik Roberts
"I like RoboMath because of the hands-on learning and working with your hands aspect of the program. It's cool to dive in and see how you can really make things work."-Senior David Theobald
"I would say I actually participate more because I'm learning something I'm going to need to know. And it's hands-on, which I just enjoy."-Senior Cord Fink
"Technology is the thing that's really advancing in today's society. I was just thinking it's probably a really good skill to know for whatever you go into after high school."-Senior Diana Hanzlick
"We're always looking to solve problems, and that's always interested me. Entrepreneurship, starting your own thing, making your own path."-Senior Nolan Meyers
"Since we get to choose our own projects and do our own independent research, I've found that I'm more motivated during RoboMath. I'll even work at it at my house, even though there's nothing assigned, just because I think it's so fun."-Senior Reilley Einspahr
"I feel like I'm actually absorbing useful information and understanding it versus just having it presented to me and then hopefully memorizing it for a test. This is applicable stuff we're learning."-Senior Derek Sander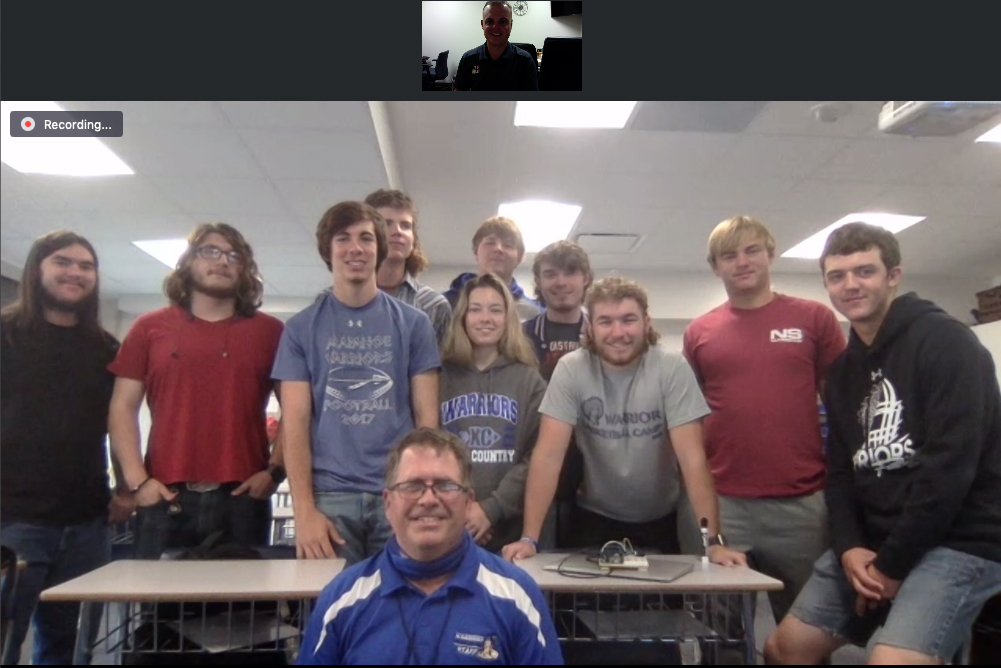 ---
RoboMath is helping students forge their path for the future. Senior Cord Frink, for example, is gaining a valuable and deeper understanding of GPS programming before pursuing a career involving GPS systems in agriculture.
"Precision agriculture is what I'm looking into, and, of course, GPS systems are all about programming, so this experience is really going to help with my future," Frink said.
And even if their future field isn't directly related to robotics, the program is teaching students skills that they can apply to life in any kind of career they may choose to pursue down the road.
"I'm pretty set forward on going to school to be a diesel tech welder, and then plan to come back and word on the farm," said senior David Theobald. "Working with electrical stuff in here has really helped me out and will translate to when I need to work on something electrical in the home in the future."
Senior Derek Sander hopes to attend school to study fabrication and machining. He sees RoboMath as a giant opportunity to grow skills that will be necessary in doing so.
"We're learning things we can use for every day jobs, and I can make something like a program that does something specific and that can be my resume," he said. "I don't have to have this degree in school before I can show you what I can do."
That's the primary lesson the RoboMath students have learned from their teacher.
"The only way you can learn it is if you do it," said senior Joseph Callahan, whose favorite project so far has been learning reverse engineering code. "RoboMath has affected how I look at things and helped me realize that, more often than not, there are at least a dozen different ways to do something."
For Schaben, a 2020-21 Lemelson-MIT Excite Award recipient who works with that group in the evenings, seeing students dream up an idea, set a goal and then put innovation and creativity to use in the quest to bring a project to life is more than half of the fun.
"It's a pipe dream of mine, for these kids to create something that would solve a problem," Schaben said. "That's really where these kids need to be looking. What problems in their lives can they solve? Robotics is a tool to get there."
It's still September, and, for the 10 robotics students in Arapahoe, the rest of the school year is a blank canvas. Like their teacher said, the sky is the limit.
"By the end of the year, anything could happen," he said. "Right now, we're just doing a lot of cool stuff."