A Reflection of Culture: Nebraska City's Circle of Friends
A Reflection of Culture: Nebraska City's Circle of Friends
By Tyler Dahlgren
When Tiffany Tharp's students graduate, she hopes they take with them fond memories of their experiences at Nebraska City High School.
Last Wednesday, with an enthusiastic student body packed tight in the school's auditorium, the Special Education/Life Skills teacher watched her students speak about the importance of autism awareness and became overwhelmed with gratitude.
This was one of those moments.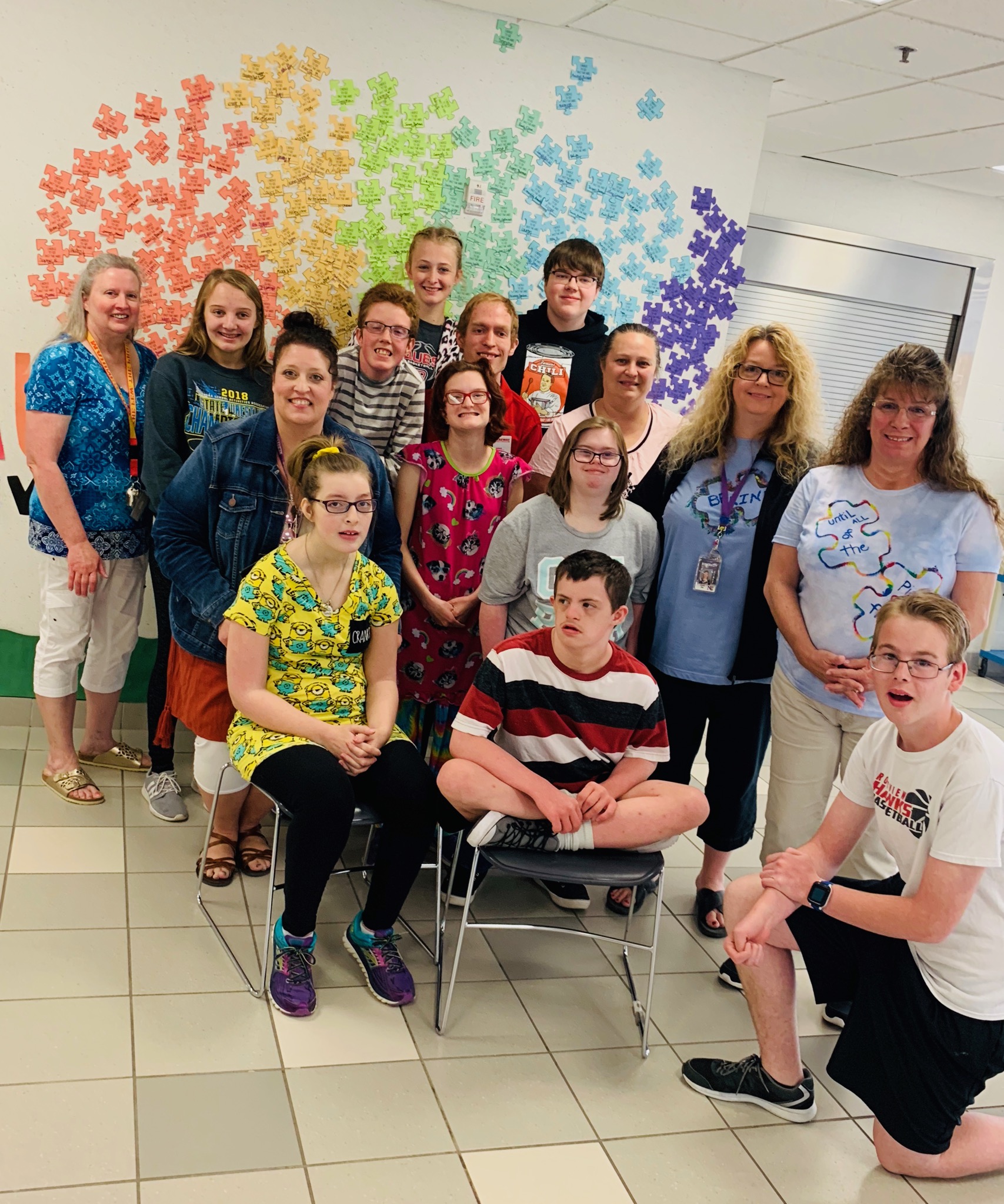 "The students here support these kids 100 percent," said Tharp, who started in her role in 2011. "Being kind gets you really far in life. Relationships and friendships are what it's all about."
While attending the Nebraska Autism Conference, Tharp learned of a program being put on through the Nebraska Autism Spectrum Disorders Network called "Circle of Friends". She first implemented its practices in her classroom, little by little, before pairing them with the school's Leadership Cadre class this year.
Tharp has up to 10 students in her classroom at a time, including the 18-21 Transition Program she directs, and was able to match each of her students with a Leadership Cadre participant.
Meeting each Friday, they've enjoyed a full year of fun events. Like the white elephant Christmas party or the prom. They play social skills games and hang out. Before school lets out for the summer, they'll compete at a unified track meet in Ashland and visit the Henry Doorly Zoo.
"I can't wait to go to the zoo," said Cheyenne Wood, a member of the 18-21 Transition Program who picked dancing at prom as her favorite moment of the school year.
Junior Addyson Little said coming together to support one another is second nature at Nebraska City. The culture is one of family, on full display during the autism awareness assembly and throughout the entire year. When Nebraska City hosted district music, kids from other schools flocked to the commons to sign the school's Autism Awareness pledge tree.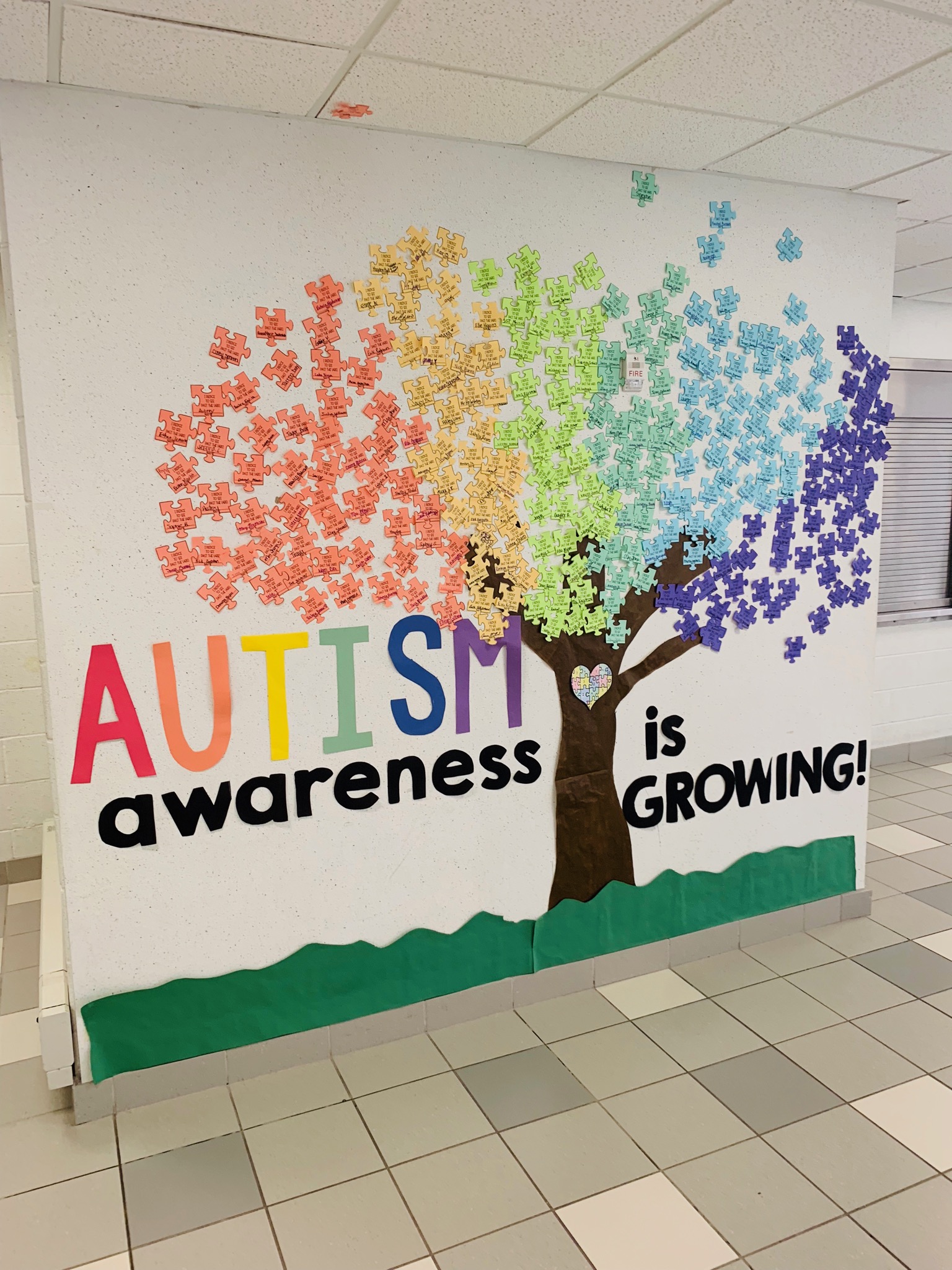 "I just love all the memories we've made together," Little said. "Even just doing the small stuff, we are laughing constantly. It's just great to be a part of."
Principal Brian Hoover has been really impressed by the impact Tharp's project has had inside the walls of Nebraska City High School. Assemblies like Wednesday's are heartwarming moments, but he also recognizes and appreciates the smaller interactions in between, those living displays of kindness.
"You really see it come to fruition in those unstructured moments, during lunch or passing periods or before and after school," said Hoover. "We see kids' willingness to reach out and be friendly with no expectations of anything in return. It's been really neat."
For Hoover, the end goal isn't just scooting a senior across the stage towards a diploma. Equally important is how his Pioneers treat the people around them before they make that walk and well after they've stepped out of the school's front doors for the last time.
"We want our students to understand the importance of caring beyond themselves, and what it means to put effort into someone else," he said. "The ACT scores, chemistry scores, calculus scores, all of that is extremely important, but it's only important if you're treating another person the way he or she deserves to be treated."
Students in Tharp's Life Skills class felt that support on Wednesday. As sophomore Joseph Wredt stood in the middle of the stage in front of his peers and surrounded by his friends, he couldn't help but to smile.
"Kindness can brighten someone's day," he said. "I love being a student here because people help me. They direct me in the right place. And it's a fun place to be."
Senior Snezana Serafimoska has found new friends through being a Circle of Friends mentor. Friends she jokes with. Friends who make her laugh. As graduation approaches, she's thankful for what she's learned from the experience and for the school that provided the opportunity.
"At Nebraska City, I think we all find the person who needs help, or the group of people who need help, and we try to help them as much as we can," she said. "You don't know what someone else is going through. The least you can do is be kind to them."
Tharp said Circle of Friends wouldn't have been possible without the tremendous support of her administration and fellow staff members. She underlines the importance of the district's emphasis on relationships.
"That's what life is all about," Tharp said. "We aren't afraid to be a family."
In good times and bad. The recent flooding has put their "Pioneer Strong" motto to the test.
"If something happens, something bad or good, we will all come together and either celebrate or just be there for one another," Little said.
Wood looks at her friend and nods in agreement.
She smiles.
"We're a family at Nebraska City."