On Rare Air: Shoemaker Elementary fifth-graders bring Eagle Eye News to life
On Rare Air: Shoemaker Elementary fifth-graders bring Eagle Eye News to life
By Tyler Dahlgren
The Eagle Eye News production team sat still, focused on their respective tasks when the countdown started at five and, among growing excitement, worked its way towards one.
As silence swept the Shoemaker Elementary library, anchors Julissa Ramos and Dimitri Kerkman took simultaneous deep breaths, stared calmly into the cameras and, when given the signal by the directors, delivered the day's news.
With the entire school tuned in to the 8:10 a.m. broadcast, Ramos and Kerkman worked their way through the script like a pair of old pros, covering the weather, birthday announcements, and even a few fun facts. Behind the cameras, three producers made sure the show went on without a hitch.
It did, just as it usually does, an impressive feat from a talented and brave group of fifth-graders.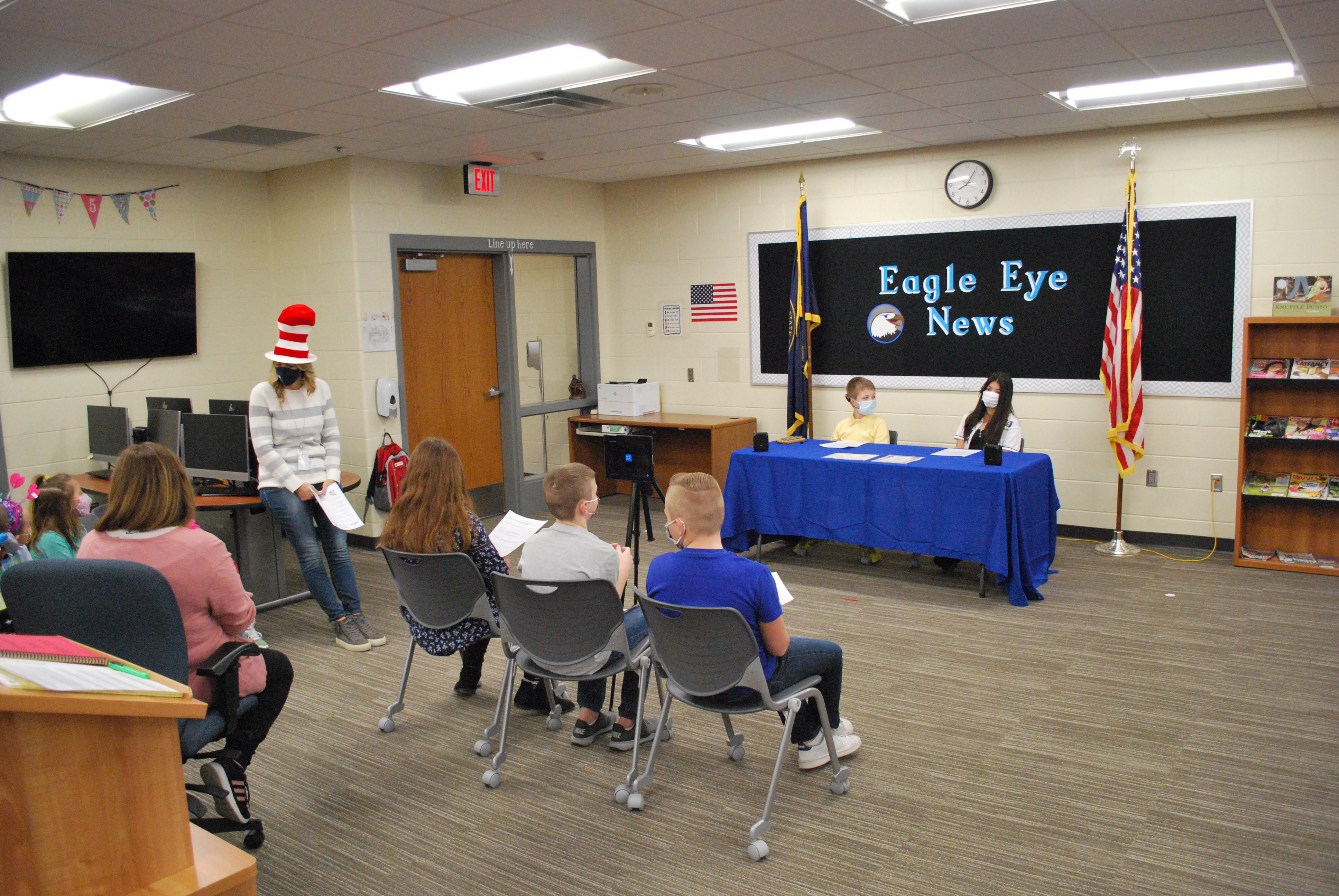 (Pictured Above: This week's Eagle Eye News anchors Dimitri Kerkman (yellow shirt) and Julissa Ramos (right) wait for the greenlight as directors Avrie Morgan (left), Owen and Cooper Cremers go over the script.)
"Fifth-graders are smart, a lot smarter than people give them credit for," said Trisha Hedman, Integration Specialist at Shoemaker and the founder of Eagle Eye News. "They can run the entire thing on their own."
For a couple months now, this is how each day has started at the school in Grand Island, with rotating teams of student broadcasters putting on the newscast. Before the pandemic, students gathered each morning in the gymnasium, where principal Lee Wolfe would deliver the announcements.
The idea for a student news team came to Hedman after those assemblies gave way to morning announcements over the school's P.A. system. She approached Wolfe, who was equally as enthusiastic about the idea. They decided to give it a shot.
"It was great," said Hedman. "Everybody loved it. The kids had a great time, and we had twenty-four students sign up right away."
In short time, Shoemaker found itself with a full-on news studio in its library and an innovate program that naturally empowers its students.
"Being in Eagle Eye News is a lot of fun," said Owen Cremers, this particular group of five's go-to director. "It helps kids build up their confidence and it teaches us to use technology, too."
You wouldn't know it by tuning into Thursday morning's broadcast, but Kerkman is one of many students who have conquered stage fright by taking a seat at the news desk. Ramos, too.
"I just wanted to get over my fear of talking out loud," said Ramos.
Mission accomplished.
"We're not as scared to talk in front of people now," Kerkman explained after anchoring his fourth show.
To see that growth in-person is incredible, Hedman said. Students rotate through in a staggered bi-weekly cycle, so that one anchor is always a week ahead to train the newbie. The same goes for the directors behind the scenes.
"If you watch them from Monday to Friday, it's amazing how they progress," Hedman explained. "On Monday, they're nervous and swallowing over their words. By Friday, well, look how well it went today. They build confidence. They have some enthusiasm in their voice. They're excited. They slow down and annunciate their words."
Eagle Eye News gets the entire school involved, too. On Thursday's broadcast, four students (one from each grade K-4) modeled outfits for the following week's Dr. Seuss-themed dress up schedule.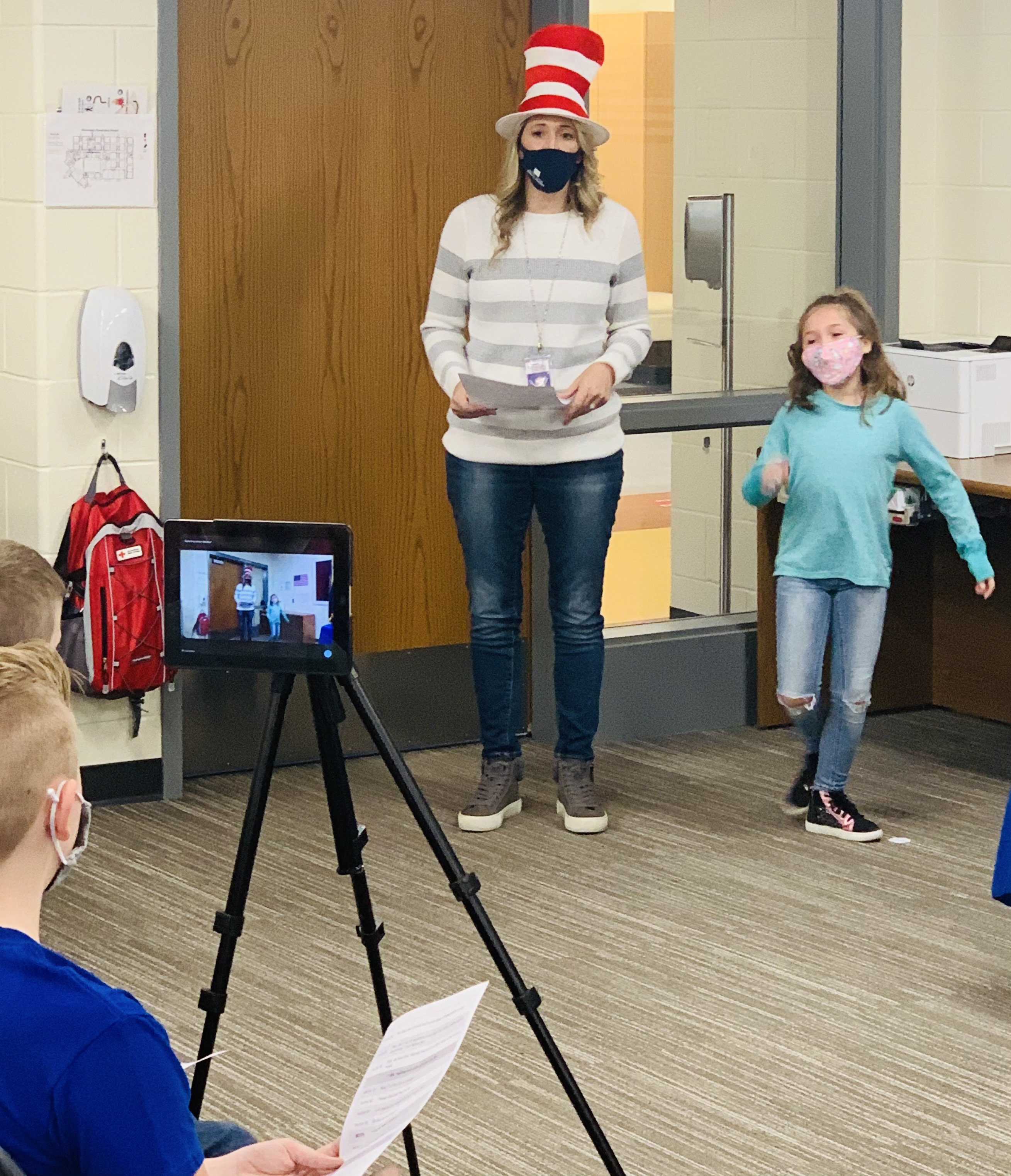 (Shoemaker Elementary Integration Specialist and Eagle Eye News director Trish Hedman previews the following week's Dr. Seuss-themed outfit schedule with the help of K-4 students.)
"This piece has really helped with connection inside our school, especially without those gatherings for the morning announcements in the gym," said Wolfe. "We would do exercises and other fun things. We were just together. We missed that. So this is a way to still be together and to be safe and as healthy as you can be in this time."
Being ahead-of-the-curve isn't an unfamiliar place for Grand Island Public Schools. They take pride in being creative in offering different avenues for their students, and Eagle Eye News is another fitting example of that innovation.
"You want to build relevancy for students within their learning paths," said Wolfe. "Experiences like this builds that. It connects to their real life, their future interests. It's a nice connection to the career pathways in our district down the road. I just think it's fun. It engages kids and it interests them."
For now, Hedman creates the scripts and shares them nightly through Google Classroom. Eventually, as the program continues to grow and evolve, she sees Eagle Eye News adding student writers and reporters, too. The more jobs, the more opportunities, the better.
"That's what life is about," Wolfe said. "You have different roles and strengths as an individual, and it's neat to be able to fit those different pieces in place to allow kids to be involved in this."
Hedman praises the responsibility her students have shown. It's gotten to the point where she doesn't even feel like she's teaching them anymore. They handle things themselves. She records the broadcast and shares it on the school's Facebook page daily. When she missed a day last week, Eagle Eye News went on like normal.
"They are very intelligent young kids, but how Trish set up the model for them to be successful, as far as the organization and the scripts and everything, she's just done a great job," Wolfe said.
The key ingredient has been teamwork.
"You have to have a pretty good team, because we have two, sometimes three people behind the camera and two on-camera," said fifth-grader Avrie Morgan. "The people behind the camera are there if a mistake is made and they help if there's a tough birthday to announce. Some names are harder than others."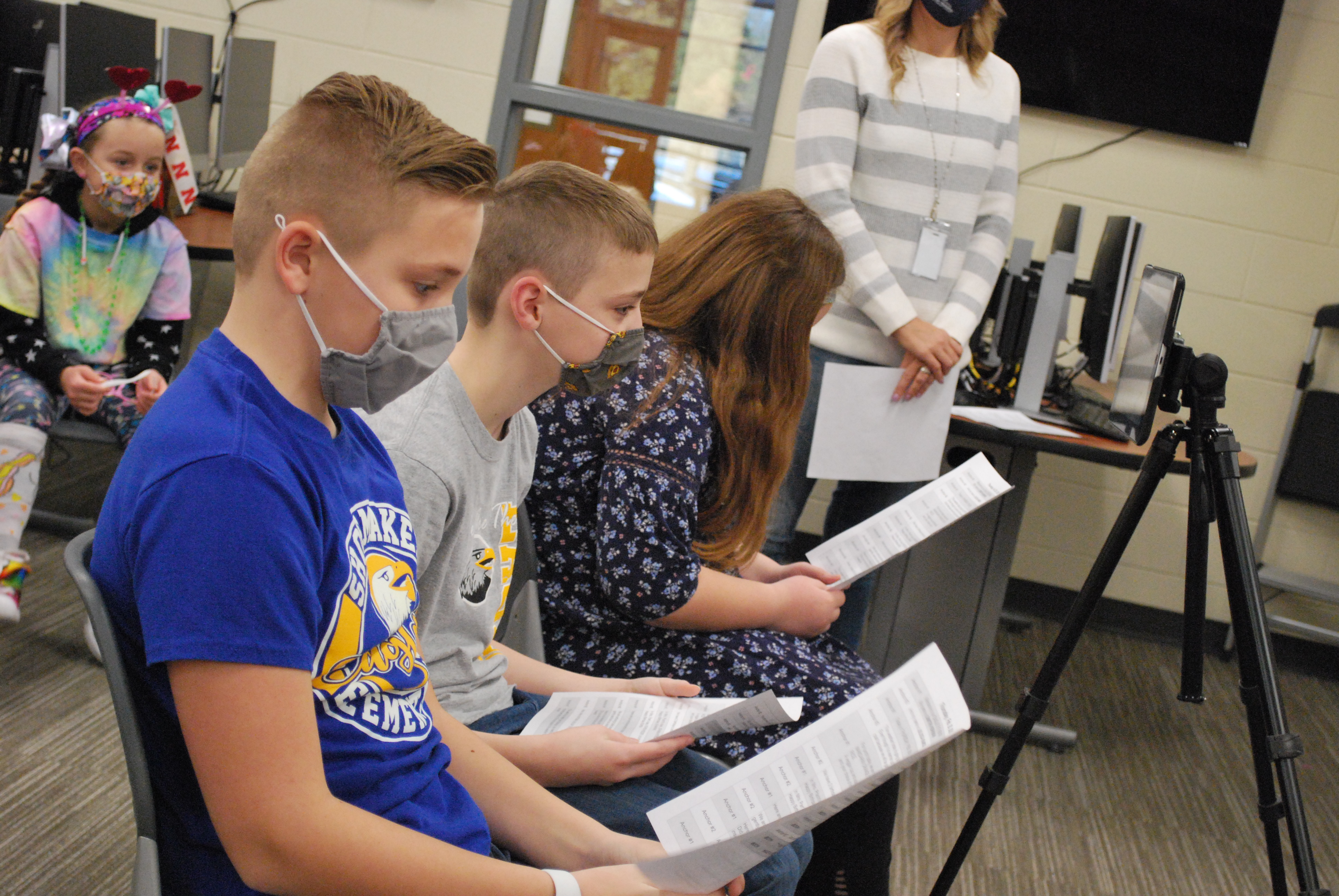 The kids pick up different tricks along the way, sharing what works best for them with their peers. Eye contact is one of the areas the students improve upon drastically during their two week stints. They don't have the luxury of a teleprompter quite yet.
"Instead of always looking down at my script, I try to glance at my lines while the other anchor is talking," said Kerkman. "Then I find the camera when it's my turn to talk and say what I'm supposed to."
The broadcasts are always upbeat and fun, a great way for everyone to start the day. Guests are common, too. To kick off the school's Healthy Heart Challenge in February, the P.E. teacher joined the show. The week before Christmas break, a robotic Santa Claus danced along to Jingle Bells during broadcasts.
"We just have fun," said Wolfe. "It's a boost to climate and culture."
The students unanimously agreed that they'd recommend signing up for Eagle Eye News to future fifth-graders.
"It just a fun thing to do," said Ramos. "You get to be in the library and with friends and on TV. I feel it's worth trying out."
Still basking in the delight that follows a successful broadcast, this week's Eagle Eye News team nodded along.
"Just try it, that's what I would tell somebody," Cooper Cremers continued. "If you don't like it, then you don't have to do it. But just try it first."
Eagle Eye News started, after all, with a school trusting its students and taking a chance on something that hadn't been done before. Not around here and not in many other places, either.
"It's so important for kids to take a chance on something," Wolfe said. "Take risks. Eagle Eye News is a great opportunity for that."