Partner Up Rodeo: A Special Day in Western Nebraska
Partner Up Rodeo: A Special Day in Western Nebraska
By Tyler Dahlgren
In every corner of North Platte's Lincoln County Fairgrounds, something special was happening at ESU 16's Partner Up Rodeo.
Held on a humid Wednesday in mid-September, the event drew over 180 cowboys and cowgirls with special needs from the service unit's 16 school districts. More than 300 volunteers enjoyed the day with the students, including teachers and paraeducators, community members with agriculture or rodeo experience and Nebraska High School Rodeo Association student members.
"People who have a heart for special needs kids and want to give them a special experience and a memorable day," said ESU 16 Inclusion/Transition Consultant Lou Cox-Fornander. "That's the kind of people who volunteer, and we have a lot of them."
This is the eighth year that ESU 16 has been involved with the Partner Up Rodeo, though the concept has been around for longer than that. Cox-Fornander said ESU 16 partnered up with the High School Rodeo Association because of what each group brought to the table.
"We had access to kids, and they had access to the information," she said. "It was a group, and, really, community effort."
In general, that's what the Partner Up Rodeo is. Hundreds of people from Western Nebraska coming together to give kids with special needs a day they will never forget. The Lincoln County Fairgrounds serve as an ideal setting for the event, another example of a key community partnership that makes the rodeo possible.
"We couldn't do it without them," said Cox-Fornander. "When we brought this idea to them we didn't have any money, and they didn't have a ton of money either. We said 'This is our idea, this is the only place we can think of where it would work, and, oh, by the way, we don't have any money, so could you donate to us for free?'"
Cox-Fornander laughs when thinking back on that conversation. The Fairground's response came quick and without much hesitation.
"They really caught that vision early and wanted to be a part of it and said 'We won't charge you'," she said. "The next year, we made a little money and tried to pay them. They were almost offended. They just wanted to help. They have been phenomenal."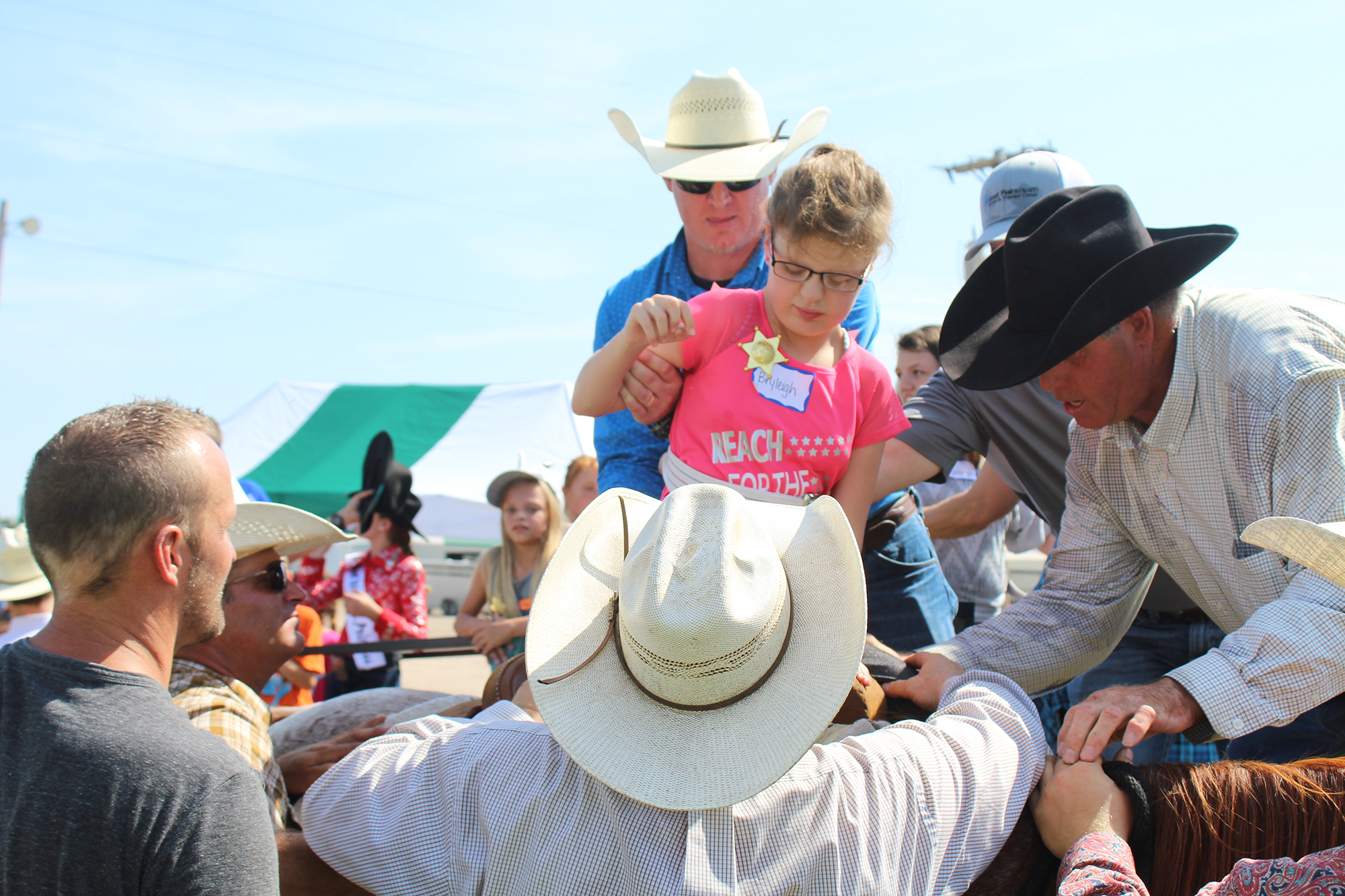 The planning process is pretty much a year-round deal. Cox-Fornander and four others make up the core committee, and they split up into areas of expertise. Everybody takes charge of an area, and the group brainstorms and aims at steady improvement.
When the day gets here, and so many wonderful opportunities are being granted to kids that don't get to experience those types of things often, Cox-Fornander and, really everybody involved, just takes in the moment.
"There are so many wonderful things going on," she said. "This year, one of of the things that really touched me was when I looked over and all these kids with special needs were ready to do the parade with thei school school, and the high school kids, a big group of them, when they'd see their school's boat go bye, they jumped in. Just seeing the sheer number of high school kids that had come from all over the area to volunteer their time to spend a day with these kids, that was really special."
Cox-Fornander believes the relationships ESU 16 has with its schools, students and teachers is what makes working in this part of the state special and unique.
"We even know the parents and the people within the communities," she said. "Western Nebraska is just a culture of caring. We care about each other. We care about the students we serve and we want to give the best possible education to all students. Kids with special needs are included and welcomed and accepted here."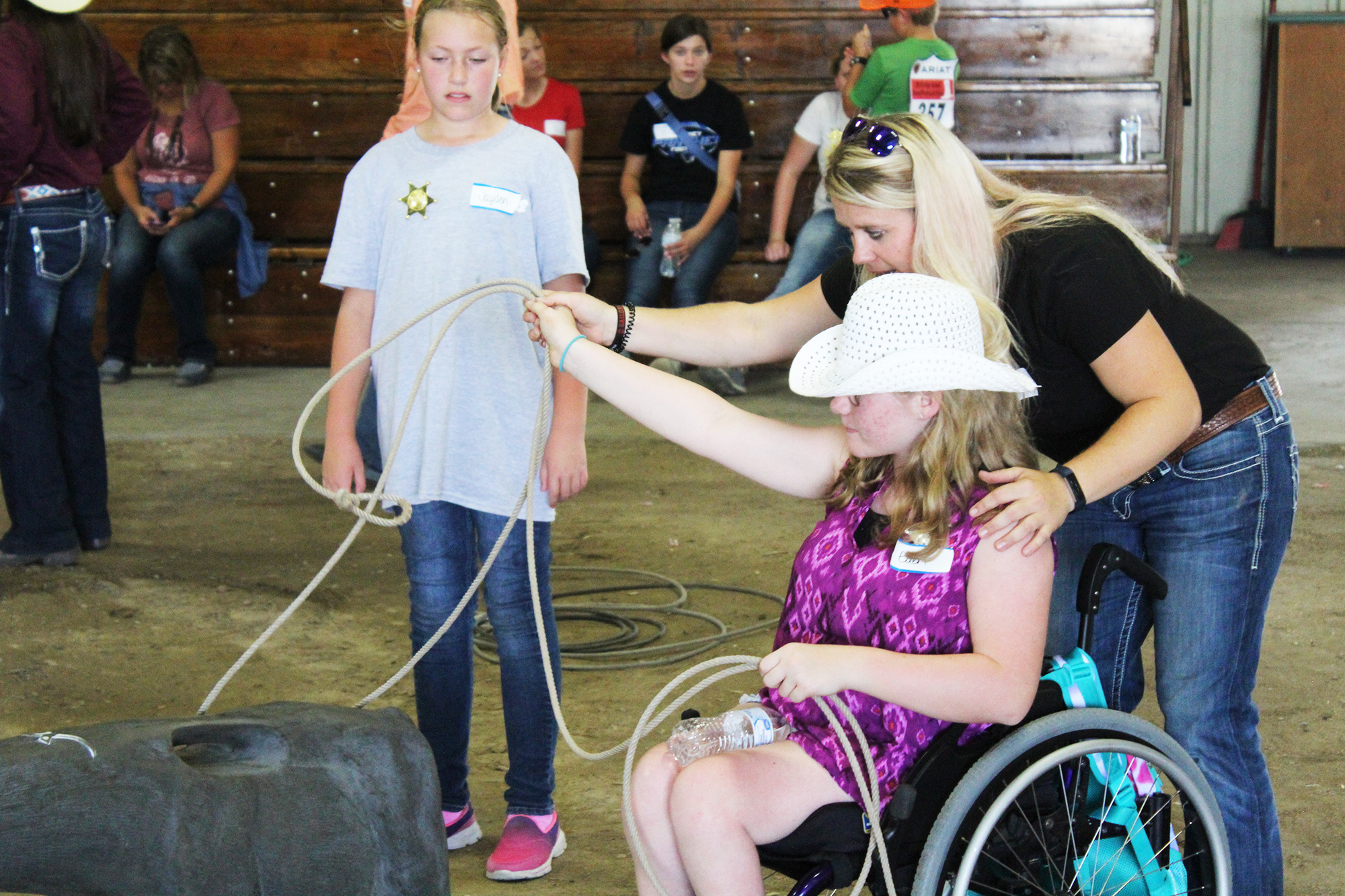 The list of benefits for students that attend the Partner Up Rodeo is long, both for the students and the volunteers.
"It's a day of excitement, it's being a cowboy or a cowgirl for the day, it's getting to ride a horse or go on a hayrack ride," Cox-Fornander said. "Just to have kids with the sheer joy of the day, the excitement, we get looks on their faces that just don't happen anywhere else."
Those photos are taken and put into a book by ESU 16 speech pathologist Teresa Detlefsen. That book is used for instructional language and vocabulary building. The photos are often taken by teachers and used as Christmas gifts from the students to their parents.
"What parent doesn't like to see that true joy on their child's face?" she said.
The best part of the day, though?
"The friendships that the kids build," Cox-Fornander said. "We have been doing it for long enough that student volunteers who have worked with a partner, they look forward to seeing each other. They say 'Do I get to see my cowboy? Is my friend going to be here this year?' They look for each other, and those things go far beyond just this day."