Part One: The Kids in the Booth
Part One: The Kids in the Booth
Wednesday, January 30, 2019
By Tyler Dahlgren
Grand Island Northwest senior Luke Jacobs remembers his first broadcast with Tyler Rinkol, a basketball game between the Vikings and Columbus.
The pair of in-booth partners had both long-admired Nebraska radio icon Kent Pavelka.
"He knows how to call a game," said Rinkol, who, like Jacobs, was a sophomore at the time. "He's fully into the action and has a type of emotion that makes you want to listen to the radio."
They'd done ample preparation. They'd been up and down and over the game notes.
They planned to emulate some of Pavelka's flair for the dramatic, the way he transports listeners from their car seats to the courtside, and adopt a touch of his infectious style.
They were ready. Then the ball was tipped.
"It was not good," Jacobs remembers. "It was bad."
The first playback is usually painful to listen to. Many sportscasters can attest. But each night out is a chance to improve, so Rinkol and Jacobs and the entire Striv.TV crew at Northwest started to master their craft.
"Collaboration is crucial to getting better," Rinkol said. "When we first started, it seemed like we were always jumping in on each other. After we worked through it, we started to sound pretty good."
The play-by-play team developed a system. One commentator handled the introduction. The other took care of the starting line-ups. One focused on one team, while the other concentrated on the opponent.
Digital media specialist and Striv adviser Matt Hinkel helps the broadcast teams with preparation, developing cheat sheets packed with statistics and other filler material. It helps to have resources.
"It's going to be scary and difficult the first time you do it, but if you have someone to teach you, that really helps," Jacobs said.
Enter technology integrationist Heather Callihan, who came on with the district in 2012 with a vision to build a strong social media presence.
"One of my roles is to find innovative ways to extend opportunities to students which provide real world experiences," she said. "In the fall of 2013, I had heard about Striv through Aurora working closely with Craig Badura. We had seen how they were streaming games, an opportunity for students, and so I brought it to the leadership team here."
The goal for Callihan's vision was to effectively reach the community while offering additional avenues of experience for Northwest students. The administration at Northwest didn't hesitate much at all, and Striv started to soak into the school's culture.
"They are performing for an audience and expanding the classroom walls," Callihan said.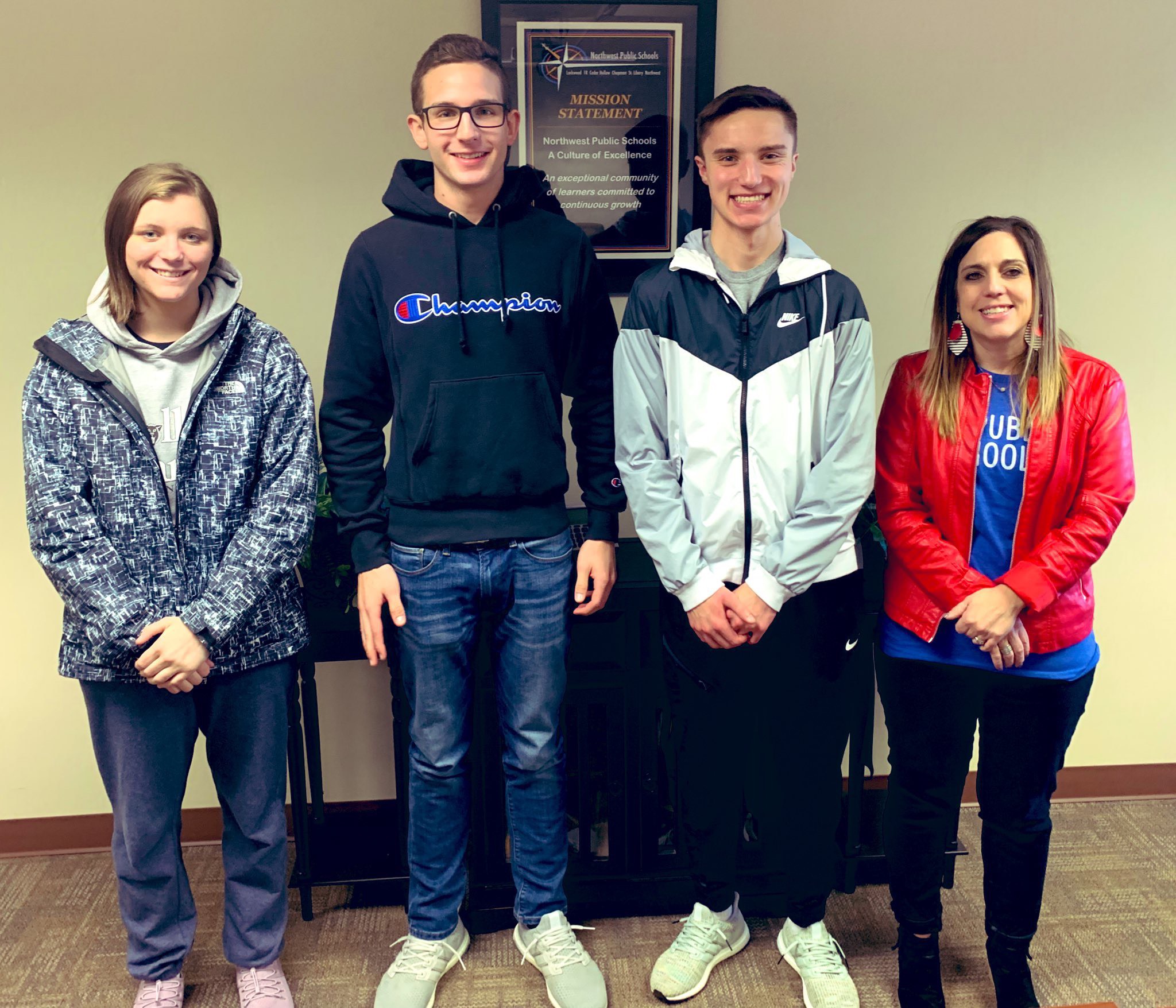 *Pictured Above: Northwest seniors Maddy Oakeson, Luke Jacobs and Tyler Rinkol are three members of the Grand Island Northwest Striv team. They are joined by Heather Callihan, who was on the ground floor of bringing Striv to the school six years ago.
Not all of Callihan's Striv kids, and there's about a dozen involved, provide color commentary or play-by-play action. For some, like senior Maddy Oakeson, the experiences are gained through social media and behind the scenes. Or behind the lens of a video camera, rather.
"I have always been pretty old school," said Oakeson, whose volleyball career at Northwest was cut short due to injury. "I was never really huge on social media, but once I got into broadcast journalism class my junior year, and once I was introduced to Striv and the school's YouTube news channel, I was able to have an outlet to integrate myself into the social media aspect of the world."
Long story short, says Oakeson, she never envisioned herself creatively crafting content and filming basketball games for a student broadcast.
"I did not plan on doing something like this," she said. "But I fell in love with it."
One of Oakeson's favorite parts of working a game is listening to the commentary from Rinkol and Jacobs through her headset while trying to capture the same kind of action angles she grew up watching on ESPN.
"I like to use the mind's eye," Oakeson said. "I try to avoid bland shots. I really try to capture the emotion of the players."
Listenership has grown, as have the personalities of each on-air talent. Rinkol and Jacobs love hearing feedback, even if it's a request to shift the camera a smidge or two. It lets them know people are tuned in. Grandparents, Northwest alums, or fans from other schools.
"I even have teachers come up to me and say 'Hey, I heard you last night. Great call!'," said Jacobs. "Even though they live so close by, they're making an effort to tune in. We broadcast to fans from visiting teams. That's kind of how we have to play into our style. We stay neutral, even though we're Northwest Striv. Anybody could be listening."
Rinkol, who plans to pursue a career in broadcasting, appreciates all the thanks and words of encouragement. It makes him want to do more.
"Our athletic director came up to me after a basketball game just to say good job," Rinkol said. "I am connecting the team with the people who watch. It's a cool experience."
For Callihan, satisfaction comes from seeing her students gain experiences unique to high school kids throughout much of the country.
"They're not getting a numerical value as far as a grade for this," she explained. "They're getting true, authentic feedback from the viewers, and I that's very valuable and truly helps guide them to where they are going next."
Where exactly are they going next?
"We are in our sixth year with Striv, and I love hearing from students who have moved on and what doors this opportunity has opened," Callihan said. "We receive emails all the time with stories of students broadcasting on Student U or running a camera for their college broadcasts."
The future is the most exciting part.
*This is the first installment of Striv, Schools and Stories, a three-part series. Come back tomorrow for Part Two: The Startup.