One Step Ahead: Career Academy gives King Science & Technology students a head start in the health field
One Step Ahead: Career Academy gives King Science & Technology students a head start in the health field
By Tyler Dahlgren
Matthew Mills wants to change lives someday.
He wants to engineer prosthetics and, as the treasurer of King Science & Technology Magnet's Future Health Professionals (HOSA) chapter, he's well on his way. And, actually, because of his school's Health Career Academy (HCA), Matthew is even a pace (or two, or three) ahead of schedule.
"Originally, I just knew I wanted to be an engineer, maybe an aerospace engineer, but then I was introduced to the health field through this and I decided pretty quickly that I wanted to build prosthetics," he said.
On this Tuesday morning, the eighth-grader is absorbing everything his instructor, Kristin Utterback, tells the class of 22 about cellular organelles. Utterback, HCA's Coordinator, dives deep into the functions of ribosomes, cytoplasm and chromatins in a way that makes this 29-year-old writer's head spin.
But not this group. The pack of 13 and 14-year-old kids fervently take notes and ask questions and never seem to skip a beat. Their classroom is a state-of-the-art learning facility and their curriculum is learned hands-on, up close and interactive. In addition to Mills, there are five other HOSA officers in the class. A president, two vice presidents, a secretary and a media specialist. The group meets, on average, at least once a month.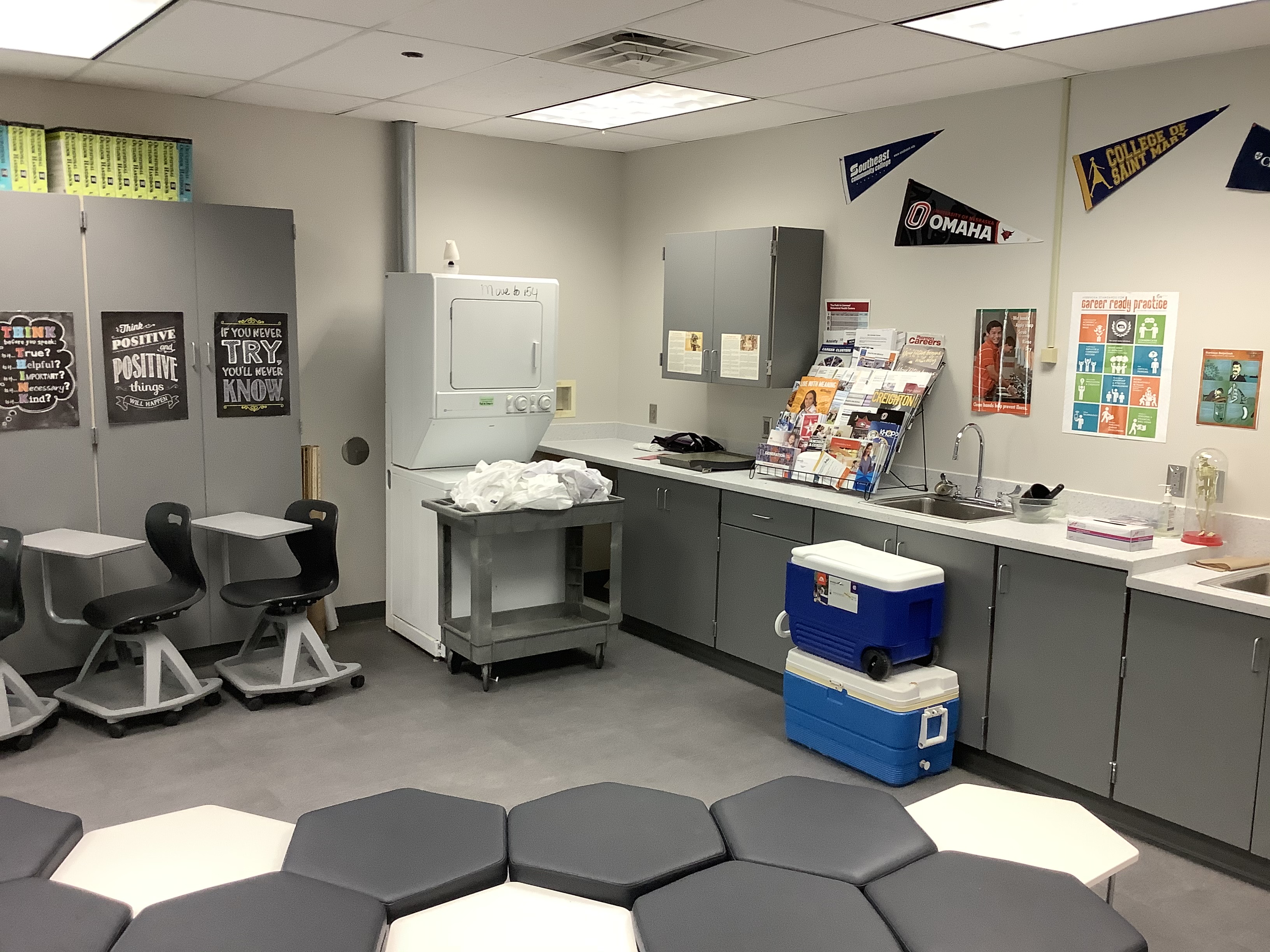 For Mills and his classmates, hands-on learning is the best kind of learning.
"We get to visit different offices and learn from all kinds of professionals in the health field," he said. "We get to learn about their profession and really get into it."
It was on one of these visits, a venture to observe a biomedical engineer build a brace, when Matthew discovered his interest in prosthetics.
Nicholas Kinsella sits a couple rows back of Mills, and has a similar story. He followed his older brother's footsteps into the HCA program, which got its start last school year. Before this fall, Kinsella had electrical engineering in mind.
"HCA kind of helped me change my mind," he said. "Now, I'm getting to the point where I want to be either a chiropractor, or maybe a dentist or an anesthesiologist."
Like Mills, he appreciates the hands-on learning available throughout the academy, as well all of the other opportunities its afforded.
"The more you do yourself, the more you understand something, and that's what we do in here," Kinsella said. "It helps to draw something out, for example, instead of just taking notes or looking at a picture."
The HCA has already visited UNMC twice this school year. They've travelled to University of Nebraska Kearney (UNK) for a HOSA event and on the Monday night before NPSA's visit to King Science & Technology Magnet, HCA held a family night where parents were given the chance to learn more about everything the kids have been accomplishing this fall.
"I would definitely encourage future students to pursue this because it just gives you a lot of opportunities and it helps you find out what you want to do when you get older if you're thinking about a health profession," said Mills.
Utterback's enthusiasm spreads from the front of the classroom and touches each of her students. She's excited to be a part of a program which offers such unique pathways to middle school students.
"She really just wants us to have the best opportunities we can," said Mills, a sentiment which Kinsella reverberates.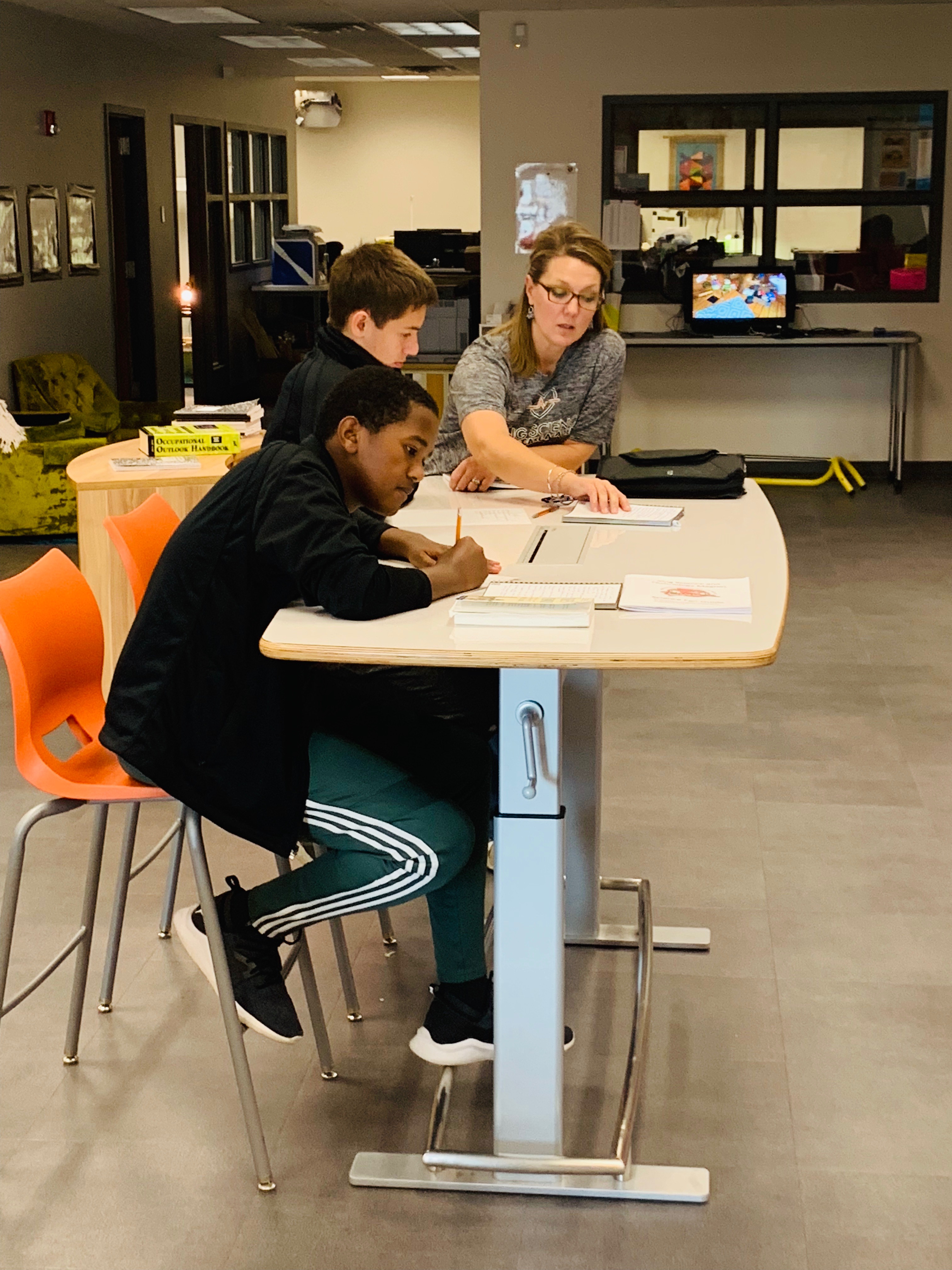 "She's one of my favorite teachers I've ever had," said Kinsella, who plans on attending Omaha North next fall. "She's really helpful with anything we might have."
It's difficult, when having a conversation with an HCA student at King Science & Technology Magnet, to remind yourself that these young people aren't even in high school yet. And that's because it's so easy to get excited about their futures.
Kinsella put it best.
"The things we learn here are things we are going to use someday."