From One Pioneer to the Next: Nebraska City athletes pass on love of the game
From One Pioneer to the Next: Nebraska City athletes pass on love of the game
By Tyler Dahlgren
In the words of high school principal Brian Hoover, Nebraska City Public Schools is a district stuck in-between. The enrollment, at 1,400, is enough to require multiple buildings yet small enough to manage without some of the extensive resources necessary in the state's largest school systems.
Hoover loves the district and the community. He's served as principal for 11 years in the town of about 7,200. He's passionate about the "Pioneer Way" of doing things and a culture that was set in place many years before he sat behind the desk he sits behind at 10:00 a.m. on this Wednesday morning in April.
"What we have in place now is a continuation of what was already here," Hoover said. "Dr. Mark Adler was principal before I was and he did a great job instilling inclusiveness and kindness. Before him was Erv Friesen, and he did the same."
In about 20 minutes, the entire student body will gather in the auditorium for an Autism Awareness assembly. They'll chant along with some of the school's special needs students, who will stand on the stage filled with Pioneer pride and direct a spirited cheer.
"Who are we?!"
"NC!"
"Who are we?!"
"NC!"
"Whose house?!"
"Our house!"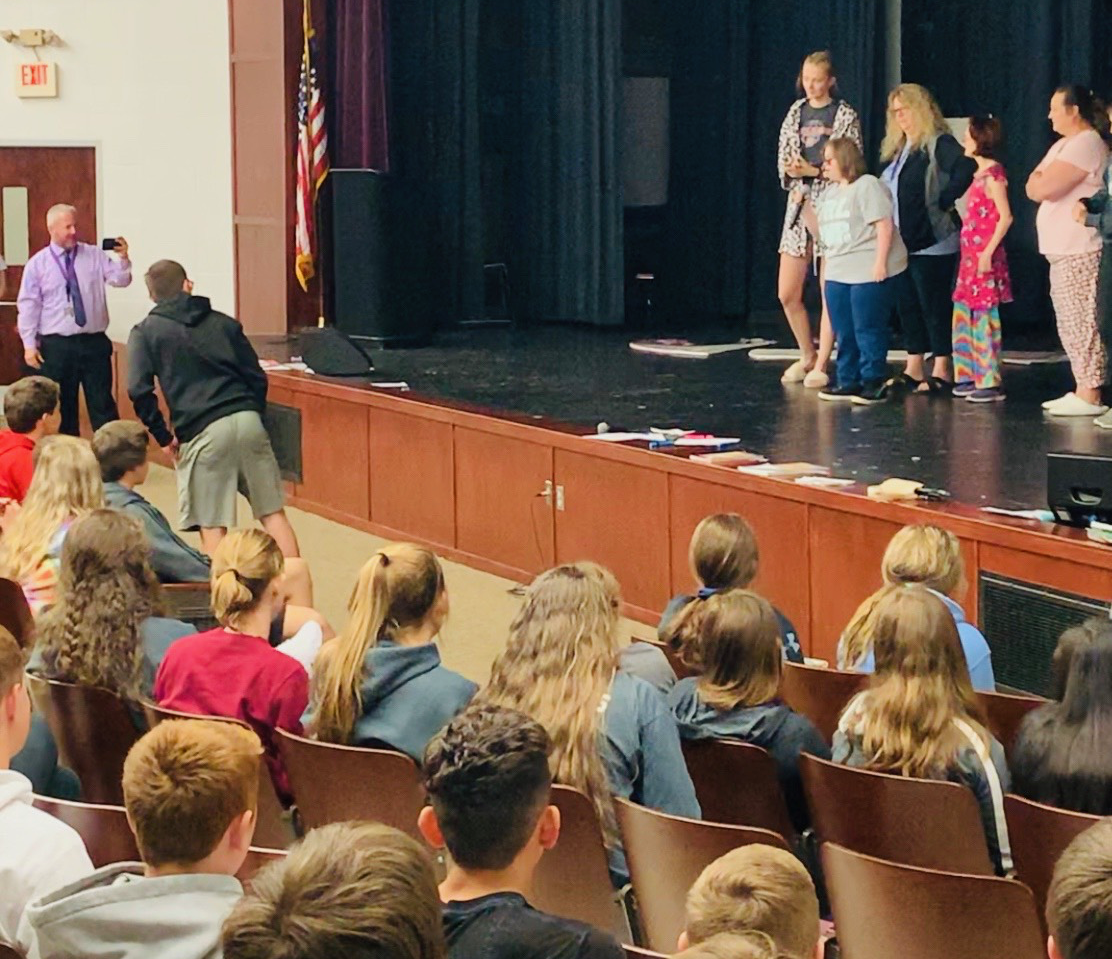 The pack of purple-clad students spilled into the hallway with a little extra pep in their step after the assembly. There's a lot of purple. It's their house, indeed, but the family atmosphere was inspired by the many smaller districts surrounding Nebraska City.
As one of the larger districts in the area, they're constantly collaborating with neighboring districts.
"One of the things I've always appreciated about a lot of the districts we work with is their family-ness," Hoover said. "When you have a K-12 building, and you have kindergartners walking next to seniors, that kindergartner is going to go to the basketball game because they know who that senior is. They are cheering for them."
Hoover wanted that closeness in his district. When he first arrived to town, it was 1999 and the district had a relatively low mobility rate. Twenty years later, Nebraska City's mobility rate is well above the state average.
"We just don't have the same opportunity to create relationships through family connections like a lot of our smaller counterparts do," Hoover explained. "We realized we had to manufacture that somehow."
And so, three years ago a concerted effort was made to open elementary school doors to high school students. Pioneer to Pioneer interaction. Last year, for example, athletes spent Friday recesses on the playground, pushing swings and playing catch.
Last week, a group of athletes spent two 20-minute sessions with preschoolers sharing their love of the game. The idea, like many throughout the school year, came directly from a staff member. One phone call to Hoover from Pre-K teacher Letti Connelly and the visit was in the works.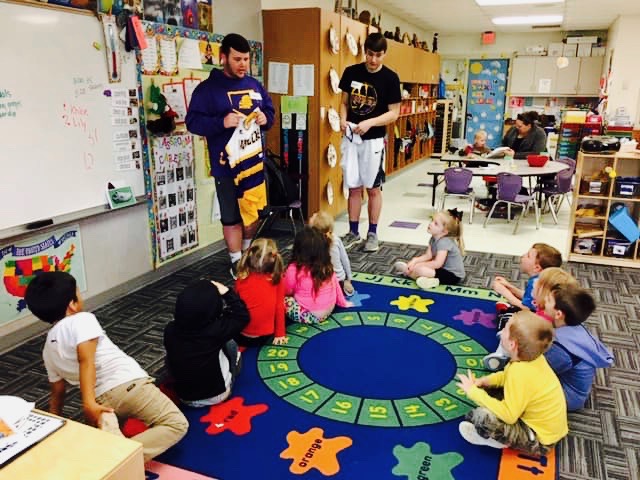 Max Chaney is a junior on the baseball team and also plays football in the fall. He was surprised by how jazzed up the preschoolers were to spend time together.
"When we would go to the games when we were younger, I always thought that it all seemed really cool, being able to play on the high school field surrounded by a bunch of your friends," he said. "The kids were really excited when we went over there. It was a pretty cool experience."
There was no structure set in place. No agenda to follow. Just 20 minutes of hanging out.
"We talked about how important it is to eat healthy, showed them how to stretch properly before practices and games, and just talked about how a season goes," said sophomore three-sport athlete Alexis Hoover.
There were a lot of laughs, too.
"When we did the stretching, that was pretty funny, the way some of the kids got into it," said Chaney.
It's a mutually-beneficial interaction, said Principal Hoover, something that is appreciated by the parents of the younger students. Michelle Maybee said the classroom visit gave her son, Jase, and his classmates someone to look up to and someone to cheer for at Pioneer games.
"Since the athletes' visit, my son has begun 'playing' those different sports at home so he can be as good as the athletes that came to his class when he gets to high school," Maybee said. "I look forward to my kids having more interactions with all the athletes from the various sports and seeing the difference in the younger generations with having someone to look up to."
For the high schoolers, the visit may have only been 40 minutes in the middle of their jam-packed week, but it's 40 minutes they won't soon forget.
"They were just really excited about everything, and seeing them smile when we came into the room, and seeing them happy, it was memorable," said sophomore Chloe Schaulis, another three-sport athlete for the Pioneers.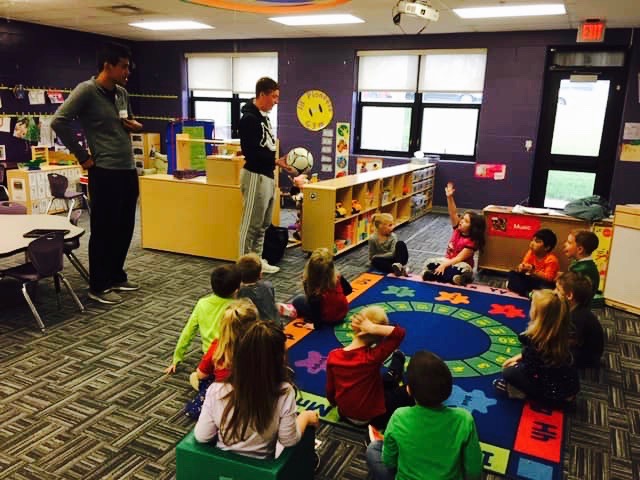 Every Pioneer who took part in the elementary school visit plans on being involved in something similar next year. They all encourage future Pioneers to volunteer their time, too. Hopefully, said freshman basketball and football player Braden Thompson, it'll encourage the younger students to go out for a sport down the road.
Roughly 60 percent of the 425 Nebraska City High School students are out for activity this spring, and that doesn't include clubs or other extracurricular activities. It's one of the things Hoover admires most about his student body.
"Their willingness to go out and be a part of something, I'd like that to continue to be a part of who we are for as long as possible," Hoover said. "We have a great deal of buy-in as far as being in support of one another, and that extends to the community."
No matter what the team's record, the stands are full. School and community enthusiasm never runs on empty in Nebraska City, and the students appreciate that.
"The community really comes together to support us," Thompson said.
Chaney agrees.
"When our sports teams go to state, the town will have a big send-off downtown, and we think that's really cool," he said. "We feel supported by the community and our school."
In return, they're passing it along.
From one Pioneer to another.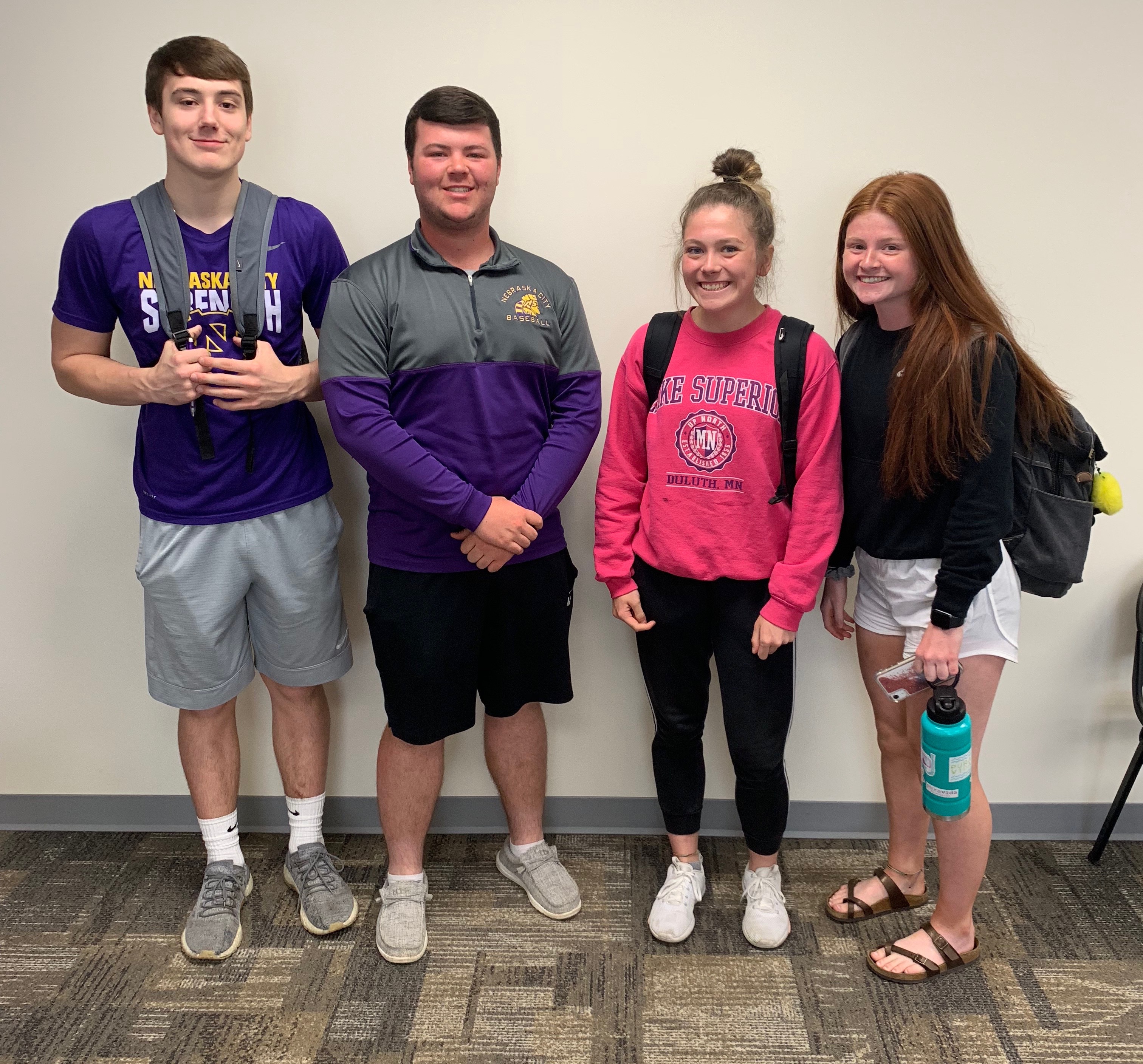 (Pictured, from left to right, are Nebraska City students Braden Thompson, Max Chaney, Chloe Shaulis and Alexis Hoover.)