One Book at a Time: Milford students deck the halls with kindness
One Book at a Time: Milford students deck the halls with kindness
Tuesday, December 18, 2018
By Tyler Dahlgren
Milford Elementary students will find their stockings extra stuffed this Christmas season, thanks to a generous drive from district high-schoolers which aims to #BeKind.
One book at a time.
Three juniors, Elizabeth Ross, Calyn Mowinkel and Carlin Adams, orchestrated the project, which will put a copy of Trudy Ludwig's The Invisible Boy into the hands of 437 kids, pre-K through 6th-grade. Their peers, from fellow FBLA members to FCCLA to the Student Council, quickly jumped on board and set their collective sights on $4,500, the estimated cost for that many hardbacks.
The goal was lofty, admits FBLA and Student Council adviser Shelly Mowinkel, whose group initially decided to shoot for Christmas while acknowledging the reality that raising money like that may take all year.
"Christmas was the goal, but if it took us until May, then it took us until May," Shelly said. "We would have been okay with that, also."
It didn't, and Milford Public Schools is set for an extra merry Christmas.
'Tis the season for giving, after all. And if we were looking for a little bonus boost of cheer heading into the holiday break (and we were), we had come to the right place.
---
The #BeKind movement has swept the state of Nebraska as swiftly and as organized as students will sweep through their hallways for two weeks of a well-deserved holiday break.
The book idea came about in September, when Shelly Mowinkel approached first the school's FCCLA adviser and then Ross, the FBLA Community Service Project Chair, with an idea.
"'Should we be doing something that we can all work together on, rather than all three organizations doing something separate?' Mowinkel asked.
Ross agreed, and, with Calyn and Carlin's input, suggested a project designed to reach students at the elementary. The three thought back to a seminar last year in which Dr. Mark Adler, Ralston superintendent, and his wife Joni, spoke about the loss of their son, Reid, to suicide after he had experienced online bullying, and the immovable power of simple kindness.
Milford Elementary Principal Cory Hartman had read The Invisible Boy to some classes at her school, so the group thought it best to build off what she had already started.
"It is a picture book, but I think it has a great story to it," said Shelly. "It doesn't matter if you are in preschool or if you're an adult, you're going to take something away from reading it."
The girls immediately went to work fundraising. Ross made graphics and various posts on social media sites. Students posted fliers around town and sold hair scrunchies (made by an FBLA member), t-shirts (designed by Ross), and Halloween goody bags.
"We have had a ton of help, between Student Council, FBLA, FCCLA, and especially the community," said Ross. "They've all really pitched in. It was a total team effort."
The local newspaper wrote an article in September to kick-off the project and used social media to raise awareness. Facebook and Twitter were being put to use for good, and was by far the group's most effective communication outlet.
"Social media can definitely be positive," said Calyn Mowinkel.
The drive asked for $11, the cost of one book. Originally, the plan was to hand out a book to each kid from Pre-K through third-grade, and t-shirts to the 4th, 5th and 6th-graders, but the fundraising was so successful that the group decided to go for it all.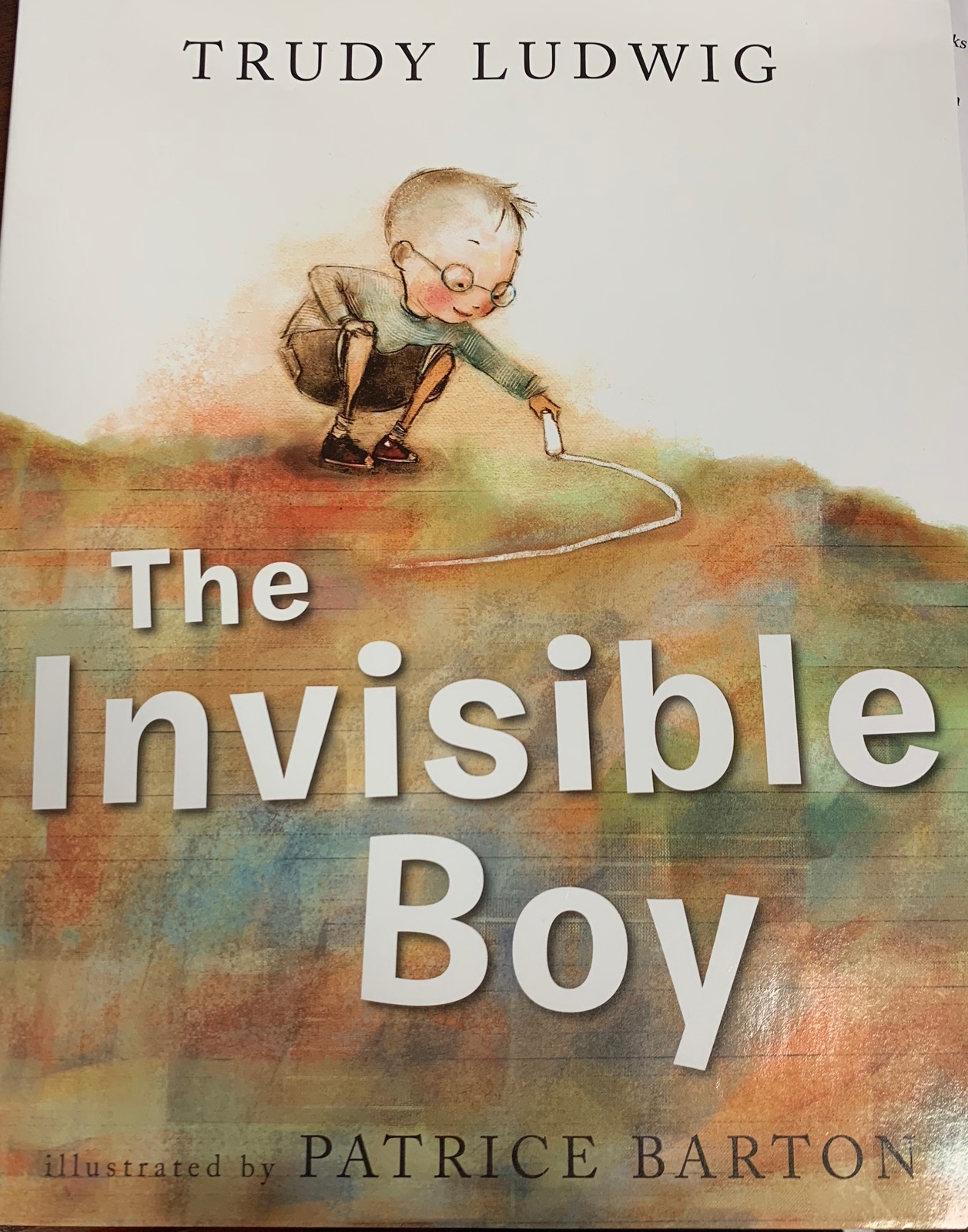 ---
Why a book? And why this one?
Those were my first questions to Ross, Mowinkel and Adams.
"We are really trying to push the theme of kindness to our elementary, and, in the book, the setting is in an elementary school," said Adams. "Kindness is becoming a necessity and this book shows something as simple as saying hello, or making a new friend, can have a real impact and it's easy for the kids to relate to."
I got home from Milford with my copy of The Invisible Boy and sat down for the quick read. When I turned the final page, I understood why the girls had chosen this book. Especially around Christmas, its message is one worth spreading. It's one we need to spread.
And who better to spread it than three of the most-involved high-schoolers in town? Better yet, three girls who understand their platforms and use them to make their fellow students, from high-schoolers to preschoolers, feel good.
"I think a lot of younger kids look up to us, so continuing to implement the culture we have in place will help us both leave a legacy and show the younger kids here how to treat people," Adams said.
Leaving a legacy is important, but it's more important to the three that future generations of Eagles carry the kindness torch.
"This helps us make our time here in high school worthy," Calyn Mowinkel said. "We already have a great culture in place here, but maybe this will enhance it even more."
The book drive is a big part of this semester's project, said Shelly Mowinkel, but just a small part of what the school's organizations have already done and what they're planning to do.
At the junior high, they hosted a "Be Kind Rock Painting", following which a couple of students hung #BeKind posters in the school's hallway. Student Council led an elementary-style field day for students 7-12 during homecoming week and handed out #BeKind t-shirts.
Last Friday, Key Club allowed the girls to brand each popcorn bag with various #BeKind quotes. These are just a few of the ways the movement is spilling into the school's culture.
"I think it will continue," feels Adams. "Even after we leave in two years. Our theme is 'Everyone Has a Story, Make Yours Worth Telling', and now 'Be Kind' is also a part of that and will continue to be a huge part of our culture after we're gone."
Next semester, the group is challenging high school students to check 50 simple acts of kindness off a to-do list through January in a project tentatively called the "Blizzard Blues" (the title is under construction).
Compliment a teacher. Sit by someone new. High-five five people.
"What these three started and oversaw is being spread everywhere," said Shelly.
Calyn, Carlin and Elizabeth are noticing a real change, too.
"It is a joyful, kind time," Ross said. "We are holding doors for each other or talking to new people. Kids are just embracing it and you can really notice it around Christmas."
Simple things, Calyn adds, can turn around someone's day.
The three smile, a feeling fit for the season.