Nobody Left Out: Oakland-Craig's new "Buddy Bench" is an elementary school playground-binder
Nobody Left Out: Oakland-Craig's new "Buddy Bench" is an elementary school playground-binder
Wednesday, October 7, 2020
By Tyler Dahlgren
On more days than not, Jess Bland supervises recess at Oakland-Craig Elementary School, where she's in her seventh-year serving as principal in a Burt County community of just over a thousand that instantly felt a whole lot like home.
Come to think of it, outside of the town where Bland grew up and graduated high school in, this place is the first she's ever labelled as such.
Home.
"This is where we want to stay forever, because they're so giving, generous and welcoming," Bland said. "There's a ton of pride in this community. It's really amazing."
The same can be send about the school, Bland went on. It's as welcoming a place as the town it sits in.
"We have really amazing, accepting students," she said. "We don't have a lot of discipline problems or a ton of bullying. There's some, just like there is in any school, but for the most part our kids are really accepting."
So perhaps seven years of soaking in that culture moved Bland to take action after making her recess rounds one day and noticing several students who, more or less, had been separated from the pack. Some were wandering around on their own, waiting for the bell to ring and class to resume. Some seemed lonely and sad, waiting for an invitation to play.
Something as simple as an invitation to join a game, as any former "New Kid in Town" can attest, has the power to turn a lousy day into one that a lonely child may never forget.
"I just wanted to provide an opportunity for them to get involved," Bland remembers thinking. "Some of our kids maybe don't know how to take that first step in getting involved and joining in an activity, so we wanted to give them an easy way to do that."
For the last year and a half, the district's focus has been on social and emotional learning. Demographics have changed slightly, with students from more mobile families settling into a school that has a large population of kids who come from long-time Oakland or Craig families.
Bland thought back to something she'd seen on another school's Facebook page. A bench on a playground designated to streamline inclusiveness. Where a child, who's feeling left out, can sit and signal to the other kids on the playground that they'd like to be involved.
"With our focus on social-emotional learning, and with what I was seeing on the playground, it was a no-brainer," Bland said. "We thought this would just be one more opportunity to give our students an opportunity to embrace the new kids."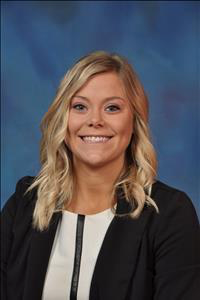 (Pictured Above: Oakland-Craig Elementary Principal Jess Bland)
The "Buddy Bench" is for everybody, Bland reiterates. Her school has a Special Education population of students that usually hovers above the state average. Many of those students, she explained, lack specific social skills.
"This is just one opportunity to teach those in a unique way and to teach our kids empathy for kids who are maybe going through something," she said. "We have really accepting, wonderful kids and an accepting, wonderful community, and that's why the Buddy Bench will be such a great addition to the playground."
Speaking of community, it was the Friends of Oakland Foundation footed the bill for the bench, the latest in a long line of grants given by a group funded by the late J.C. Anderson, a 1948 Oakland graduate and well-known philanthropist in the area.
"The fact that we have such a large foundation donating to the school and the community every year is really exciting," said Bland. "They see the importance of supporting our youth and giving to our youth. The ultimate goal is just to show kids how important it is to give back. And to show them how amazing our community is so that, one day, they hopefully come back and raise their kids here as well."
Oakland-Craig Elementary has a student leadership team that will be tasked with taking the reins on the Buddy Bench and overseeing how it's modeled and utilized every day at recess. The bench just went in, so the staff hasn't been able to see it work wonders yet, but everyone is excited about what lies ahead.
"We can learn a lot from kids," Bland said. "Being mean or hurtful isn't something that's ingrained in children at birth. They learn that from us adults. So we just have to be intentional about kindness, retrain it over and over, and hope they carry it with them through the rest of their lives."
The Buddy Bench embodies the #BeKind movement which has swept the state of Nebraska over the last couple of years and settled into a prominent place of importance in the culture at Oakland-Craig Public Schools.
"It's important to prioritize kindness and to show our kids that it's important to accept everyone," Bland said.
"I hope that they take these skills, and they turn them into forever."