New Kids on Campus: High School Seniors Enjoying Fridays @ Northeast
New Kids on Campus: High School Seniors Enjoying Fridays @ Northeast
Thursday, January 17, 2019
By Tyler Dahlgren
Members of the Northeast Nebraska Career Academy Partnership (NENCAP) were on Northeast Community College's Norfolk campus touring the school's newly constructed applied technology building one Friday in late 2015 when a board member asked the question everyone was thinking.
Where were the students?
"Most of the programs housed in the new facility didn't meet on Fridays," said Makala Williams, Director of Early College at Northeast. "They said 'Hey, if you're not using the space and the equipment and the teachers on Fridays, is there any way area high schools could take advantage of that?'"
The collaboration to put together an extended learning opportunity now known as "Fridays @ Northeast" began right then and there. Northeast asked NENCAP school representation what types of classes their high school students would likely be interested in and learned about voids existing in surrounding schools' curriculum.
"We took all of their ideas, and talked to our own instructors about the different things they'd be interested in offering," Williams said. "It was a working collaboration of 'Hey, schools, what do you want?' and 'Hey, Northeast, what are you able to offer?'"
For superintendents like Bloomfield's Shane Alexander, who also serves on the NENCAP board, the opportunity to maximize resources and extend student opportunity was a no-brainer. An intriguing no-brainer.
"It gave kids an opportunity to take college-level or dual-credit classes that we just couldn't offer in a small school setting," Alexander said. "We had a lot of kids who were interested in welding careers, HVAC careers, building construction careers, etc. And as a small school, we don't have industrial technology and agriculture. Just agriculture. It helped us to fill both rolls."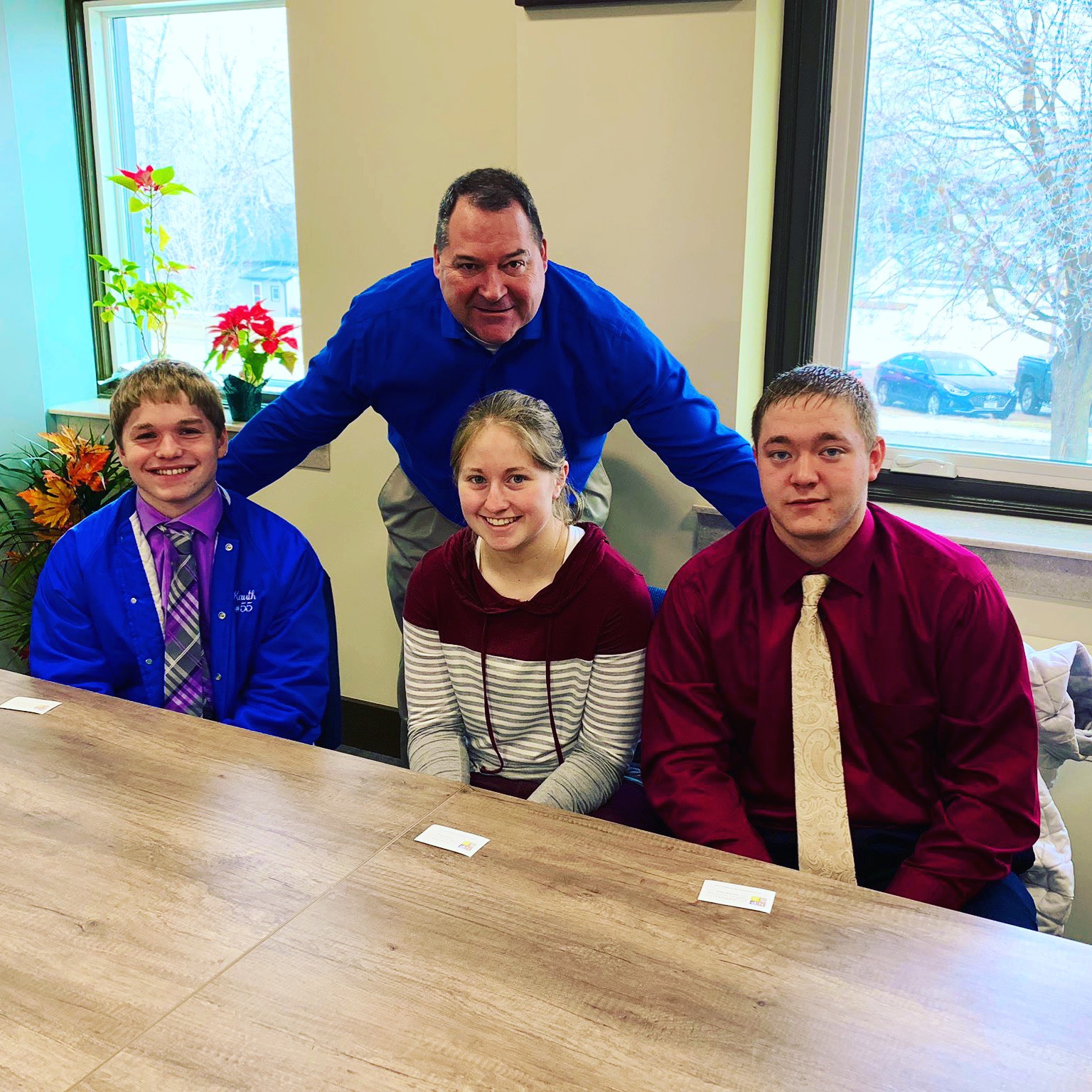 Above: Bloomfield students (from left to right) Dylan Kauth, Michaela johnson and Mitchell Mackeprang are three of nearly 85 northeast Nebraska students enrolled in Fridays at Northeast, which provides students with extended learning opportunities in several fields of study. Their superintendent, Shane Alexander, serves on the NENCAP board.
The program lifted off in the fall of 2016 with 42 students. Three years later, nearly 85 students take classes on Fridays @ Northeast, most at the Norfolk campus, but some in South Sioux City and O'Neill.
"Serving the 20 counties we serve, it's important to us to have a variety of areas of study available and to offer a location that is somewhat nearby," Williams said. "We are always looking to expand. We just look for the direction and lead of our high schools."
The curriculum offered is extensive. The brochure is two pages long (Check it our here!), with classes in automotive technology, manufacturing, early childhood education, health and wellness, and welding.
"One of our main goals is to provide access to all students," Williams said. "To Northeast, that means the early learners, the traditional college students and the non-traditional college students. It is very important to us to serve every student in our 20-county area the best we can."
One of the ultimate goals, for small districts and Northeast alike, is to lure skilled workers back to Northeast Nebraska.
"Yankton, Wayne, Norfolk, they all have more openings than we have qualified workers," Alexander, who is in his third year as superintendent and seventh as principal at Bloomfield High School, said. "We are trying to get our seniors ready for life after high school, and ready for that next step into college or whichever path they choose."
Bloomfield had two young ladies last year who were interested in becoming nurses enrolled in the Fridays @ Northeast program. By the time the two graduated, they were medical CNAs and landed jobs in the summer. Other students have enrolled in welding programs as high school seniors and been able to get a jumpstart on their college degree.
Bloomfield invests in its students, even after they've earned a diploma.
"We had a lot of kids previously who were taking online classes here, there and all over the place trying to find areas of interest or dual credit opportunities," Alexander said. "Northeast is one compact place we could get the kids to on a consistent once-a-week basis. And they have great facilities."
Fridays @ Northeast is also a cost-effective program. Bloomfield students, for example, have their classes paid for by their School Board as long as they pass. And, if a student enrolls in a class and discovers the field just isn't for them, that's perfectly fine. Helpful in the long run, too.
"We see a lot of kids who are being funneled into four-year school programs that don't really fit the four-year school program model," Alexander said. "It's more beneficial for them to attend a two-year school or a training location trade program, and they can do that cheaper than a four-year school."
Michaela Johnson is a senior at Bloomfield who has enjoyed the hands-on agriculture opportunities at Northeast. She's still undecided on what she would like to pursue next year, but the program is helping her find her way.
"It's just helped with trying to figure out what I would like to do after graduation," she said, noting the added accountability that comes with taking on a college course. "There is no one really holding your hand any more. It's more responsibility, but it's nice to have the freedom of being on your own."
Mitchell Mackeprang and Dylan Kauth are also Bloomfield seniors enrolled in Fridays @ Northeast's agriculture program. The three students carpool to Norfolk, and would encourage future Bloomfield seniors to jump at the chance to do the same.
"I would definitely tell them to do it and to take advantage of the opportunity," Kauth said. "It's cheap to do, and it's a good chance to experience college before you get there."
Mackeprang also takes a dual-credit calculus course and hopes to spend two years at Northeast before finishing his degree at USD to become a Certified Public Accountant (CPA). He's enjoyed mingling with seniors from other nearby towns.
"You get to explore different perspectives from other towns on different topics," he said. "The instructors at Northeast are really kind and helpful, too."
For Williams, it's fun to see the high school seniors assimilate to life on a college campus.
"Just like it is for any other college student," she explained. "The first few weeks of the semester everyone is a little uneasy and they kind of stay together as a group. As the semester goes on, you'll see them in the cafeteria socializing and becoming more comfortable."
Northeast has recruiters visiting school districts throughout the year, but one of their most effective forms of recruitment is word-of-mouth. Students leave campus, return to their high schools and talk about their experiences and what it's like being a college student for one day a week.
"The students all get an industry-specific shirt or top for Fridays at Northeast and are asked to wear those to class and they do so with pride," Williams said. "They wear them back to their schools and kids start talking and asking questions. Word-of-mouth from senior students tends to trickle down."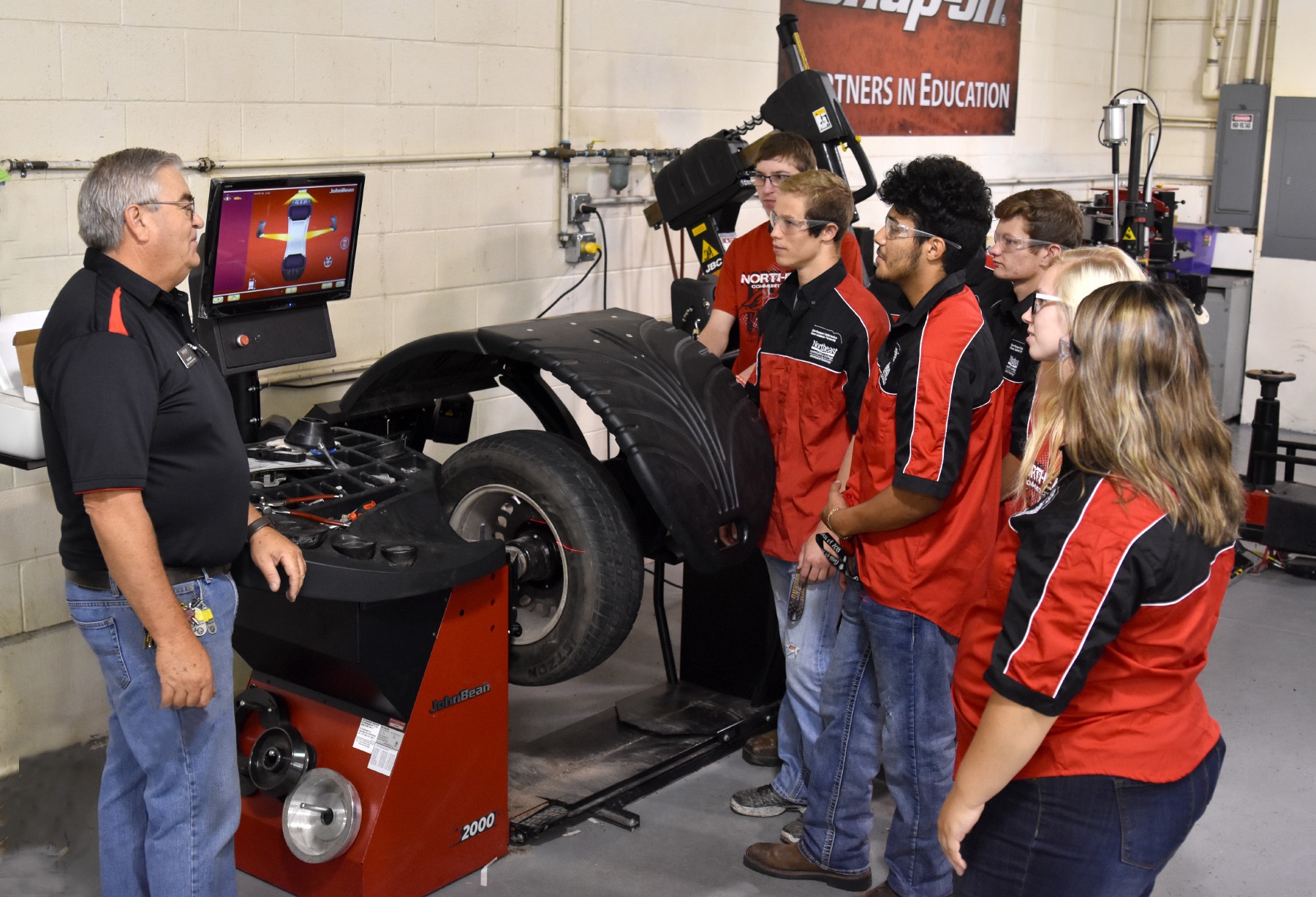 Above: Alan Darnall, automotive technology instructor at Northeast Community College, works with high school students who are enrolled in the college's Fridays @ Northeast program. (Courtesy Northeast Community College)
Bloomfield graduates who participate in Fridays @ Northeast, for example, are asked to come back during Christmas the following year to partake in a Q&A session with juniors and seniors. The session takes place over the better part of an afternoon.
When asked about the type of kids the program draws, Williams notes the work ethics of area high school seniors.
"It is so fun to see them come and get to do the things they truly love to do," she said. "These are good students. They are very polite and responsible."
Alexander sees the same in his students.
"We have good kids here, and great family support," he said. "The community supports the school. Our 'Pack the Gym Nights' are always full. We just have a good family environement."