National Rural Teacher of the Year shares prestigious award with colleagues, students: "Their fingerprints are all over this"
National Rural Teacher of the Year shares prestigious award with colleagues, students: "Their fingerprints are all over this"
Wednesday, April 13, 2022
By Tyler Dahlgren
Laurie Smith will talk about her 2021 National Rural Teacher of the Year Award, but there are two things all inquirers should take note of before slipping off I-80 somewhere west of Kearney and heading north to Sumner.
First, and for the sake of perspective, foremost, Smith doesn't necessarily view the award as hers, per se. She doesn't see much use for such a prestigious honor without anybody to share it with, and she's convinced none of this would have happened without the people around her.
"This isn't my award, it's a lot of people's award," she said. "And it's not about me. It's about what people have poured into me."
Secondly, you're not leaving without taking the tour, a jovial and interactive joyride through the many levels, new and old, of an S-E-M building that blends a heavy dose of history with a compass pointing towards the future. Smith leads the tour, weaving a path of anecdotes one compiles over 14 years of teaching the fourth-grade under the same roof.
"I've never felt like I'm going to work," Smith says, leaving no doubt she's telling the truth. "I'm going to school. Every morning, I'm going to school with my daughter."
Smith's daughter Josie is a junior at S-E-M. Next year around this time, she'll be nearing graduation, when she'll walk across the same stage as her brothers, Brayden and Parker, to receive a degree from a school district that has become home for the Smiths. But for now, as we peek our heads into Josie's classroom, she'll pose for a photo and a big hug from Mom.
"I always tell her to go be the light," Smith said. "And then one morning I was leaving to attend a speaking engagement and she looked at me and said, 'Hey Mom, go be amazing.' And that's stuck in my head. I tell her to go be the light, and she tells me to go be amazing. I want to be that for my kids. I want them to see that. Go do what you love. Don't go do a job."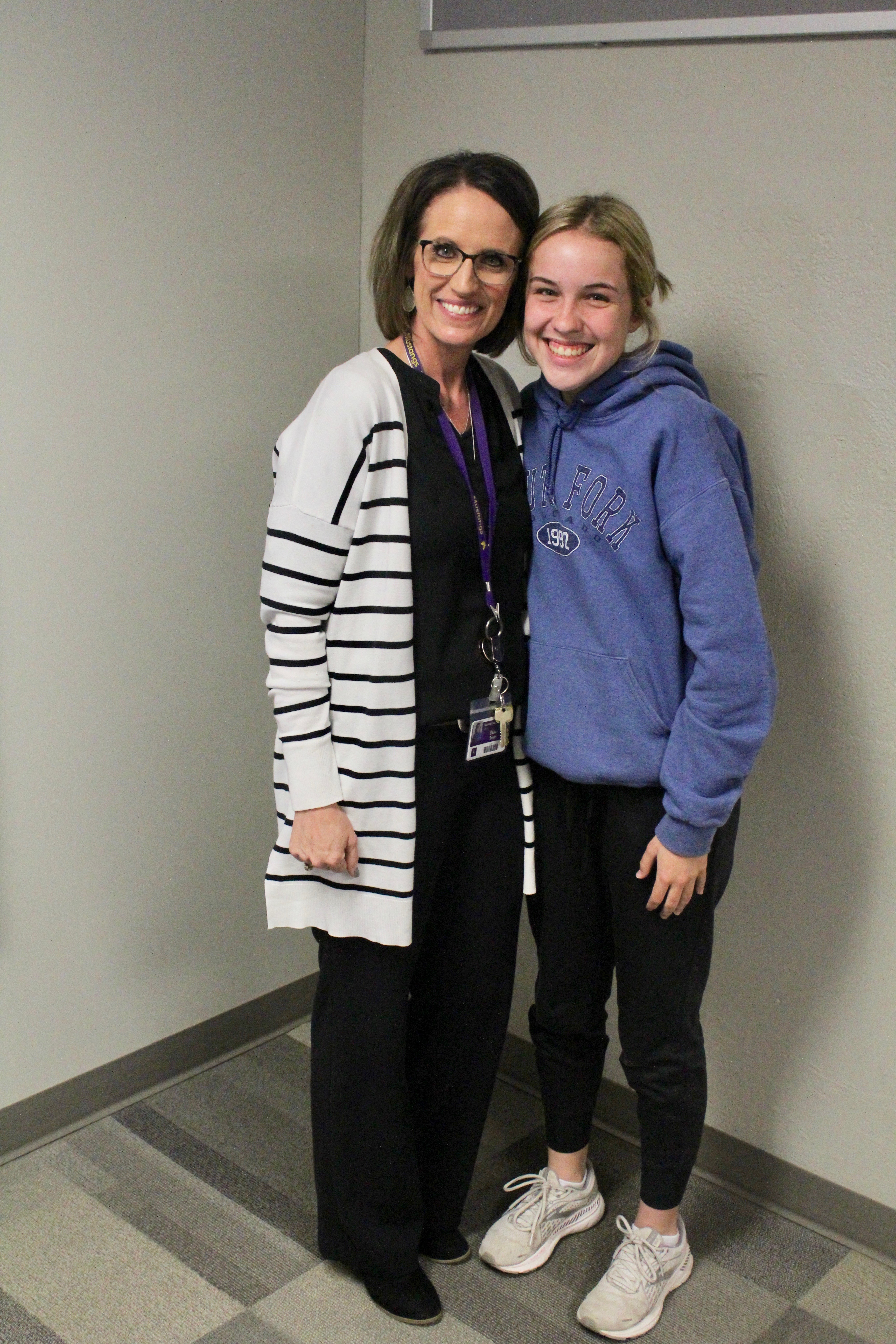 ---
The truth is, Smith could give this tour in her sleep.
She could trace her daily steps through these halls with her eyes closed. Not that'd she'd ever want to miss out on a chance to share S-E-M's charm with an outsider. In fact, that's been one of the neatest byproducts of being named NRCSA's Outstanding Elementary Teacher and then the US National Rural Teacher of the Year.
"We're a family here, and the school is the hub of the community," Smith said. "If there's something happening at the school, then everyone's at the school. It's a relationship-driven atmosphere, and not just with your students, but with the people you work with."
Smith lives for relationships. Fingerprints from every student and colleague she's shared this 20-year-long journey with can be found all over her recent awards, starting with her mentor, longtime Kearney SPED teacher Cindy Castillo, to the hundreds of students who have touched her heart along the way.
"Laurie lives what she says, and you can see that," said S-E-M High School Principal Bill Schmidt, who was befriended by Smith right after he started with the district. "She helped me grow as an educator as well, thinking of working with families, working with teachers, with students and other administrators on how to communicate, process information and make the best of any situation."
The national award couldn't have gone to a more deserving educator, Schmidt continued. The state award put S-E-M on the map, and was plenty reason enough to celebrate. When NRCSA Executive Director Jack Moles called the administrative team and floated the idea of a National Teacher of the Year nomination, they didn't bat an eye, though Smith might have while she was arduously filling out the 16-page application on a time crunch.
She didn't expect to win. There's thousands of incredible teachers out there. But then she did.
The first call Smith made with the big news was to her husband, Todd, but her mind didn't race much when it was time to place the second.
"The second phone call I made was to my dad, because I don't care how old you are, you still want your dad to be proud of you," Smith said.
It didn't take long after the two met for S-E-M Superintendent Kevin Finkey to sense the special qualities that lived in his new district's fourth-grade teacher. For a handful of years now, he's been on her about making the jump up to administrative work, but knows she's making the greatest impact on S-E-M students every day in the classroom.
"Laurie stood out amongst everybody else, not only in our state, but nationally, and that's incredible," said Finkey. "And it's because of the way she teaches, not really what she teaches. You can see in Laurie a lot of characteristics of the people who teach around her, and vice-versa. It's made us a better district having her here."
It doesn't surprise sixth-grade teacher Scott Williams to hear that Smith deflected a question about her recent honor and chose to instead share the spotlight with "the people who made it possible", in her own words. Smith is the definition of humble, Williams said, but it's impossible to overstate the impact she's made in Sumner.
"She is not somebody who wants to draw attention to herself, but she does a wonderful job," said Williams, who bonded with Smith over a steadfast commitment to follow facts and research when it comes to curriculum and intervention practices. "I'm a better teacher because of her, and I hope that she's a better teacher because of me. A national award like that is not only a spotlight on her for her achievements and abilities, but also for our school and the things we're doing for kids. She's leading that charge, and for us to get where we need to go, we need people like that."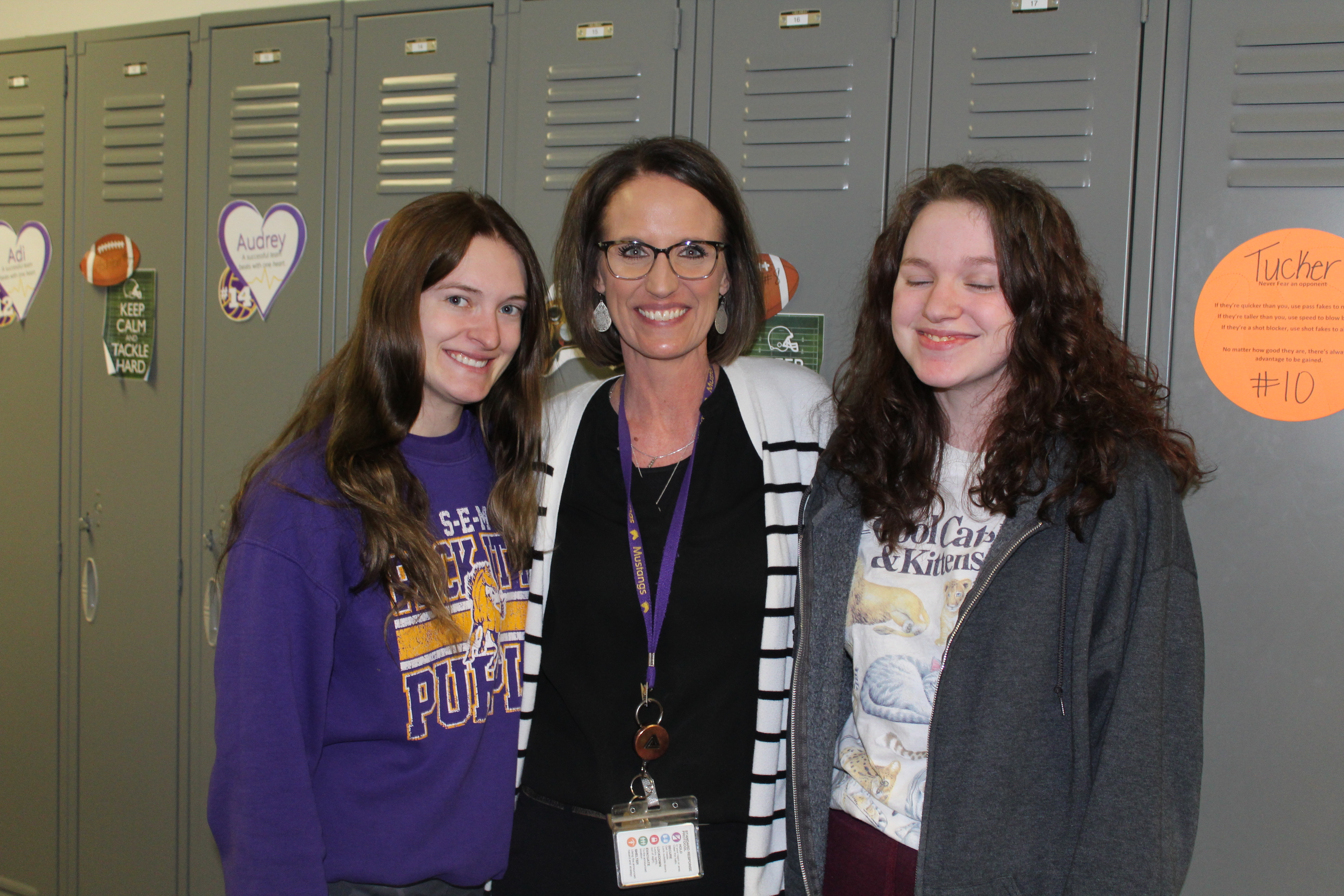 ---
Smith lives to see her students succeed.
Students from the past, present and future. Nothing makes her happier than seeing a kid accomplish something they previously thought impossible, and the best part of this whirlwind school year has been hearing from former students reaching out to offer congratulations.
"I tell them that they were a part of this," she said. "This award is ours. It's theirs."
She's like most teachers in that regard, devoted to bringing the best out of every fourth-grader that walks through the door, but her story, the one she's using this new platform to share, is heartbreaking and tender, very much her own.
It was the day before the last day of school in 2003 and Smith, then a first-grade teacher at Creek Valley Public Schools in Chappell, was waiting for the last student's ride home to show up. She had two "littles" at the time, was drained from a long day and a long year, and though the little girl by her side was one of her favorites, she had much to say and many stories to tell.
"At the time, I was the teacher who would say 'Not right now. I'm really busy. I'll come back to hear your story later,'" Smith said, her voice still shaky two decades later.
Smith asked if they could shelve the little girl's story until the next day before loading her up in an RV, saying good-bye to the girl and her mother, and disappearing into the school to wrap up the work day.
Just minutes later, Smith exited the building and started to walk towards her car. There was smoke in the distance, but Chappell was right off I-80 and that wasn't an uncommon site. Accidents and breakdowns happened all the time. Smith headed home, where she was met with a phone call from her TA that would change her life forever.
"There was an accident, an RV caught fire, and one of my first-graders was involved," Smith said.
Shortly after leaving school, the little girl was gone, and so were her stories.
"That changed my perspective as a teacher, as a mother, and as a wife," Smith said. "You spend the last eight hours with a child, the last 15 minutes of a child's life, and you're too busy to remember even what they're wearing. You're too busy with other things to remember the cat story she wanted to tell you."
Smith hasn't let a moment like that slip away for 19 years. She listens to every story and invests herself in every student.
"Their stories are what make them," she says. "Not the books or the test scores or those kinds of things. I say that when I'm out giving speeches. This isn't my story. This is a six-year-old little girl's story of how she changed me. I don't want people to have to learn the lesson the way I had to learn the lesson."
---
The tour of S-E-M, guided by the 2021 National Rural Teacher of the Year, ends where every one of Laurie Smith's days begins.
In her classroom on the top story of an old building filled with history that beckons to the future, where Mrs. Smith's fourth-graders light up with excitement to greet their teacher and some dude they've never seen before wielding a briefcase and a camera.
"I told them we get to show off our award today," Smith laughs. "They've been buzzing since."
The faces may change, and the years may fly by, but Laurie Smith looks over the room and can see them all. Every single one, with magic in their eyes and a smile on their face.
What they've brought to her is more important than what she's given them.
"I always tell my kids that once you're in my classroom, you're my child forever."