Mileigh and Her Mentor: Para, Hemingford student bound by more than sight
Mileigh and Her Mentor: Para, Hemingford student bound by more than sight
By Tyler Dahlgren
Mileigh Krebs is sharp as a tack.
Some fifth-graders at Hemingford Elementary School figured out long ago that, when there's a question, Mileigh usually knows her way to the answer.
So, during testing time, with their pencils hovering just above their worksheets, some of those fifth-graders would wait.
They'd wait for Chad Bell, Mileigh's para-educator, to finish relaying the question. They'd wait for Mileigh, who has been visually-impaired since birth, to verbally answer.
And then, as if the answer magically fell out of the sky and into their lap, pencil would hit paper. Free A's! It's been an ongoing joke, Bell laughs. Krebs now answers quietly in braille, one of countless advancements she's made this year through her work with Bell.
"The other kids in the classroom only hear me now," he said in jest. "They can't hear what she is typing, so they can't use her answers. She's pretty smart, and they know it."
Yes, Mileigh Krebs is sharp as a tack. She can only perceive light, but with a radiant personality, she brightens the Hemingford hallways.
"She is kind of like an elephant," Bell said. "Once she learns something, and grasps a concept, she never forgets it."
If Mileigh is like an elephant, incredibly intelligent and absorbent, then Bell is like, well, the bigger elephant guiding her around Hemingford and assisting her through the unique learning curve experienced by visually-impaired students.
Bell knows what it's like to compete in a sighted world.
He's completely blind.
---
The dirtier the job, the better. That's how Chad Bell grew up.
Mechanical work, welding, woodworking, you name it. If he could get his hands on something, then that's where you'd find him.
Then, shortly after graduating from Alliance High School, Bell was in a car accident and broke his back in four places. Eighteen hours of surgery fixed his back, but took his sight.
There was a mountain of rehab, but he climbed it. He didn't lose the ability to walk. He continued living.
"I said to myself, 'You know, I can sit on a rocking chair and rock and feel sorry for myself, or I can get up and do something," he said.
For five years, Bell ran a semi-truck business which hauled grain. On weekends, to give his drivers time to recoup with their families, he would tend to the semis at his house, doing tune-ups, changing oil and prepping the 18-wheelers for their next excursions.
Bell married his wife (a Hemingford graduate) and the couple had two sons, now in 6th and 4th-grade. He helps them raise their 4-H pigs and he farms and is involved in other entrepreneurship avenues. Bell learned to be a blind independent person, not reliant on anybody for anything outside of transportation.
And, since the beginning of this year, he's helped Mileigh, perhaps his most important overtaking to date.
"It's awesome," Bell said. "If you would have asked me five years ago if I ever would be in this kind of setting, I would have said you're crazy. I was always the type of kid who did what he had to do to get through school."
Now, he's not only helping Mileigh get through school, he's helping her do so triumphantly. And, he jokes, he's learning things along the way he probably should have picked up 30 years ago.
"I really like Chad," said Mileigh, who came back into the school district last year. "He makes learning fun and always challenges me."
Mileigh's favorite subject, ironically, is the most challenging. Learning math is a two-fold process for the visually-impaired. Braille is still used, but it's in Nemeth Braille Code. To do math, a student must be familiar with both. In standard braille, for example, the sign for "ING" is the same for the plus sign in Nemeth.
"It's kind of like learning braille as a foreign language, and then learning another foreign language in Nemeth," Bell said. "It's like learning Spanish, and then mastering German also."
The two tackle math first thing each morning, though, at the end of a school year, routines are anything but typical. The first part of the year, Bell spent a lot of time guiding Mileigh around the campus and to the 5th and 6th-grade modular classrooms outside. Now that she's conquered cane travel, he meets her at the door.
Through different technology, like her Braille Note, a tablet just as smart as a computer but with only eight keys (the two call it the "Blind Guy Pencil and Paper"), Krebs is learning in the same capacity as her sighted fifth-grade peers. She answers questions on her assignments in braille and emails them to her teachers, who receive the answers in regular text.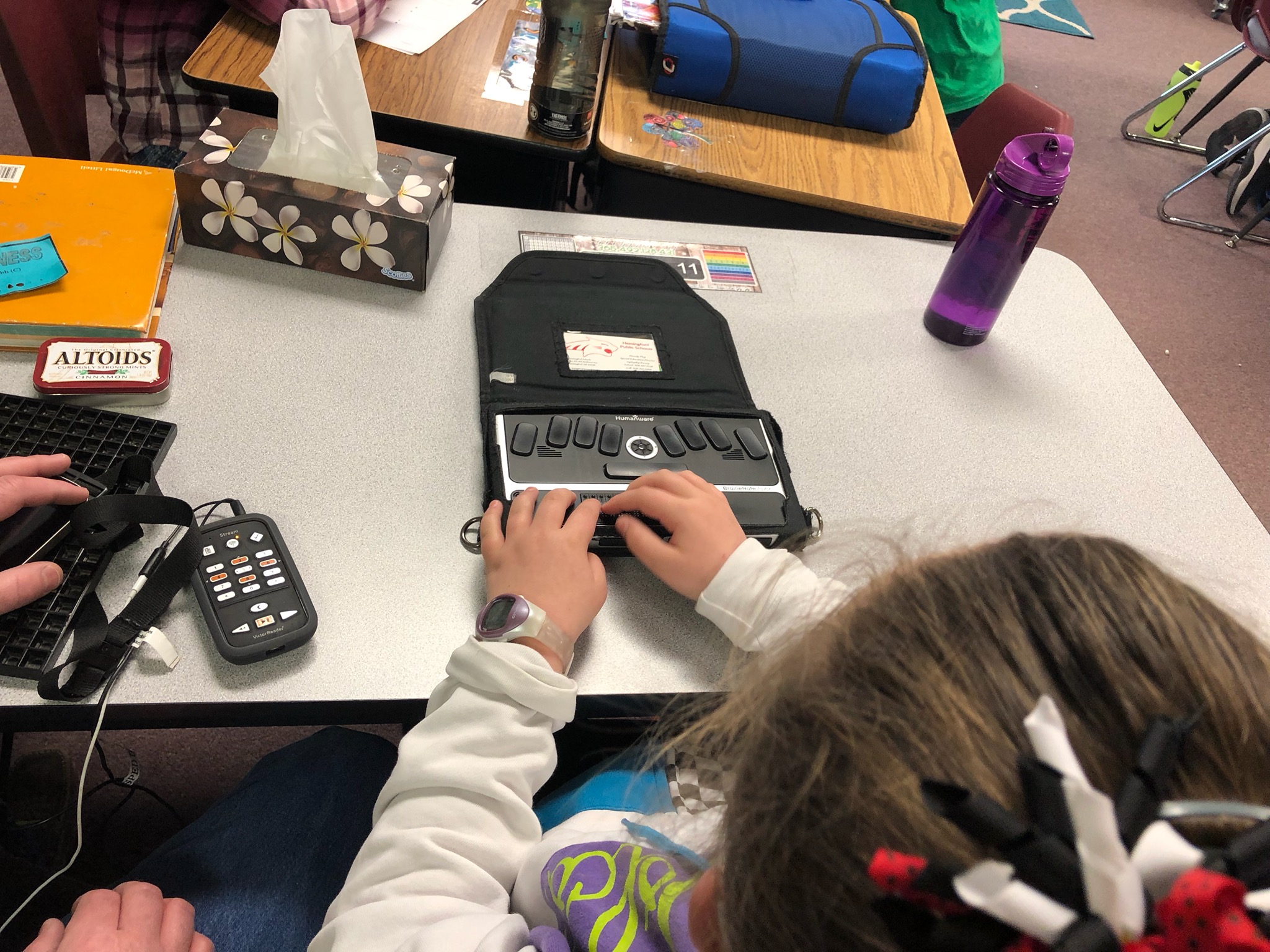 "It takes quite a bit of work, but the way she grasps things is so awesome," said Bell. "She is actually a better braille reader than I am."
Superintendent Charles Isom sees Bell and the way he works with Mileigh, and is amazed.
"He's helping her grow in ways which would be impossible to replicate with any other understudy," said Isom, who has been at Hemingford since July.
Isom's new community has been a welcoming one. Watching the way students in the district embrace and interact with Mileigh has been fun, he said. If Bell isn't available, the kids will help Mileigh get from Point A to Point B.
But she's not afraid to take on a task by herself.
"She's very willing to be an advocate for herself, or to ask for help," Bell said. "She doesn't just stand around and wait for assistance. She will seek out help if she wants it or she'll figure out what she wants to do for herself."
For Mileigh, Hemingford Public Schools is home. Chad Bell has worked with her since last year, and doesn't plan on going anywhere soon. In fact, he hopes to be there when, down the road, Mileigh receives her diploma.
More than that, he plans on it.
---
When the district fell out of contract with Alliance, Hemingford Special Education Director Mandy Plog was admittedly terrified.
The district had a blind student. An intelligent and fully-capable fourth-grader who needed to continue to move forward academically. One they didn't want to lose.
"We didn't want to be the reason she didn't reach her full potential," Plog said.
ESU 13 was struggling to find problem-based instruction (PBI) para-educators, so Mileigh would only be able to see a professional three times per month. Plog, and Hemingford, needed someone for the time between those visits.
She thought of Bell. Well-known within the community, he was the blind guy who didn't hesitate to climb to the roof and fix a gutter. He was handy, known to remodel a bathroom or, during the Christmas season, build model barns for the "all the little farmer boys around" who needed a place to store their toy horses and cattle. While his wife was at work, he'd care for his two sons, one a baby and one a toddler, who wore squeakers on their shoes while coddling around.
Mileigh's family knew Chad Bell, too. There's not a lot of blind people in the area. Plog reached out to Bell and the two agreed on a trial run.
"I just told them, 'Well, me knowing what it's like to compete in a sighted world, I can make sure she competes with her sighted peers and learns the same things, through braille and other visual and non-visual techniques," Bell said.
Their relationship grew from there. When Bell said something, Mileigh listened. When he encouraged her, Mileigh was almost always up to the challenge.
"She can't argue and say 'Well, I can't do that,'" Bell remembers his message. "Because if I can do something, then guess what? So can you."
Besides driving, Plog struggles to come up with one thing Bell can't do.
"He is an amazing, amazing person," she said. "I don't know what we would be able to do without him."
And that's mostly because Plog, and Hemingford in general, can't imagine their school without Mileigh in it.
"To be able to keep her in the district, that was the most important thing to us," said Isom. "In most situations like this, the student ends up getting sent to a specialty area, so this was an unbelievable benefit to keep Mileigh here."
The staff at Hemingford has been more than helpful. They've been flexible and accommodating, and, as Bell puts it, flat-out awesome.
"They are very open," he said. "They say 'You know what you're doing and what you need, so just let us know what we can do to help.' They have been receptive and it's been a great environment to work in and an overall exceptional experience."
Bell thinks about this journey that kind of sprouted out of nowhere. He thinks about Mileigh and all the two have accomplished together and all that lies ahead. Then he takes a moment, and smiles.
"Necessity, really, is how I got here."
And, out of necessity, he'll stay.
"To see how Mileigh and Chad work together is amazing," Pogg said.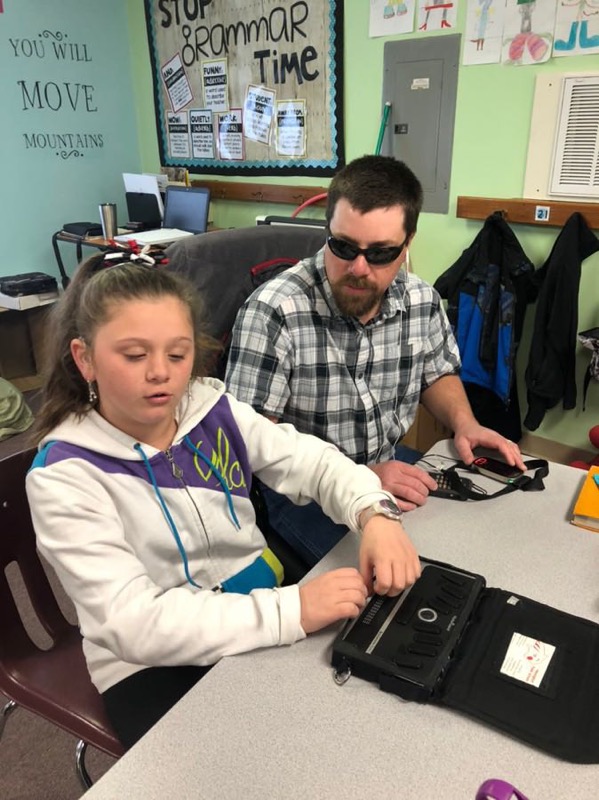 ---
Mileigh is like any 11-year-old.
She loves to read Charlotte's Web and Thumbelina. She plays the piano and loves to sing, even showing off her talents in the Stars of Tomorrow contest every year. She makes potholders and anxiously looks forward to summer vacations.
She laughs with friends and enters art contests and she dances.
"I got my first dance trophy when I was eight, and have been doing dance for seven years," she said.
Bell calls Mileigh an "expert speller", and a joy to work with. She has her moments, adds Isom, but so does every kid. Generally, she's upbeat and wearing a smile.
She's a big sister to a preschooler who can sometimes be "a little ornery" and keeps her hair in a long, long braid. When the braid is out, she said her hair flows nearly to her knees. When she grows up, she wants to be a daycare provider.
Like every fifth-grader, she sometimes finds it hard to concentrate in the morning, especially on Mondays. But math with Mr. Bell rarely fails to fix her focus.
Together, they tackle the day.
"The most rewarding part of any day is when we are learning a brand new concept, and all of a sudden it clicks and she says 'Oh, I get it!,'" said Bell. "That's worth more than anything right there."