Made in Stanton: Nucor's makerspace opening eyes and doors for students
Made in Stanton: Nucor's makerspace opening eyes and doors for students
The Grant
Sometimes, tiptoeing around the obvious truth is hardly worth the trouble.
So, when it comes to middle school keyboarding, Stanton Community Schools Technology Coordinator Rick Spotanski comes clean.
"It's relatively boring," he admits. "You sit and you type."
His other courses, Digital Media and PC Maintenance and Repair, are anything but mundane. Keyboarding, however, for as important of a skill as it is, doesn't naturally inspire the same levels of enthusiasm. The sound of finger pushing key is, in itself, nap-inducing. How many quick brown foxes can jump over lazy dogs before attention fades?
That used to be the question. And, if you've been in a keyboarding class, you know the answer is NOT VERY MANY. But then, Stanton teamed up with Norfolk-based detailing center Nucor and Spotanski's middle school classroom received an invigoration of high-tech equipment.
A mobile makerspace, complete with computers, 3D printers and scanners, vinyl cutters, a laser cutter and engraver, and CNC machines, now rotates between Stanton, Pierce, Battle Creek and Madison. A stationary lab at Norfolk Middle School is also in place as result of the $125,000 Developing Youth Talent Initiative Grant that was awarded to Nucor last summer.
So, yeah, you could say Spotanski's students tap out sentences with a little more pizzazz these days, what with all those machines waiting to be utilized. What was once a middle school keyboarding class has been transformed into a world of creative possibilities.
"It's much easier to say 'You need to get done through here if you want to make your stickers or use the 3D printer," Spotanski explained. "Their work is getting done, and it's getting done better."
Behavior problems have all but vanished. Students want to be working. They're invested in their projects and they're having fun.
"It makes life in the classroom a whole lot easier," Spotanski said.
All the while, students at Stanton and the four other locations are having their eyes opened to the world of skills and trades, and the careers waiting to be filled in that world, at a younger age than in years past.
"The more opportunities we can expose our kids to now, the more opportunities they are going to be able to find when they do graduate and move on, whether they end up in school in Omaha or at Northeast CC, or walking directly into the job field," said Spotanski.
Student opportunity is a priority at Stanton. It's one of the first things that stands out about the place. On this Tuesday morning, Spotanski's classroom bustles with a combination of zeal and zest as students navigate the quarters, making observative pit stops at each of the room's several stations to check in on the progress of one project or another.
This isn't your father's keyboarding class. This class is alive.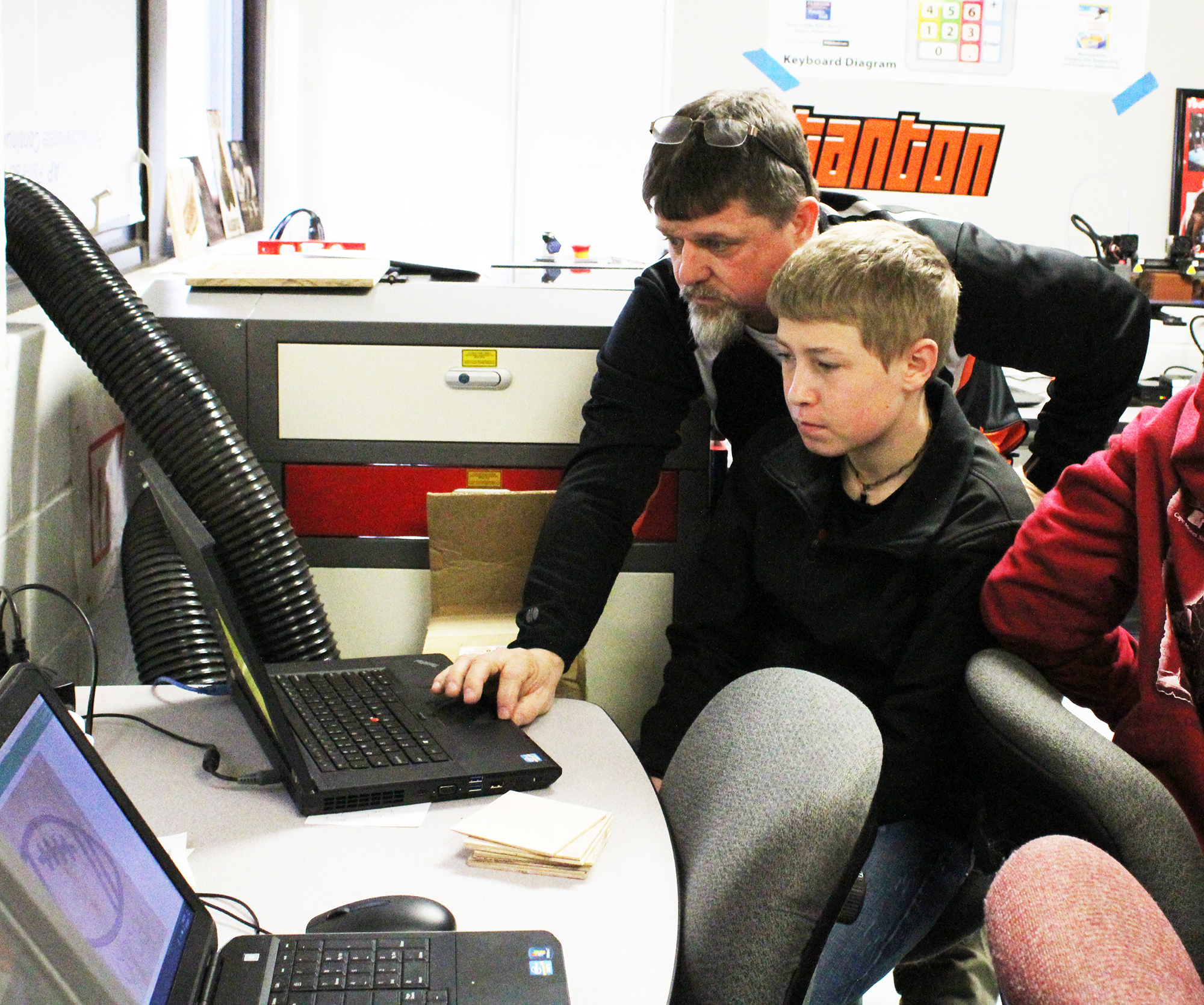 ---
The Partnership
Nucor employees Dave Decarolis and Justin Olson assist the students with their projects. It seems as if they've formed a relationship with each of them, the way they know their first names and the details of what each kid is working on.
In years past, Nucor would visit schools to speak with seniors. Looking back, those stops weren't as productive as this Tuesday morning in Stanton.
"By the time they're 17 and 18-years-old, kids already know what they're going to do and they have their plans," Decarolis said. "Our manager was on the state's website looking for something else and happened to stumble on the page that had this grant proposal on it. She thought it might be a match for an existing after-school program we already had."
Nucor began researching the grant. The more they read about its possibilities, the more excited the company grew.
"We contacted the five school districts and said 'Let's partner up with this and see what we can make happen," Decarolis said. "It was all very accidental, one of those fate moments where somebody happened to be in the right place at the right time."
When Stanton Community Schools were approached by Nucor, there was no hesitancy. If it was good for the students, then they were all on board.
"Yes, this is going to be a great relationship," Stanton Principal Dave Cunningham remembers thinking. "Any time we can put our kids in a position to better understand the opportunities out there than what we're currently able to provide, it's a no-brainer."
Decarolis wishes more school districts were aware of the Developing Talent Initiative Grant. If they were, he knows they'd utilize it in special ways. Maybe it'd be visual reality welding for young students. Perhaps it'd be website development. It's really up to administrators to shape the program into what best fits in their respective districts.
"That's the great thing about it," Decarolis said. "The state says here are these funds and a general idea of what we would like you to do, and school administrators, go ahead and personalize to what your needs are. It's just a great program."
The partnership is mutually beneficial, too. Nucor, for example, should see more skilled workers eight years down the road as a result of their current investment in area youth.
"Right now, there's simply not enough people filling the needs for this type of work in our state and, really, the entire country," Olson said. "So, for businesses to not take advantage of these grants and to not partner up with schools, that just wouldn't be very smart."
For Olson, it's been fascinating to watch the kids engulf themselves in the technology. Young people are already tech savvy, we all know that, but he's seeing them apply that instinct to outlets other than their cell phones. And, frankly, it's a blast to witness.
"They are taking that ability to understand technology and they're applying it in a design standpoint," Olson said. "Then, they're taking that design and manufacturing something tangible, creating something from nothing but an idea. If you think about it, that's the entire process of any business you might start."
Dream up an idea. Lay out a plan. Execute the plan. Sell the product.
"This is fun for them, though," he said. "This isn't work."
Eventually, each of Nucor's partner schools will have similar stations in their own buildings 100-percent of the time. The current equipment is designed to rotate. One month in Stanton, the next in Madison, and then off to Battle Creek and Pierce. Eventually, it comes back. The students and staff eagerly await.
While schools work to make the programs permanent, Nucor intends to be there every step of the way. Like the districts they're working with, they have a commitment to the futures of these kids. In the future of Nebraska.
"Right now, we reach about 1,000 students just in this local ring here," Olson said. "If we cast that net out a little further, we might reach 1,500 students. That's 1,500 students every year for the next however many years that will have gotten exposure."
The impact to the industry might not be felt tomorrow, but it's coming.
"We're planting the seeds."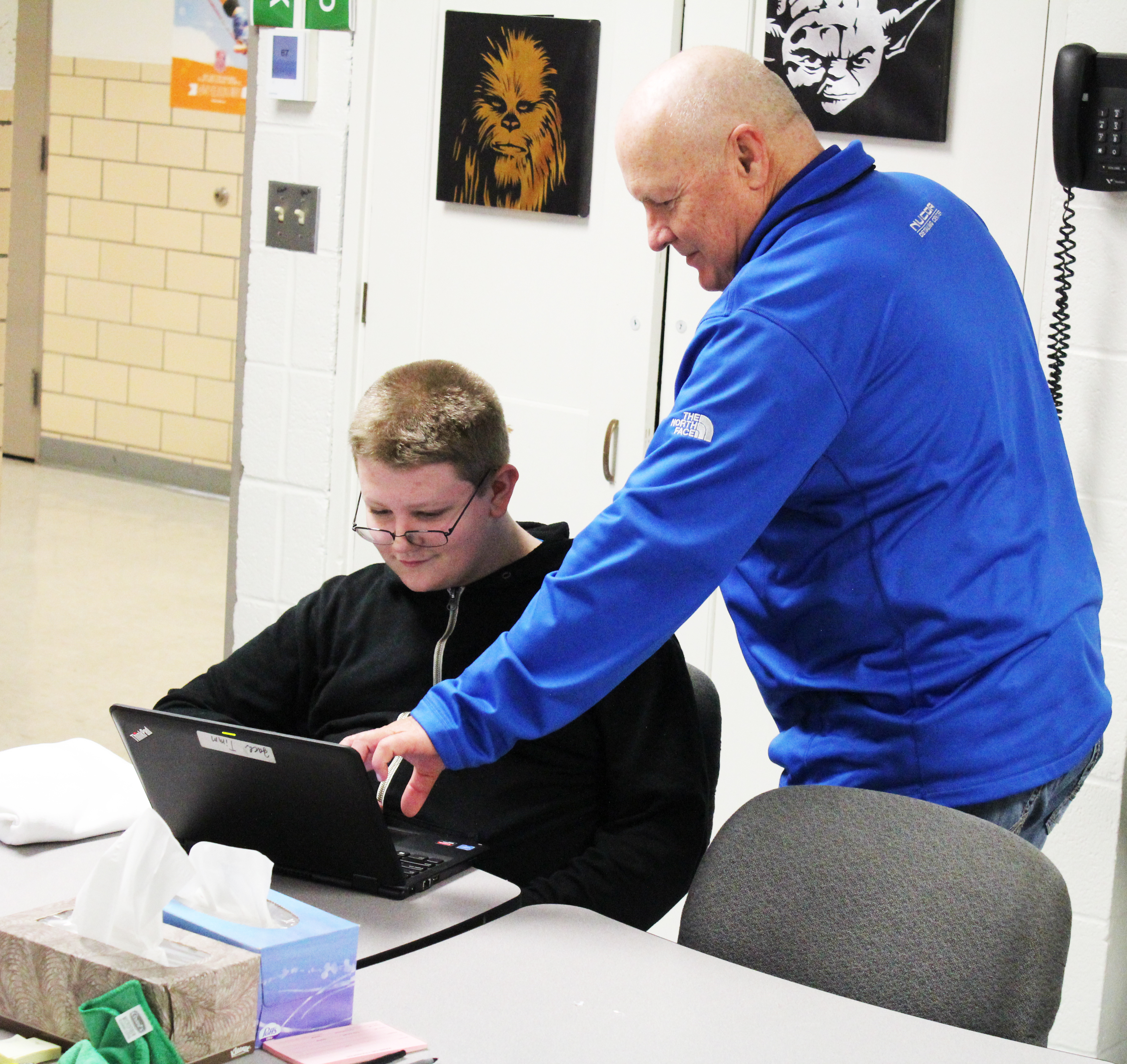 ---
The Students
Last fall, business teacher and FBLA adviser Karla Renn took some of her high school kids to check out the Nucor equipment.
Maybe they could do a few small personal projects of their own, she thought. The equipment was there, so might as well take a crack at it.
Then students started working with the machinery, and she saw an unfamiliar spark. All of a sudden, a classroom had been rejuvenated by the prospect of working hands-on, and a teacher enlivened by the different ways she could incorporate this newfound resource into every day curriculum.
Each year, Renn's entrepreneurship class is tasked with writing a business plan, a difficult ask in years past. Especially when the businesses were hypothetical and the products totally made up. Now, thanks to an embroidery machine from A to Z Vac N Sew in Norfolk and a willingness to explore outside of the proverbial box, her students are showing a fire she's never before seen in the classroom.
"Now, they have a real business," said Renn, who has been teaching for two decades and started at Stanton four years ago. "The kids are responsible for marketing their business and doing the accounting work. They're actually running a real, small business."
Renn's students have completed products that benefit the school, such as embroidered backpacks for the girls basketball team (an assistant coach, she likes to see that) and vinyl stickers and signage for the gymnasium.
Essentially, they're leaving a lasting mark on Stanton Community Schools through their work in the rotating makerspace and with the embroidering machine.
"They just really get to see how business works," Renn said. "With a book, you have to imagine it. Now, they get to do it. It's all right there in front of them. They make their product come to life."
For Nucor, it's been entertaining to watch the different ways instructors in the area integrate the machinery into coursework. They're not recreating the wheel. They're just using the resources to enrich it. In the end, students ultimately benefit.
"What Karla is doing with her Entrepreneur Class is amazing," Decarolis said. "We have teachers in are, and industrial education and physics and all kinds of subjects using it. This isn't a class. It's an addition to them."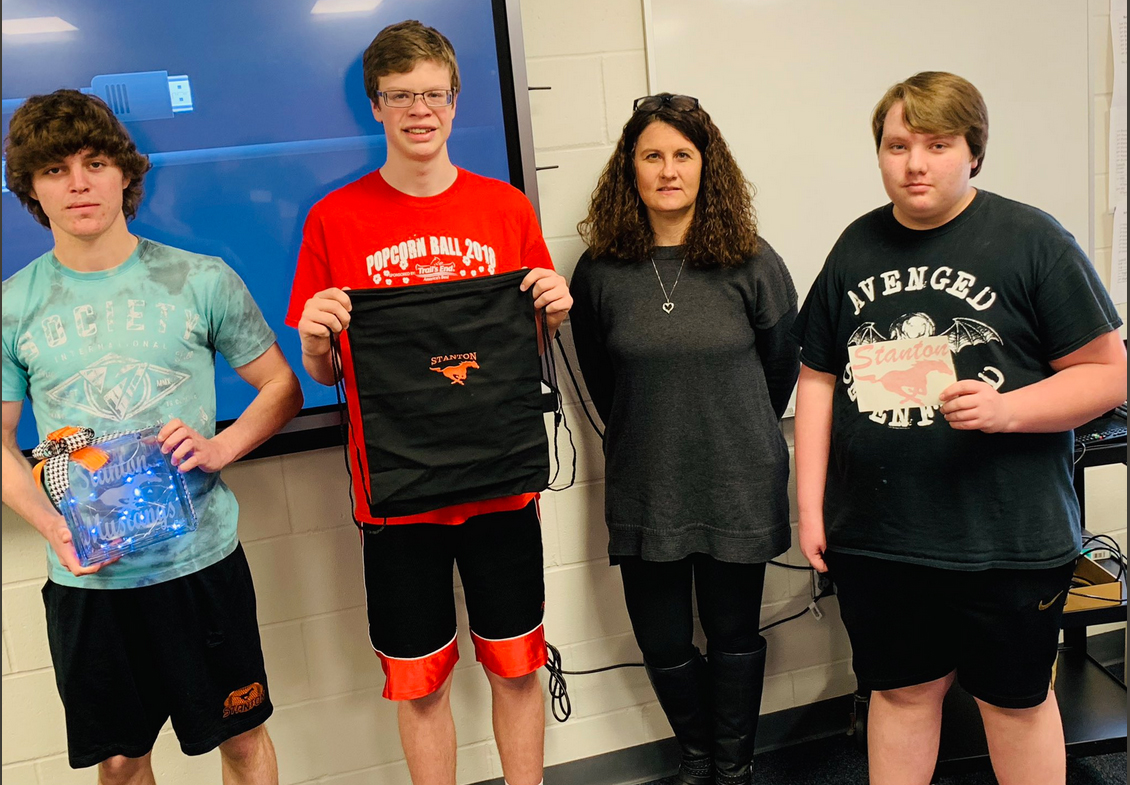 ---
The Future
Just like Spotanski, Renn is learning on the fly every day. She's usually only a day or two ahead of her students. In other words, no day is ordinary.
"The fact that, down the road, kids will be coming into the high school with previous experience is awesome," Renn said.
The district is evolving. So, too, are Stanton's students.
"I haven't been able to give these opportunities to kids at any school I've been to before," she explained. "I went down to the hardware store here in town to look for supplies, and I asked the new owners, 'When we get our products done, could we put them on the shelves here?'"
Before Renn could finish her sentence, the owners answered. Absolutely, they said.
"We are going to be able to sell our products at a local business here in town," she said. "That is really cool."
The end goal is to funnel skilled workers back into Northeast Nebraska and the surrounding region. To do it, schools like Stanton and educators like Spotanski have had to shift the way they teach. They've had to embrace the learning curve, explains Cunningham.
"Rick is willing to learn," the principal said. "Some people would look at it and go 'This is the way I'm doing it. I am not going to learn that.' You don't find a guy like Rick every day, who's willing to learn this new stuff on the fly."
Spotanski has been doing this for 24 years. He still can't wait to wake up and go to work each morning. With all the new possibilities at Stanton Community Schools, he has a feeling his students are starting to feel the same.
"The more excited the kids are, the better," Spotanski said. "When the kids can't wait to get to school, it's a lot of fun."