The Library Magic: Collaborative spirit and passion brings one of Nebraska's eight joint school/public libraries to life
The Library Magic: Collaborative spirit and passion brings one of Nebraska's eight joint school/public libraries to life
Friday, November 11, 2022
By Tyler Dahlgren
Tucker Tejkl's bad days are few and far between. If you follow the Shelby-Rising City superintendent on social media, you know that already. But if he ever catches himself in a mood, a quick pass through the school's library almost always does the trick.
"You always get a smile as you go through here," Tejkl said. "Seeing the kids, how they're interacting and just the energy in this room, it's infectious."
This isn't your grandfather's library. In here, shushes are drowned out by laughter, learning is exploring and creativity is never in short supply.
In fact, this could possibly be the most fun place in Shelby-Rising City's entire building. This is Mandy Peterson's library, and as one of only eight joint facilities shared by a school and the public in the state of Nebraska, this is the community's library.
"For the students, this is a place that will provide for them and accept them and be a safe space for everyone to be in," said Peterson, who spent 10 years as a classroom teacher before a twist of fate, or, as she puts it, fluke, placed her down the path to becoming a librarian. "I want the kids to come away knowing they're cared about. I want them to come away excited about whatever we're learning about, and I want them to come away knowing that the school library is a place that they want to be because that will transition them to public libraries when they're adults."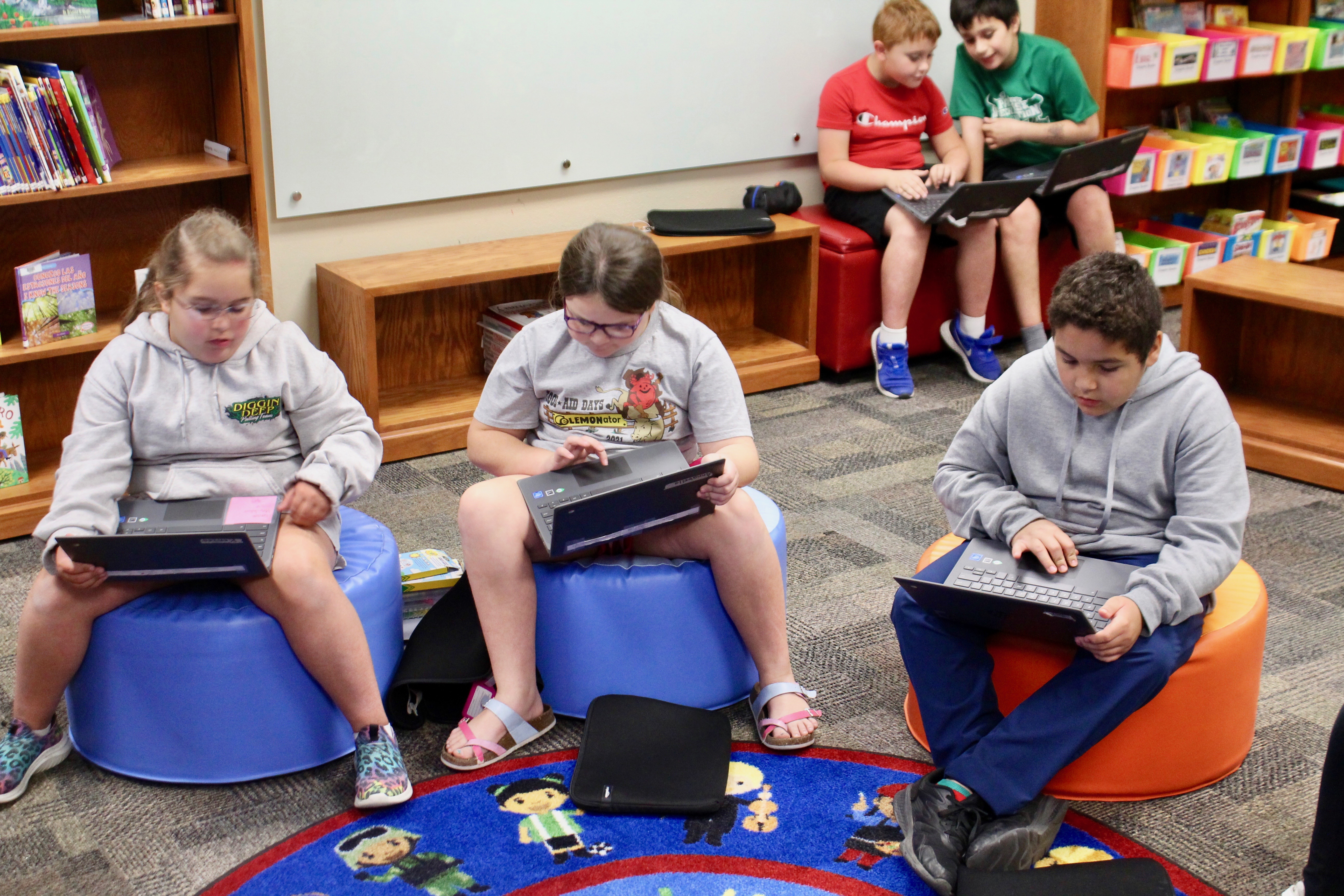 Peterson benefitted from such. An avid reader who plows through a book-a-week, she often found herself in her old school's library during planning periods. Shelving books was soothing. Calming.
"After I did that for a while, the librarian said, 'Hey, you would make a really good librarian. Do you want to go to library school?'" Peterson said.
As a matter of fact, she remembers thinking, she would. Peterson obtained her master's in elementary education with an endorsement in school library from the University of Nebraska at Omaha. In mid-March of 2020, the week that schools across the country shut down due to the pandemic, Peterson interviewed with Shelby-Rising City for the open librarian position.
On March 19th at 9:00am, Peterson walked through Door 9 and into a vibrant and beautiful future.
"I immediately knew that this was the place I was meant to be," she said.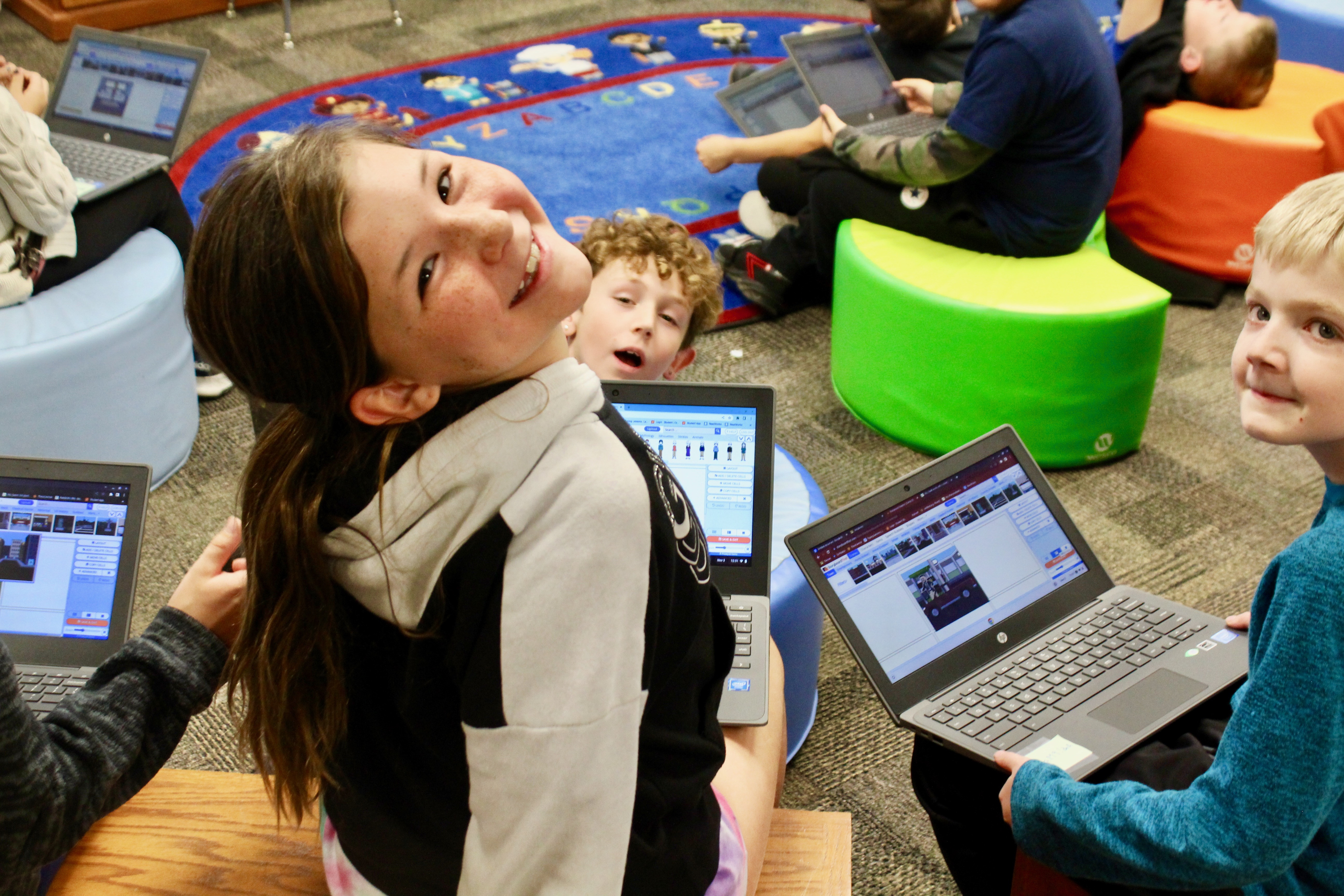 ---
It's nearing 1 p.m. on a Thursday, and Peterson hasn't stopped moving for more than an hour.
As two groups of third-graders piece together their original comic book storyboards, her enthusiasm doesn't wane. Not even a little bit.
"Having someone as passionate as Mandy is in here, it means everything to an administrator," said Tejkl. "I know that great things are happening in here. I have three boys that have been able to learn from Mandy. I know that we have someone that truly cares. As a dad, that means a lot too."
The Nebraska School Librarians Association recently named Tejkl the Distinguished Administrator of 2022, a reflection of the support Peterson said she feels throughout the year. On this Thursday, the library is alive. It's magic in motion, thanks in no small part to Tejkl's, and the entire Shelby-Rising City administration's belief in a library's ability to enrich the overall education of students.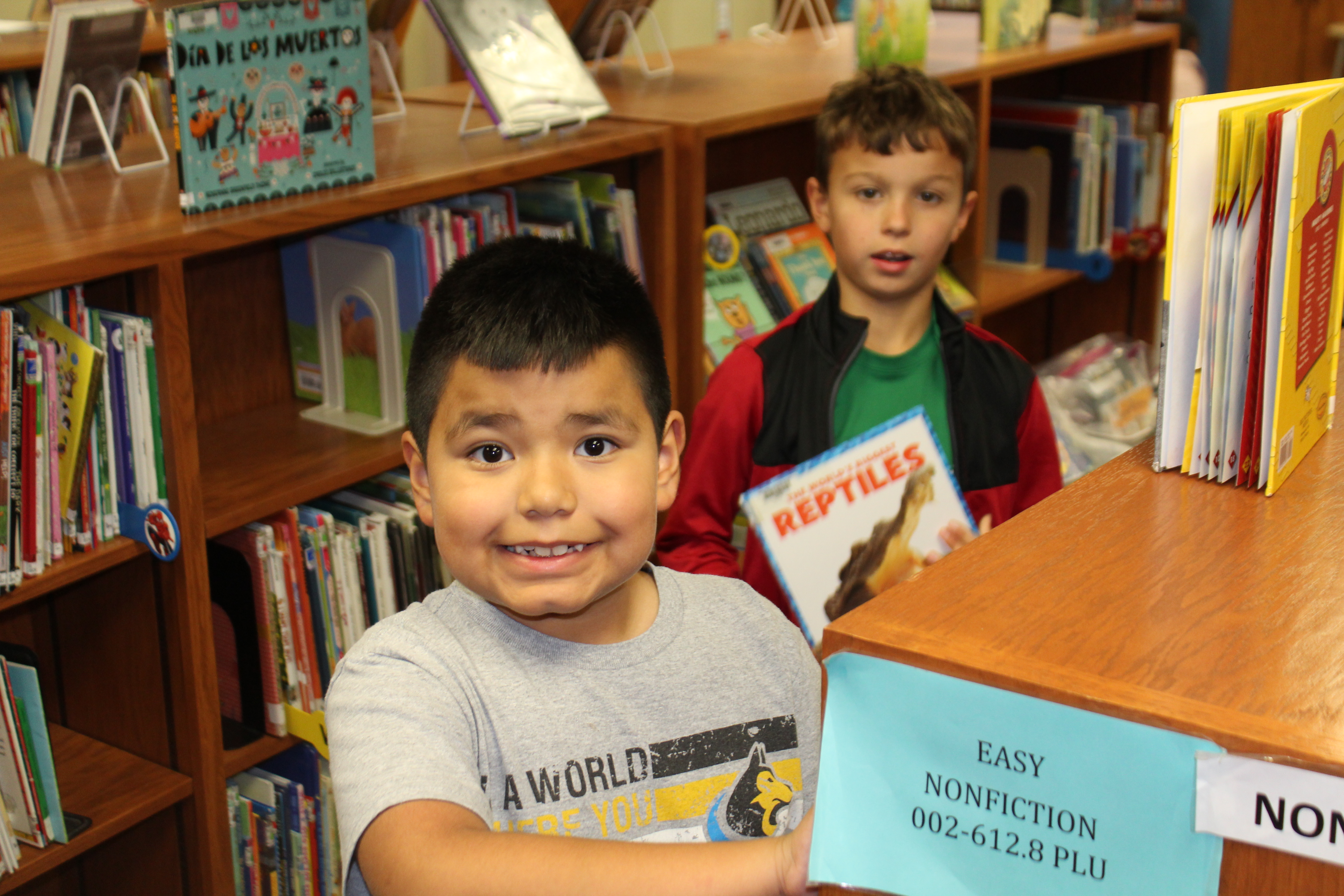 "I've felt before like I've had to fight against everything from funding to support to attitude about libraries," Peterson said. "Here, they're right beside you. They're holding your hand and pulling you along. And that makes you think bigger, go bigger and aim to make as big of an impact as you can. That support makes a huge difference."
Peterson will say the same for her relationships with Shelby-Rising City teachers. Collaboration, she continued, is key to making a day in school meaningful for students.
"I don't like a disconnect between the classroom and the library," she said. "I work with teachers to put on events for students, which is extremely cool. Middle and high school English teachers have had me as a guest teacher in their classrooms from time to time, which has been awesome. The collaboration piece is essential."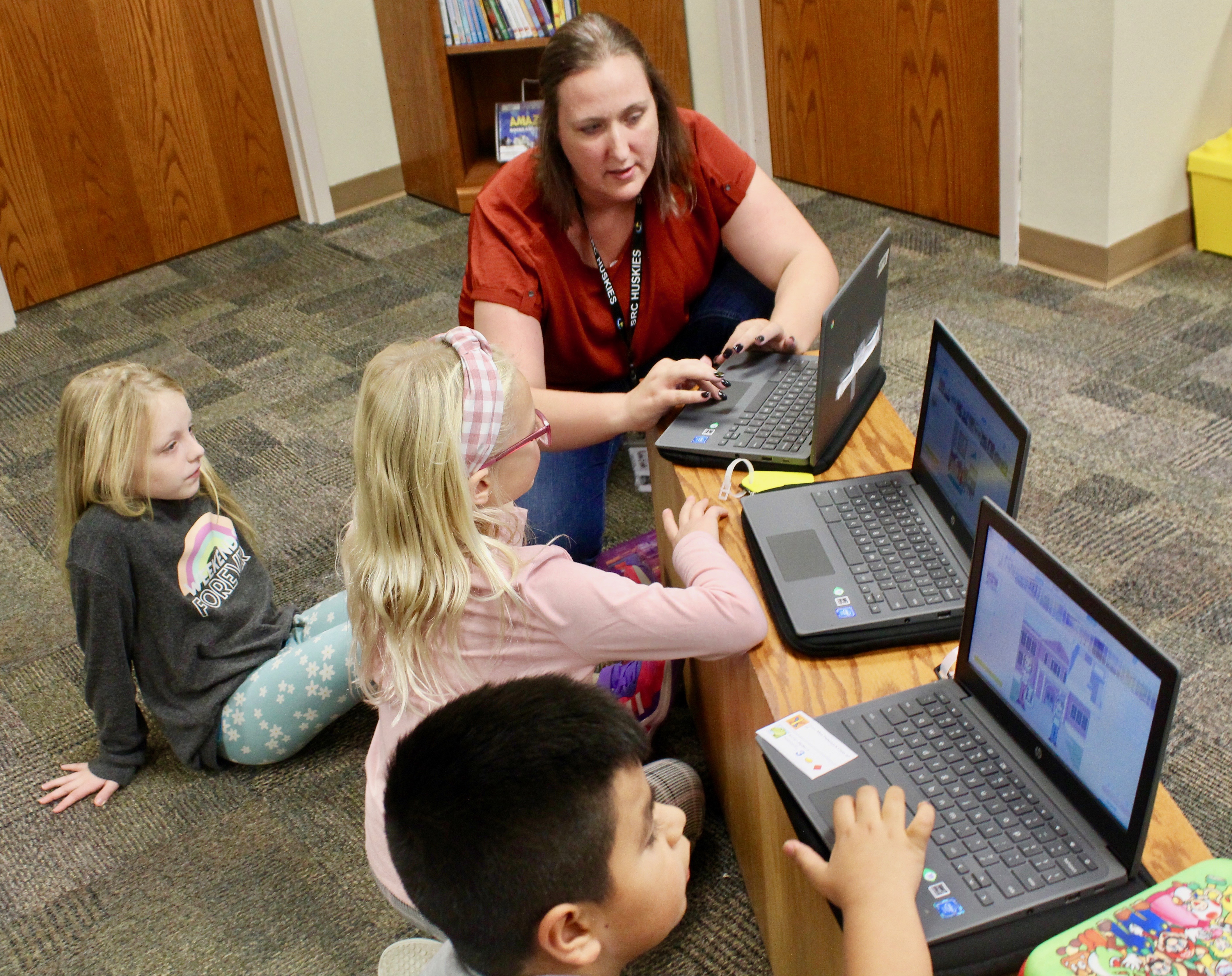 And if you're not collaborating with your school librarian, Peterson laughs, you're really missing out. The library is staffed by both the school and the public, and the two are constantly in-synch. Shelby Public Library Director Laura Alt has even helped to implement things like the monthly activity wall, which is geared towards kindergartners, first and second-graders. Both parties benefit from the shared space.
"Laura is really good at seeing a need with the kids and going, 'Oh, well, I'm just going to take care of that,'" Peterson said. "For October, she put out a whole bunch of Halloween stuff and the kids loved it. They ate it up."
That's not to say there wasn't a learning curve for Peterson, who was a solo librarian in a school library at her last stop.
"For both of us, there was a lot of trying to voice what our intentions are, what we want the library to look like and feel like and what we're willing to acquiesce to," she explained. "I mean, we're loud. The kids are loud. They're learning, and they're enthusiastic, but they're loud. Was that something the public patrons were going to be able to put up with? We have discussions on those kinds of things all the time."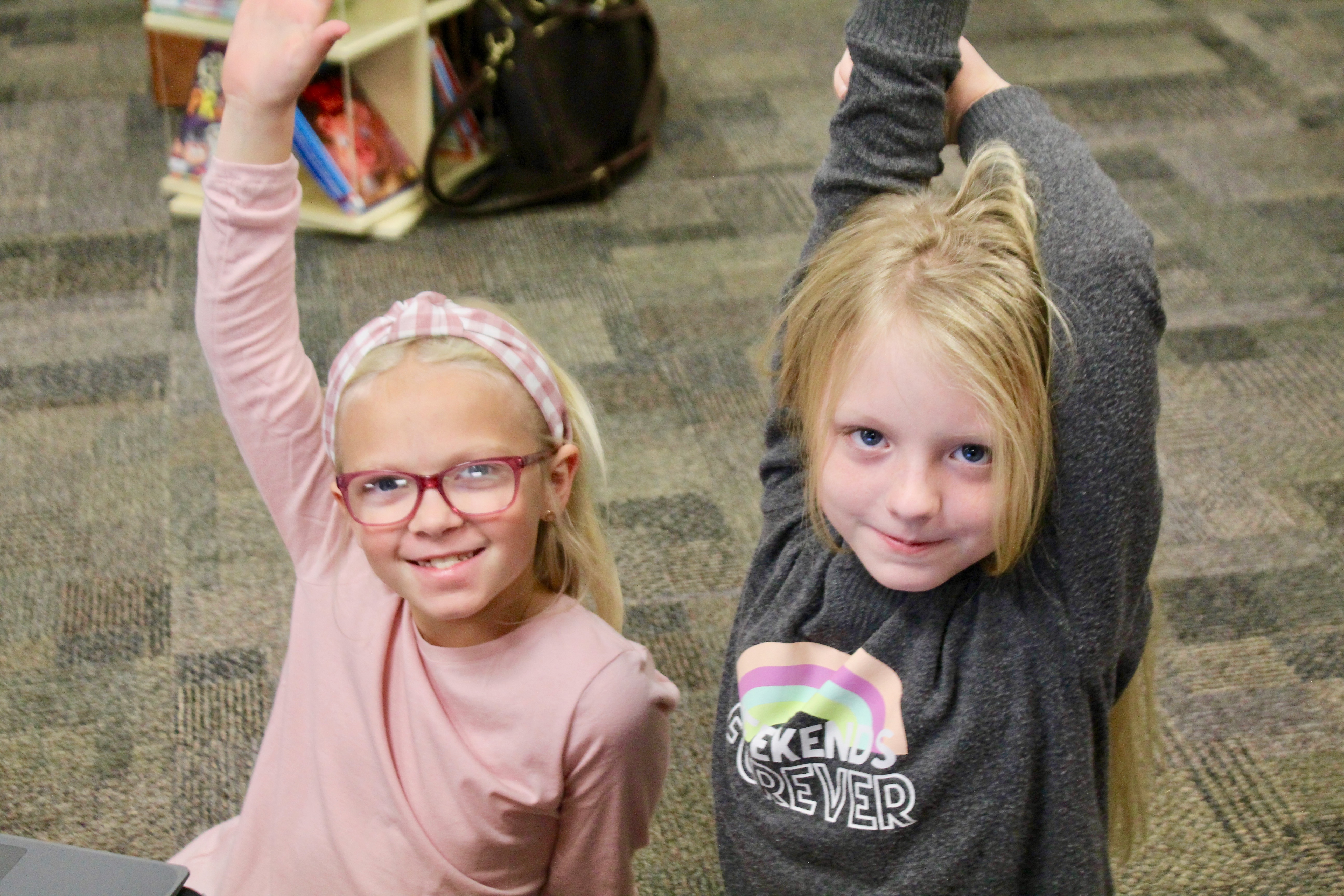 ---
Hardly a morning passes when Peterson doesn't wake up excited.
Constant efforts at innovation are quite invigorating, and she's learning right alongside the students. Technology integration is one of the coolest things about being a librarian in the digital age, and Peterson was lucky to grow up the daughter of a gearhead, totally immersed in technology. She loves coding and robots and working with the district's technology director to bring those kinds of things into the library.
December, for example, is all coding for all grade levels. Last year, kindergartners used an Ozobot to tell a story that still warms their librarians heart to this day. Creativity. Her students have it, and she's passionate about pulling it out of them.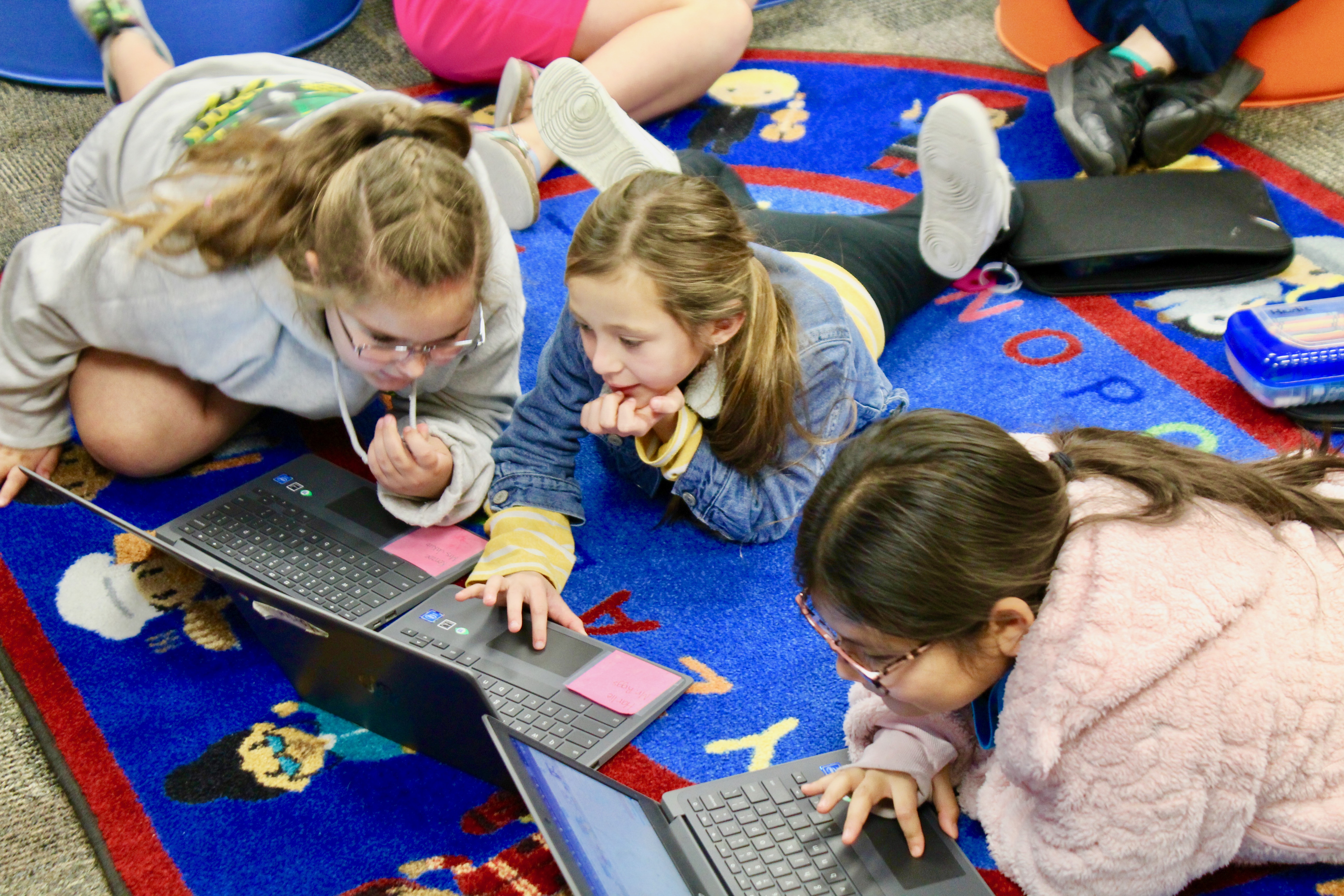 "It's just so fun sharing those things and seeing the kids light up," Peterson said. "It's the best."
Libraries are, by nature, filled with nostalgia. A trip down an aisle of shelved hardbacks is basically a trip down memory lane. And nothing strikes the nostalgic chord quite like a book fair.
"We go a little crazy," Peterson said. "This last year, we established a program called the 'Husky Heart', which allows kids who may not be able to afford something from the book fair to come in and pick out anything they want."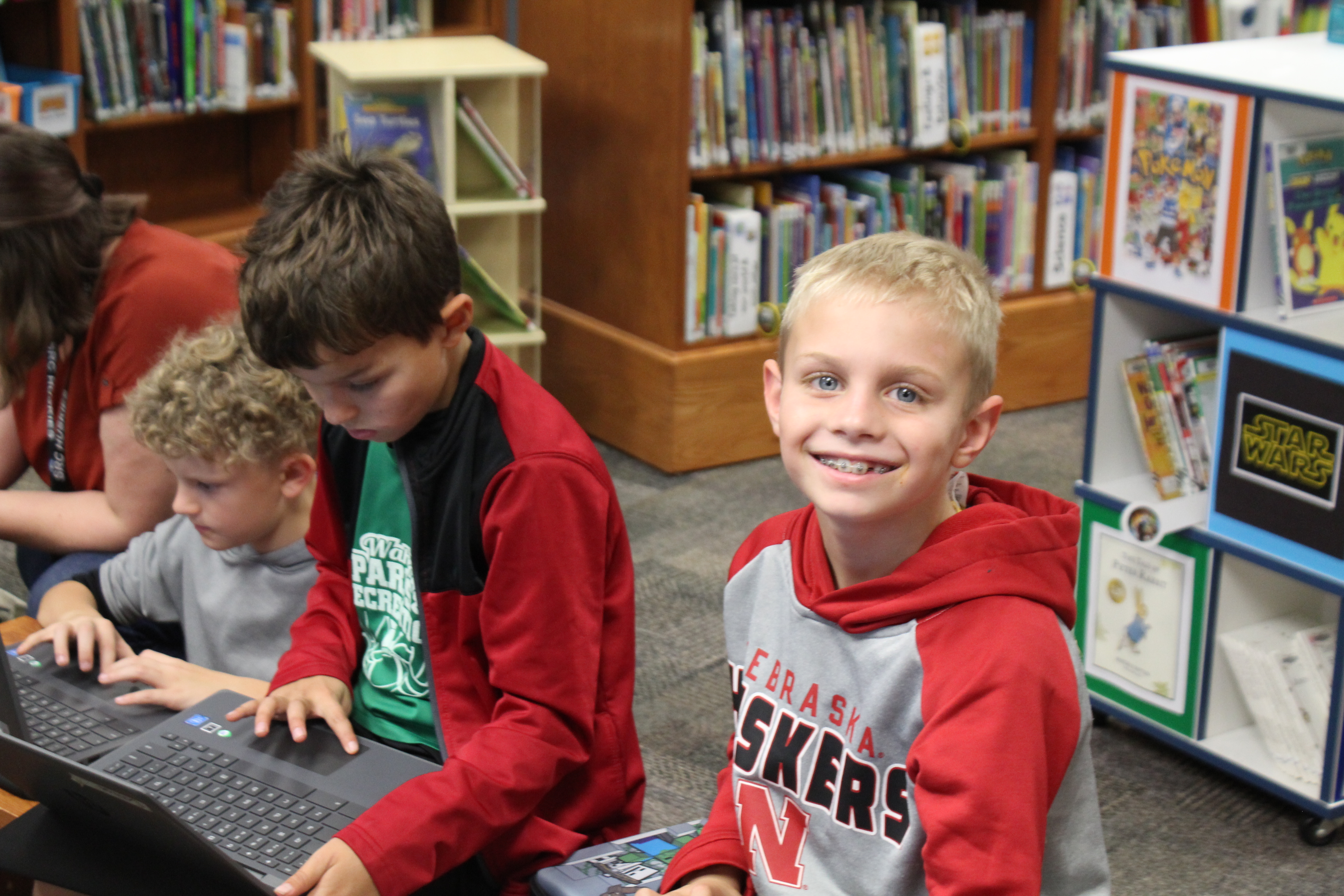 Peterson doesn't know how many books Husky Heart ended up giving out (they stopped keeping track), but she does know that the group raised more than $4,000, some of which went towards new shelving, robots, an upcoming author visit in January.
"We're trying to give that money back in a way that's very easy to see and exciting for the kids to experience," she said.
For all the hustle and bustle inside Shelby-Rising City's library, it's still a peaceful place. It's hard to put a finger on just why that is, but in here an hour flies by like 15 minutes.
"It's a relaxing and safe space I come when I'm overwhelmed or when I'm stressed," said senior Elena Murray.
For Peterson, whose journey here started by shelving books to clear the mind, that has to sound familiar.
"Ms. Peterson always knows exactly how to deal with this," Murray said. "Exactly how to help."