Lee Perez's Road to Purpose: No success goes uncelebrated in Nebraska Teacher of the Year's classroom
Lee Perez's Road to Purpose: No success goes uncelebrated in Nebraska Teacher of the Year's classroom
By Tyler Dahlgren
It was March 2020, Lee Perez's first day educating in a totally remote setting, and the teacher's hands were shaking. His palms were sweaty, too, but that wouldn't matter much.
It's not like Perez's students would notice over Zoom.
No, it was the other things they'd pick up on if he let them. The uncertainty, the nerves, the worry. They were unavoidable, but Perez was intent on making the best of a difficult situation, as teachers often are.
"I remember saying to myself, 'You have to put on a brave face and show them that everything is going to be okay,'" the Alice Buffett Magnet Middle School 5th-8th English as a Second Language (ESL) teacher said. "So that's what I tried to do."
His students started to log on, ready for their first day of school in a global pandemic. Perez's screen stayed black, his camera turned off but his microphone very much on. The crackling, pitchy voice of an old lady caught them all by surprise.
"Hello students! This is Mrs. Doubtfire. I am a friend of Mr. Perez. Welcome to class!"
That's right. Using levity to break the ice, Mr. Perez turned to a nineties classic and brought the character made so famous by Robin Williams to life. The tension crumbled, and Mr. Perez's students smiled.
"I did that to make them laugh, to bring their spirits up," said Perez, whose impression is inarguably spot-on. "I carried it on for a while, too, and my students even wrote letters to Mrs. Doubtfire. They figured me out eventually."
Perez holds a smile throughout that story. He's got others too, stories that make him laugh and stories that make him so proud he could cry. Weave them together and you'll find your way to today.
It's the start of a new semester, and, after a rejuvenating holiday break, the 2022 Nebraska Teacher of the Year can't wait to get back in front of his students.
To the front of the classroom, right where he belongs.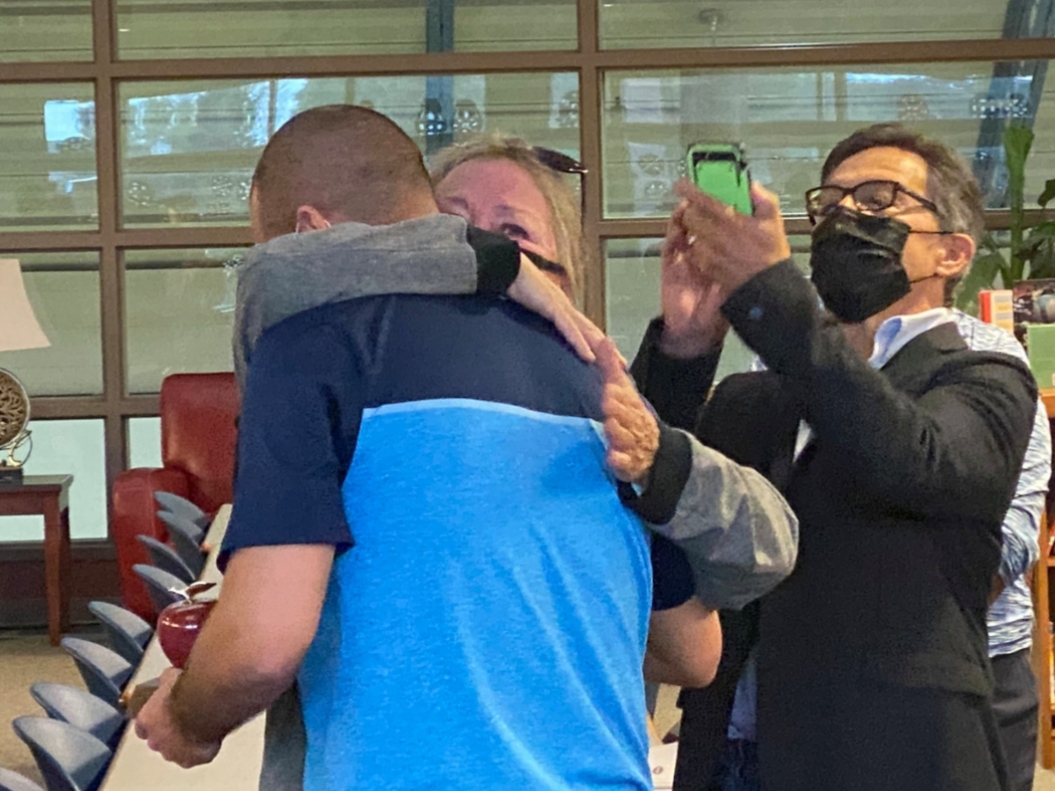 ---
Lee Perez grew up hating school.
That sounds rather blunt, but if you ask the OPS teacher a question you can expect a forthright answer. He's honest and transparent, and it's made clear early on that his interactions with students are much the same.
"I really had no interest in education," Perez said. "I saw no value in it. I wasn't one of those students that came in and disrupted class. I was one of those students that came in, put my hood on and slept the entire time."
High school was a struggle. He had a 1.88 GPA and only graduated because his teachers did whatever it took to get him to the finish line, often staying well after the final bell rang to help him along. He took the ACT, but just filled in random bubbles before promptly falling asleep with his head flat against another desk.
His home life wasn't a picnic either. His parents were divorced, his dad roaming the south working as a pipe fitter in places like Mississippi, Alabama, Arkansas and Texas and his mom working a multitude of jobs to keep things afloat. When he started running with the wrong crowd, there was always a teacher there to pull him back into the fold.
"The fact that I'm a teacher now is kind of crazy," he admits. "But teachers were always there to inspire me and to empower me, no matter what. They'd say 'You know, you can do better than this. You are better than this.'"
Perez did graduate, and only enrolled at Mid-Plains Community College in North Platte because his brothers wanted him to. His first semester's grades didn't look too different from his high school marks. Then an advisor sat him down and the two shared a conversation that would change everything. Perez was on the verge of academic probation, in danger of losing his financial aid. It was time to do better.
"I had an 'A-Ha!' moment right then and there," Perez remembers. "I told myself 'You have to get this together right now. It's not like you're not intelligent enough to do it. You're just lazy.'"
It was the turning point he desperately needed. The start of something new. Something great.
The next semester, Lee aced a notoriously difficult history course taught by a professor revered as one of the more brilliant on campus, one he maintains a relationship with to this day.
"This professor should have been at Harvard, he was so smart," Perez said with a slight shake of the head.
When word of Perez's "A" started to spread, people began nudging him towards a career in education. He'd make a great history teacher, they'd say. It was then that a passion began to form. Perez graduated from Mid-Plains and enrolled at the University of Nebraska at Omaha, where he would pursue secondary education with a concentration in 7-12 social sciences.
"The rest, I guess, is history."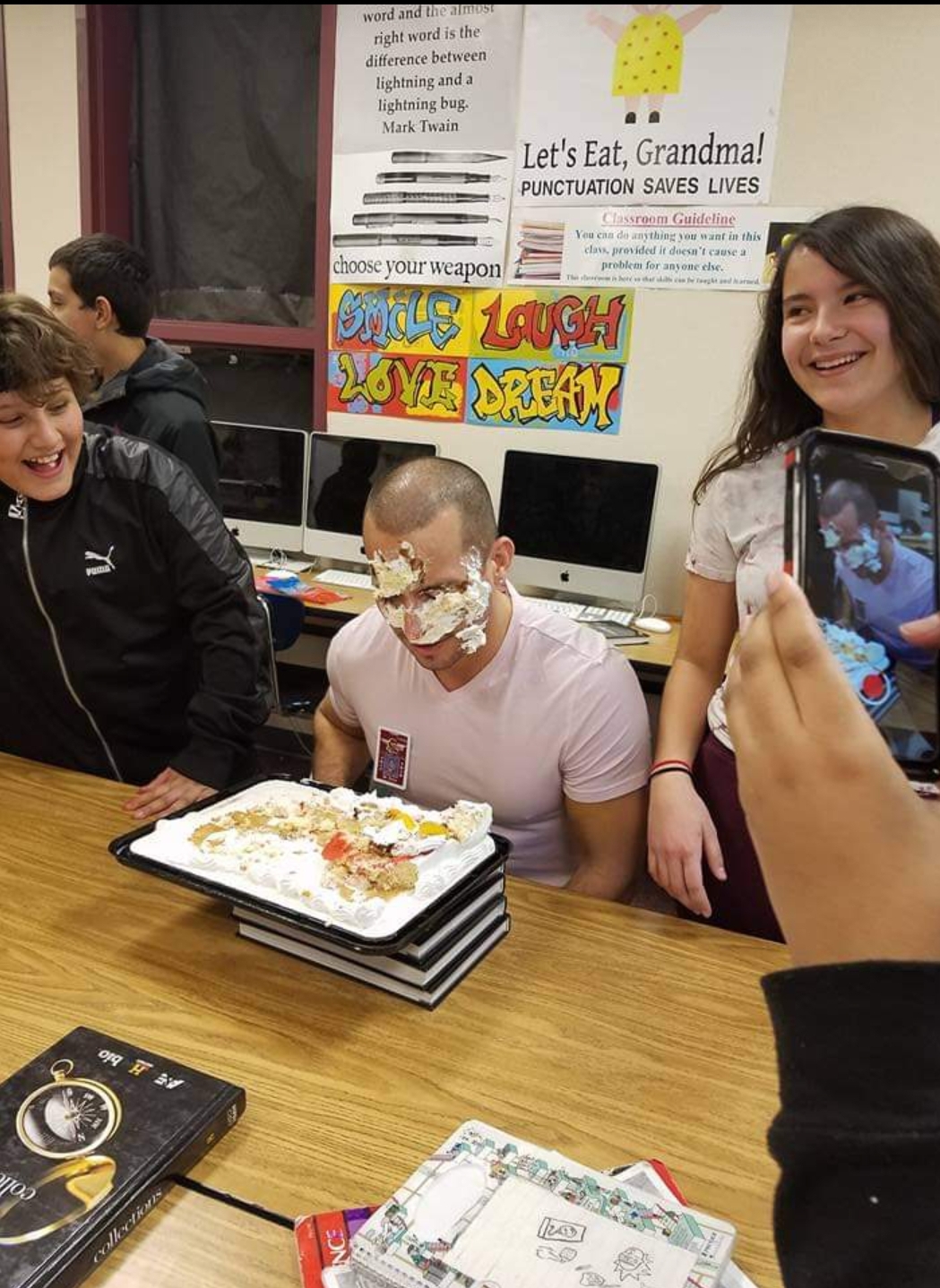 ---
Because of his past, Perez empathizes with at risk students.
His father's family came to the United Stated from northern Mexico and the Perez's endured plenty of immigration issues; racism, intolerance and discrimination. His father was also absent and he knows how difficult the search to fill that gap can be on a child.
"When my students come to me and say 'My family's having immigration problems, or my parents are divorced or my father left me,' I can look them in the eye and say 'I understand what you're going through,'" he said. "Sometimes, they'll push back. They won't believe me. That's when I share my life story."
Perez has no problem doing so. He shares his journey to give his students a sense of hope.
"It's empowering and inspirational for my students to hear about the rocky road I travelled, because, trust me, along that journey were teachers who were invested in me, who cared about me and my future and my wellbeing," he said. "And I didn't always listen, either. Not because I didn't respect them, but because I was a kid. I thought I knew everything."
With hindsight, he can look back now in amazement at all he didn't know. But his own experiences as a student have only helped him as an educator. He understands his students. He knows how to connect with them and, even more importantly, how imperative it is to spill effort into forming those relationships.
"It's important to be a teacher of your students first and the curriculum second," Perez said. "You have to understand where your students and their families come from before you can actually teach them the curriculum. I've tried it the other way around, and it doesn't work. It doesn't work at all."
All of Perez's classroom lessons are accompanied by life lessons. He hopes his students will use what they learn in his class to advocate for their own families, their own communities. He has his students write letters to the mayor of Omaha, in which they express both concerns and potential solutions to the problems behind those concerns. He urges them to write the letters with evidence and reasoning behind what they pen.
"Some day, as a constituent, as a voter, you'll need to know how to do that," he'll tell them.
Perez started his career on the English side of dual language at R.M. Marrs Magnet Center, a middle school in south Omaha. His wife encouraged him to get his ESL endorsement through a Title Three fund through OPS, which he did. It wasn't her first, nor would it be the last, piece of helpful advice. That led Perez to Buffett, where he's been for three full years.
He misses Barr, but loves everything about Buffett.
"Sometimes change can bring upon really, really phenomenal things in your life," he said.
He's taught young people from all over the world. Right now, Perez has students from Afghanistan, Turkey, Tajikistan, Bulgaria, Russia, Mexico, Thailand, Vietnam, Puerto Rico, El Salvador, Guatemala and the Congo.
"You can walk into my classroom and have anywhere from ten to twelve languages being spoken," Perez, who is also the head boys cross country coach at Buffett, said. "It's a challenge to teach the students a new language, and it's perhaps a bigger challenge to teach them how culture works in the United States, but there's nothing more rewarding."
Perez is often fascinated by the students in his classroom. He has one student who wants to be a lawyer (funny, he laughs, because she argues with everything). Another wants to be a dermatologist to help her family back in Mexico dealing with skin issues.
"As an ESL teacher, my students don't just view me as their teacher, they view me as an advocate in their corner," he said. "I always tell them that if they need help with anything, be it food, rent, utility assistance, whatever, let me know and I can work with you to help. I'm kind of a bridge in the middle that can bring those resources together for my students."
Perez is in the business of making his students' dreams come true, which is ironic, in a way, because they're doing the same for him.
"They tell me their stories, and it's inspirational to me," he said. "As much as I teach them, they're teaching me even more. Their stories are so cool to hear, just the amazing roads they've travelled to get here and the positive attitudes they show up with every day. They're incredible people."
He talks about a former student at Marrs, Lupita Perez, a first-generation college graduate like himself, and nearly tears up. The pandemic wiped out Lupita's graduation ceremony, something she was looking forward to more than anything. Lupita actually attended Perez's wedding and he didn't want to miss out on her big day, no matter the circumstances.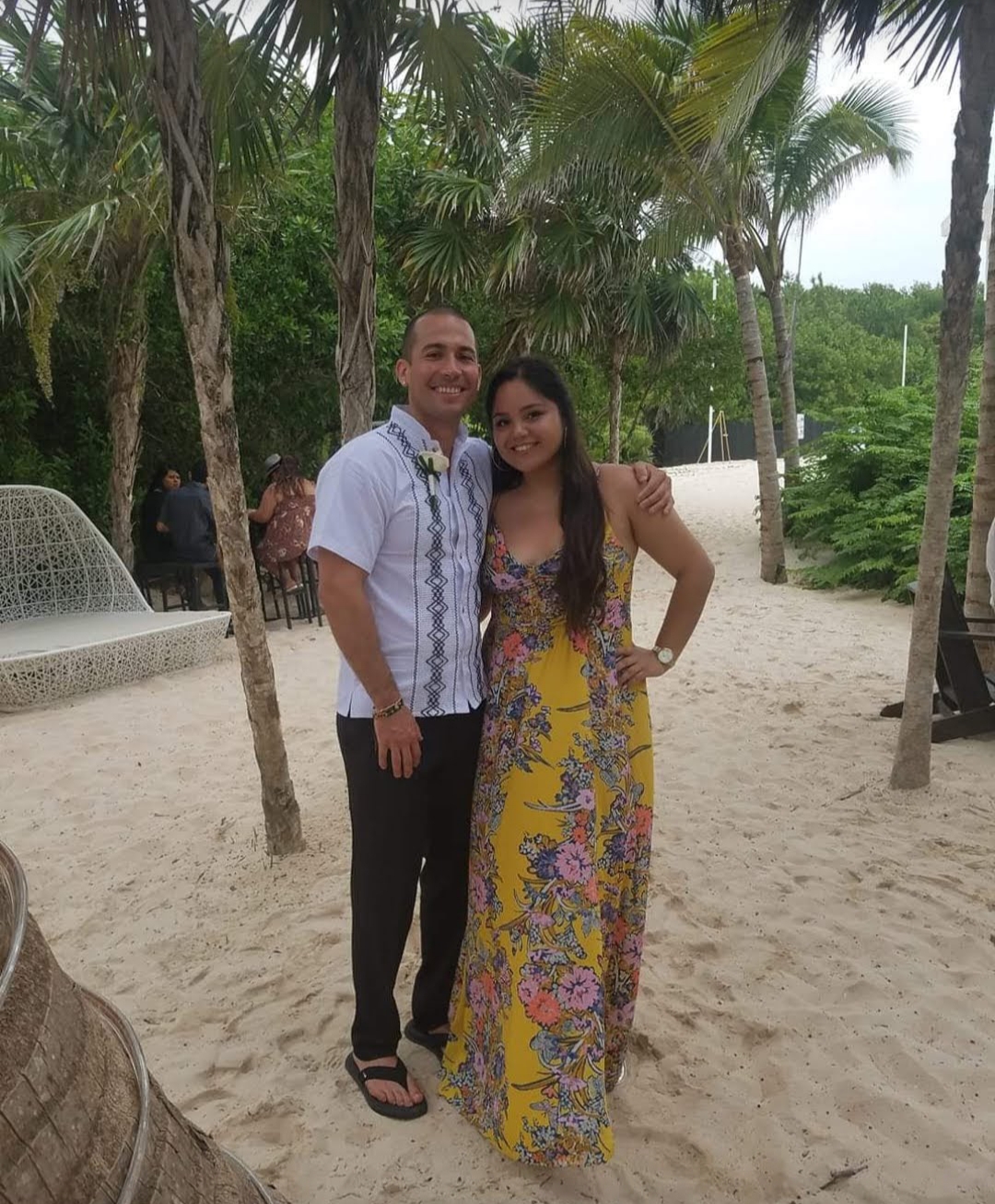 So there he was on graduation day, in a car with his wife laying on the horn and honking like crazy passing Lupita's house in a line of vehicles and shouting, overcome with immense pride.
"WE LOVE YOU! WE GOT YOU! YOU DID IT!"
"Those are the things that make me proud," Perez said. "I know I'm crying right now, but these are tears of joy. To see a kid come through those obstacles and then have her say 'You were some of the reason I was able to do this', that's really special."
Life as an ESL teacher comes with its fair share of challenges, but the triumphs outweigh them all. Lupita Perez is currently pursuing her Master's degree. Lee knows without a doubt she'll achieve that milestone, too.
When she does, her middle school teacher from Omaha will be there to celebrate. In fact, he's been there every step of the way. For as long as he's an educator, that will never change.
"There's power in words, and there's power in positivity," Perez said. "That's the incredible thing about this job."
---
Q: What are you doing when you're not in the classroom?
I like to travel. I love to swim, play basketball and lift. My favorite thing to do is spending time with my family.
Q: Favorite fictional teacher? It has to be Mrs. Doubtfire, no?
Actually, it's not. It would probably be Mr. Tuttle from Saved by the Bell. He was the driver's ed teacher.
Q: Favorite Omaha restaurant?
Oh, that's a tricky one. So much good food in Omaha. I really like Jimi D's. I actually took Paul Timm, the 2021 Teacher of the Year, there a few weeks ago and he loved it too.
Favorite band?
I don't really have one, to be honest. I really like whatever sounds good. Lately, I've been into 80s music.
Favorite quote?
"If kids come to us from strong, healthy functioning families, it makes our job easier. If they do not come to us from strong, healthy, functioning families, it makes our job more important."-Barbara Colorose
Tell me about your school. What makes it a special place?
I could sing Buffett's praises all day. Our vision is high performing teachers and students in every classroom, and this school lives that vision. I've never seen a building full of teachers so dedicated to their jobs. There's a positive collectivist mindset. People want to build you up, even when you're feeling down.
This award wouldn't have been possible without those surrounding me, my principal Mr. Anthony Clark-Kaczmarek (who grinned ear-to-ear when he heard of Perez's TOY application), our superintendent Dr. Cheryl Logan and the staff of teachers I work with.
*Lee Perez began his duties as Nebraska's 2022 Teacher of the Year on January 1st. Follow his journey by clicking here!