Leaving Their Mark: For the students behind Stanton's "Mustang Store", the school year's final project is a special one
Leaving Their Mark: For the students behind Stanton's "Mustang Store", the school year's final project is a special one
By Tyler Dahlgren
Downtown Stanton is charming, pleasant and delightful-all those words bundled into one, really.
But the yellow banners that have donned uptown street lamp posts since the Reagan administration was in office? Their once-bright yellow faded into something much more dull and their fabric worn and torn, the old "Welcome to Stanton" banners had seen better days.
It was time for them to go, and Brian Wehner, a city maintenance worker who also serves on the Stanton Community Schools Board of Education, knew the right group for the job.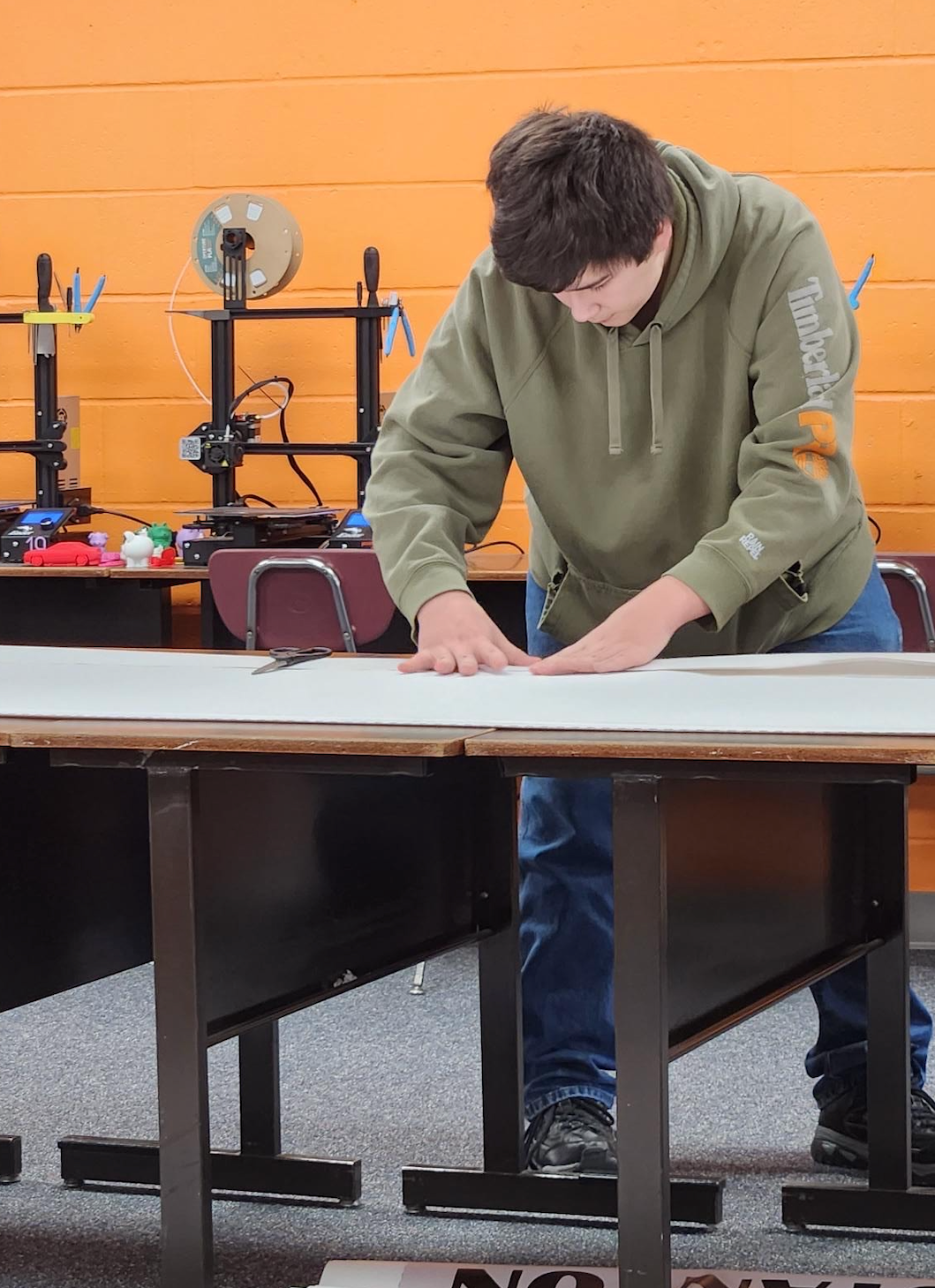 "Brian walked into my classroom one day with one of the old banners that had fallen apart and he said, 'Can your kids make this?'" said business and entrepreneurship teacher Karla Renn. "And I said, 'Why would anybody want to?' Because they were pretty bad. He said, 'No, we want new ones. Is this something that your class can do?'"
Renn took 24 hours to do some research and to run it by her five business and entrepreneurship students. Then she picked up the phone and called Wehner. Her students were up for the project, and got right to work.
The initial goal was to have the banners ready by the first day of school next fall. But if you know anything about Renn's class, the drivers behind Stanton's student-run "Mustang Store", then you know they work fast. With precision and enough creativity to bring any blank canvas to vibrant and colorful life.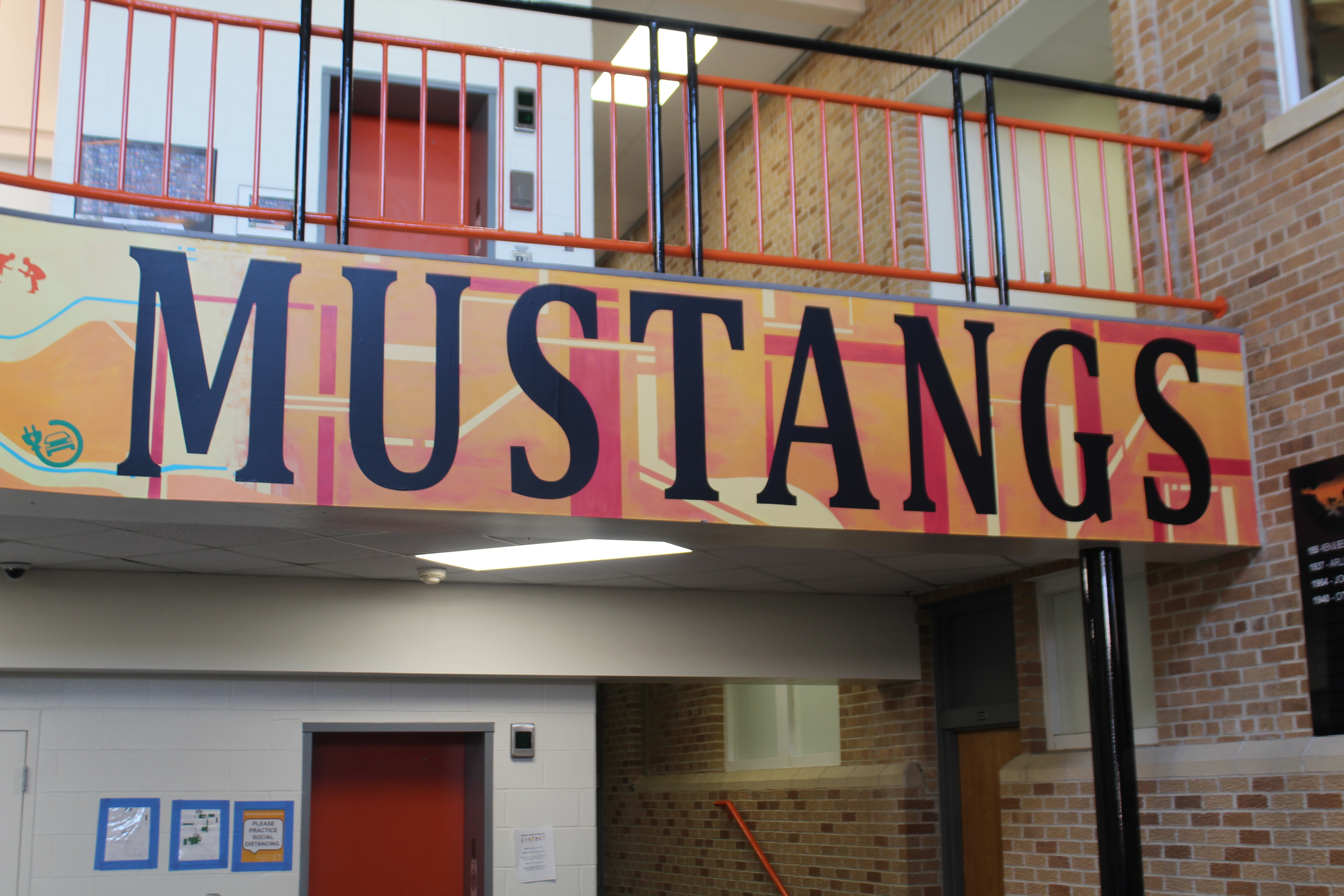 "All of a sudden, it just kind of took life," said Renn, who gets a certain sense when the class is really intrigued by a project. "Now, the goal is to have them ready for graduation. They knocked these out in a couple of weeks, because they like doing it. They knew what they were doing. They came in, figured out a process, and just did it."
One reason for the remarkable diligence is the state-of-the-art equipment at their disposal. We wrote about this group in 2019, and it was staggering to see how much the space has grown since. Through various grants, the classroom is now home to a banner printer and a large vinyl cutter. Renn's students team up with Mrs. Morgan Schwartz's metals students for the school's yearly Shark Tank contest, which really gets their innovative wheels spinning.
"They're really good, and really creative," Renn said. "Some of it is just putting the resources in front of them, but what they do with those resources is a whole different story. It's pretty amazing."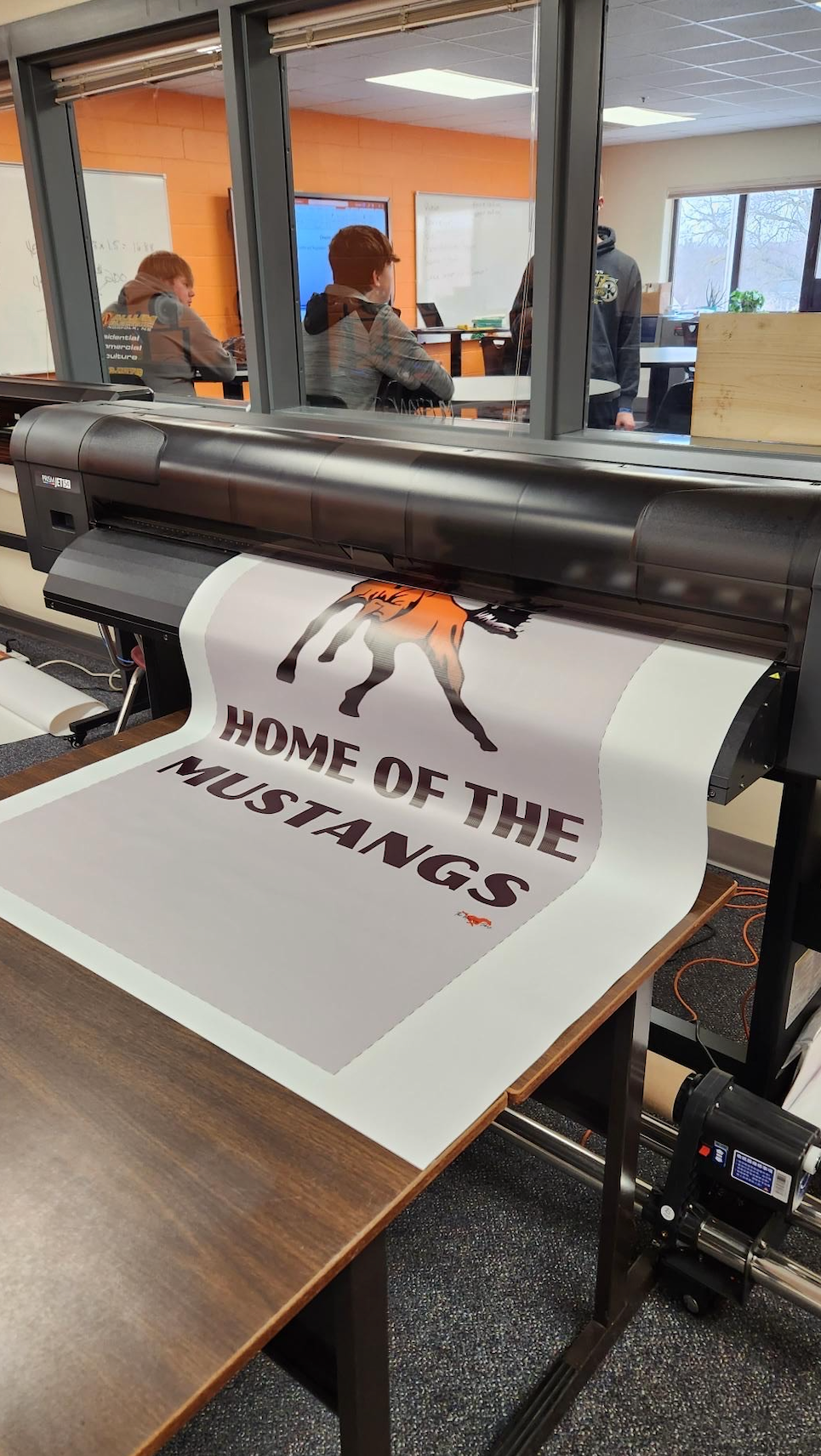 Much of what's produced in the classroom, the tumblers and air fresheners and metal yard signs and the t-shirts, are sold in the Mustang Store, which has also served as a bridge into the Stanton community. Last year, their garden flags commemorating local veteran heroes were a hit over Memorial Day weekend, with "every sweet, little old lady in town bringing us a picture of their loved ones in uniform."
"This experience has definitely brought us closer to our community," said senior Augustus Bernhardt. "That connection helps us get people what they want by understanding what they want made and how they want it made."
Wehner, who got a glimpse at the equipment in Renn's room after joining the school board, popped in every couple of days to see the progress being made on the new banners, which were designed, printed, and folded by the students within a couple of weeks before being sent to a local seamstress to be sewed.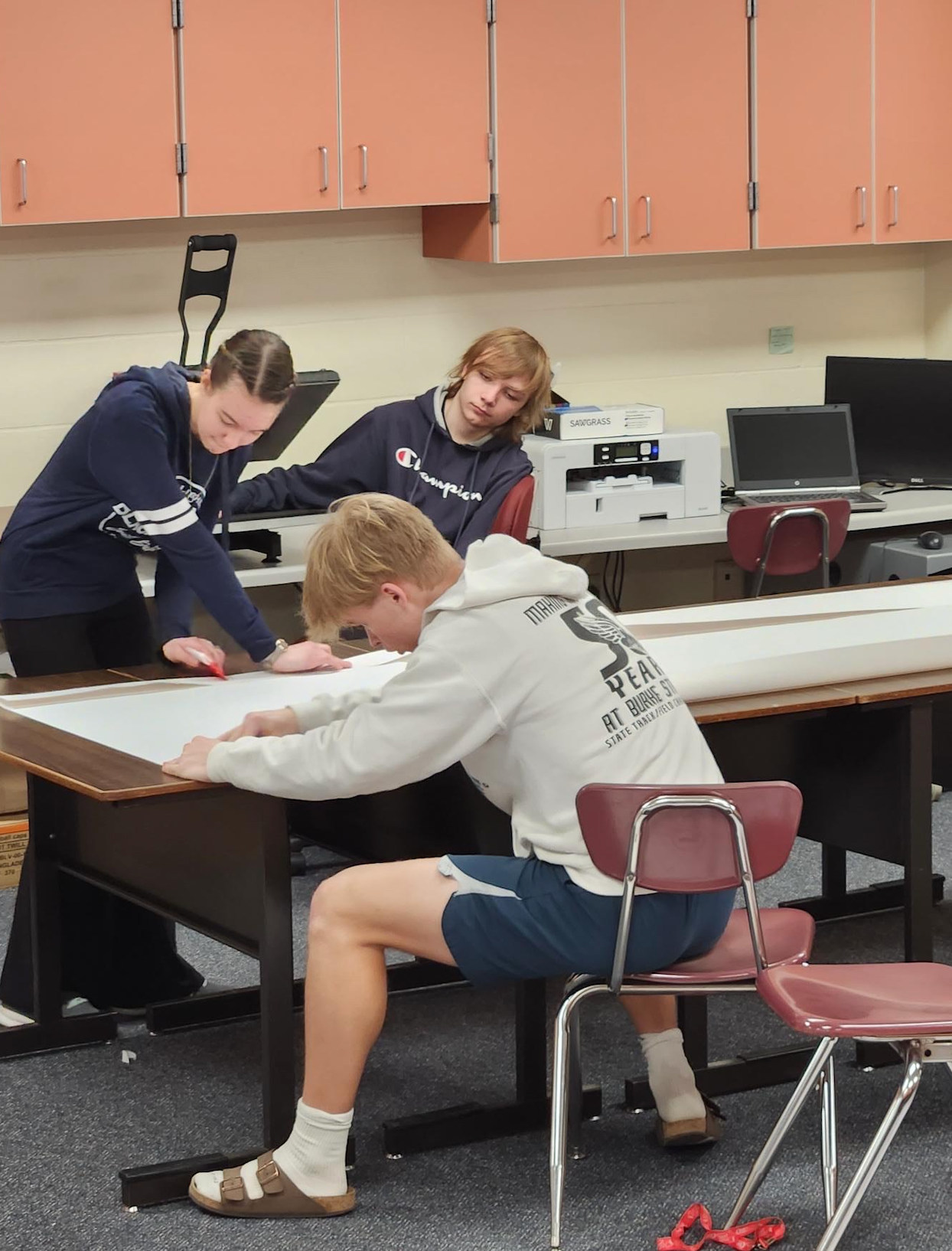 "It's very cool what they can do," Wehner said. "Very, very amazing what the kids can do. It didn't take long for them to come up with this design. They had them ready to print way sooner than we expected."
Renn talks often with her students about leaving their mark, both on the school and the community.
"That's our big thing with the Mustang Store, in general, is putting an identity on a small town," Renn said. "You can put a mustang on anything."
You sure can, and Renn's students most definitely do. Sometimes, she just sits back and watches her students work. At this pace, she recently joked with Wehner, it won't be long before she's sipping lemonade with her feet up.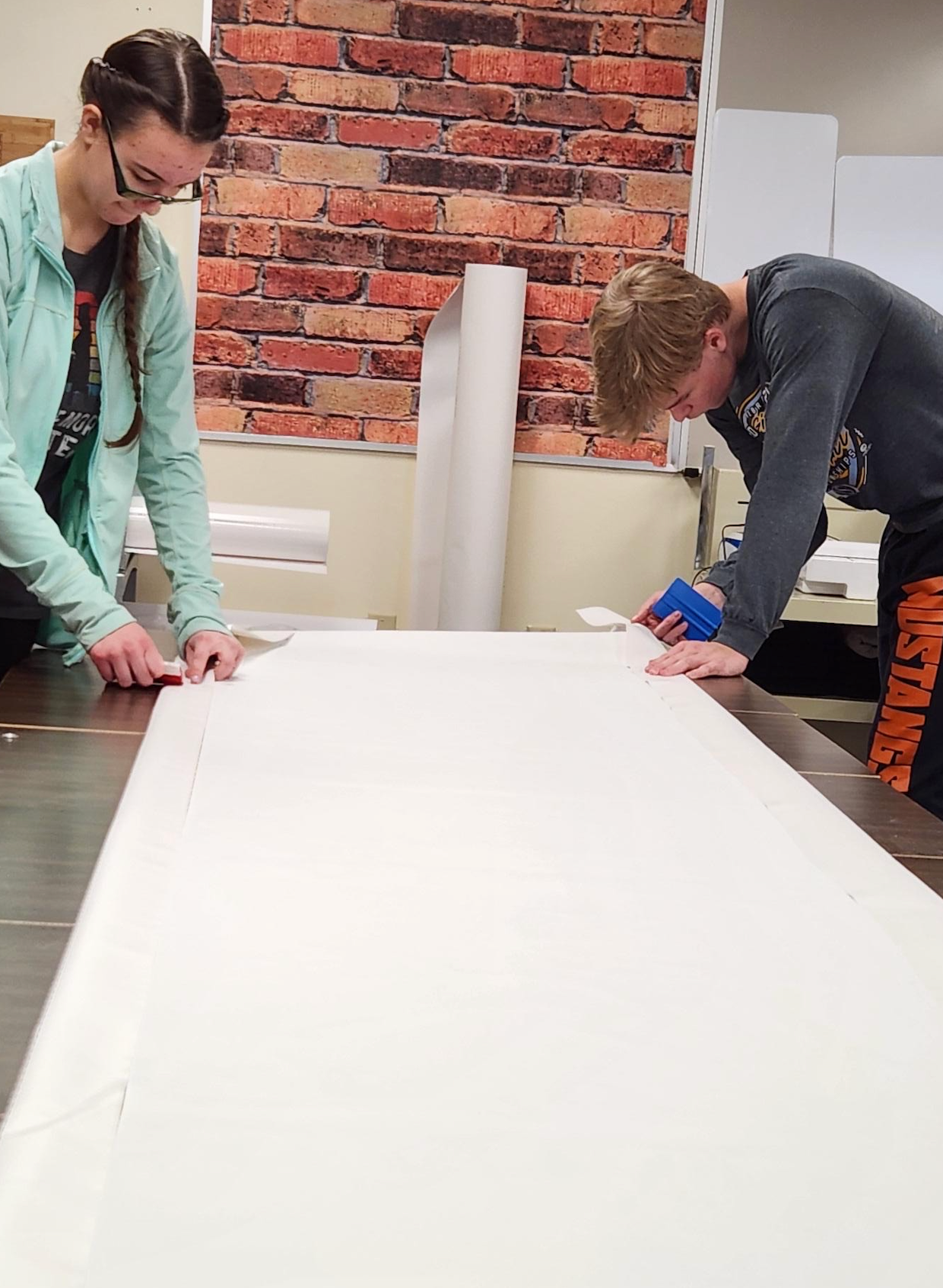 "I say that sarcastically, but that really is my most prideful moment," Renn said. "When I can just sit there and watch them do what they do, because they don't need me."
Next week, new banners will replace the worn ones. Perhaps they'll spruce up Stanton's downtown for the next few decades before another group of skilled students takes a crack at leaving a mark of their own.
"It's going to be pretty neat driving through Stanton in 10 or 15 years and seeing those banners hanging," said Bernhardt. "We'll be able to tell people that we were the ones who made those."