Learning in a Winter Wonderland: O'Neill Elementary decks the halls with holiday spirit
Learning in a Winter Wonderland: O'Neill Elementary decks the halls with holiday spirit
Monday, December 20, 2021
By Tyler Dahlgren
When a simple door decorating contest turned O'Neill Elementary into a winter wonderland, with snowmen, bright lights, colorful trees and cheery music, principal Jim York wasn't surprised.
When it comes to kids, his staff doesn't tend to go about things halfheartedly. They certainly weren't going to underdo Christmas.
"Let's go big or go home," fifth-grade teacher Crystal Shoemaker remembers saying when her principal pitched the idea, which originally was offered by a student. "I said, 'If we're going to decorate our doors, why don't we just do the entire hallway?'"
York set December 6 as a target date of decorative completion, but heard giggling from the fifth and sixth-grade wings on the Monday after Thanksgiving, which students had off while the teachers participated in their professional learning communities.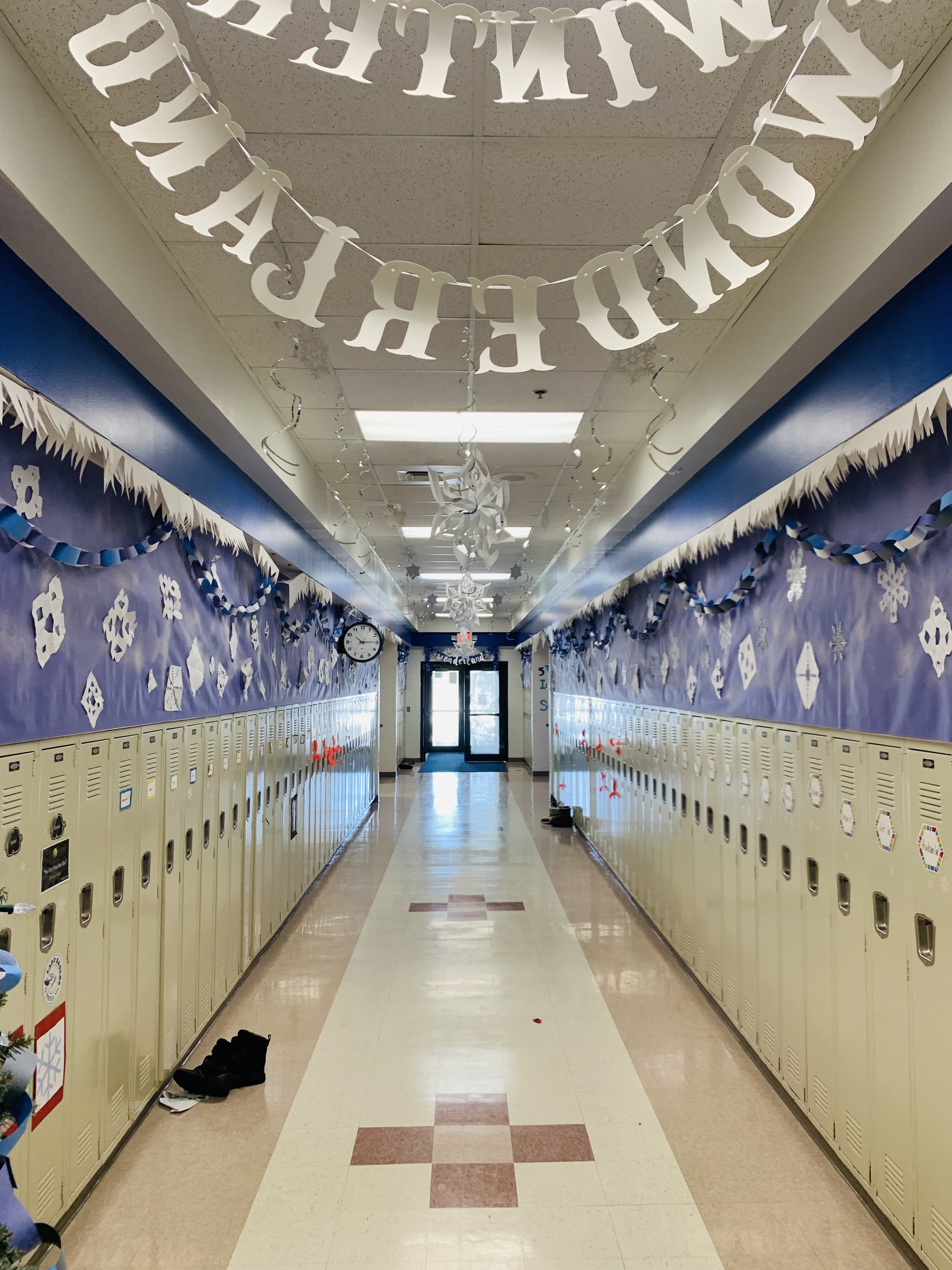 "I get around the corner and the teachers are decorating the hallway floor to ceiling," York said. "They said, 'If we're going to do this, we're going to get in the spirit.'"
It didn't take long for the students to get onboard and competition to take hold. Now, with the countdown to Christmas in the single digits, spirit is unescapable in the school. There's snowflakes hanging from the ceiling and snowmen meet visitors at every turn. Each hallway and each door is unique, as are the classic holiday jingles that greet students each morning.
"You can just feel the morale boost," said York. "I feel like we usually have pretty good morale to begin with, but around this time of year things can get pretty stressful. I'm not seeing that as much this year."
Students played a big part in their school's winter wonderland transformation, crafting the decorations by hand. The kindergartners are building snowmen that stand their height and the preschoolers even decorated doors for classrooms with multiple doors and the one that leads to the custodian's office, too.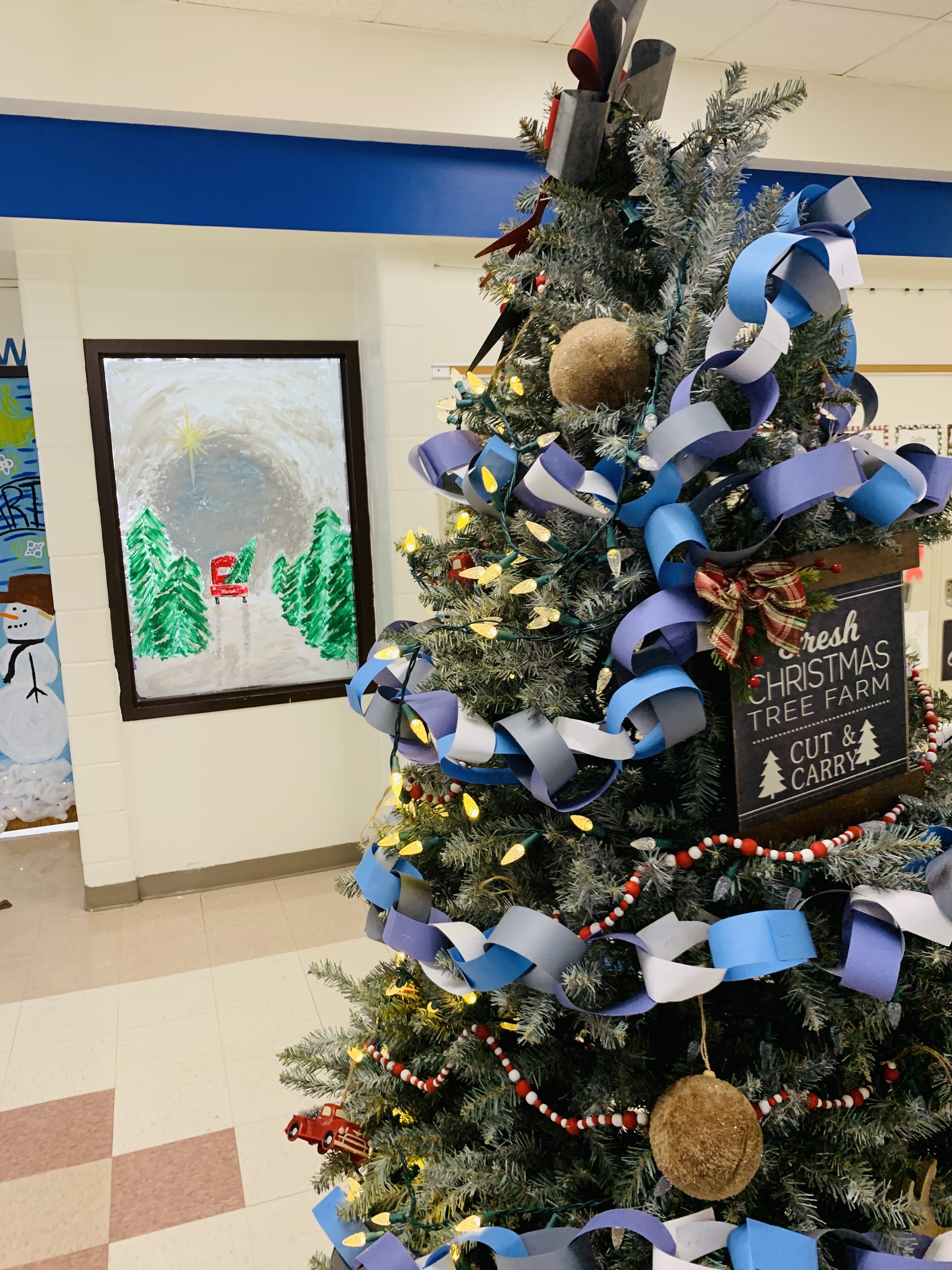 "The two preschool classrooms went around doing these random acts of kindness because they knew their hallway wasn't going to get visited very often, which was cool to see," said York.
The school will stay this way through January, and learning in a winter wonderland will hopefully be something the kids remember for a long time.
"Some kids don't get to see this at home," said Shoemaker. "They don't get this experience, so if they can have it at school, then we want to give them that. School is a safe place for them, an inviting and comfortable place we want them to want to be in. They spend a lot of time here and we want to give them memories that they can remember."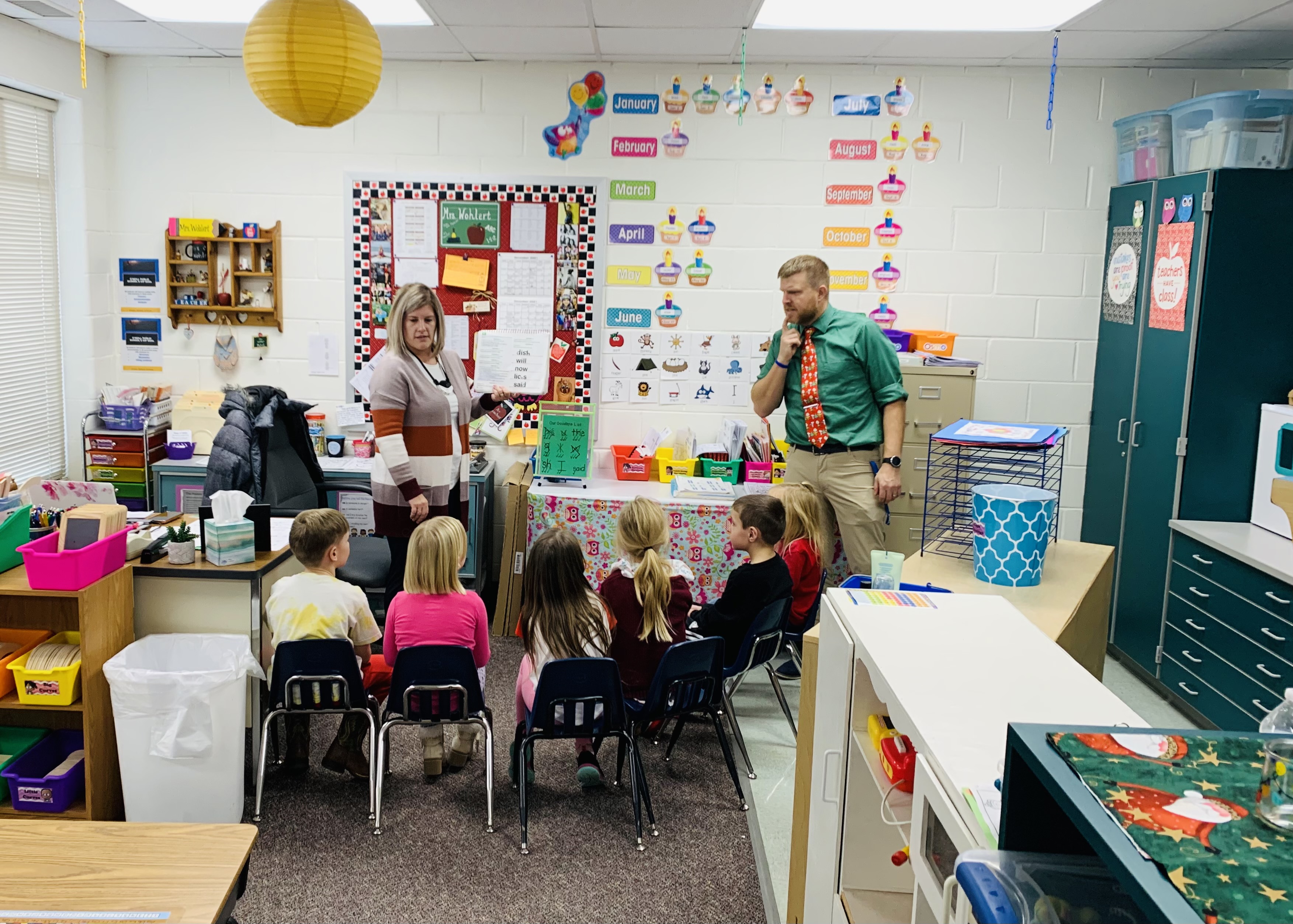 The O'Neill community caught wind of the contest when kindergartner teacher Becky Wohlert put a video out on the school's social media platforms. They were blown away, and York has even given a few tours to community members who reached out after seeing the video on Facebook.
With so many creative options to choose from, York, a big Christmas person himself (see the Charlie Brown tie), has a hard time picking out his favorite door. He got quite the kick out of the one with his face plastered on the Grinch's body. "Mooey Christmas", "There's Gnome Place Like Home", "Chillin' with my Snowmies" and Mrs. Stepp's Elf Photo Booth were great, too.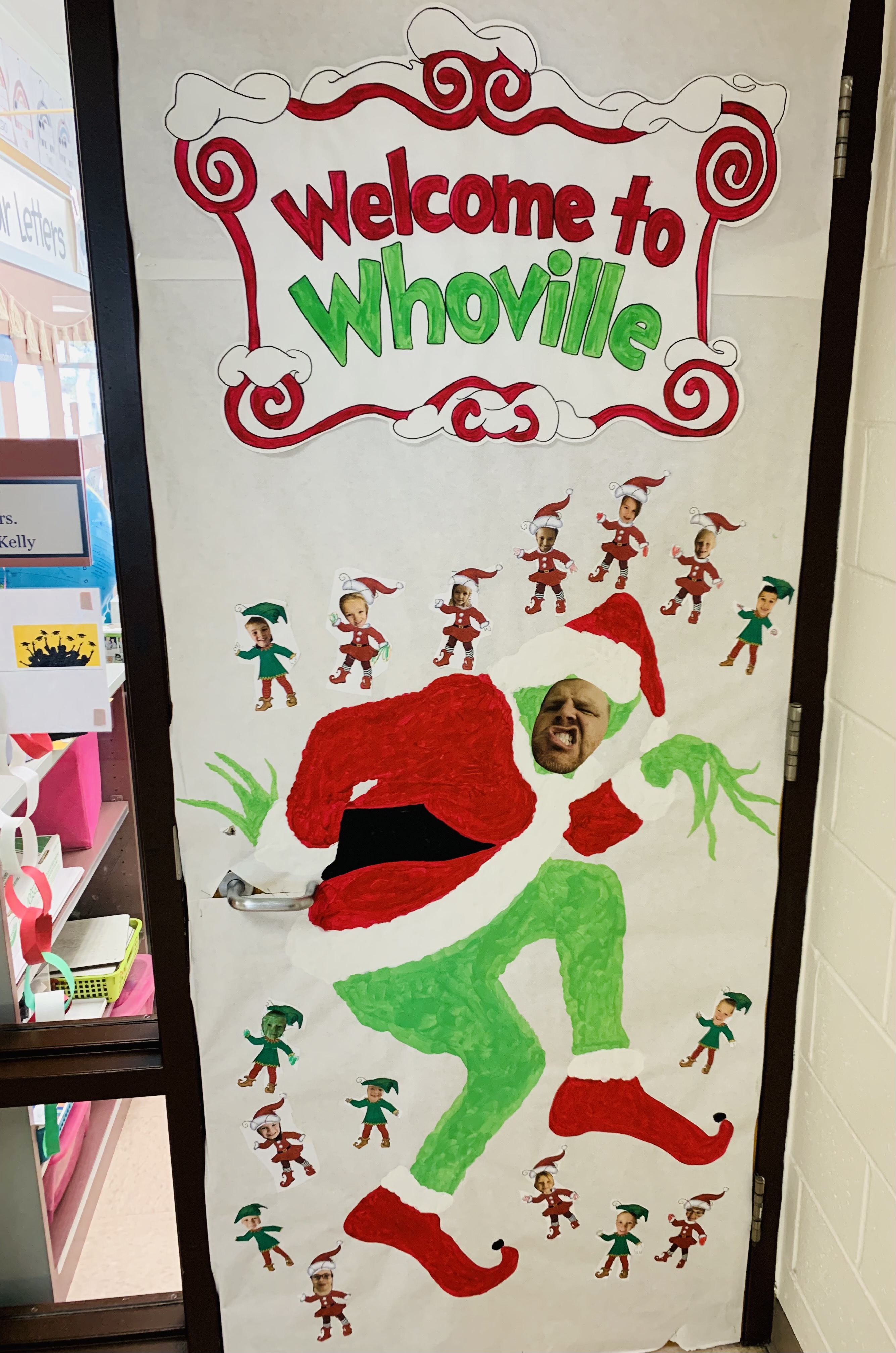 Fifth-grade student Kase Sovotka wasn't as deliberant.
"Our classroom has the best door, definitely," said Kase, who said his school always goes above and beyond to create a fun environment for students. "Our Veteran's Day program is probably my favorite event of the year. This is really fun, too."
"It gets the kids excited to be here," said art teacher Mo Utter, whose "Vincent Van Snow" display shared top honors with second-grade teacher Michelle Tomjack's. "This has brought cheer and helped everyone get into the Christmas spirit. It definitely helped me get in the Christmas spirit."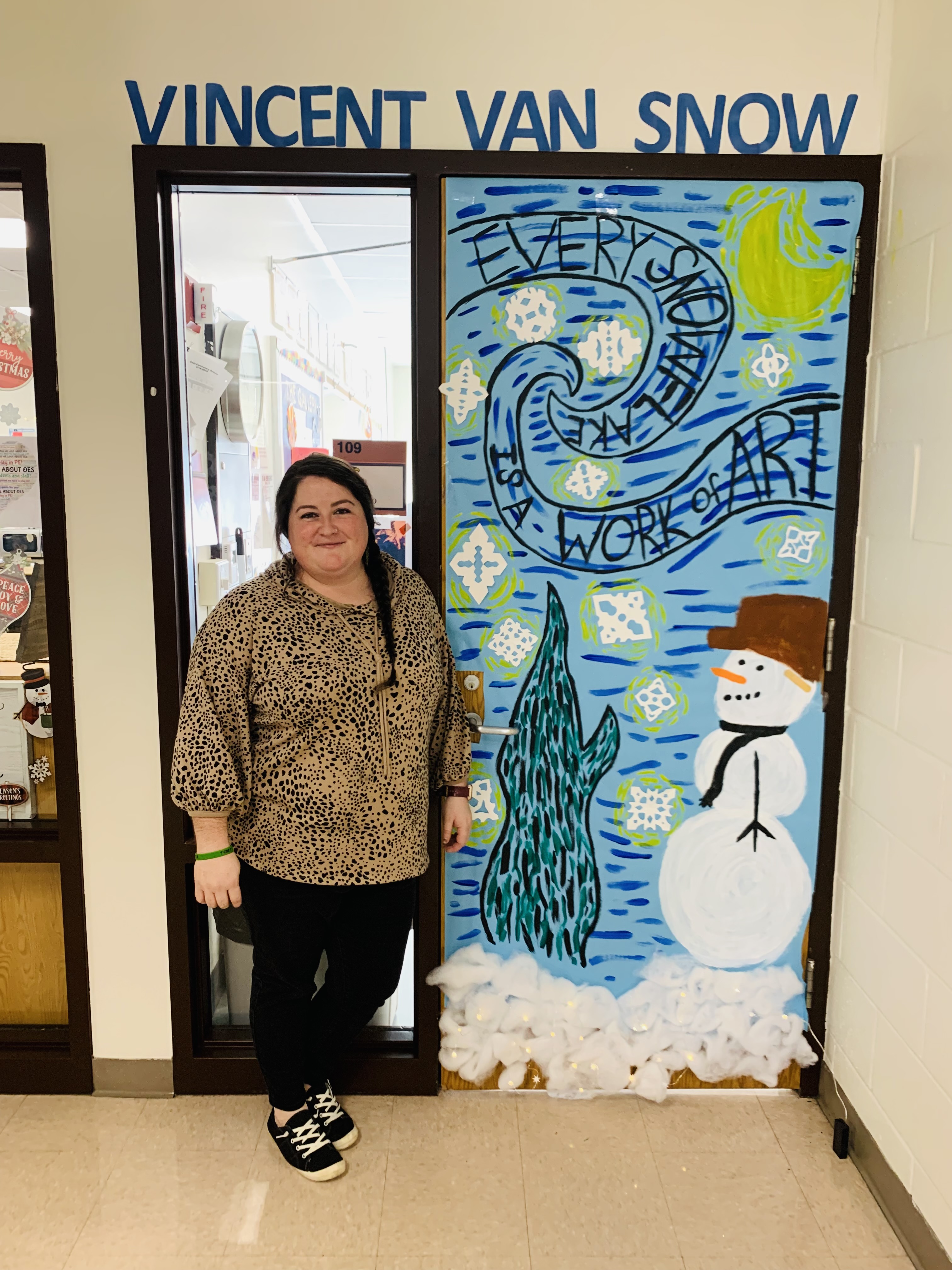 ELL teacher Tricia Wiseman said that competitive spirit spread just as quickly as holiday spirit. The kids would come to school with suggestions on how to enhance their hallway each morning. Another tree here. More candy canes there.
"I'm sure we could have kept going," Wiseman laughed. "This is so fun. It pushes other people to step up their game, too. It's a fun competition."
Children, it's often said, hold within them the magic of Christmas. That might explain why elementary schools are particularly special places come early December.
"We just want to make it fun for the kids, and memorable," said Wohlert, who can't wait to see the contest continue into the future.
In O'Neill, the nostalgia flows like hot chocolate. Comfort, joy and wonder await at every merry turn.
"This is something they can remember forever."