The Kings of Summer: With vacation dwindling, Hastings Little League just kept winning...all the way to Williamsport
The Kings of Summer: With vacation dwindling, Hastings Little League just kept winning...all the way to Williamsport
By Tyler Dahlgren
It's late September, a month since 10 ballplayers from Hastings saw their wild ride to the Little League World Series come to an end, and Hunter Nepple can still close his eyes and feel the dirt beneath his cleats.
"You've never played on an infield that perfectly smooth or grass that perfectly trimmed and green," said Nepple, a shortstop and one of Hastings' ace pitchers. "You walk out onto the field where every game you've ever watched happened, and you almost have to pinch yourself."
Williamsport, PA is the Mecca of Little League baseball, a place that no Nebraska team had ever reached before Hastings went on their run. A string of thrills and nail-biters, poise and jaw-dropping highlights that folks in this Central Nebraska town of 25,000 won't soon forget.
"We played as good as we could play, and we made it a long way," said Nepple.
The moment "Back to School" ads started taking over television and radio waves, the boys could feel their summer vacation dwindling. When swimming pools close up shop and the calendar flips from July to August, kids across America have long wished with all their might for a couple extra weeks of leisure.
Hastings Little League cracked the code.
Refusing to let summer slip away, the All-Star team started winning. They took districts. Then they won state. The community followed along as the team battled through regionals in Indianapolis and erupted with joy when right-fielder Jude Johnson made a highlight-reel snag in the bottom of the sixth to clinch a win over Iowa and a spot in the LLWS. The team would blank South Dakota 6-0 to claim the regional title the next day.
"Man, was it a really cool experience," said shortstop/pitcher Kowen Rader, who, like Nepple, is in the 7th-grade at Adams Central. "I wish every single kid who plays baseball could experience it."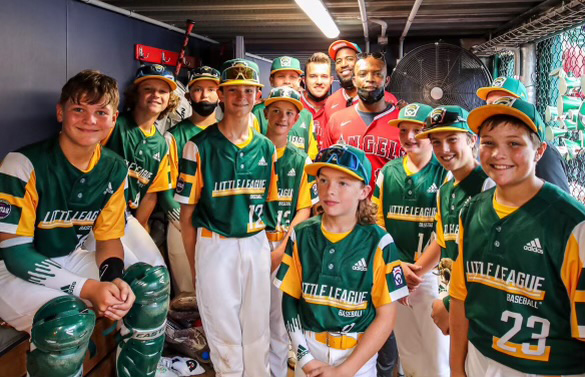 ---
Back home, Adams Central Middle School began the new school year with a handful of empty desks. A week later, Hastings Middle School did the same.
After operating for 18 months in a global pandemic, formatting a continuance of learning plan with a positive twist was a welcomed change-up. Students were equipped with Chromebooks (one of the pandemic's silver linings, added Hastings Superintendent Jeff Schneider), and study time was built into each day.
"After dealing with COVID, this situation was great," said Adams Central Superintendent Shawn Scott. "It was very simple because of the structure we have in place."
Communication was key. Both Scott and Schneider praised parents for working so well with the schools while the boys willed their way to Williamsport. It helped, too, that the schools had a closer of their own working in the bullpen in Shannon Nepple, Hunter's mom and Assistant Principal at Adams Central Elementary.
"She kept me very well-informed and she really was kind of the 'Mama Bear' on the homework side of things, just making sure the kids were staying on top of things," said Scott. "When the kids came back, they weren't three weeks behind in class. They could get things done out there, maybe not everything, but they didn't fall way behind and that was a huge positive."
The trick for Hastings Middle School was bringing their four students up to speed once the tournament ended. Players in the sixth-grade returned to a new school, one they hadn't even toured yet, with new peers (Hastings Middle School is a melting pot for students moving in from five different elementary schools in the district) and new teachers.
"How we welcomed them back and how we made them feel comfortable was a big deal for us," said Schneider, whose district held a 'Hat Day' to celebrate the return of the new hometown heroes. "Our teachers were outstanding. They laid out the essential things we needed the kids to do, and then gave them time to do it. I didn't hear one complaint. We've gotten used to kids missing school for reasons out of our control. This one was a positive. They embraced it."
Shannon Nepple served as the go-between, a communication portal connecting parents and coaches to the school, though strict COVID protocols made that job more difficult than anticipated. Though their days in Williamsport were busy, the boys were students first and baseball players second.
"Every single break we had we did schoolwork," said Rader, whose dad, Dustin, coached the team. "We didn't want to fall too far behind. We got a lot done. When we came back, obviously we were a little behind, but we worked hard and our teachers worked hard to get us caught up."
The hard work was a small price to play for memories that will last a lifetime. Their schools knew that. Heck, they were as tuned in as anybody, even showing ESPN during lunch periods and other down times.
"Our teachers were really helpful and awesome," said Hunter Nepple. "They knew this was a once-in-a-lifetime experience."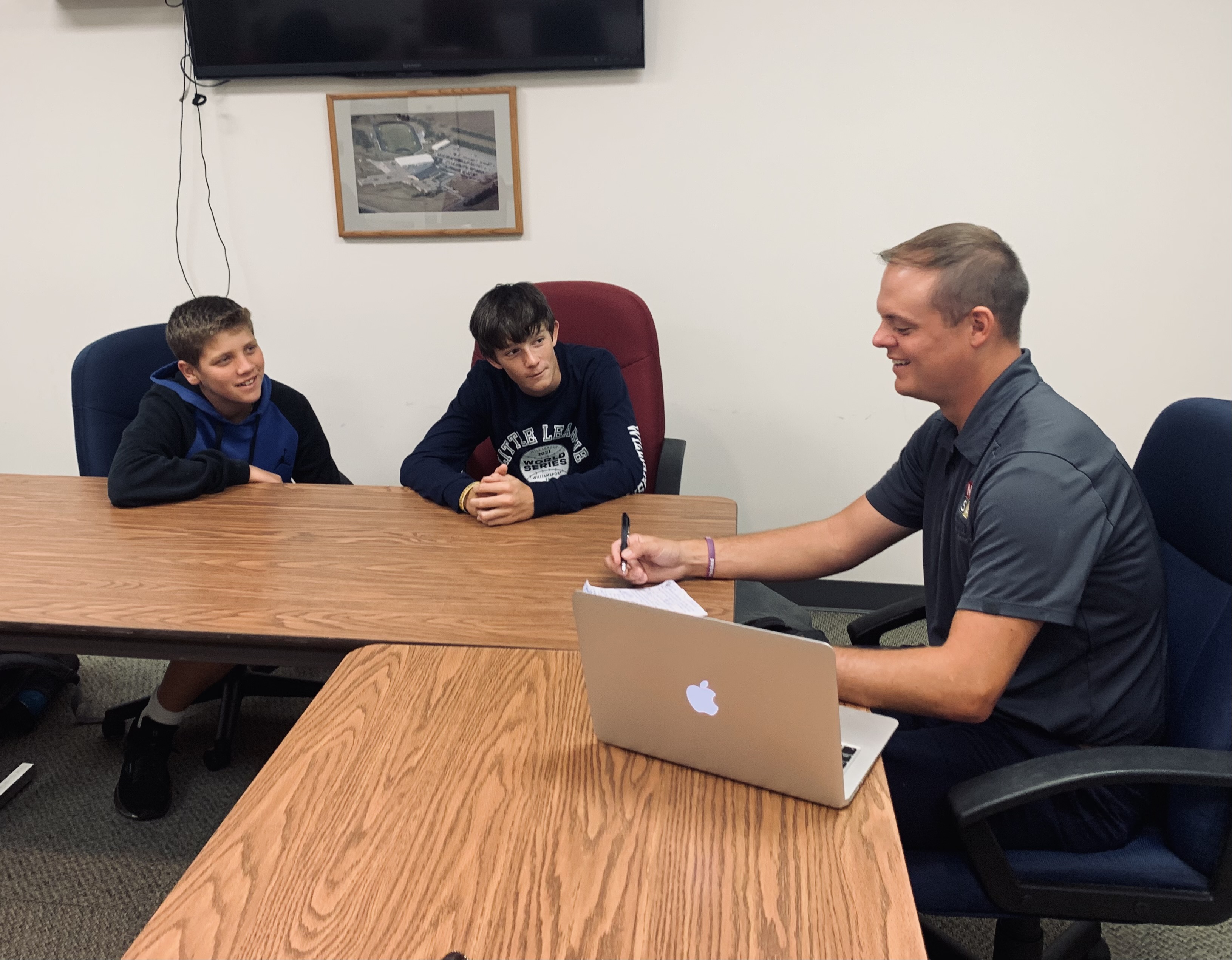 ---
The team from Hastings and its caravan may have set up temporary residence out east, but they continuously felt overwhelming support from the Heartland.
When 60 middle school students congratulated the team after the Regional title over Face Time, the boys couldn't believe it. When video messages of support came in from Nebraska pitcher Drew Christo, Drew Smith of the Milwaukee Brewers organization and Husker legend Joba Chamberlain, they were speechless.
When the quarterback of the Nebraska Cornhuskers quote-tweeted Johnson's miraculous catch with 'You love to see it', their jaws hit the floor. That's right, even Adrian Martinez was on the bandwagon.
"There was this video of the Husker football team cheering us on after one of their practices," said Hunter. "That was pretty sweet."
Kowen said the team couldn't have made it as far as it did without the support of Hastings. The hospital purchased the team jerseys, which were printed by Small Town Famous, a company that also gifted t-shirts and hydro-flasks to the players. The museum broadcasted a few games and hosted watch parties.
"I don't know if they understood the magnitude of the whole thing, and I'm not sure if we do today," said Shannon Nepple. "The other night I had someone come up to me and give me a hug and say 'Thank you for giving us something to look forward to!' I don't even know, as players and families, if we fully understand how much support we had behind us. It was incredible."
The players felt that support, often when they needed it most. That's a long time away from home for 11 and 12-year-olds, but they felt a piece of home was with them throughout the entire journey.
"It was so cool to see Hastings and the entire state cheer us on through everything," said Owen Ablott, a 7th-grader at Hastings Middle School. "I don't think a lot of people were expecting Nebraska to go all the way. The people back home cheering for us was a big reason why we were able to."
There may be more than one school system in Hastings, but there's only one community, and it had never been prouder. Everywhere Schneider and Scott went, whether it was a Rotary gathering or a school board meeting (which the districts periodically hold together), people buzzed with excitement.
"They were asking 'Hey, when's the next game? How are the kids doing?'' said Scott. "It was fun. The kids probably came back with egos that were a little inflated, but how many kids in our community have been on ESPN? It was well-deserved."
Speaking of ESPN, Scott said the network did a superb job in allowing the personalities of the players to shine through the screen. Filming the production clips was a blast for the kids, and what you saw on television is what teachers at Hastings and Adams Central see every day in the hallways.
"They're great kids," Scott said. "They always have been outgoing and very involved. They're all friends. They come from the same neighborhoods. They grew up together. This just showed that it doesn't matter where they go to school, we're one community."
Or, as Shannon Nepple puts it, one big family. If it were any other way, the team from Hastings would have never made it to Pennsylvania.
"Everyone kind of had their moment along the way, and everybody was so happy for everybody," she said. "They rooted for each other. We came together as a team, as a community and as a family."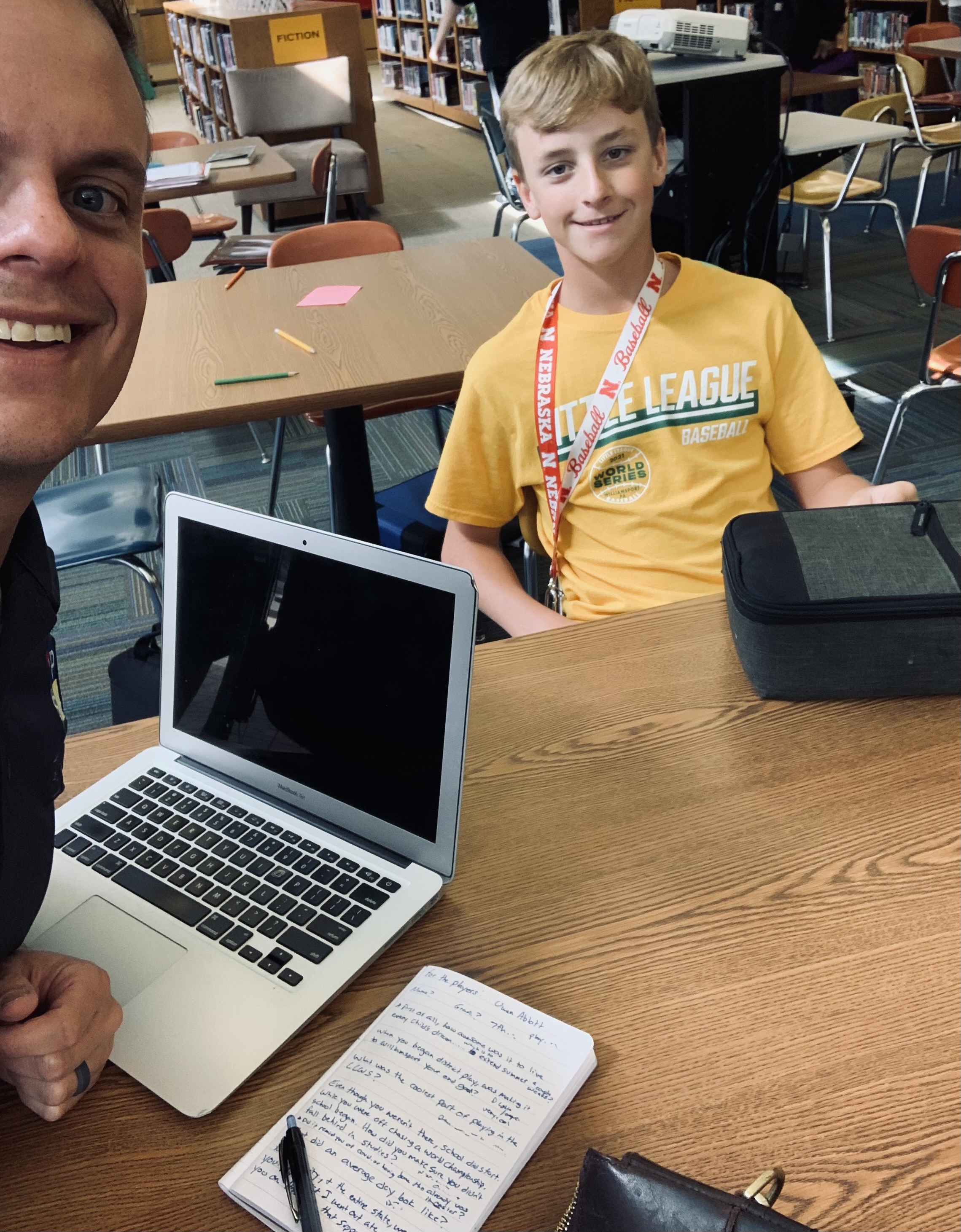 ---
The days were long, filled with anticipation and, because of the pandemic, not much else to do.
In Williamsport, the players would study, eat, practice and play video games. The campus offered other forms of entertainment, but a kid can only play so much ping pong. There was a whole lot of time to get to know one another.
"We grew to be so close," said Rader. "When one of our teammates felt down, if they were missing their parents or families, we tried to be there for them in any way we could."
With each memorable game, the stage grew larger. Plays like Johnson's web gem and Nepple's clutch three-run bomb to tie Hawaii in the bottom of the sixth were immortalized in the social media sphere. The boys met Mike Trout and Franmil Reyes and learned to handle press conferences and bright lights.
"My dad said we came to Williamsport little boys and left Williamsport young men," Hunter said.
They met hundreds of people on their historic run, one that every little leaguer who laces up the cleats dreams of. In a month's time, they grew not only as ballplayers, but as human beings, too.
"Those lifelong skills of meeting new people and having those unique interactions, I think they'll carry those with them forever," said Shannon Nepple. "As a parent, I hope they look back and say 'We were able to respond to that pressure and overcome it, because that's what life is about.'"
It was important to the players to represent Hastings, and Nebraska, the best they possibly could.
"We went there representing ourselves, the Hastings community and our home state, which was really cool but also really nerve-wrecking," said Rader. "We just went out and played for each other."
After falling to Texas in an elimination game, the 10 ballplayers from Hastings finally returned home. They wore their jerseys on their first day of school, received plenty of congratulations and pats on the back, and then began the transition to normal life.
"We joked that we need to come together every five years for a reunion," said Shannon. "It's hard after being with a group of people so closely for so long. But we'll always have that connection. I'll use Owen as an example. No matter what, I am always going to be an Owen Ablott fan. Even when Hastings and Adams Central play each other and he's on the other team, I'm always going to cheer for Owen."
After a 2-2 showing in Williamsport, summer finally slipped away. A summer 10 boys from Hastings, Nebraska will carry in their hearts forever.
"We're still calling each other brothers," Rader said. "I'm sure we'll always call each other brothers."
With all that said, Hunter Nepple had a confession to make when his family pulled in to Hastings.
"I told my mom, 'I don't think I'm going to have any sleepovers any time soon.'"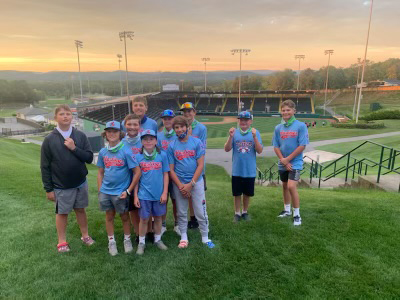 Players on the Hastings All-Star team that reached the Little League World Series in Williamsport are, in no particular order: Owen Ablott, Owen Brown, Braeden Dyer, Peyton Drake, Jude Johnson, Jude McCoy, Hunter Nepple, Kowen Rader, Caleb Reiners and Benjamin Wibbels.