The Kindness Tree: Boone Central Middle School Student Council Spreads Positivity, Holiday Cheer with Heartwarming Idea
The Kindness Tree: Boone Central Middle School Student Council Spreads Positivity, Holiday Cheer with Heartwarming Idea
Friday, December 18, 2020
By Tyler Dahlgren
While sitting in class one day not too long ago, eighth-grader Dayna Sharp's mind wandered where minds often wander this time of year.
"I was thinking about Christmas trees," Dayna said. "I know, it's kind of odd."
She thought of the holiday season and the cheer we're so used to spreading as the calendar turns to December and Christmas music starts to take over radio waves. She thought of this unprecedented year, of 2020 and the challenges that have made high spirits a little more difficult to come by.
"You never really know what people are going through," Dayna thought. "Everyone has different things going on in their lives, and some are really good at hiding the things that might be bothering them."
The president of Boone Central Middle School's Student Council wanted to come up with a way to help those people.
"Even the smallest acts of kindness can make a huge difference in somebody's life," she said.
To the Student Council, she turned. A large group of big-hearted sixth, seventh, and eighth-graders with a history of extending every single helping hand available. A culture-defining council of students who every year honor lunch ladies and janitors and bus drivers with their own days of appreciation and every November pen dozens of letters of appreciation to Veterans.
"With everything going on, we know there are people fighting silent battles every day, and we wanted to make sure they know we are here to help them," said eighth-grade student council member Hannah Krohn.
So Dayna took her master plan to the group, and, before long, the "Kindness Tree" came to life. A Christmas tree decorated with ornaments each containing a hand-written positive message intended to brighten a Boone Central Middle School student's day. Any student who takes an ornament off the tree then replaces it with words of encouragement of their own.
It's a heartwarming cycle and a fresh, difference-making idea from a special collection of students.
"This group is really unusual," said social studies teacher and Student Council sponsor Chris Grundmayer. "They have taken initiative and I just kind of make sure their ideas come to life. They wanted to do the Kindness Tree, so I dug the tree out of my closet and my homeroom decorated it. The rest was all them. They made it work."
This Student Council, 19 members strong, has a history of doing so. The ample opportunities available to make a positive impact is why students join in the first place.
"I wanted to be in Student Council because I thought it would give me the chance to make a difference in my school," said sixth-grader Katelyn Curry. "I can help my peers and I felt like I could bring good ideas to this school."
Clay Sandman is an eighth-grader who is in his third year serving on the council. He loves Boone Central Middle School, located in Petersburg, because of the smaller class sizes and the camaraderie that exists between the student body.
"It's nice to be able to make a difference in the school and for our students," Clay said.
Edwin Aranda spearheaded a school-wide TikTock challenge this year to boost school moral, handing out prizes to the top dance routines and candy to all who performed. He's been in other schools before, but none like Boone Central.
"Everyone cares, and we have so many traditions and things we do that I haven't had in other places," Edwin said. "I wanted to join Student Council to help the students here have a voice, to listen to their requests and to be a helping hand when they might need one."
Kindness extends far beyond the Christmas tree, too. Treating one another the right away is an integral part of what the Student Council pushes throughout the year.
"We value kindness in our school because we don't know what everyone is going through," said Brittany Sup. "Everyone deserves to have a nice experience in school."
Grundmayer said the group is living leadership every day.
"What is going to be cool is when these kids go on to be leaders in our community," she said. "Leadership is a life skill they will never forget."
The Student Council will soon deliver 30 fruit baskets to American Legion members in Petersburg stuck at home because of the pandemic. They just finished tying 20 fleece blankets that will go to patients receiving chemotherapy treatment at Children's Hospital or Bergan Mercy. In response to the pandemic, the group bought everybody in the school Boone Central masks.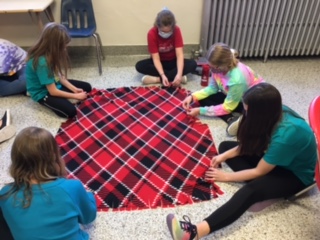 "I love going to school here, being around great people and amazing teachers all the time," said Kaitlyn Krohn. "Even when I am down, they make me feel good. It's a great place to be."
Other students take it a step further.
"Our school is like a second family," said Sup.
"There's a special bond here," said Abby Bird.
It's been a difficult semester, but families help each other through everything.
"Being a student in the middle of a global pandemic is kind of crazy," admits Curry. "I will remember how we stuck together. Everything we do is as a team. Everything is made, thought of and planned as a team."
Ideas like the "Kindness Tree" keep the Student Council moving forward. Watching the impact their ornaments have on the student body is the greatest award there is.
"Through all of this, we are still laughing and having fun," said Kailyn Choat. "We've done some neat things and we've stayed positive."
---
Kids in Student Council this year: KayLee Miller, Avery Krohn, Jordyn Donner, Dayna Sharp, Hannah Krohn, Jayla Iburg, Clay Sandman, Kailyn Choat, Zeke Sandman, Ella Fogleman, Brittan Sup, Katelyn Curry, Abby Bird, Max Grosch, Edwin Naranjo Aranda, Autumn Scheffler, Katelyn Krohn,Vanessa Dorie, Riley Nelson