Inside the world of school-based mental health therapists, student wellness sits front and center
Inside the world of school-based mental health therapists, student wellness sits front and center
By Tyler Dahlgren
For Paul Kraus and Scott Walls, a pair of licensed mental health professionals (LMHPs) stationed at ESU 6 Headquarters in Milford with more than 20 years experience each, no day is ever remotely like the one before.
Before we get to their story, it's important to note that "stationed" is a term used loosely when it comes to Walls and Kraus. They're rarely, if ever, stationary, spending their weeks dotting the map while spread out at area schools.
Walls, who extends his services to ESU 4, too, averages about 25-27 student therapy sessions a week. He's all over the place. Kraus can be found in Crete, Norris or Wilber, given the day, and has spent his recent sunrises helping a student who's become school-phobic get ready for, well, school.
For over two decades, the two have lived in the spectral space between school and the mental and behavioral health of students, each having spent a substantial amount of time with Lincoln Public Schools. Before the topic emerged to the forefront of education, when mental health in schools was but a blip on the radar for a general public that was exposed to nothing, they saw everything.
"We've seen a higher level of concern recently, and school staffs who weren't necessarily looking at it then definitely are now," said Walls. "The biggest discrepancy has come in people being vocal and saying there is a need."
For someone who has made the mental well-being of students his lifework like Kraus has, the destigmatization of mental health, not just in the school setting, but beyond, has moved at a lumbering pace. Albeit in the right direction.
"It's slow in progress, but it does get a lot of mainstream media coverage anymore," said Kraus.
And while the way we view the correlative impacts mental and behavioral health can have on a student navigating their way through adolescence, kids themselves haven't changed all that much.
"I'm quite impressed with how well kids communicate, with how much they truly understand what is going on around them," Walls said. "I'm always just kind of taken aback by their ability to cope with tragedy and trauma. It's amazing, really."
In the age of social media, students live in a digital world, 24-7, and the effect social media can have on one's mental health is something professionals are examining closely.
"It sure does seem there's more on their plate these days," said Kraus. "You become painfully aware of the power of social media, as well as video games, when you sit down with a kid and ask him questions like 'What do you like to do? What are you into? What do you want to be when you grow up?'"
Kids play Fortnite, and they aspire to shoot to internet stardom. They don't have a favorite TV show, rather a favorite YouTuber. They communicate in ways older generations did not and they're the first generations to exist on platforms that weren't around 10, five, or even two years ago.
Connection is an integral part of any mental or behavioral health service, so Walls and Kraus have to be in-the-know when it comes to this stuff.
"So, anymore, I have wised up and I now ask them 'Who's your favorite YouTuber?'," said Kraus. "Just Old Man Paul, trying to be familiar with what they are. It's important. It tells you something about the students."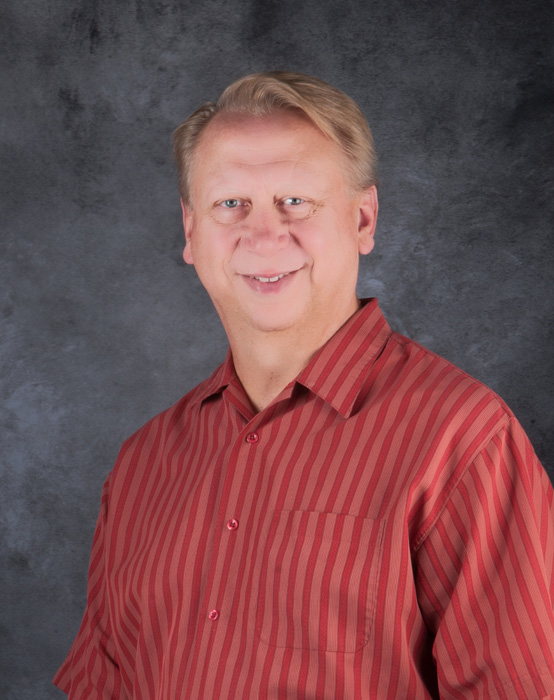 (Above: Paul Kraus)
As for the notion that kids in 2019 don't communicate as well as they used to, Walls disagrees. That's just something frustrated adults tend to say, he said.
"I don't get frustrated with kids," Walls explained. "I get more frustrated with adults who aren't willing to be flexible and understand that mental health is just as real as physical health. If you have a brain, you have mental health, and sometimes it just isn't working. It's not a weakness. It's just being human."
Generally, since Walls and Kraus visit so many students throughout the course of a week, their sessions are brief but effective. Direct and cogent, a strategy that resonates more with young people than a drawn out, hour-long therapy session.
"The beauty and the art of what I do is work with kids in a brief therapy context," said Walls. "What I'm assessing is whether the student has major mental health symptoms. Are they depressed? Are they having anxiety? Are they suicidal? I'm looking at some very major things, and then I look at more minor things that are still impactful, whether they're having trouble functioning in school or they're having trouble with a peer."
There's an element of trust between ESU 6's LMHPs and the buildings they pop in and out of every day. Schools have been fantastic about relaying concerns, said Kraus. Pliability, from both ends, is necessary.
"I do count on the buildings, because they know their students and they refer the students they think are in the greatest need," said Kraus.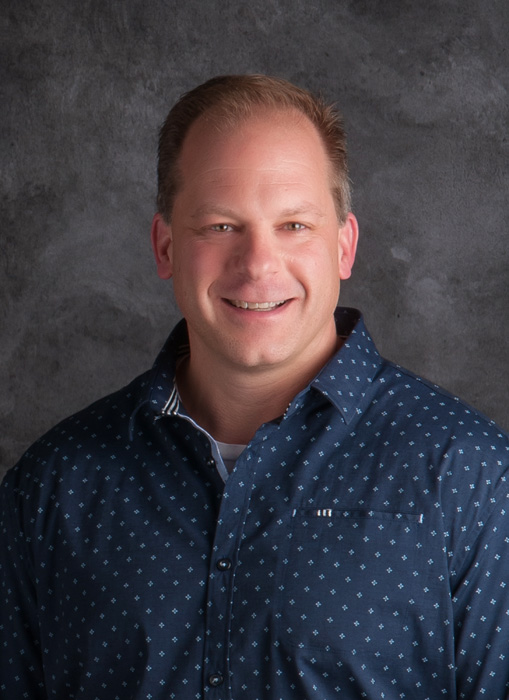 (Above: Scott Walls)
For Walls, the number one priority is seeing students. Logistics, lining up where he spends portions of each day in an order that makes geographic sense, comes second.
"When I'm in a building, I touch base with the staff, and that's important collaboration," Walls said. "It might a principal. It could be a superintendent. A lot of times it's the school counselor. We are touching base about a number of student issues."
The communication component stretches beyond the doors of a school, too. Walls has conversations with doctors and police and parents, the latter being of great importance.
"I try to work with parents as much as possible," Walls said.
Mental health services are offered by ESU 6 at no cost to students, and there are some funds available to help families who have difficulties finding transportation if its needed.
"My services really are more for students that would not otherwise seek out mental health services due to transportation issues, no insurance, money, documentation, those kinds of things," said Kraus.
In their profession, leaving work's problems at work is easier said than done. Like educators, they care about the kids. Some days are heart-wrenching, and there's no way around it.
"I live just north of Bennet, and so even from Lincoln it was a 20-minute drive," said Kraus. "You just kind of decompress, so you can walk in the door and paste a smile on your face and be pleasant to your family. That's important. But I won't say that I can flip it off like a switch."
Mental health professionals have to take care of themselves, too. There's always going to be cases that effect you, Walls said. Kids who are struggling with things you wish you could snap a finger and make disappear.
"You have to make sure your taking time for self-care, whether you're a physician, an emergency room doctor, a first-responder or a mental health therapist," said Walls. "At the same time, it could be nine o'clock at night and somebody might text me needing to talk. That's my job. That's what I do. I find a lot of joy out of doing what I do."
Walls and Kraus do what they do because ESU 6 made a commitment to helping students in their coverage area with mental health needs.
"I feel very supported by ESU 6, and that support has been fantastic, as well as the support from individual buildings as well," said Kraus. "Forward thinking pays many, many dividends for the students in their buildings. They're ahead of the curve, and I do think there will come a day where everyone has reasonable access to mental health professionals."
Kraus points to the relationships he's developed with students and staff as the most rewarding part of his job. He was invited to a high school graduation and watched as two students who had struggled mightily with mental health issues, with self-harm and suicidal ideations, became the first in their families to walk across a stage and accept a diploma.
"They came out the other side incredible and great young ladies," he said. "That made me feel good."
During Wilber-Clatonia's Homecoming Week, a third-grader dressed up as "Mr. Paul" for "Dress as your Favorite Teacher Day". He received the photo in a text and couldn't help but to laugh.
"I was just tickled to death."
Guiding a student through the darkness to the light at the end of a path, no matter how faint the light flickers at times, is what it's all about for Walls.
"At the end of the day, it's about seeing someone move on, whether it's a senior who graduates after a long, hard struggle in school, or someone who was suicidal and now they're not," he said. "Those things are hard to measure at times and this line of work requires patience."
What happens when a student sees the light?
The answer is simple: The future.
And for these two, there's no better feeling in the world.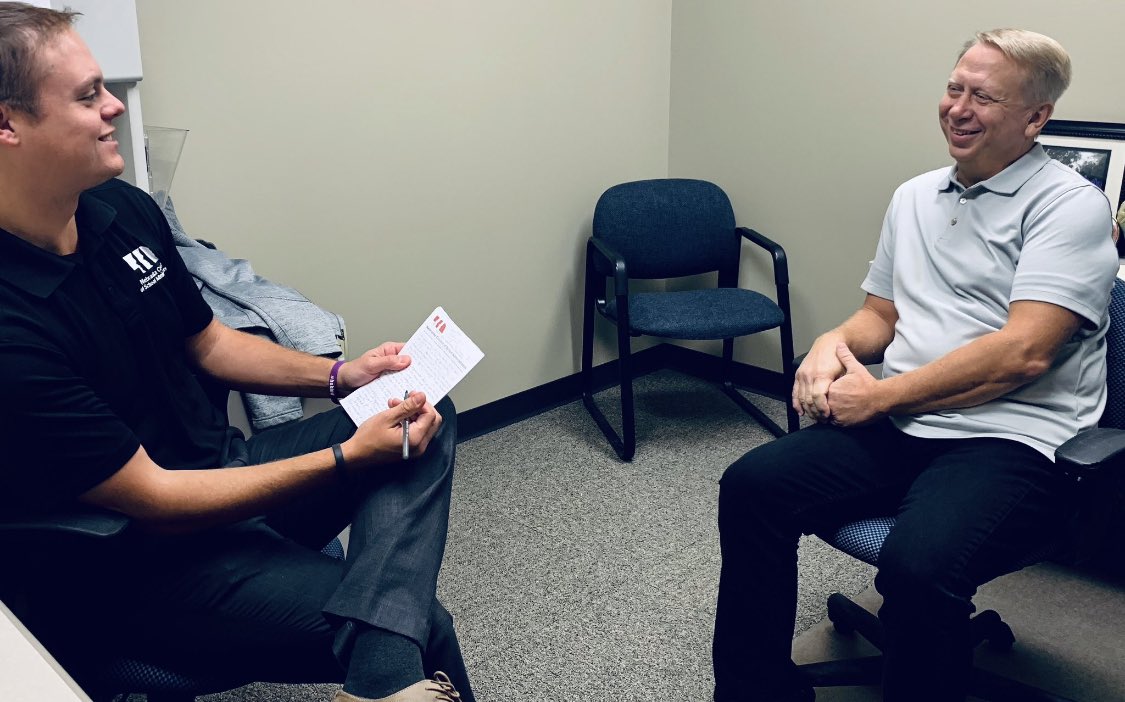 They Said It!
"I don't like when a tragedy happens to somebody I'm working with. Obviously, that bothers me, but if it didn't bother me, then I think there'd be something wrong with me."-Scott Walls
"I deal with a lot of kids, and adults too, who are oppositional. They don't always want help. So seeing them make progress and move forward is really rewarding. Or maybe seeing a school change how they do things because of a suggestion I made."-Walls
"I cover a lot of turf and a lot of territory, and each school is different. Each school has its own climate and culture."-Walls
"My priority is always getting to students. Students are always going to be first."-Walls
"It's already a tough gig getting through middle school and high school. That's already hard, but you start throwing these other things on top, and it becomes really, really difficult."-Paul Kraus
"All students have a special story."-Kraus
"I think schools are a natural place to provide this service. That's where students are. That's where the rubber meets the road."-Kraus
"You can look at the problems of technology, but you can also look at it as being pretty handy. I can have a student text me and say 'Hey, I need to talk', which is pretty helpful compared to the old days when they didn't have the ability to do that."-Walls
To learn more about mental health services being offered by ESU 6, check out the following brochures!