Industrial shop is a world of possibilities for CardinalCAM Industries
Industrial shop is a world of possibilities for CardinalCAM Industries
Monday, November 12, 2018
By Tyler Dahlgren
It's amazing, really, the journey a few hundred dollars and an entrepreneurial spirit can jump-start.
Just ask the crew at CardinalCAM Industries, a Randolph High School-based enterprise that got its start when agriculture and industrial technology teacher Craig Flaming approached his superintendent five years ago with the broad hatchling of an idea.
"Mr. (Jeff) Hoesing liked the sound of it, and there happened to be an old activities account with money left over from 20-some years ago, so they gave us that $400 and said 'Alright, you guys go ahead and make a go of it, and we will support you,'" said Flaming, now in his 10th year at the small school in the northeast corner of the state.
And so, with a CNC plasma cutter and a couple sheets of steel purchased by the school, CardinalCAM Industries had its start.
"There was a little willingness to delve into the unknown," said Flaming.
Great adventures rarely start any other way.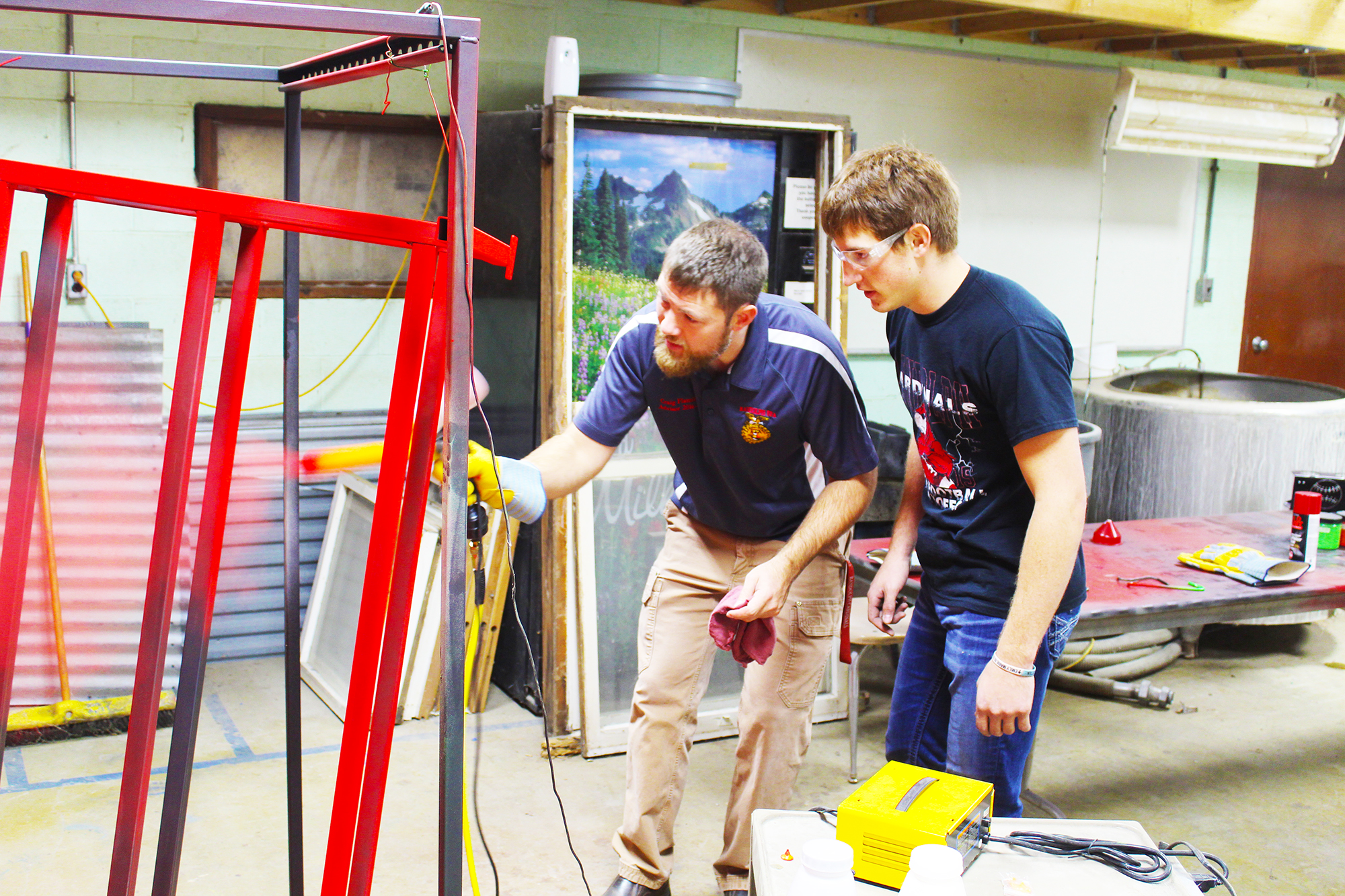 ---
The period starts rather unceremoniously, with six students entering the ag and industrial tech building and immediately immersing themselves in a project. The shop bustles with the sounds of steel being cut and welded, shaped and powder-coated.
Periods are only 55 minutes, and this is a business. These kids have work to do, and minutes are hardly wasted.
"Sometimes by the time you get going, it feels like class is already over," said senior Cindy Haselhorst, a second-year CardinalCAM employee who is spending this particular period designing signage on one of the classroom's several computers.
Drawn to the program by the hands-on learning opportunities it presents, Haselhorst has appreciated the "real-life" experiences she's gained through CardinalCAM.
"Talking to business people, and having to carry on conversations with people outside of the circle I am comfortable with, that has been really valuable," she said. "I have really been marketing and corresponding between our business and the customers we have, letting them know when their signs are ready or answering their questions. I'm kind of the liaison."
Conceptually, Flaming envisioned the student enterprise group as being an encompassing educational opportunity for students, designed to teach life and career skills such as time management, finance and budgeting and sales as well as design and fabrication.
He soon found there was plenty of room for his students to grow in the areas of interpersonal communication and public speaking.
"I would have never guessed ahead of time how petrified students are of talking on the phone," Flaming said. "Even something simple like calling and ordering a pizza is an old concept. This forces students to get on the phone and talk to vendors and customers. That in itself has really been a growing point."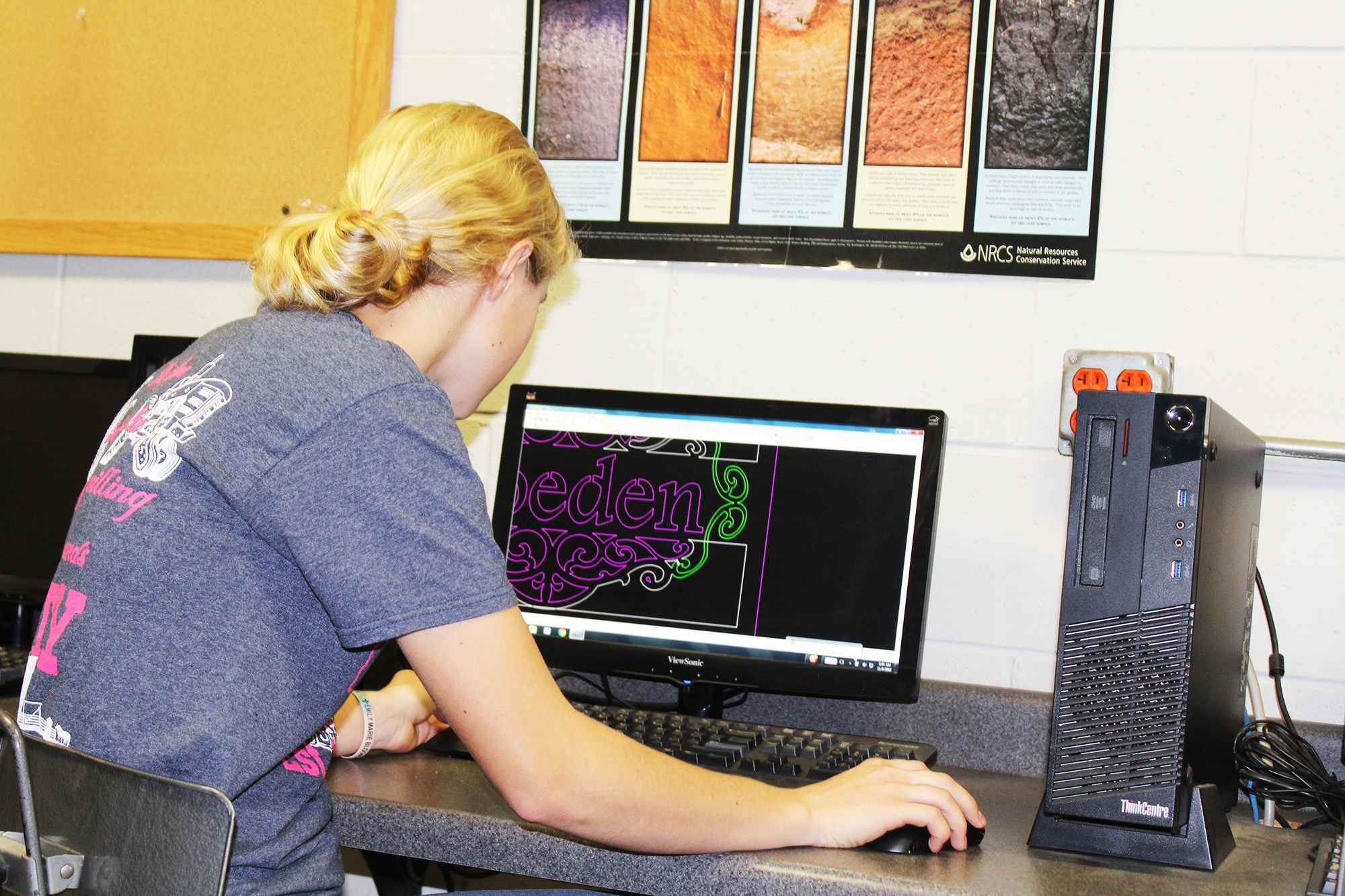 ---
While Haselhorst drafts in the classroom, Flaming and senior Brandon Blomquist use the new industrial-sized powder-coater to apply a fresh sheet of red, impenetrable paint to a basketball rack, one of their recent undertakings.
CardinalCAM Industries has reinvested around $17,000 back into Randolph High School, Flaming estimates, and the ball rack is of special interest to Haselhorst, a forward for the Cardinals on the hardwood.
"The season starts next week, so I've kind of been on the guys like 'Come on, we need to get this ready. If you get this ready by today, I'll bring you snacks,'" she said. "We each have our own personalities, and even though we may disagree sometimes, we always make it fun."
The dynamic in the shop is much like that of any professional setting. The employees hold one another accountable, and push their peers every day.
"It's kind of a competition almost," said Blomquist, who is also in his second year of CardinalCAM. "They get the design made up, we get the rest made up, and then it's a happy classroom."
Blomquist has seen his welding, manufacturing and designing skills drastically improve. He will be graduating in six months, and plans to attend Northeast Community College for the school's diesel technician program.
"This has given us a head start into the real world," Blomquist said.
For Flaming, who rolls out very specific expectations on the first day of class each year, watching the students mature and monitor themselves has been rewarding. The class is run like a business, with protocol detailing how to feasibly fire students , if it ever reached that point, in place. Luckily, that's a bridge he hasn't had to cross.
"The kids, they don't want to be an issue," Flaming said. "We have an evaluation system we do quarterly and if they fall below a certain point they have nine weeks to get their act together. It's the real world. I have had students fall below that mark, but, conceptually, the thought of being fired from CardinalCAM fixes itself."
With this year's crop of employees, Flaming has been able to take a step back. Students like Haselhorst and Blomquist help keep the sailing smooth.
"He has a great bunch right now," adds Hoesing. "They are reliable. They show up when they are supposed to, and they are doing things over there that, as a former shop teacher, are way beyond what I remember ever imagining doing."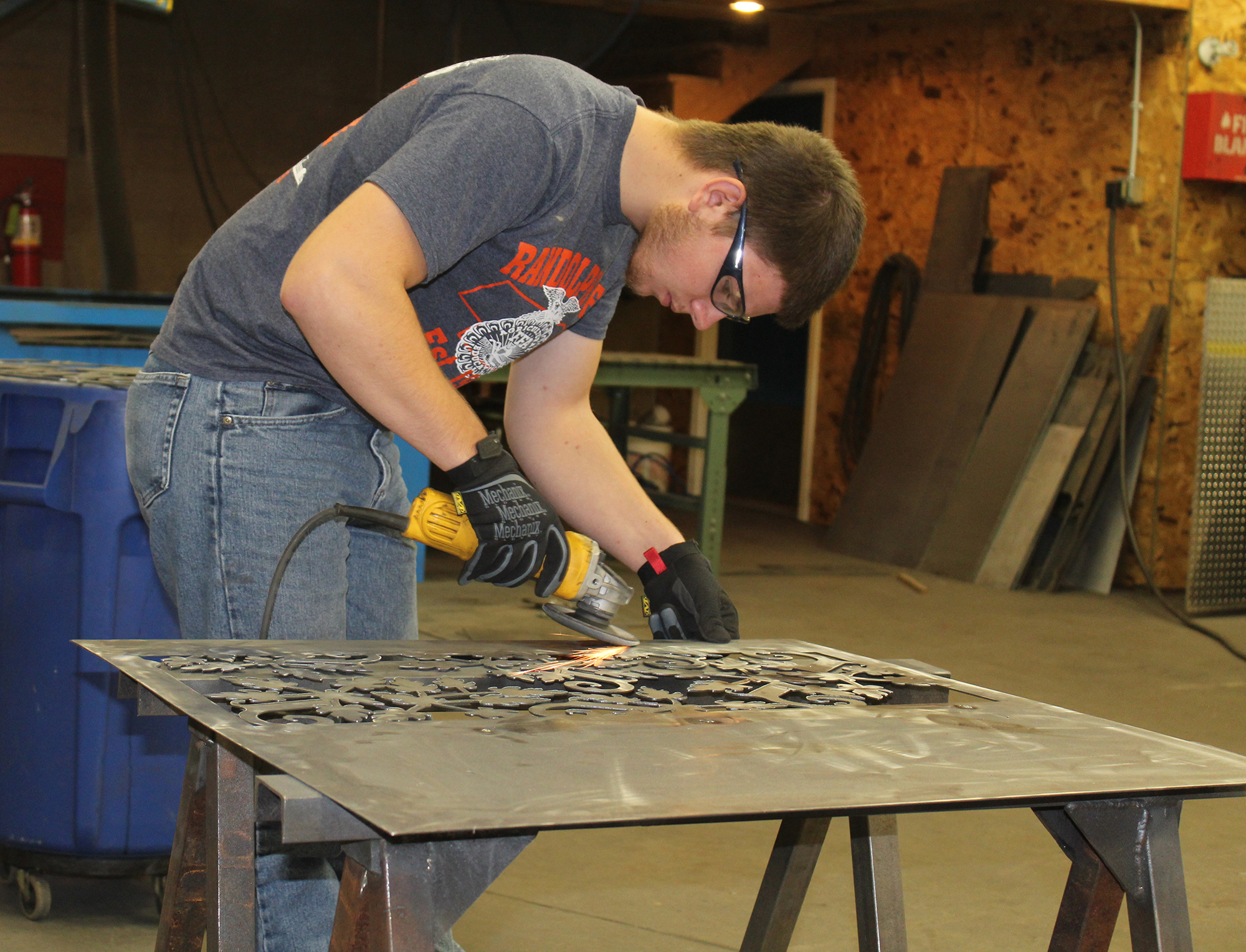 ---
Right off Main Street, you can find the Randolph Volunteer Fire and Rescue Department. Just inside its doors newly-fabricated lockers sit on rollers and store uniforms and helmets.
The project Blomquist is most-proud of, the lockers are magnificent, carefully-crafted and of high quality. The result of CardinalCAM's hard work, they'll be a lasting legacy given to one critical arm of Randolph from another. Flaming, himself, is a volunteer on the fire department.
"To give something tangible back to such an important part of our community was pretty neat," Blomquist, who plays football and wrestles for the Cardinals, said.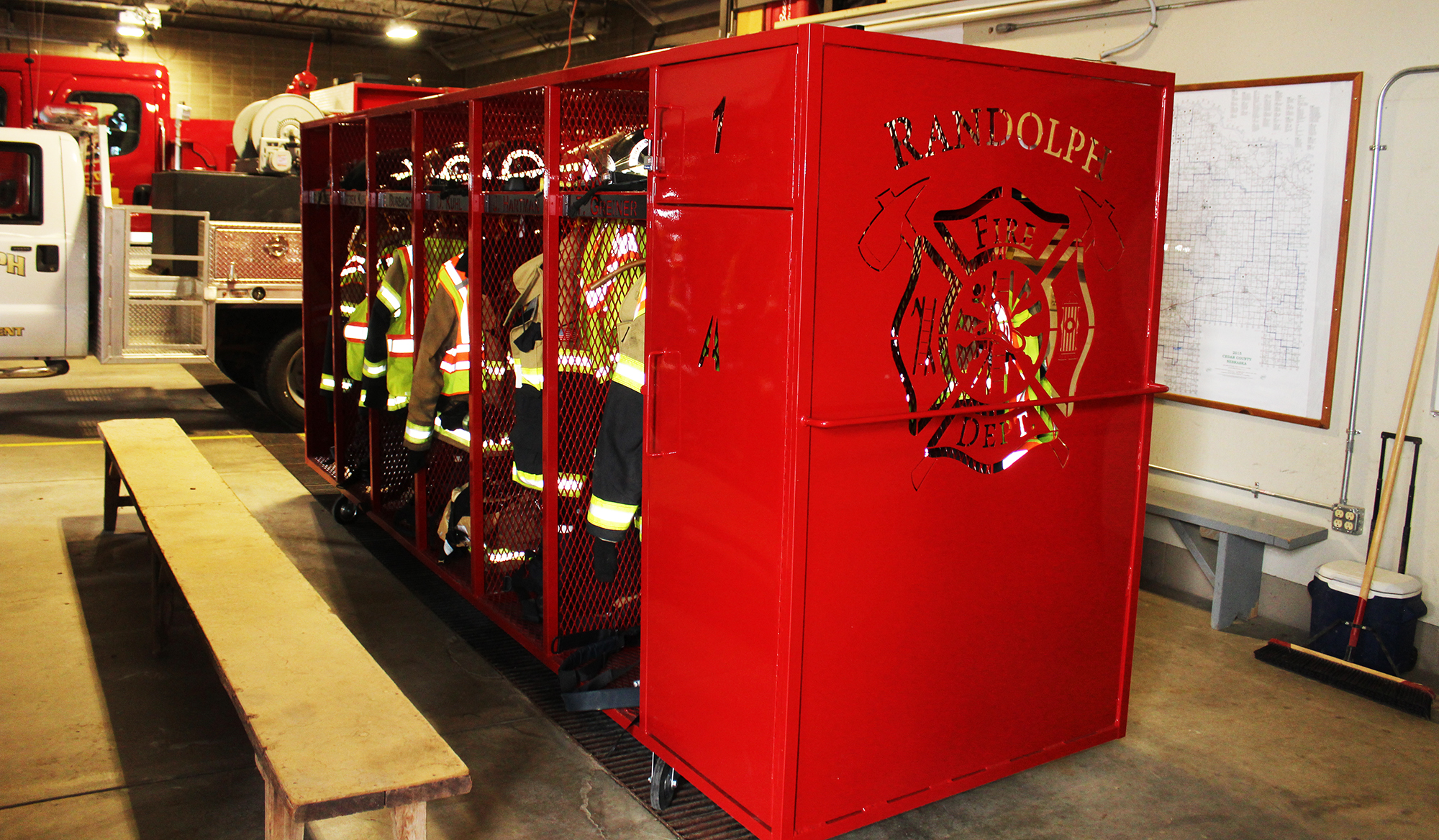 The lockers were so big that they had to be hauled off to Iowa to be painted, a perfect example of how CardinalCAM had outgrown their own capacities. As the enterprise continues to grow, and they have no plans of slowing down, the need for more equipment and resources will persist.
"The good thing is that as we continue to take on income and build our account, all of a sudden we have the ability to buy those machines and that just diversifies us that much more," Flaming, whose group has also received well-timed grants used to purchase the powder-coating system and a spli roll machine, said. "I never dreamed we would grow as big as we are."
The support from his administration has allowed the program to expand to where it's at. At the outset, the electrical system in the building which houses ag and industrial tech was outdated and undervolted.
"We could have very easily just scabbed on a panel and made it work," Flaming said. "But the school said 'You know, with what you're doing, and as you continue to grow, you're going to need the capacity to do so.' So they gutted the entire building and rewired everything. The city installed the three-phase transformer for us."
In all, the renovation project cost around $30,000, which was footed by the school and the city.
"This truly wouldn't have been possible without the administrational support," said Flaming, who mentions Hoesing's time as an STS teacher and his predecessor (now principal) Dennis Bazata's agriculture background as pluses. "I kind of have the right guys in place at the right time."
Flaming guesses that the school-enterprise has invested around $8,500 back into the Randolph community in the way of consumables. Cardinal-CAM's signage is speckled throughout town and the entire Midwest. They've done work for Kinkaider Brewing, other businesses and surrounding schools, who are welcomed to Randolph to check out CardinalCAM.
Haselhorst recently finished a detailed (and difficult) barbed-wire sign that is being shipped out on this day, and beams with pride when walking back through the project.
"It was hard, but I felt like I had accomplished something really, really great in the end," she said. "The community trusts us and that feels good."
She's also noticed her recently-required leadership skills emanating naturally in other settings.
"People notice I am willing to help, and it doesn't matter who they are, I'm willing to do that," she said. "Even with other classes. They'll come to me in the hallway. It's nice. It has made me realize people trust me and feel comfortable coming to me."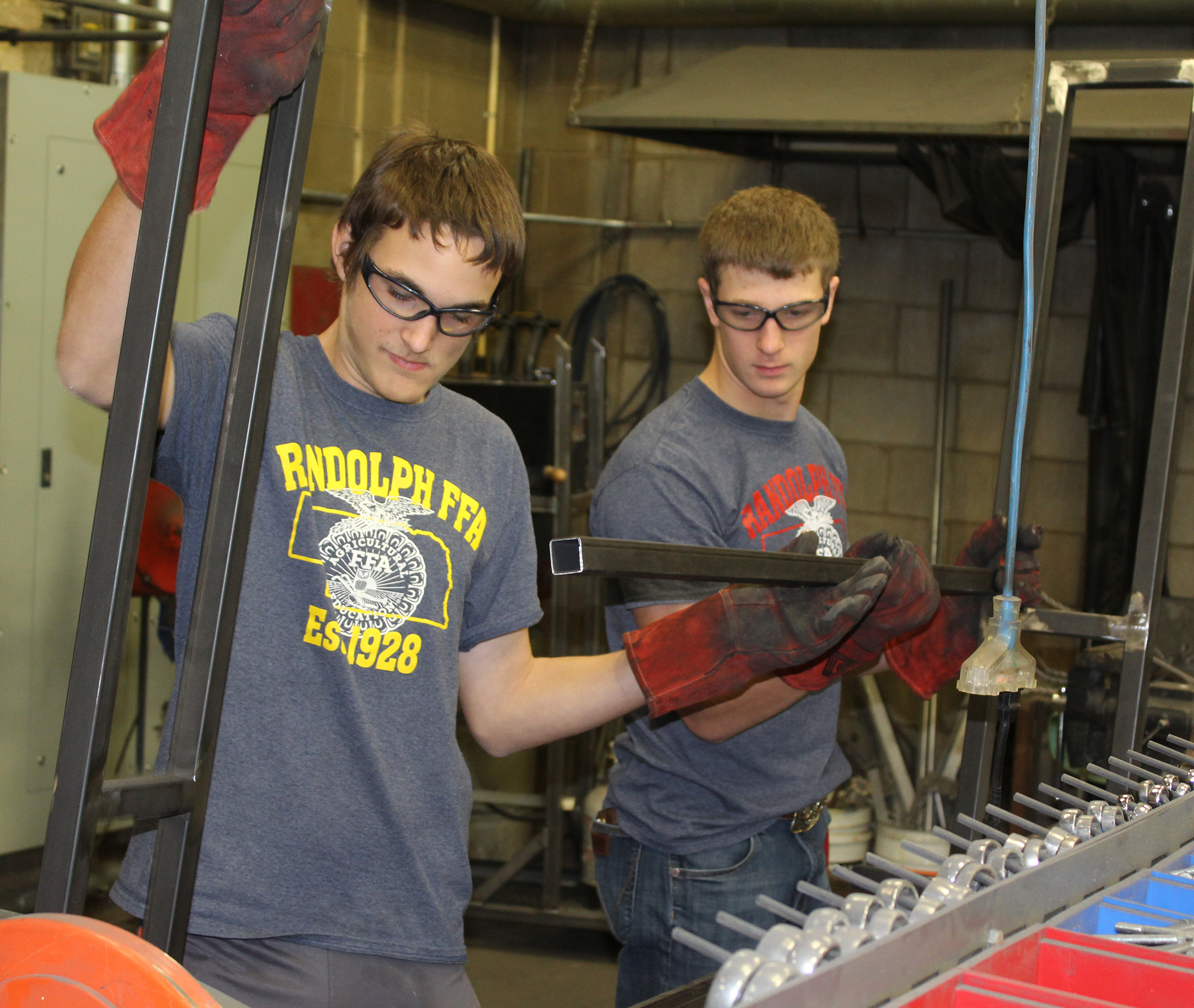 ---
The future for CardinalCAM Industries is an open book, with so much already written in five short years.
For now, though, it's back to work. Their 55-minute window is coming to a close, with still so much left to do.
"We have talked about possible expanding to a second period," says Flaming.
Time flies in the shop, a world of possibilities.