Half a Million Questions and Counting: With IXL, Plainview Elementary students thrive at their own pace
Half a Million Questions and Counting: With IXL, Plainview Elementary students thrive at their own pace
By Tyler Dahlgren
If Sir Francis Bacon's famous 400-year-old proverb that "Knowledge is Power" is, in fact, accurate, then Plainview Elementary is becoming one mighty place.
Since purchasing the IXL program and implementing individualized skill plans at the beginning of this school year, Plainview Elementary students have answered more than half a million questions correctly.
That's not a typo. Actually, it's an undersell. Principal Heather Thompson's students have answered 557,606 questions correctly, to be exact. A whopping 20,479 skills practiced and a staggering 6,791 skills mastered, but who's counting?
Since the school started celebrating their IXL ROCKSTARS, that question has begged another; Who isn't?
"It's been kind of insane, actually," Thompson said of the impact IXL has had in the school. "When we started the ROCKSTARS, I didn't think that it would catch on like it has, but kids are competitive. The minute you announce over the intercom that a kindergartner answered 827 questions in one week, you've got a whole bunch of first-graders set on catching her."
Each week, individual classrooms honor the student who answered the most questions correctly the week before with the ROCKSTAR title. IXL skill plans are highly-individualized, matching up with each student's MAP scores to allow advancement at a personalized pace.
"IXL allows for a lot of differentiation," said first-grade teacher Crystal Hoffman. "Those accelerated learners are working on those third, fourth and fifth-grade skills, which they're very excited about, and the other students are working at their own pace and they're very proud of those accomplishments, too. It's empowering for them, no matter what level they're working at."
For three-week periods, Plainview Elementary focuses on skills in either math or language arts. Students earn a "Smart Score" in each skill, and though teachers don't require perfect Smart Scores, students often pursue 100-percent marks instead of settling in the eighties.
"They want to be perfect in order to answer more questions," said Thompson. "They're pushing themselves above and beyond. It's really fun to see."
There's been an uptick in competitiveness, sure, but also on the rise is camaraderie and student-to-student encouragement. When a student achieves mastery in 10 separate skills, they're rewarded with a trip to the principal's office for a prize and a high-five. Hoffman's class goes together, once every student has earned a certificate.
"We cheer each other on," Hoffman said. "In my classroom, we're a team. They're reminded that they're a team often. If one person on your team does well, then the whole team does well. When we do award our ROCKSTAR, the others are all clapping for that student."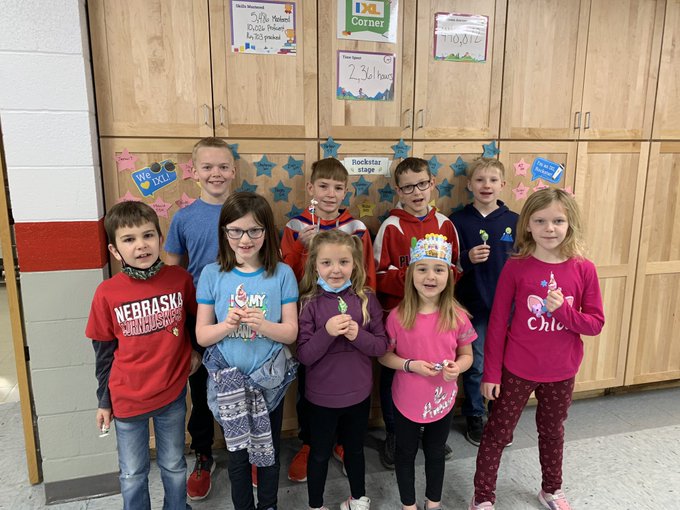 With IXL Live, teachers can monitor when students are working in the program. It's neat for them to see students log time at home working on a skill, especially the ones they maybe wouldn't expect overtime hours from. The program isn't just motivating for the kids, but beneficial for teachers, too.
"It shows me areas where students need to be challenged with specific skills or areas where kids are really lacking and maybe need a little extra help," said fourth-grade teacher Jess Sauser. "It shows the scale of where kids are lacking all the way to where they are being challenged and the in-between, too. That's really beneficial with language arts and math and reading."
The ROCKSTAR program has empowered students at Plainview Elementary, like Hoffman said, and it's also built a deeper learning community within the school's classrooms, an environment of learners helping other learners. That's what it's all about.
"Often times you get a student who has already made it through a specific set of questions willingly step up to help a peer out with a skill," Sauser said. "When they start helping each other, that's really cool to see."
Last week, Plainview's IXL ROCKSTARS answered 5,688 questions correctly. In all, the student body eclipsed 34,000 right answers!
"I announce those numbers and I see the kids come down every week and I don't even know if they understand how much they've done," Thompson said. "It's just astonishing."
If knowledge is power, that's one Herculean effort.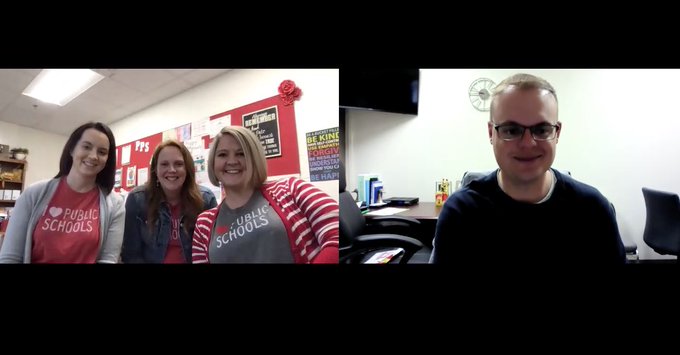 (Pictured above, first-grade teacher Crystal Hoffman, fourth-grade teacher Jess Sauser and principal Heather Thompson have seen IXL and the school's ROCKSTARS program positively make an impact on school culture.)
They Said It!
Heather Thompson: "We are so lucky here at Plainview Elementary. We're the pirates here. So we have the best crew and we are all really in it for the students here. We come to school each day and are here to do what is best for the students. And it's all of us. Crystal's doing what's best only for Crystal's students. And Jess isn't doing what's best only for Jess's students. We really have this model where these are all our students and we want to do what's best for all of our students."

Jess Sauser: "I think, and I noticed this right at the beginning of the year, we have new teachers here this year and I feel like we have this awesome energy in our building and it ricochets to the staff and it goes to the student. There's just this good fire here that just has been ignited. And you can see that daily at school, which is really awesome to see and be a part of."

Crystal Hoffman: "I feel that energy too. I have a lot of energy and I teach with a lot of energy. It's nice. The camaraderie, everybody is in it for each other, and there's a lot of support here. I know that if I have a question, I can go to the administrative staff or I can go to anybody else and they're right on top of it, helping me in any way they can. And the parents are supportive too. I feel like they support their children's education and us as teachers."