The Greatest Assist: Unified basketball game between Ashland-Greenwood and Milford draws big crowd and bright lights
The Greatest Assist: Unified basketball game between Ashland-Greenwood and Milford draws big crowd and bright lights
Wednesday, December 22, 2021
By Tyler Dahlgren
Presley Hobbs lights up when you ask him about the highlight reel from Saturday's unified basketball game between his Ashland-Greenwood Bluejays and the visiting Milford Eagles.
To properly tell the story, though, we first have to set the stage.
A cold Saturday afternoon, one of those days just made for basketball.
A packed gymnasium, where standing room only literally meant there was only room for standing and space to even do that was hard to come by. The smells of popcorn and the squeaking of sneakers.
The varsity Bluejays stood under one basket and led a barrage of cheers while the varsity Eagles occupied the row of bleachers directly behind their unified team and did the same. Those two teams would later square off, but for half an hour the unified game was on the main stage.
The line-ups are announced. The ball goes up in the air and it's on. Game time.
Hobbs, a freshman, cut across the court like a flash before hauling in a pinpoint pass and flipping a left-handed layup with the perfect amount of touch through the nylon net for two points, sending the capacity crowd and both varsity teams into a frenzy.
"The crowd was crazy," said Hobbs, a student with special needs at AGHS. "It was so loud, I could barely hear anything."
It was one of many magical moments Saturday afternoon, and senior Maxwell Bendler couldn't help but smile from the top of the key. Bendler, who found Hobbs wide open for the bucket, is a Buena Vista-bound varsity baseball player. He's played in bigger games under brighter lights, but none were as special as this.
"That was pretty cool," said Bendler. "An assist I'll probably remember for a long time."
Each player on the Ashland-Greenwood team was partnered with a student peer, forming a large roster that stretched the width of the court during the national anthem before tip-off. Practices started a month ago and were held on every Tuesday and Friday.
By Saturday, the players were ready to hoop, but they could have never envisioned an atmosphere like the one the Ashland-Greenwood and Milford communities came together to provide.
"My parents were there," said Bendler. "They usually watch most of the sports I'm not in on Striv, because we have a great Striv team here, but they actually came to this one. It was pretty special."
Bendler helped out in special education teacher (and unified basketball coach) Shawn Emanuel's classroom as a TA. He was one of several Ashland-Greenwood students who committed to the game.
"This is part of the culture, and it's really great," Bendler said of Ashland-Greenwood, one of nine Special Olympics Banner Unified Champion Schools across the state. "There's no separation here."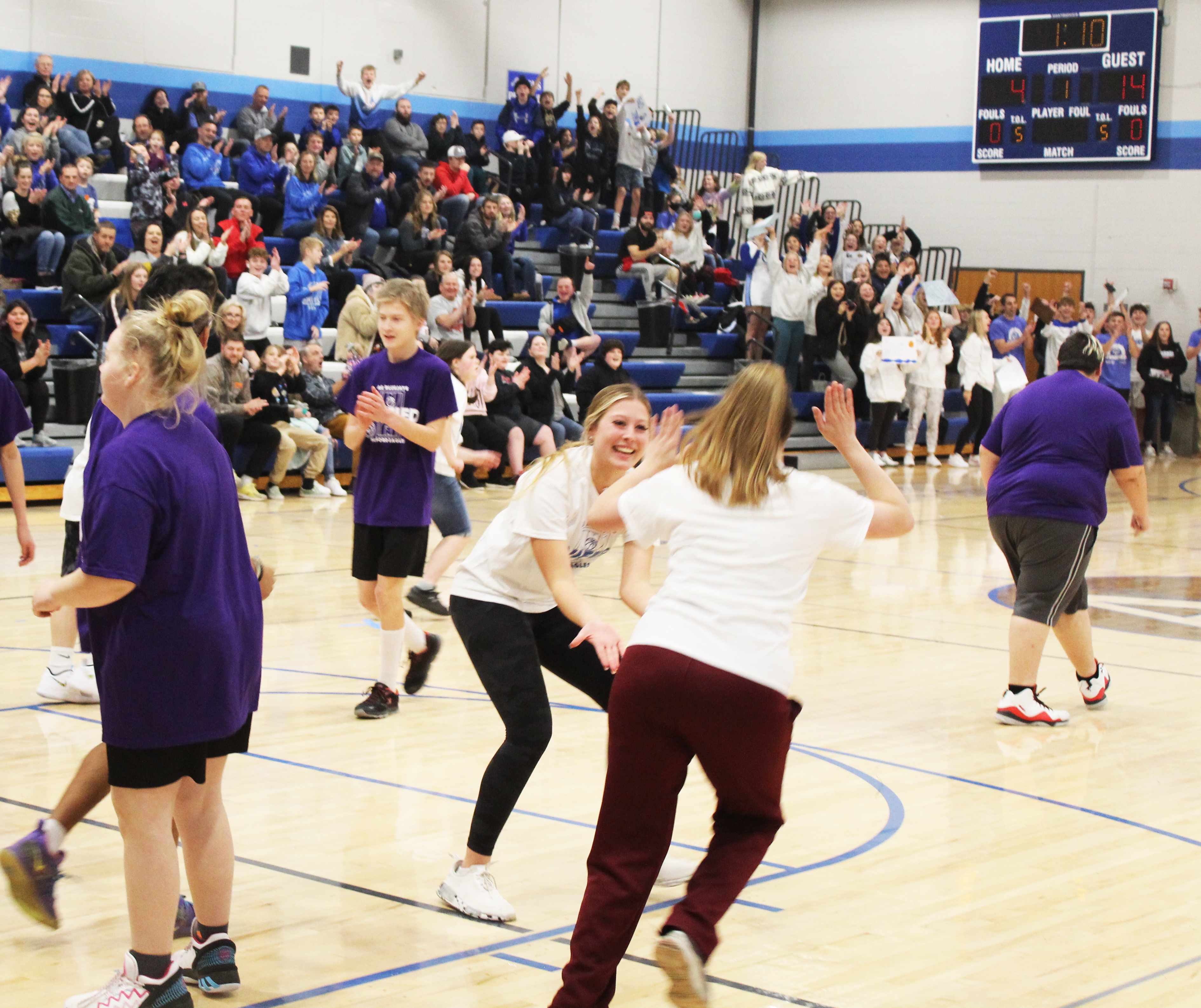 ---
The community has embraced unified sports in a big way, too, showing up by the hundreds for the other Special Olympics events held throughout the year.
Ashland-Greenwood Booster Club bought the athletes popcorn and refreshments after the game while Calvin's Legacy Foundation provided the t-shirts, supplied the food and held a booth in the commons where fans stopped throughout the afternoon to learn more about the organization, whose mission is to raise awareness and acceptance of special needs individuals.
"It swells your heart," said Biff Schofield with Calvin's Legacy Foundation, which honors its namesake, Calvin Dean Curtis, who was born with an undiagnosed genetic disorder and bravely endured his first surgery at six days old and passed away nearly seven years later from complications following his 17th surgery. "You could actually feel the crowd's excitement and support. It was amazing. It truly was."
Set up by Calvin's parents Brett and Jodi, Calvin's Legacy Foundation has raised approximately $200,000 since it was established eight years ago, and every cent goes right back into Ashland or a nearby community. They've purchased handicapped accessible swings for parks and a comfort dog for students with special needs. They've set up two scholarships, constructed an adaptive classroom for AGPS, grilled over 400 hotdogs for a home football game and put on several golf tournaments and events like Saturday's. The school's well-known unified track meet draws competitors from 14 districts each spring.
"For my best friend, it's a way to honor his son every year," said Schofield, a 1995 Ashland-Greenwood graduate himself. "It used to be just once a year, and now it's four or five times a year because we have these awesome events."
Schofield said it's truly special how the district incorporates all kids. It wasn't necessarily like that 25 years ago, when special education operated more in a silo environment. To outsiders, events like Saturday's unified basketball game are heartwarming and eye-opening. To the kids at Ashland-Greenwood, inclusivity is the norm.
"During lunch you'll see one of the kids with special needs sitting with their partner because they formed a bond," said Schofield. "And it's more than just a partner for sports. It's a partner for life. It really is. I never thought I'd be a part of something so cool."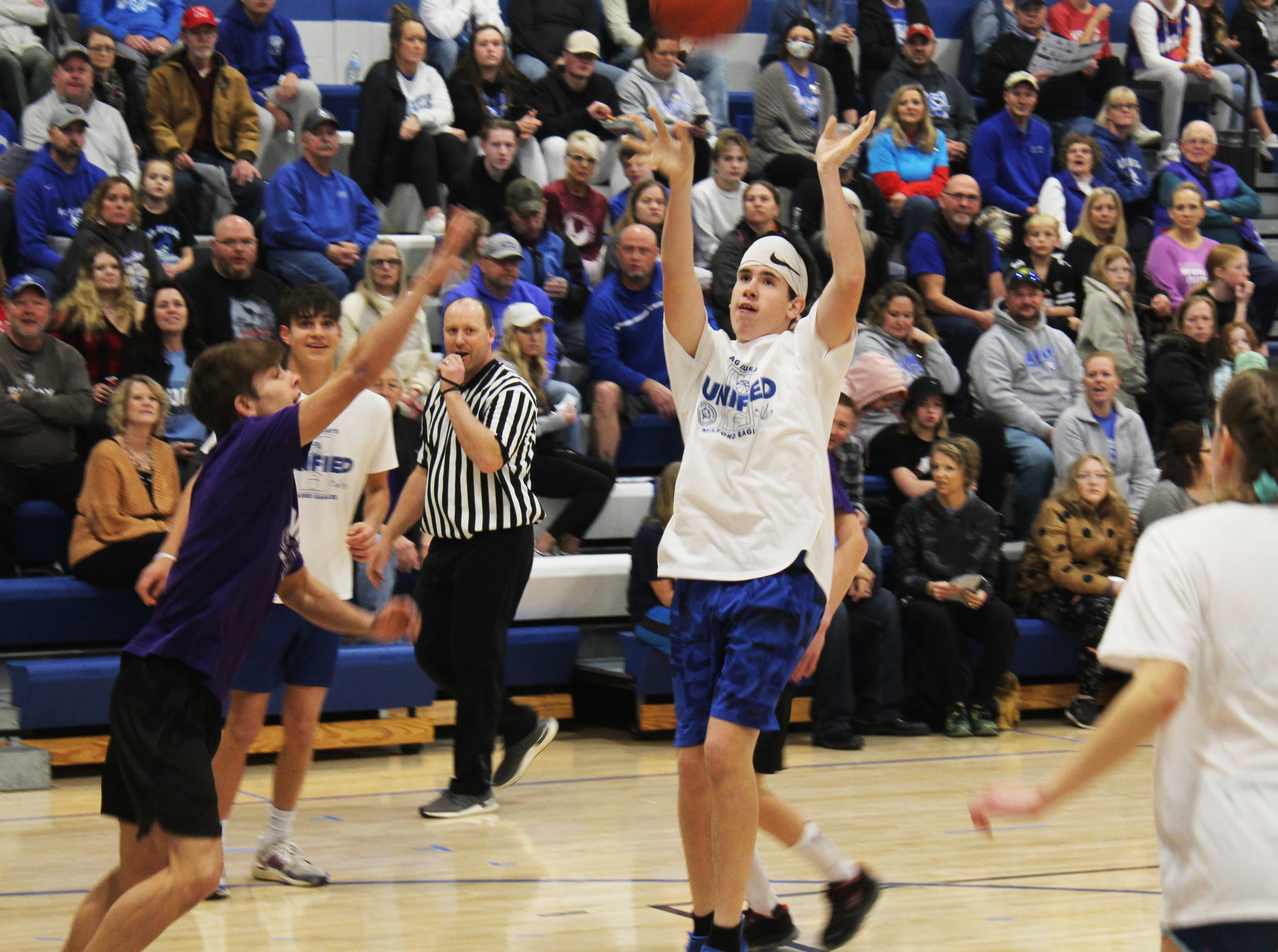 ---
Charlie Earnest and Logan Fangmeyer have been friends for most of their lives, but the pair of eighth-graders never imagined stepping onto a basketball court together in front of a thousand fans before.
Logan is on the eighth-grade basketball team. Charlie does push-ups and runs on the treadmill from time to time.
Charlie's basketball experience was limited up until a month ago, before he started training with Logan. On Saturday, he was pushing the ball up the court and delivering crisp chest passes to teammates.
His friend was right by his side.
"Logan is a great partner to have," Charlie said. "When we were practicing, I may have been tired, but he cheered me and pushed me to keep going. Look where I've got now."
What Logan sees in Charlie is what everyone in attendance witnessed from all the unified game's stars.
"Charlie cheered a lot for both teams and he was really fun to play with out on the court," said Logan. "He has a great attitude and is fun to be around."
Bendler saw significant strides from his partner, senior Matt Hoffman, on and off the court.
"Matt really just became a team player," said Bendler. "At the beginning, he was just shooting all by himself, but by Saturday he was passing and working to find the open shot."
Eighth-grader Reese Fisher said the unified team grew leaps and bounds in overall confidence. Her partner, in particular, wasn't shy in letting the shots fly on Saturday.
"The jump shot she made was really cool," Fisher said. "Seeing how excited she was just made me so happy. It was an awesome day."
While the game went down to the wire, the enthusiasm from the crowd never waned. In fact, it only grew louder. Stronger with every swish. The halftime show, which featured the unified cheerleading and a big round of applause when 2018 Homecoming Queen Mary Holt pulled off the splits, had the place rocking, too.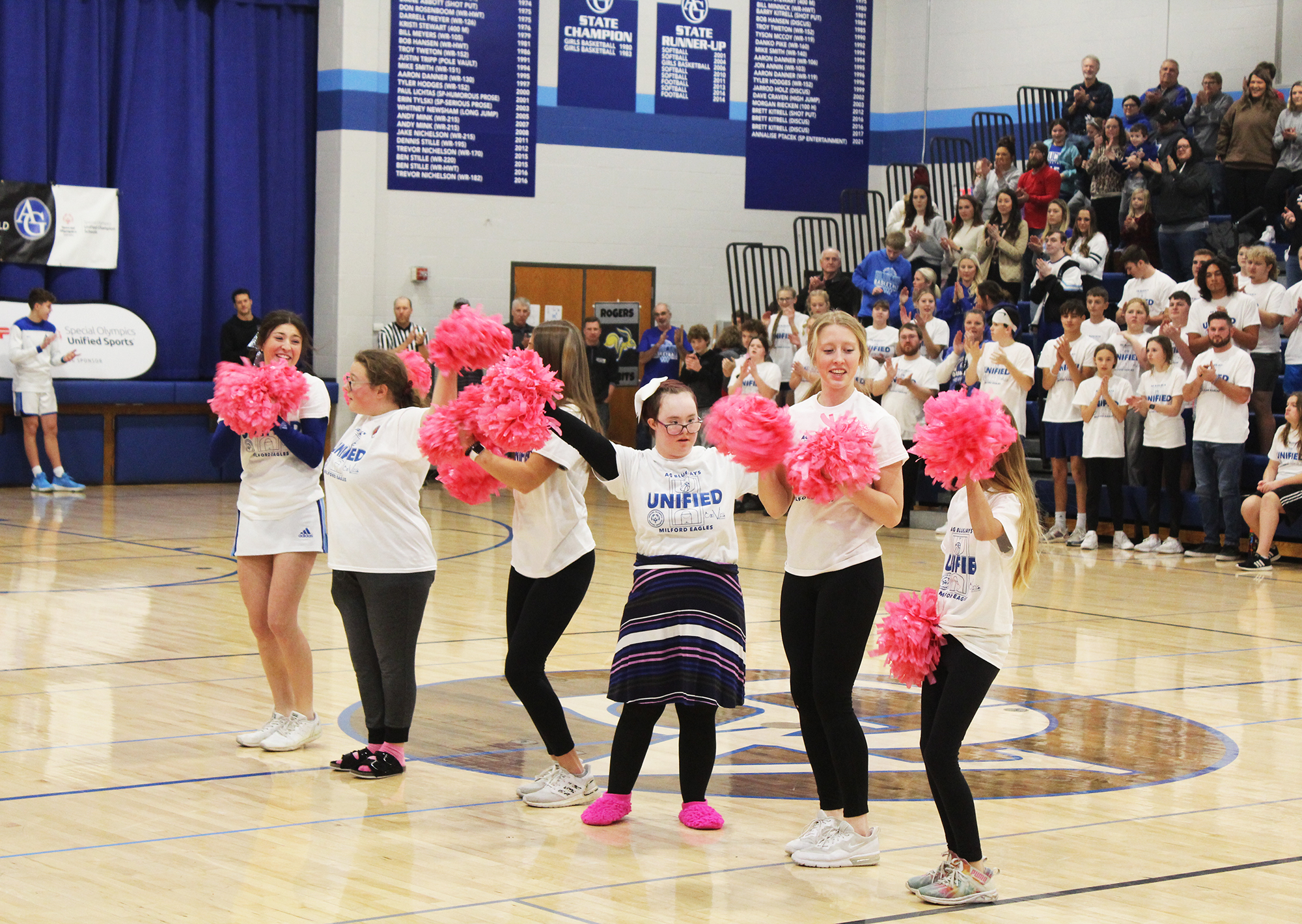 "The varsity team was jumping and yelling and being crazy," said Hobbs. "It gave us confidence and energy to do our best."
That support, Schofield said, meant everything to the players on the court.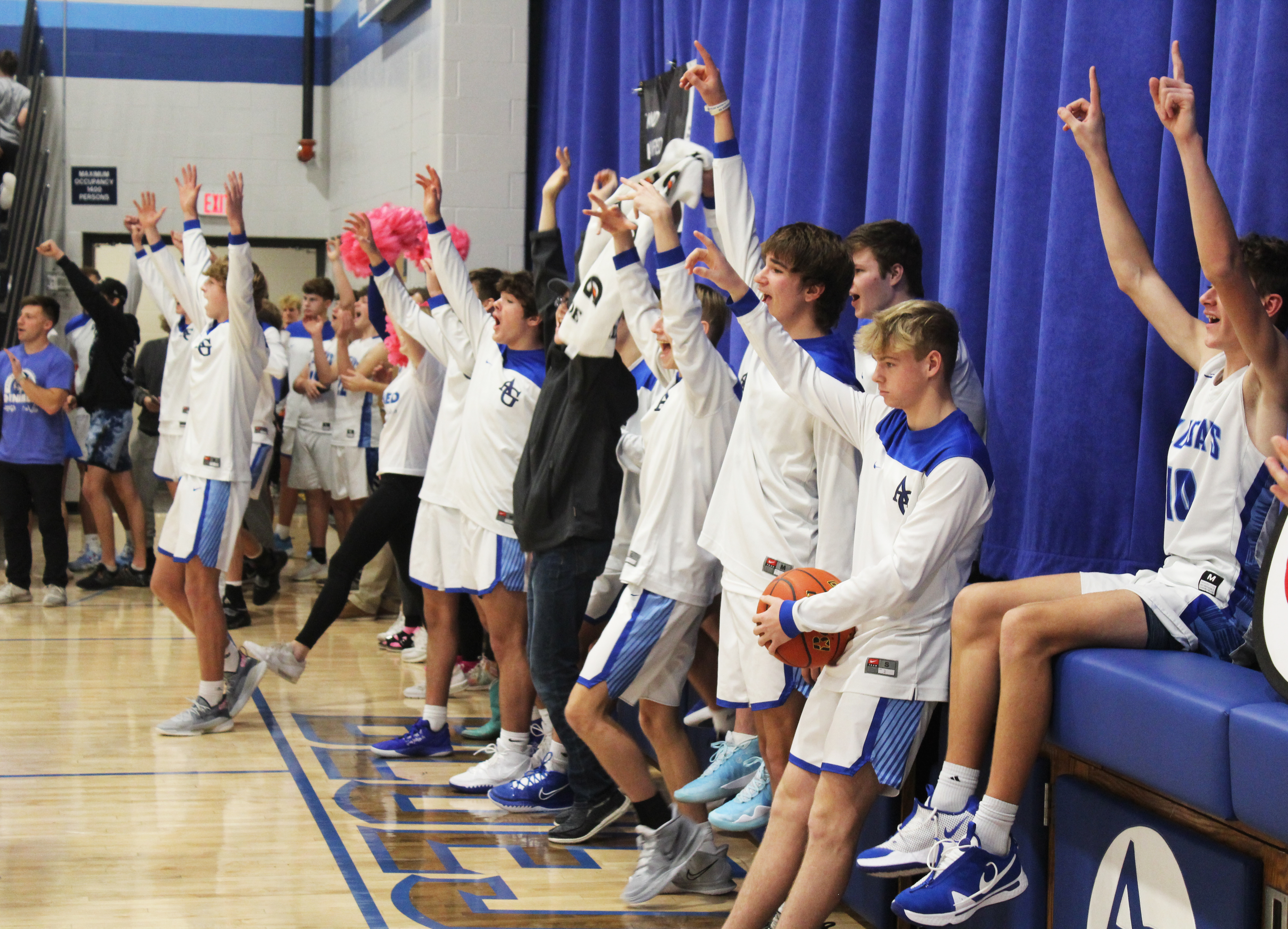 "It's pretty neat when your All-State basketball player's over there starting 'Defense!' chants for our special education kids," Schofield said, referring to A-G senior Cale Jacobsen, who was honored before the varsity game for scoring a thousand career points in barely over two seasons. "When they make a shot and run down the entire sideline high-fiving people…I mean, I played sports, I know what it feels like to make a shot, but I don't think I ever had anyone celebrate as hard as that crowd celebrated those kids. It means everything."
Behind them every step of the way were their partners, who still beamed with pride talking about the game three full days later.
"My partner is great because he's my friend," said Charlie.
Then he looked to his right, to his friend Logan who's been right there since the first-grade, and motioned him to say his piece. This time, it was Charlie's turn to encourage.
"We've grown up together," Logan said. "I've known Charlie my whole life basically. He's one of my good friends."
Just another notch in the stat book.
The greatest assist.