Go Figure: ESU 17 Data Camp offers collaborative discovery in numbers
Go Figure: ESU 17 Data Camp offers collaborative discovery in numbers
By Tyler Dahlgren
You're never done learning, and you're never done doing. Or, at least, you shouldn't be.
Curtis Childers preaches it to his students at Ainsworth Elementary every day. The second-year principal reiterates his message to the school's teaching staff.
It's an important one, after all.
"I tell our teachers they need to model that behavior and strive to be continuous, life-long learners," said Childers. "So, if I don't live that, and if I don't come to conferences like this and take advantage of professional development opportunities, then I'm setting an awful example."
This sentiment drew Childers and about 35 other school administrators and educators to Mid-Plains Community College in Valentine earlier this week, where ESU 17 held its second Data Camp. A two-day event funded by the PEaK (Performance Enhancement and Knowledge) Project, attendees from five districts dove into statistical figures and collaborated their way to discovery through, well, lots and lots of data.
"We're trying to make the connections between what the districts' needs are, and part of that is giving them time to sort through their data and where they're at, and then match that with what kind of services and supports the ESU can provide," said Jeff McQuistan, Staff Development Director for ESU 17. "Data Camp helps ensure that everything is being done intentionally and strategically."
McQuistan doesn't dodge the fact that data can be mundanely dry. There's a lot to do on a sunny, 85-degree day in the beginning of June, and combing through numbers and studies isn't high on most bucket lists, so camp organizers tried to mix in a little fun.
"Looking at data can get really exhausting, so we took more of a camp approach and balanced fun activities with the work so that it's not just a dry, intensive process," said McQuistan, who started things off Monday morning donning a cheerleader costume and a trumpet (there's pictures to prove it).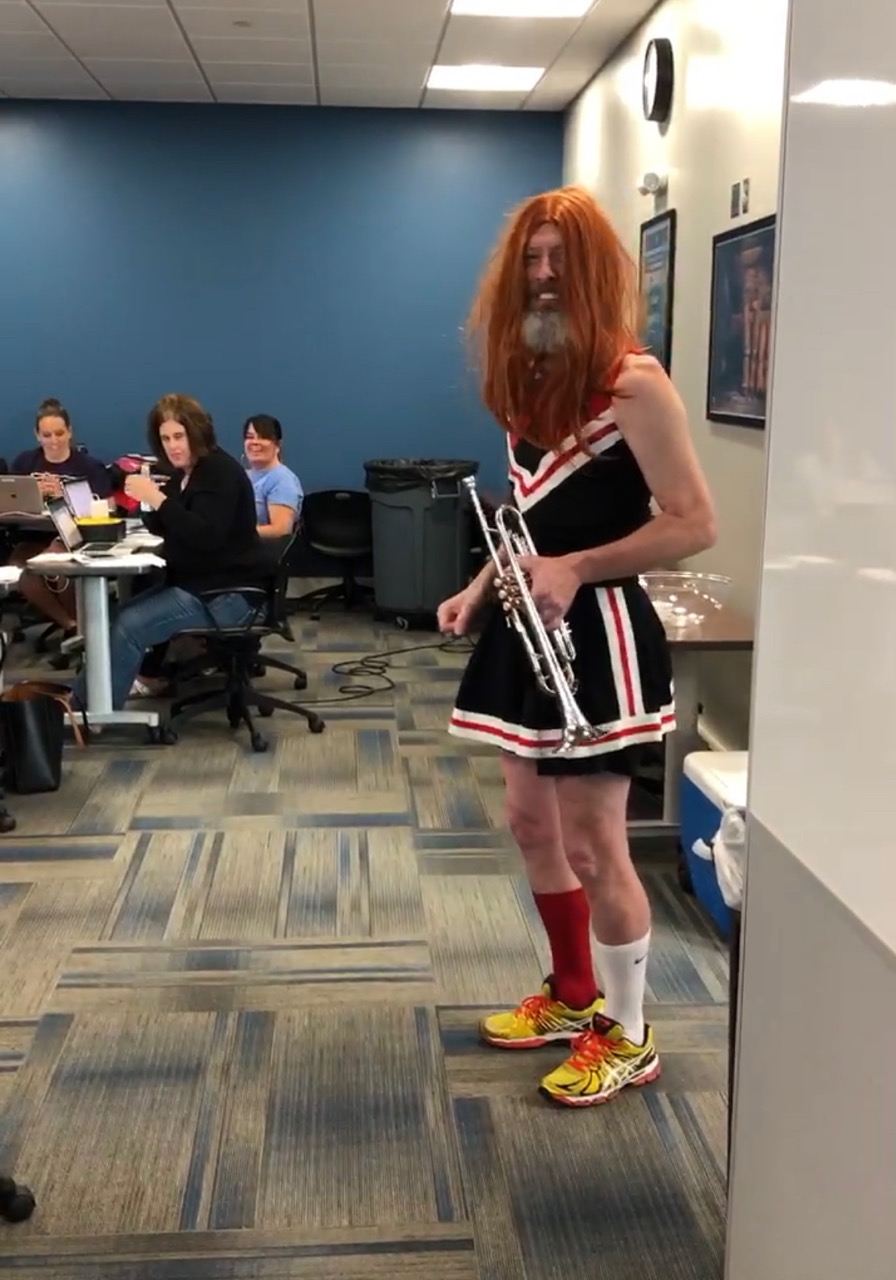 Holding the event early in the summer allows for campers to show up with a clear mind.
"When you have teams made up of teachers, administrators and counselors, it's a lot easier to focus on this now, when your mind isn't constantly thinking about all the papers you have to grade or all the other things that come up during the course of a school day," said Ronelle Kilmer, a counselor at Valentine High School who spent 10 previous years teaching English. "And we just need the time, which we don't always take for ourselves, to be able to review what's going well and also look at things we could be changing."
It's hard to find that time during the school year. Especially uninterrupted time.
"We do two-hour late starts once a month, and, really, our amount of work time in that frame is sometimes less than an hour," said Rock County Integration Technology Specialist Tricia Buell. "Data Camp really allows for us to get in depth into the data."
ESU 17 is the least-populated service area in the state, with about 1,600 students in its five districts. It's just as large geographically as other ESUs, however, with 100 miles separating Cody, the furthest town west, and Bassett, the furthest east.
"Being small in population has its challenges, but, at the same time, we've got a lot of flexibility in what we can do," said McQuistan, who can match pretty much any face to a name in the five school districts. "In my job, I get to go around to all five districts and make those connections and build relationships with schools."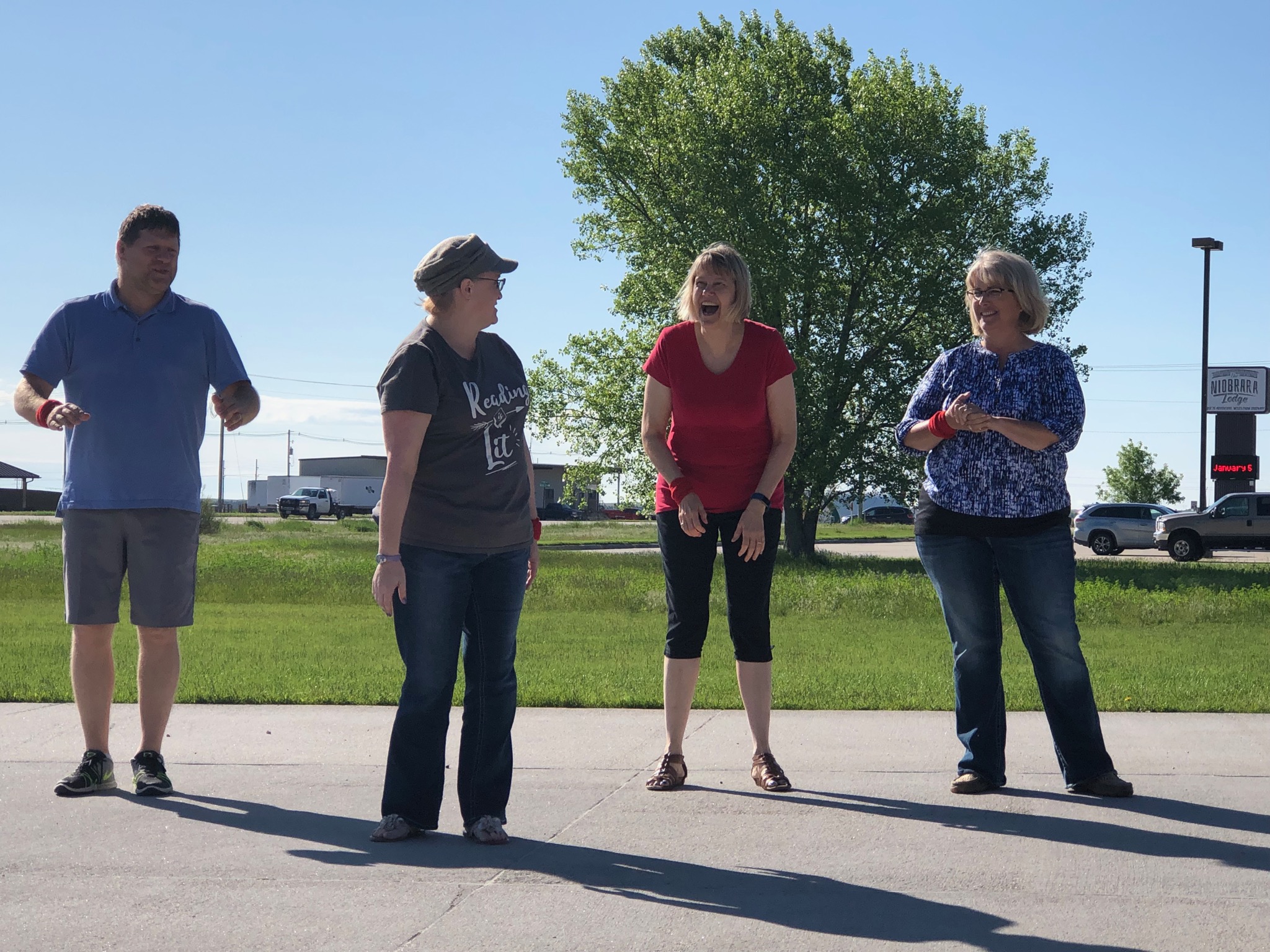 It's impossible to overestimate the leverage that comes from those relationships, he adds. Data Camp allows for districts like Valentine, the largest in ESU 17's area, to collaborate extensively with districts like Keya Paha County, one of the smallest in the state.
"The collaboration is so important," said Mary Kay Keck, Special Education and Title 1 Teacher at Keya Paha. "And there's so much data. It can be overwhelming at first, but it gives you proof. You might have your gut feeling, but when the data is there in front of you, you might see something you didn't realize before, or data that tells you you're doing a lot better than you thought."
For Kristin Fay, PreK-12 Counselor at Cody-Kilgore, the opportunity to gain perspectives from peers in the region is an important one.
"It is important to continue to grow, and there's a lot we can learn from listening to other people and having conversations," Fay said. "It's important for our small schools to stay competitive academically, and stay on track with what the rest of the state is doing, and this data and collaboration helps us to do that."
It takes a certain mindset to focus on data for an extended period of time. Childers and the Ainsworth team had a relaxed, casual 45-minute drive west to Valentine, during which they shifted their mindsets from school to statistics.
"Right now, the important piece is right here, and how we are going to move forward with this data and ultimately use it for student benefit," Childers said. "Data helps to remove the emotion from some of the decisions we have to make during the year. We can say we're doing well in ELA and hitting all the needs, then we look at the data and find our science scores through the roof, our math scores strong, but that our ELA needs work. At some point in time, we must have taken a wrong turn and we need to right that ship."
Aside from test scores, there's perceptual data to review, too. Feedback from parents, students and teachers confirming a strong culture or indicating the need for a shift.
"At this event, we are really looking beyond the academic roots," said McQuistan. "What are the academic, behavioral and social-emotional supports that our schools need to address the whole student?"
At the end of Tuesday, McQuistan hoped everyone left having seen value in the data.
"Data, when you take the time to analyze it, really does provide a direction on what your next step needs to be to make sure your students are getting the educational experience that is going to benefit them the most," he added. "The goal is to walk out of here with a plan for next year where they have identified and prioritized the things they would like to see happen, and then to get them scheduled."
They Said It!
"We try to balance our flexibility with our intentionality, and sometimes that is our biggest challenge. We have five very different districts, personality-wise. Events like this are nice because they get to mix up and visit with people from other places and hear what's going on in other schools. We get to leverage each other."-McQuistan
"We found that adults like to have fun, too. You don't come here and work relentlessly for two days and leave exhausted. Fun is important. If we are about the social-emotional for students, it should also apply to the adults."-McQuistan
"I love numbers and I love to work with them. I love the intervention piece of providing kids with what they need and digging into that performance data today has really been a positive for me to see where we need to target this coming school year."-Childers
"I am a big believer in doing what is best for each individual kid, as well as the whole."-Childers
"We are so small. We don't have the resources, so it's so important that we work together. With Jeff (McQuistan), anything you need, he's there."-Keck
"It's not anything they are doing to us, it's things they are doing for us and with us. Just how receptive they really are to our needs. Helping with virtual field trips, sessions on coding and drones. Things we wouldn't offer otherwise. Basically, ESU 17 is awesome."-Kilmer on ESU 17
"Our district is a growing district. Consistently growing, and we saw that in our data, but there's still such a community spirit in our district. Kids coming in from different schools aren't new for very long. They become part of the family very quickly. I think that's the cool thing about a smaller school. Our staff does a great job of making everybody feel important and welcomed."-Buell
"I'm from Cody, and I came back. Our staff is choosing to be here. They're choosing to live where they live. That does mean having to make some sacrifices and giving up some of the resources you'd have somewhere else. It takes special people to live where we are."-Fay
"We have kids who may not knock it out of the park academically, but you know in life they'll be more than fine because they have those skills that cannot be taught. They can problem solve. They're hardworking and polite. Our students have a lot to offer that can't be measured on paper and I feel our school does a lot to grow and support those skills as well as their academic skills."-Fay
"I started out as a Class 1 teacher. That little, one-room school teacher. I've done that. I feel support in my district. I know every kid. I am happy at what I do. They let me grow. I have gone from the rural school teacher, with three students for two years, and came into town and never once felt like I wasn't supported. The kids are what we need to focus on, so we do that."-Keck
"I have always lived a rural lifestyle. Grew up on a farm and a ranch. When I taught at another school, it was bigger than Ainsworth but still had a rural feel. The kids that walk in our doors every day, whether they are extremely academically successful or not, they are going to be successful in life because of how our community sets them up for success. Our teachers are on board with doing what is best for each and every kid, every single day."-Childers
"I attended country school in Cherry County, and I'm a Valentine graduate. I came back here. My husband is from here. I work with so many people who also graduated from Valentine and that says a lot about our area. It's a place people want to come back to. We have teacher who really love kids and want the best for them. They are in the profession because they love it. I love it."-Kilmer