Friendships without Finish Lines: Our Day with the Lincoln Southwest Unified Track Team
Friendships without Finish Lines: Our Day with the Lincoln Southwest Unified Track Team
By Tyler Dahlgren
It's almost race time, and the roar of the crowd inside Union Bank Stadium is growing louder and louder.
Lincoln Southwest junior Michael Bolen is at the starting line of the 100 meter dash. Not only can he hear them, he can feel them, and that makes him break out in a pre-race smile.
"I don't get that nervous," said Bolen. "I go way too fast to be nervous."
With the "Pop!" of the starter he's off, a blazingly-quick embodiment of what makes Unified Sports equal parts incredible, heartwarming and inspiring.
"This is by far the best place to be today," Lincoln Southwest Special Education Coordinator Christy Champoux said of last Thursday's Unified Track Meet held at Lincoln Northwest. "These kids become super close with their partners. It's really amazing. They go to prom together, graduation together, they all sit with each other. It's just incredible to see the friendships formed."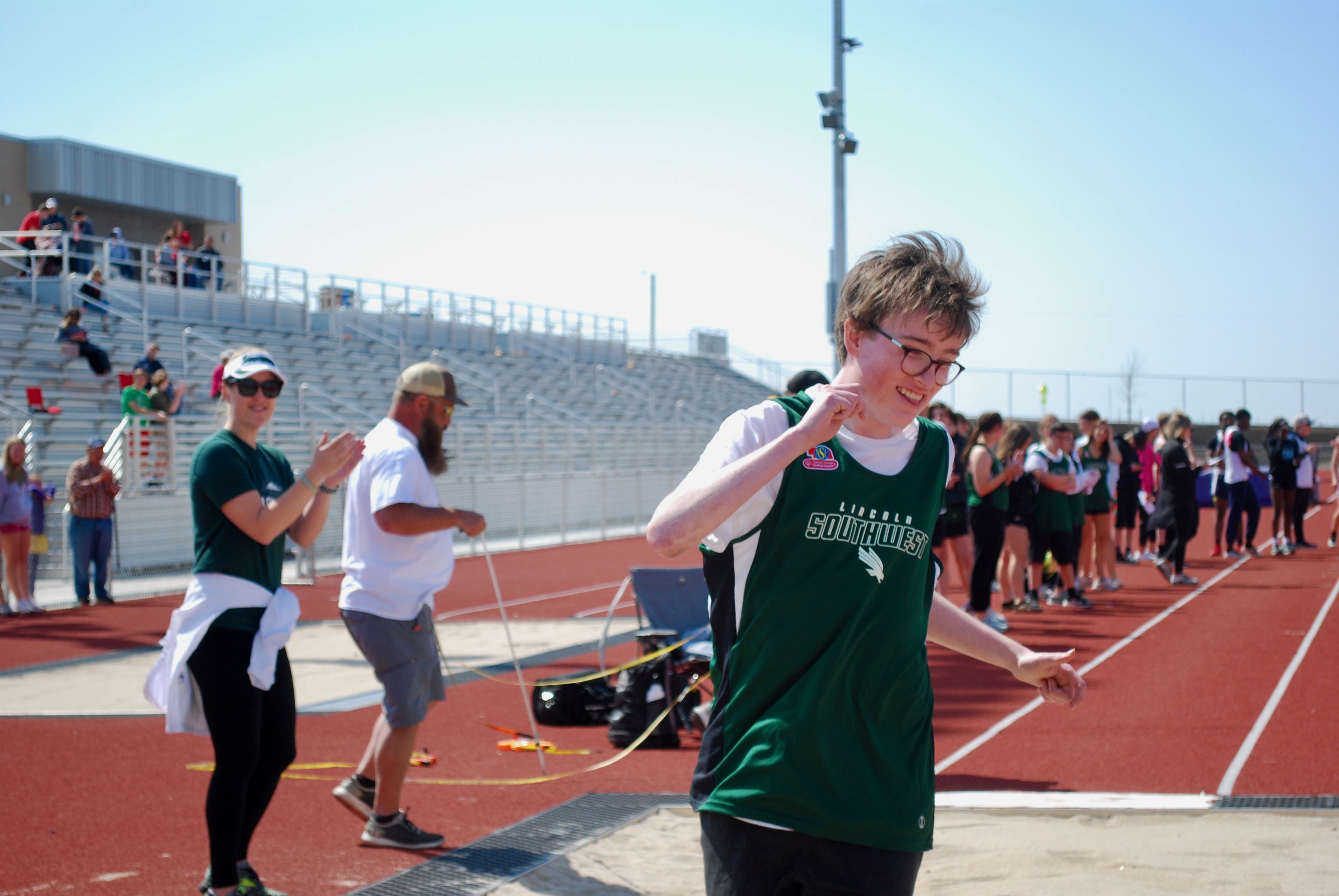 A hundred meters of polyurethane away, senior Brandon Varela awaits Michael's arrival. Varela, a varsity football player for the Silver Hawks in the fall, is one half of an electric unified teammate tandem. He couldn't be more proud of that.
"The best part of this is being able to see the athletes be included in all of these events, and giving them the chance to be a part of track in any way that they can be involved in it," Varela said. "Other places, they may not be able to be involved in a whole lot. But here, they're safe and they're happy and they're able to just enjoy themselves and the experience."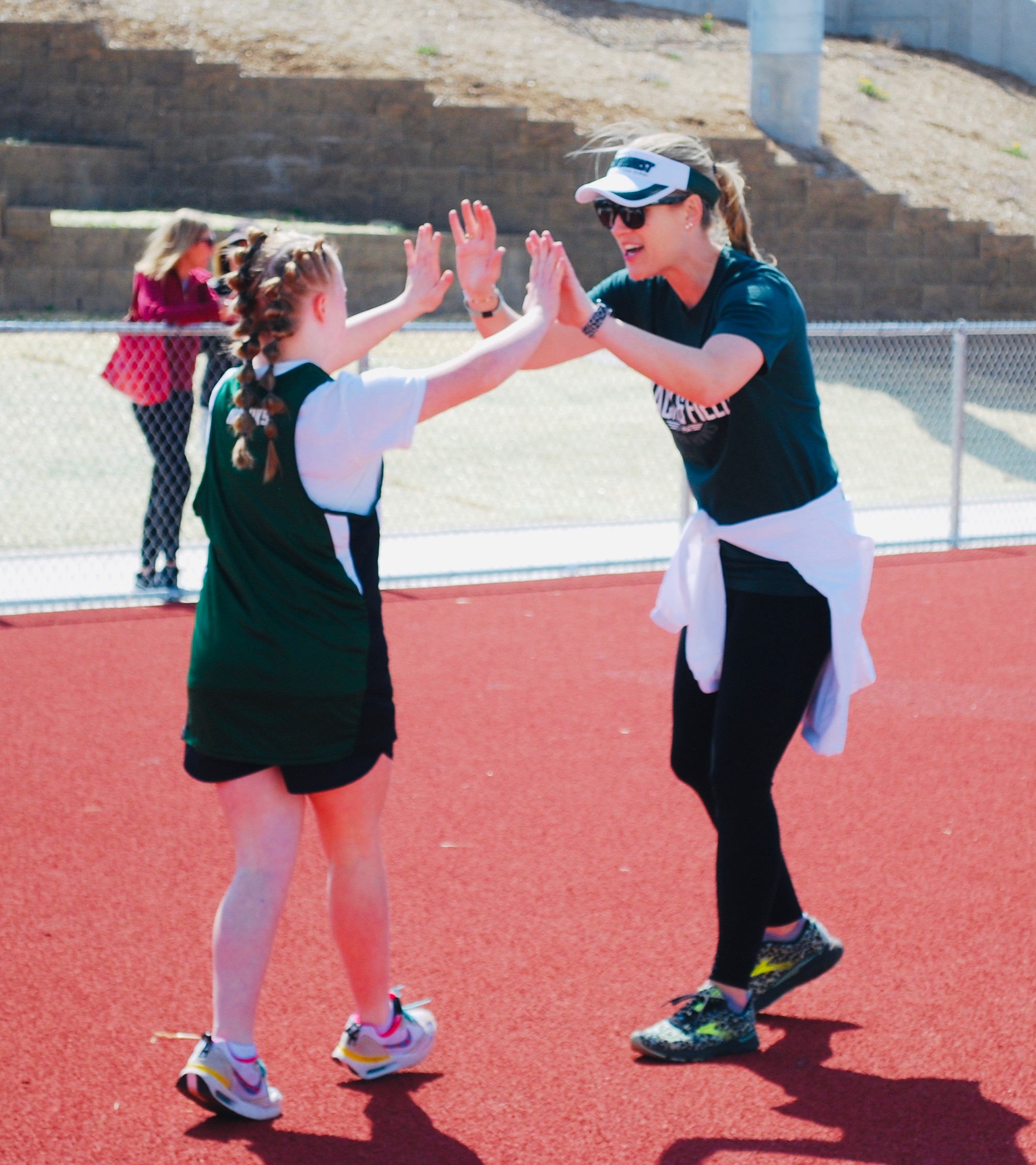 At unified events, energy's in no short supply and the buzz inside a stadium is palpable. The athletes make their way from the shot-put to the long-jump to the races and relays, all the while leaning on their partners for support and plenty of celebration.
"You come out here and there's a sense of warmth and smiles on the faces of students with all different levels of capabilities," said Lincoln Southwest assistant athletic director Brittany Becker. "They come together for one moment to celebrate each other and everybody claps and gets excited, regardless of whose team it's for. It's a great opportunity to show the strengths in our community and celebrate them."
Lincoln Southwest started a Unified P.E. class seven years ago, and added a Unified Music class last year. In all, there's seven different Unified clubs in the building, with between 150 and 200 students involved.
"The Unified environment is something that is so unique and special," said senior partner Ava Lavene. "I love that everyone's always cheering everyone else on, no matter who it is."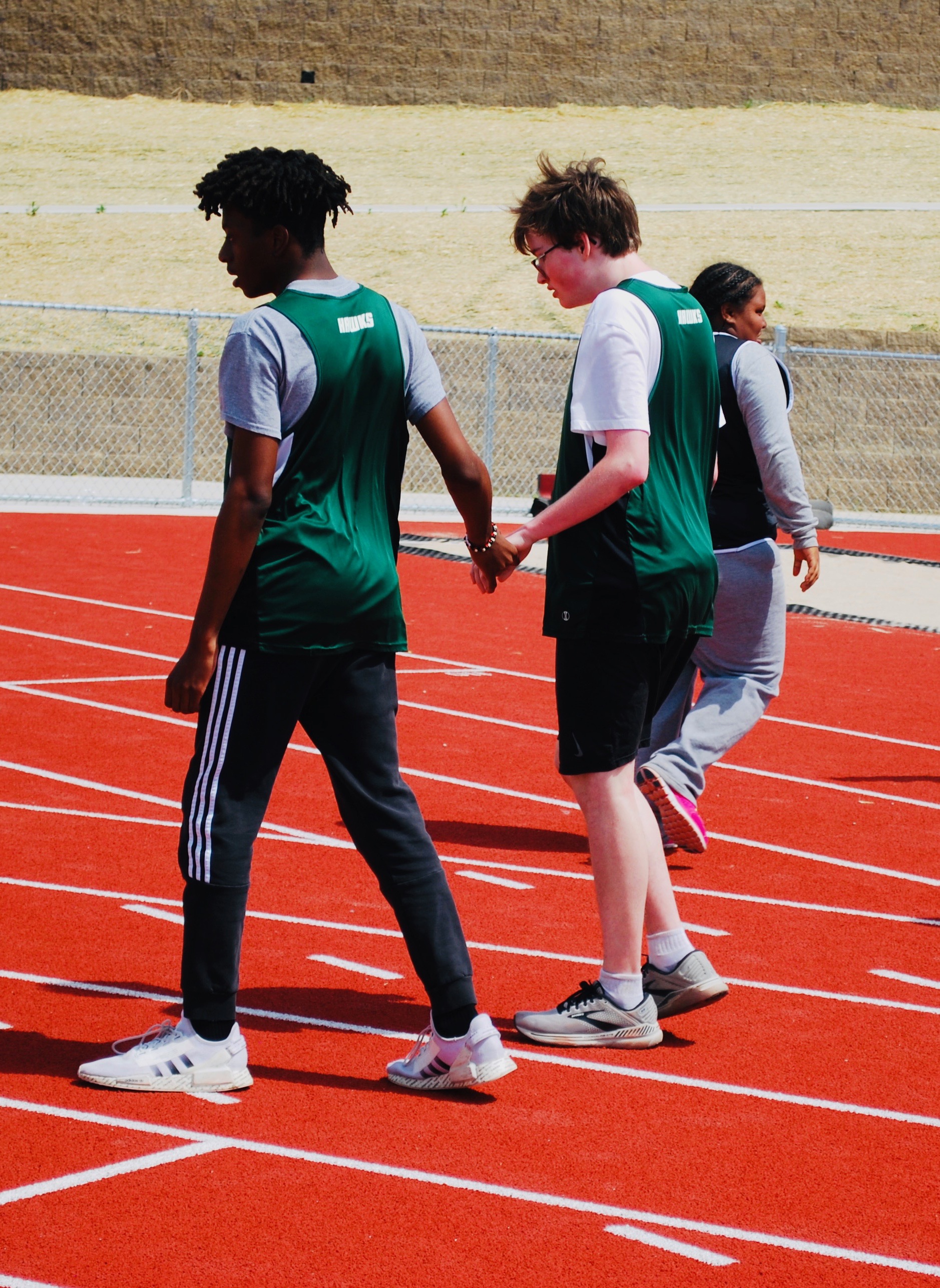 It's a one-of-a-kind environment, where competitive lines are a distant afterthought to camaraderie. Sure, there are teams, but really, everyone's in it for each other.
"In LPS, all means all and we all come together," said Becker. "A lot of these kids started out in elementary school together and went to middle school together before their high schools may have differed depending on where they live and other circumstances. A lot of them know each other or are in programs together, so it's always a good time when they can get together with their friends."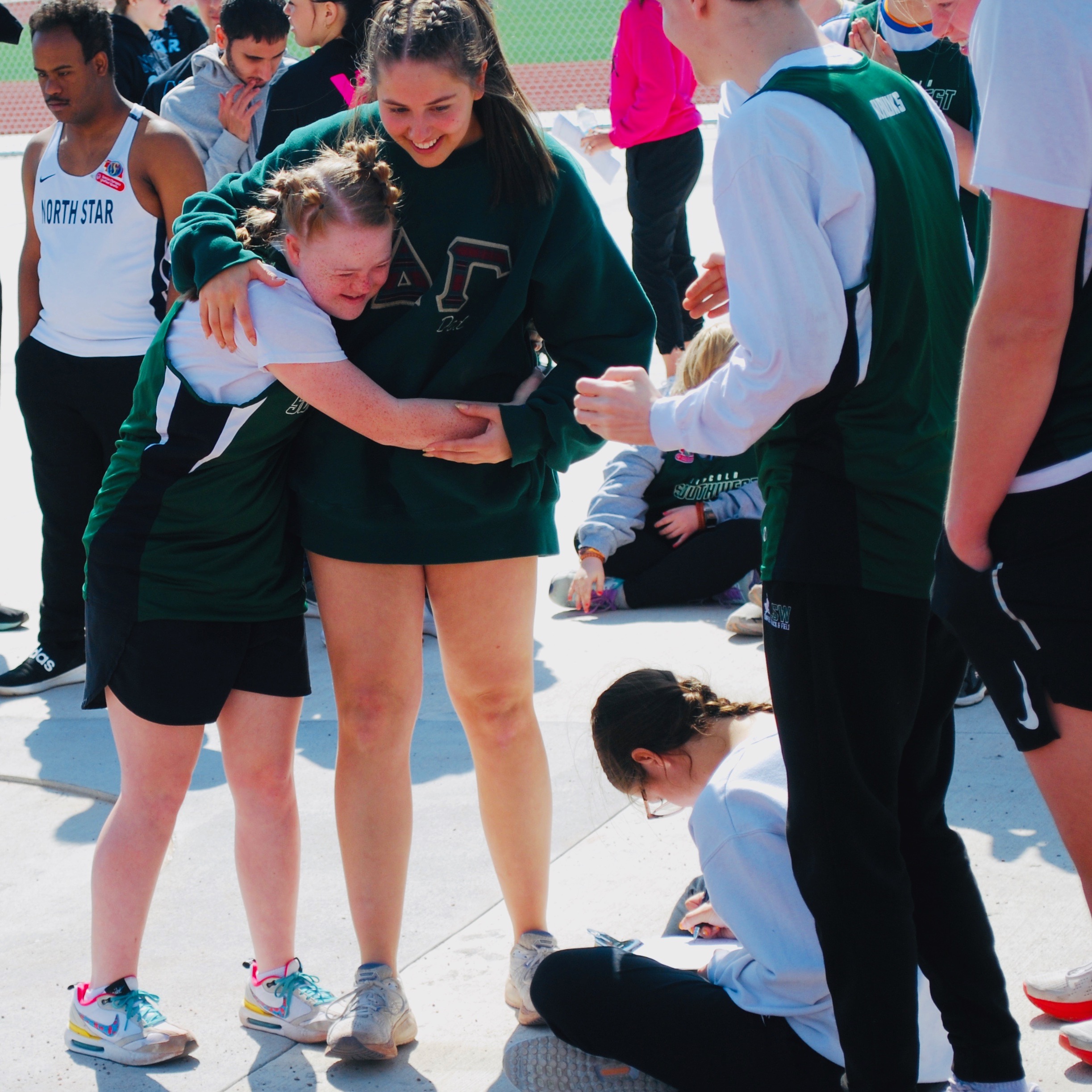 The Unified team from Southwest practices once-a-week and competes once-a-week during the six week track season, and it's remarkable to see the improvements and the growth in confidence in such a short span of time.
"We put a lot of effort into it," said Lavene. "It's just really fun to see how our teammates have developed and improved as the season goes on. They work hard."
Champoux said Southwest has been blessed with an amazing group of partners, who come with a variety of backgrounds. There's varsity athletes, students from theater, choir, yearbook and so on. All with big hearts and, on meet days especially, bigger smiles.
"Friendship, that's what this is all about," said Champoux. "Everybody needs friends. Everybody needs something to belong to. Our partners are amazing. They are what makes our programs so good. They're just great."
And while this thing is built on a foundation of fun, there are some competitors on the roster. Like any athlete, they get amped up on meet days.
"A hundred percent, we're ready to compete," Champoux said. "I have some kids who tell me they're coming out here to win, and I say, 'That's right. We always do our best.' Because just getting out here and competing is winning. For some of these students, they're not going to take first-place, but they're out here giving their all, and that's what's important."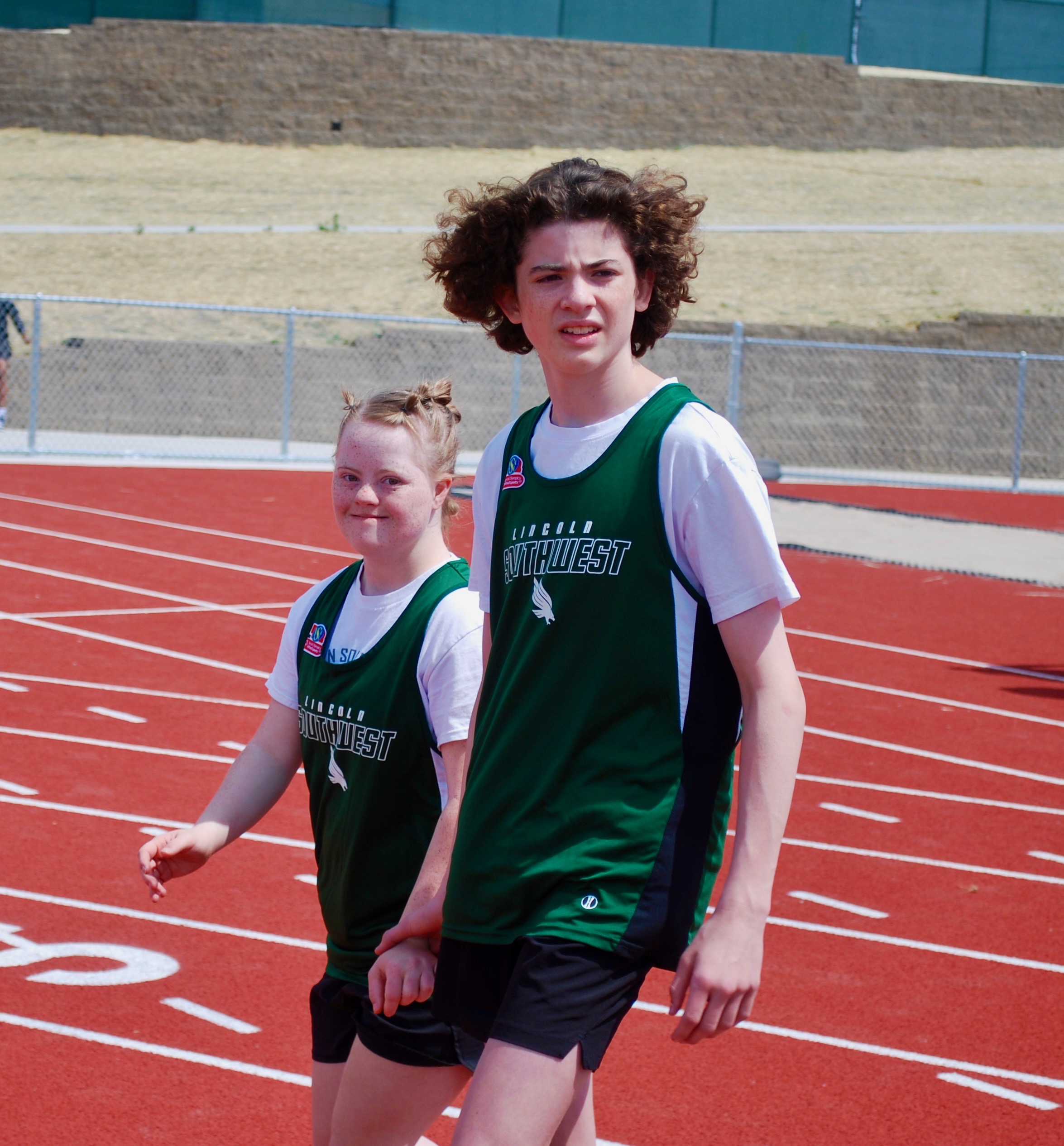 Back to the race and the blazing speed of Michael Bolen, who's coming down the home stretch, through a shower of applause from his teammates and the hundreds of fans in attendance.
Exhausted but still putting one foot in front of the other, Michael zips by. Only, he doesn't stop at 100 meters. Instead, he runs right into his teammate's arms.
Michael and Brandon perfectly execute one of their patented celebrations, capped by an epic chest bump. Their coaches and teammates hoot and holler for a bit, before turning their attention to the next race.
The terrific tandem does the same.
"It's a joy to see them doing what they love," Varela said. "Being a part of that is the coolest thing ever."
Friendships without a finish line.