Friend Public Schools Catching Kids in the Act of Good
Friend Public Schools Catching Kids in the Act of Good
Monday, December 10, 2018
By Tyler Dahlgren
Liz Stutzman's office has seen an unusually high amount of traffic this year.
For a K-12 principal, such circumstances would normally mean more headaches. For K-12 students, the principal's office is generally about the last place you want to find yourself throughout the course of a school day.
The teaching staff at Friend Public Schools has been surveying students with a close and careful eye through the first semester, going to great lengths to catch their kids in the act.
The act of good, that is.
"As a first year administrator, I was worried about leaving all of the positivity from being a classroom teacher behind," said Stutzman. "I was worried I'd only be dealing with negativity, problems, kids in my office for bad behavior, and I was worried about how that would affect myself, the students, and the staff."
Friend develops a theme for each school year. This year's theme is that of a puzzle.
"Individually Unique, Together Complete."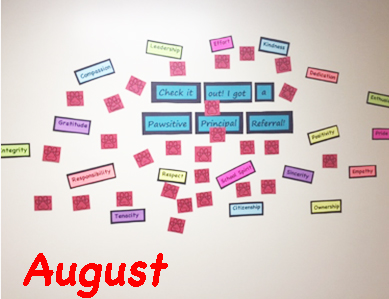 The Pawsitive Principal Referral program runs parallel to those values. Staff loved the idea, and shifted its collective focus to recognizing all the good things, no matter how small, their students do for each other.
When a student is caught in the act, whether it be picking up trash after a sporting event, helping a low-functioning classmate, or boosting a grade with extra-hard studying, they are sent to Stutzman's office.
Most of the time, her students aren't exactly sure what earned them a trip to see the principal. When she pulls out the puzzle piece, and posts it on the quickly-growing Pawsitive Referral wall, next to other Bulldogs who've done good deeds, they always light up with a proud smile.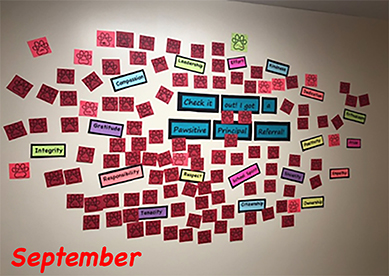 "I love the fact that kids love coming to my office, and it has made building relationships so much easier," said Stutzman, who has seen teacher-student relationships grow as well, an indication of the school's blossoming culture.
All Friend students, from five-year-old kindergartners to 18-year-old seniors, can earn a spot on the now-sprawling wall. The inclusive nature of the program has made for a more cohesive, school-wide environment.
"It also helps communicate to parents when all of their children have the same positive reinforcement," said Stutzman.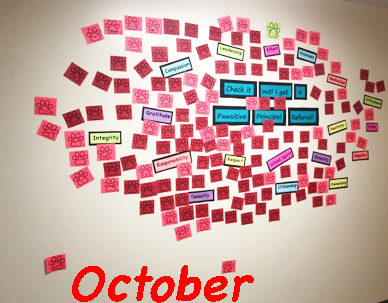 Stutzman is passionate about the town and the school she grew up in. She hopes to give her students such a memorable experience in school that they one day will be, too.
Recognizing the good happening every day in the hallways of her school is just the first step. More and more students are getting caught each and every day.
"I want them to have an amazing experience like I did growing up in Friend," Stutzman said. "Then, eventually, they'll move back to raise their families here, too."