Fridays for the Future: Work-based learning puts seniors in northeast Nebraska a step ahead
Fridays for the Future: Work-based learning puts seniors in northeast Nebraska a step ahead
Tuesday, November 2, 2021
By Tyler Dahlgren
---
Part One: "I can't believe what I just saw"
The baby had just been delivered, a successful C-section on a Friday morning at MidWest Health Partners in Norfolk, and midwife Jen Weinandt glanced at Meghan McCracken and smiled.
"The stars in her eyes were amazing," said Weinandt. "I think she's in the right field."
McCracken had just witnessed a magical moment, the first of many for the senior at Battle Creek. One of 47 seniors taking part in the school's work-based learning (WBL) program, McCracken spends her Fridays shadowing Weinandt. The real-world experience has grown into a passion and, even further, a future.
"I knew for a fact that I wanted to go into something medical, but I wasn't sure where in the field I wanted to pursue," said McCracken, who was drawn to MidWest Health Partners after hearing Weinandt's 2020-21 student talk about the experience. "Working here has helped narrow down what I want to do in the medical field, which is to become a nurse and then get my midwife degree."
Battle Creek is in its third year of offering the WBL program to seniors. This year, all 47 are lined up with Friday jobs at area businesses or enrolled in college courses at Northeast Community College. Jeff Heimes, 7-12 principal at Battle Creek and one of two program coordinators, said the district's goal is to commit 15-percent of a student's senior year to a career field.
Heimes remembers McCracken's reaction to that morning. He probably always will.
"She said, 'I can't believe what I just saw,'" he said. "That was absolutely eye-opening. We can't do that in school. We can't provide those kinds of experiences. So when a student comes back and tells us about the 'best day of school' they've ever had, then we know we're doing something right."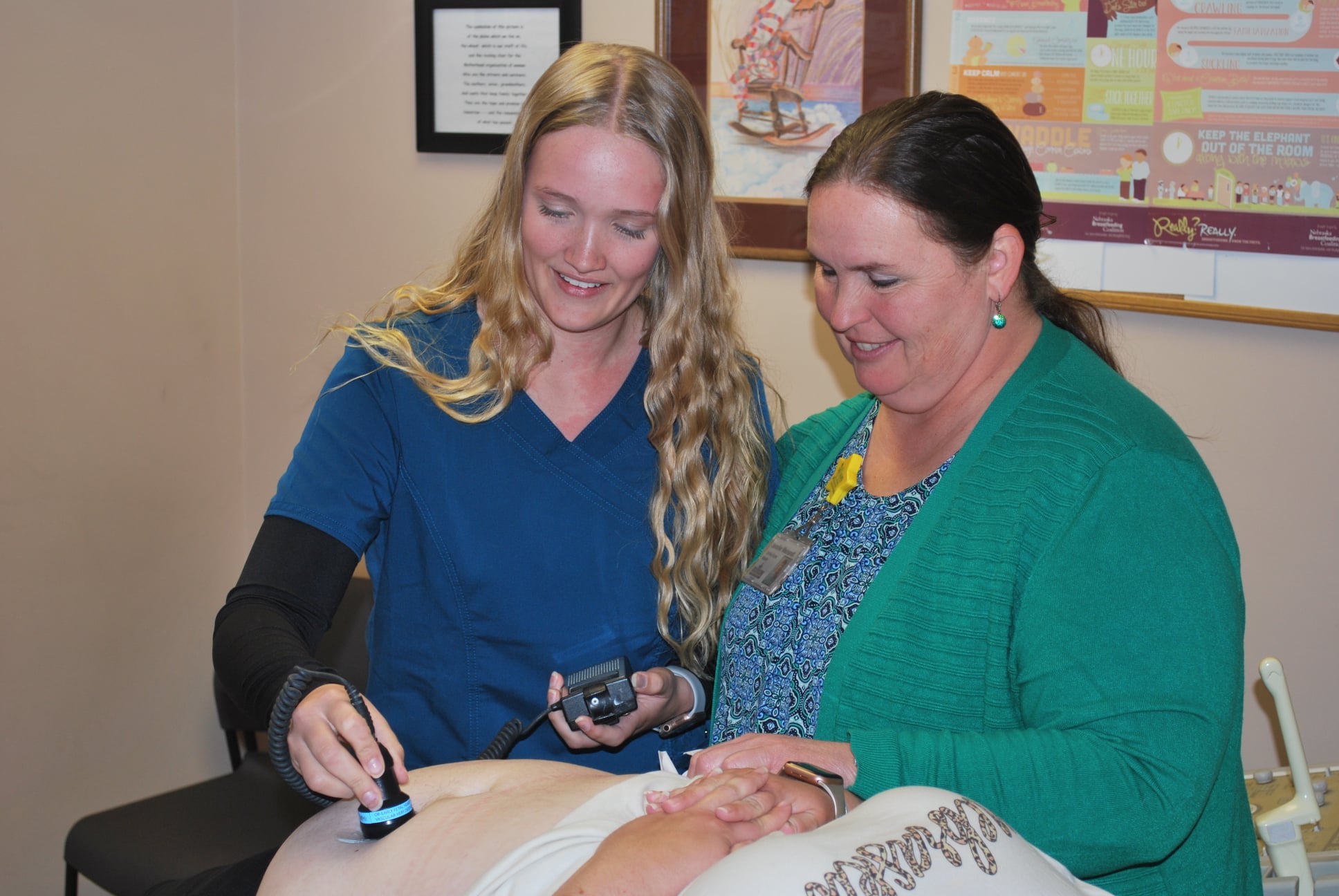 The program has grown considerably in a short amount of time. The first year it was offered, only about a third of Battle Creeks jumped at the opportunity. That number spiked in Year Two and now WBL on Fridays is a way of life, part of the school's culture.
School counselor and WBL coordinator Cathy Thompson said the program has students more focused on the future. They plan for post-secondary life with intention now. Intention gained through experience.
"Getting them these learning opportunities outside of the classroom, in different businesses and different surroundings has really opened their eyes," Thompson said. "We are making a commitment to getting our students involved in a career. It's a commitment to them and their futures. We're not just talking about it. We're making them do it."
The program has been embraced by parents, students and community businesses, though many companies were understandably hesitant at first.
"Some still are, and we respect and understand that," said Thompson. "We're just very thankful for the ones who were willing to take a chance with us."
The chance has paid off. Weinandt has taken a Battle Creek senior under her wing since the outside, and sees the program as an investment into the future, not just for the students, but for everyone.
"That's what we're supposed to do, we're supposed to take care of people," she said. "And that means we better get the next generation ready or we're all in trouble when we're in the nursing homes. We have to get them ready to be in the workforce. I've loved having the students here."
That especially rings true when Weinandt talks about McCracken.
"She's a very intelligent girl who will succeed in the future," she said. "She's an overachiever. She comes even when they don't have school."
McCracken, like her fellow seniors, is simply taking advantage of an opportunity, one she feels lucky to have.
"The fact that the school has put so much into this and given us these pathways to pursue speaks to how much they care about their students," she said. "It's just absolutely amazing."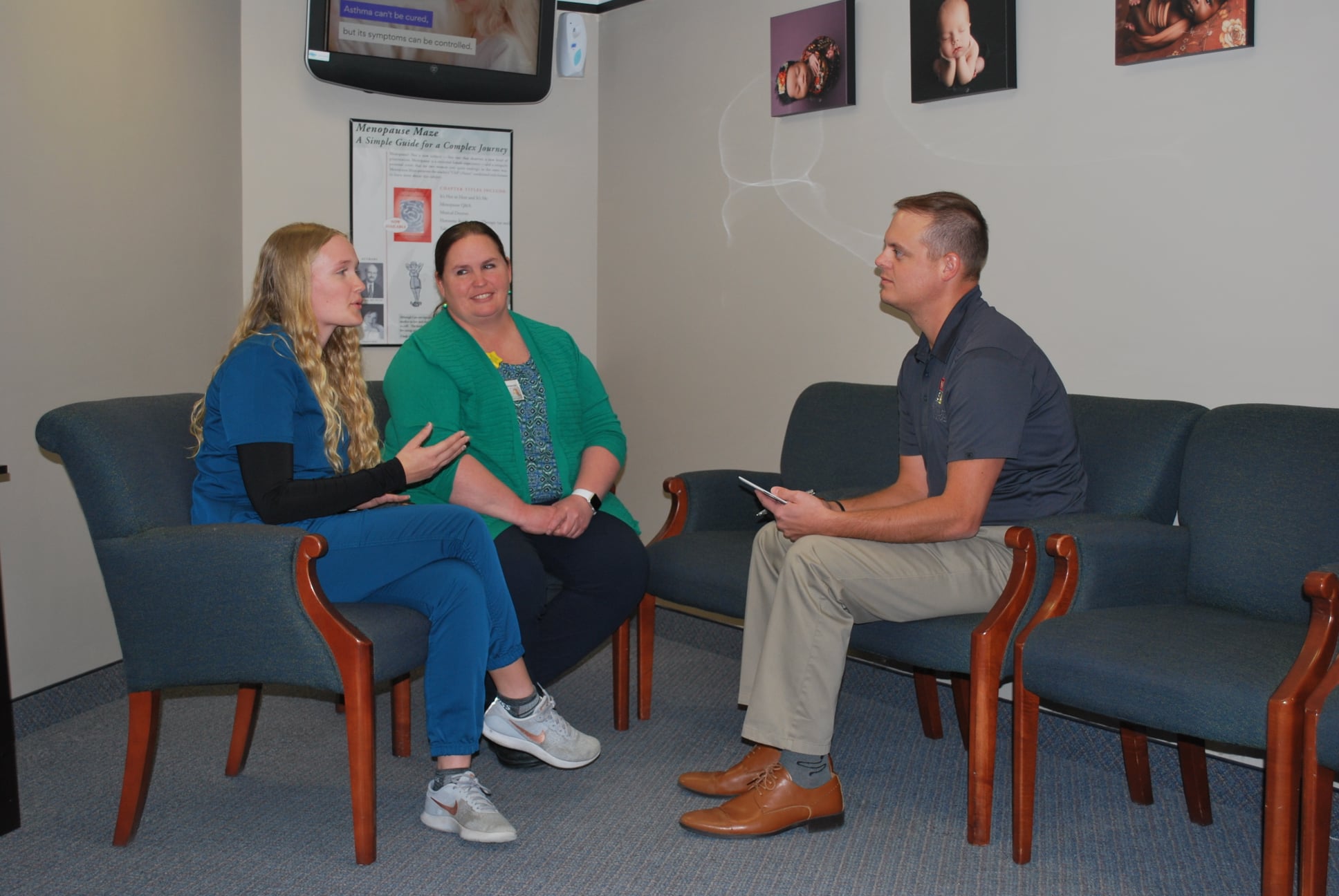 ---
Part Two: Stretching the Comfort Zone
Linsey Bolling's question, dietician or personal trainer, was answered immediately when she walked into Anytime Fitness for her first Friday on the job.
"I realized quickly that this is what I want, to be here helping people better themselves," said the Battle Creek senior. "I knew I wanted to be a part of something like this."
Since the beginning of the school year, she has. Bolling made a quick impression on owner Brian Sibert and the rest of the staff, becoming a true member of the team in no time at all.
"Linsey was super professional, right off the bat, and I was really impressed," Sibert said. "She wanted the full experience, not just training but cleaning, organizing, picking up after people. And my trainers are always excited to teach somebody and to answer any questions and share their knowledge."
Bolling has gotten the full experience at the gym in Norfolk. She's now training customers on her own and building relationships along the way. Her comfort zone has grown because of her Friday job, a benefit for students in the WBL program.
"I felt myself growing right away," she said. "Being able to talk to strangers or people I don't see every day, those kind of important life skills are things I'm really learning here. It gives you a real visualization of what life as a personal trainer is like. You live it."
Heimes points to those soft skills as a focal point of the program. Students learn responsibility, communication, time management, etc. They learn what it means to be a reliant and dependable part of a team.
"Usually, when we check in with an employer at the beginning of the year they'll report back that the student's quiet or shy, but over time we see them start to ask more questions," Heimes said. "They start to grow in confidence. They get those career readiness skills on the fly that they'll need in any type of job. We don't always have a lot of time in school to work on those."
Bolling is one of the seniors who has adjusted to the real world rather quickly, but there have been instances where the transition for other students ended up being more difficult. Battle Creek seniors, Heimes said, are held accountable. They are expected to hold up their end of the bargain.
"It doesn't happen very often, but we tell those businesses that work with us that they can end an employment at any time," Heimes said. "We've found them to be patient and willing to work with our kids."
The only reason Sibert and his wife bought the gym, he said, was to build local partnerships. When Heimes called, partnering with Battle Creek was a no-brainer.
"Our kind of nerdy catchphrase is 'Stronger People Lead to Stronger Communities', so if we can have younger people be a part of that and contribute to our community, it's a win-win," Sibert said.
Plus, it's always fun to see a young person with passion walk into the gym.
"It made me step out of my comfort zone," Bolling said. "I'm in my element."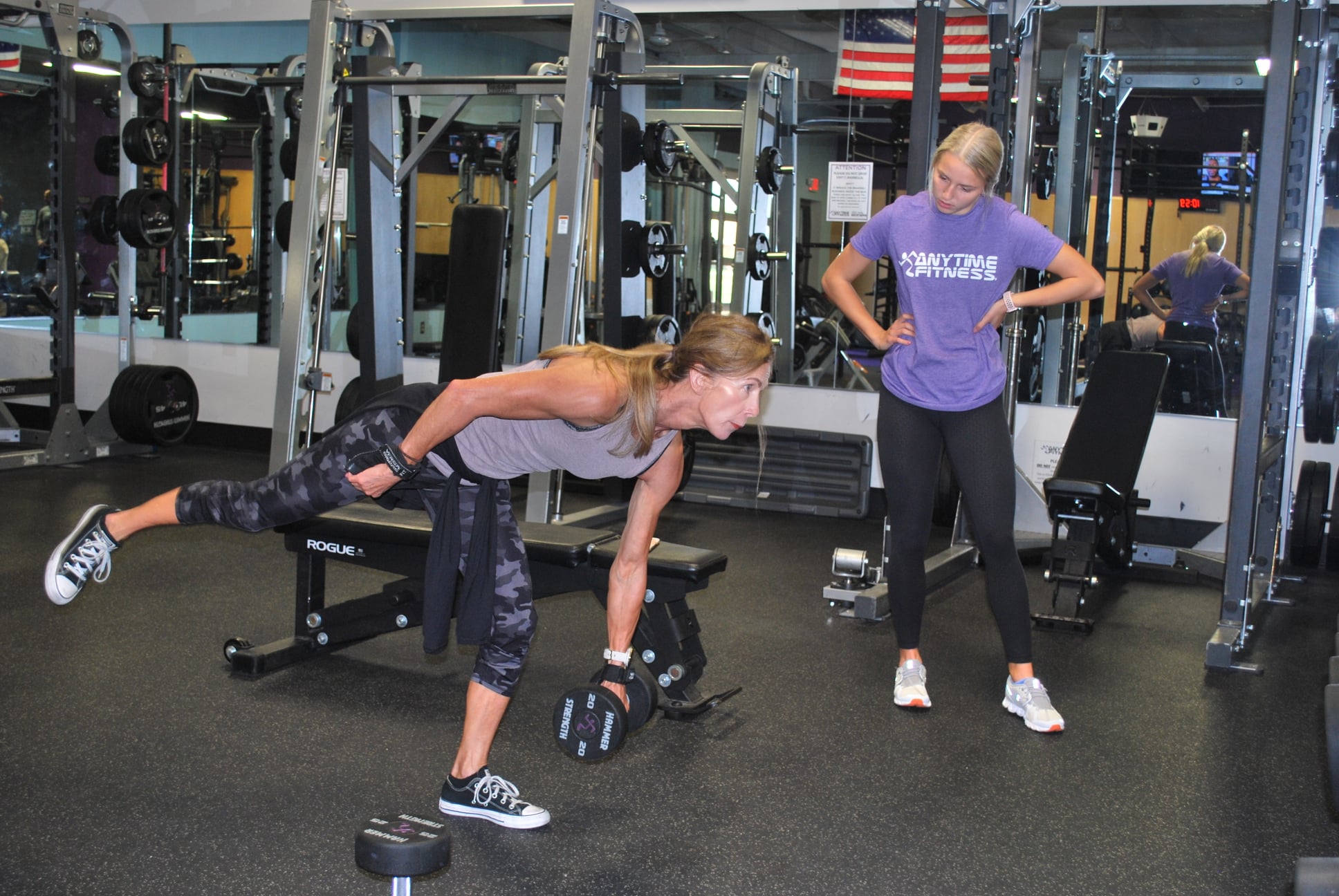 ---
Part Three: Down the Road
Local businesses may have been slow to show interest at first, but they're sending letters and business cards to Battle Creek these days. The program continues to evolve and expand, as do the careers students wish to explore.
"We have a student who is a couple tests away from being a pilot who spends his Friday mornings working on a million dollar jet in Norfolk," Heimes said. "He wants to have his pilot license by the end of year. To have the resources to line him up with these professionals in that area and to help make that a reality is something I didn't think was possible."
Heimes and Thompson are regularly amazed at what their seniors get to do in the field. Hearing their students share those experiences with genuine excitement is half the fun and a learning experience in its own right.
As educators, there's nothing more satisfying than witnessing a student find a passion. At Battle Creek, they get to see that unfold nearly every week.
"Sometimes, what those kids need is somebody to show an interest," Heimes said.
Having seniors out of the building on Fridays has taken flexibility, both from the program coordinators and the teaching staff at Battle Creek. Teachers, Heimes said, have been supportive and adaptable from the start.
"It's not super clean and streamlined, but rather kind of choppy," Heimes explained. "We have to operate with that growth mindset and understand that the program isn't going to be perfect. We had a student work with a realtor, for example, and she would show houses with her on Saturdays. Those kind of opportunities outweigh any inconveniences."
As do the phone calls and visits from recent Battle Creek graduates who are still travelling the path they chose as seniors.
"It's a good feeling to see them have success and hear them talk about the experiences they've had and how their senior years helped them," Thompson said.
Chase Oltmanns is a perfect example. The 2021 Battle Creek graduate and current Northeast CC student turned his WBL job with Lingenfelter Electric into a career.
"I would have been lost without that hands-on experience," Oltmanns said. "I probably would have went into the field anyway, but it was a lot more reassuring knowing exactly what I wanted to do."
Lingenfelter Electric owner Kory Lingenfelter does an excellent job of holding his student employees to company standards, said Heimes.
"They're not on their phones, they're on task, productive and responsible because Kory does a great job of modeling it," Heimes said. "And that carries on in their everyday lives, past the workplace."
Students do come in pretty green, said Lingenfelter, but it's really quite impressive how quickly they catch on. All it takes is patience and proper training. It's an investment that pays dividends. By the end of the semester, the seniors are just a part of the crew.
"We're always in need of people to fill these spots because there is a shortage of skilled workers in this area of the state," Lingenfelter said. "It's beneficial to get the younger generation geared towards what they want to do and out into the field. It's a jumpstart for them and for their futures."
When Oltmanns walked on to NECC's campus, he wasn't starting from scratch.
"There was a lot of kids in my class that didn't really know what was going on," he said. "It was nice to be able to draw upon my experiences from my senior year of high school."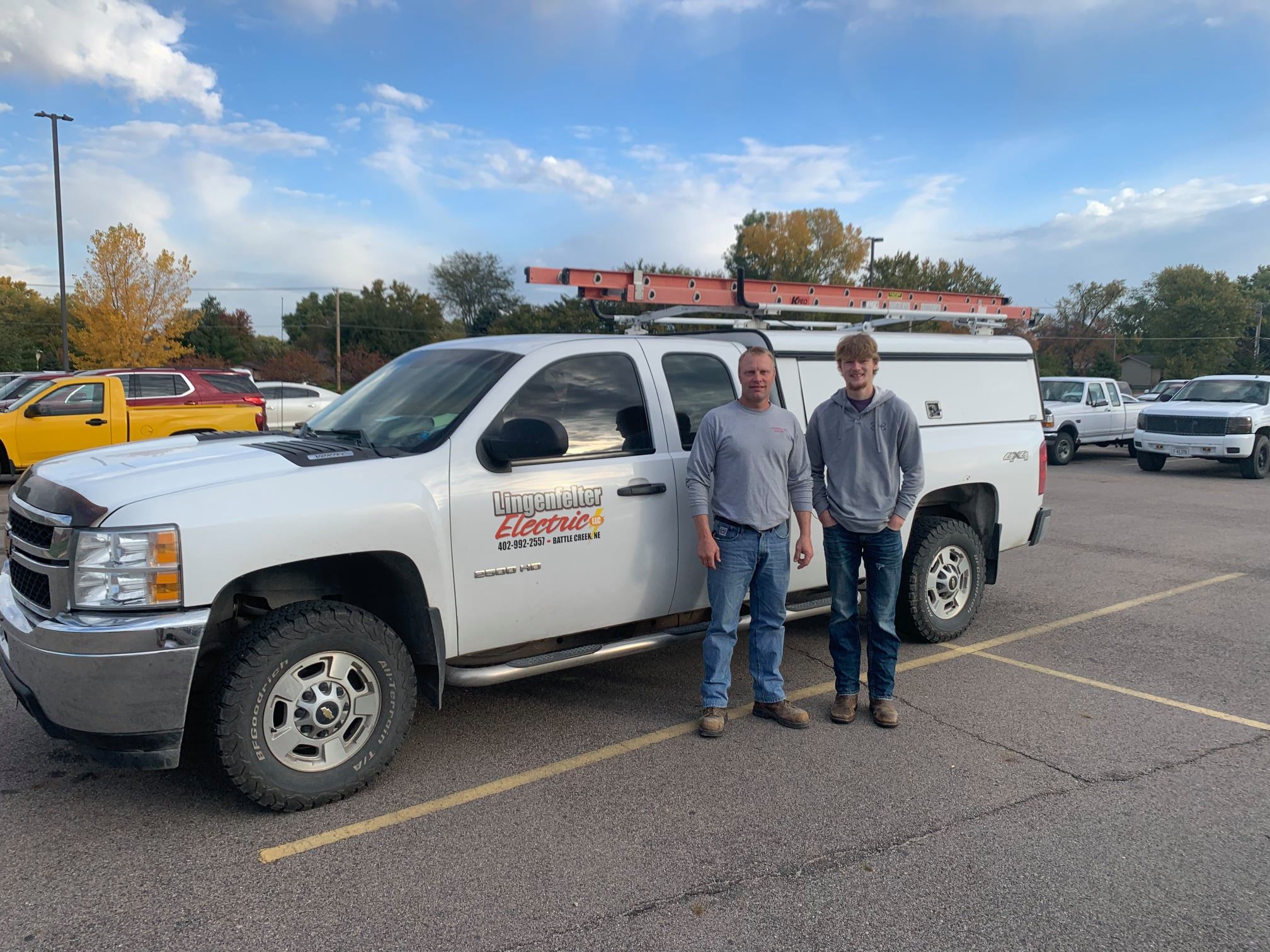 ---
Part Four: "I know the school is our partner, and they're with us."
Some students, like Boston Reeves, arrive for their first day of work with experience.
Reeves comes from a well-known farming family and is spending his Fridays at Farmers Pride of Battle Creek, where the things he's learning in agronomy can be directly applied at home.
"He's learning the business and application aspects here with us, and how that applies on the flip side, when he's out in the field with his dad," said Human Resources and Safety Manager Dawn Pochop. "The fact that we have Boston here and can teach him the pieces of agriculture he may not be exposed to on the farm is good for him."
What Reeves is gaining on Fridays is a deeper understanding of the profession he always planned to pursue.
"It's been really beneficial working in an actual business and seeing the day-to-day operations first-hand," Reeves said. "And then taking what I learn here to the farm when I'm working with my dad, that's been nice."
Being in the fields has also helped Reeves fend off Senioritis. Last week, he learned to take soil samples. Next week it will be something new. WBL, he said, sure beats sitting in class.
"You take in a lot more when you're doing it hands-on," Reeves explained. "Reading from a book, I can study for three hours and forget everything by the next day. But out here, it sticks with me."
Reeves' dad, who is a Farmers Pride customer, had reached out to the company a few years ago, before Boston was licensed to drive, and asked if Boston could come in and learn the ropes. Having that request come from the school offered Pochop peace of mind.
"At that time, I was hesitant, obviously, because of his age and the risk of something happening and all of that," Popoch said. "But with this program, I feel more at peace. I know the school is our partner, and they're with us."
Having students on site has been a fun adventure for Farmers Pride. They have a booth every year at NECC's Career Fair, and having last year's student (now studying agronomy at NECC) stop by with a handful of friends made this year's more memorable than any before.
"The teaching aspect is what's really rewarding to us," Pochop said. "They're all great kids. They want to work and learn. I don't think they'd be in this program if they didn't."
The WBL program is a recruiting tool for businesses like Farmers Pride, too.
"Selfishly, we need people," said Sales and Marketing Manager Dave Snyder. "Agriculture needs people very badly. Our philosophy at Farmers Pride is to get engaged with the schools. Show the students they have these job opportunities right here in their back yard."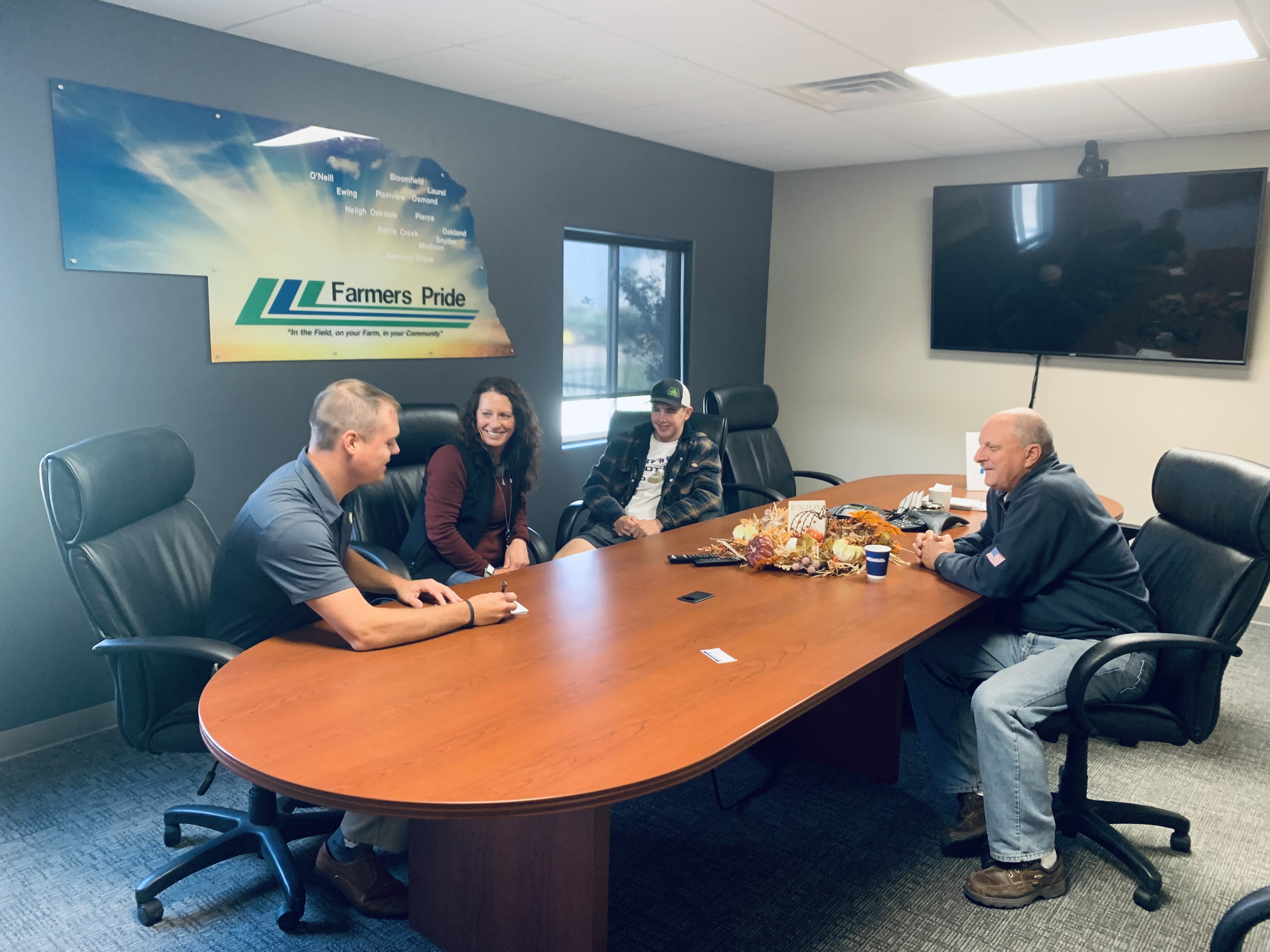 ---
From Monday through Thursday, Heimes and Thompson see their 47 Battle Creek seniors for who they are. The Class of 2022. On Fridays, they see them for who they'll one day become.
They see the pilot, the midwife, the teacher. They see the trainer, the electrician and the farmer.
"We know we're doing the right thing," said Thompson.
They see the future, and it's as exciting as ever.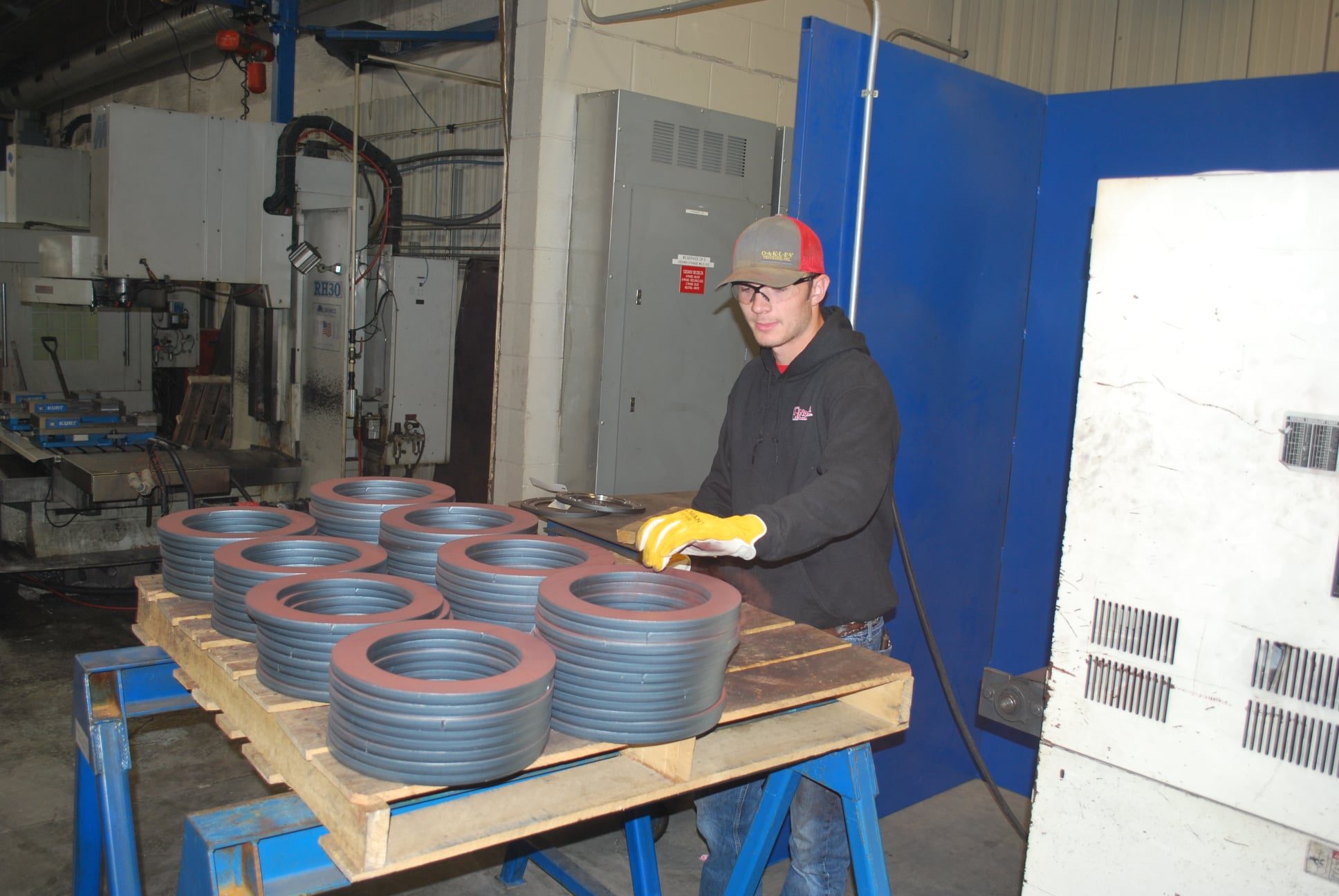 ---
Part Five: 60 miles west, in Bancroft
Career-based learning is emerging across Northeast Nebraska. In fact, this story started five days earlier and 60 miles west. On a Monday morning at Bancroft-Rosalie, four seniors stopped by superintendent Dr. Jon Cerny's office to discuss Fridays, blossoming opportunities, and the future.
In addition to Battle Creek and Bancroft-Rosalie, students in Bloomfield and Osmond have WBL programs with Senior Fridays roots. Bancroft-Rosalie has been involved in the Northeast Nebraska Career Academy Partnership (NENCAP) dating back 15 years, and the program's latest evolution, putting students on the frontline in their prospective career arena, is perhaps its most exciting.
"Lat year, through the Department of Education, we applied for and received a revision grant, and part of that grant was to get a work-based learning program started so that the kids could receive high school credit for the work that they'd be doing," said Dr. Cerny.
Last November, Bancroft-Rosalie hired a program coordinator, who was in charge of making business contacts and formalizing the ins and outs of operations, expectations and parameters of the program.
"We require all of our kids to have a career pathway that they're following," said Cerny, who credits the program's strong advisory program for helping the students make their selections. "They can change their pathway at any time, but they have to select something that is recognized by the Department of Ed."
Just as important as those community connections to Bancroft-Rosalie's program is its partnership with ESU 2, which has been a fiscal partner in the school's pathways program with a spot on the board.
"They're a part of NENCAP and a key partner for us," Cerny said.
When students enter a pathway and decide it isn't for them, the pivot is still seen as beneficial. Knowing for sure what to pursue after high school graduation is valuable in more ways than one.
"We surely don't want students graduating high school with no clue on what they're doing," Cerny said. "It's just too expensive. College is way too expensive to discover yourself along the way and stay enrolled for five or six years. We'd really like the kids to discover what they like early on."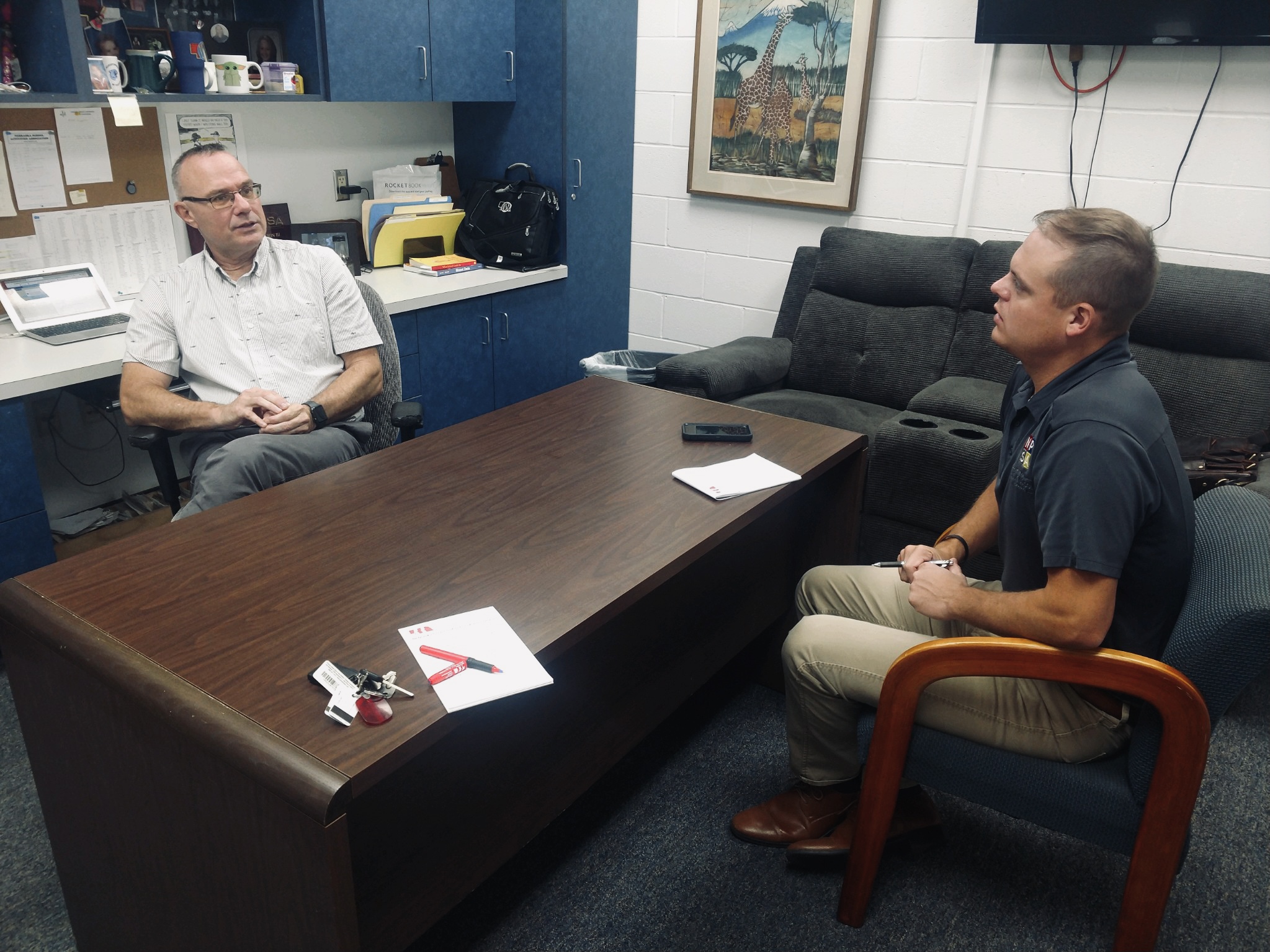 With the dual credits available to seniors, Dr. Cerny hopes Bancroft-Rosalie alums can enter college with a head start. He mentioned a former student who graduated from UNK in three years and enrolled in Occupational Therapy school at the age of 20. For an administrator, there's nothing more affirming than those types of stories.
"People are starting to retire earlier and earlier, and it doesn't make sense to prolong that college experience any longer than they have to," he added.
Jocelyn Pagels is one of those seniors who will have credits in the bag when she walks on to a college campus next fall. Pagels is taking online accounting and speech classes, and the experience has been both worthwhile and revealing.
"It's been reaffirming in that I am good at it," she said of accounting. "I can do it well, but I probably won't go into accounting specifically. I don't enjoy it that much, but I do really like the business side of it and learning everything on that end."
Pagels has seen her time management skills increase dramatically through juggling high school and college courses, and will head to school next fall with some extra peace of mind.
"It relaxes you because you've taken these classes that are the same classes students in college are taking," she said. "So I know I can do it already. It's reassuring."
On the edge of Bancroft sits Renz Electric and Plumbing, where senior Colten Briggs spends his Fridays. The senior shows up early in the mornings and works until it's time to get ready for that night's football game.
"It's just fun to go out and do a bunch of jobs every day," said Briggs, who plans to pursue electricity in college. "It's different every day. It's just nice to get up and work. You have to be responsible, there on a certain time and productive. You feel accomplished at the end of the day."
Bancroft-Rosalie seniors like Health Science Pathway student Alyssa Bucholz are appreciative of the opportunities they're being provided.
"We get so many opportunities here that kids at other schools might not get, and it really helps you decide on what you want to do," Bucholz, who job-shadowed at a hospital in West Point and is currently learning to tape ankles in class, said. "They put us down the right path."
They're intentional about doing so. It's an endeavor that benefits not just the students and their families, but the community, too. Collectively, the program is a worthwhile investment.
"Obviously, we want those kids to have work experiences in the neighboring areas and surrounding communities because, sure, we want to keep them around," Cerny explained. "We'd like to have them live here, to be productive citizens right here."
With the teacher shortage making its presence known in rural communities, schools stands to benefit as well. Senior Laura Kramer would like to be a teacher one day. Furthermore, spending time in classrooms on Fridays has solidified her passion. Kramer is still in high school, but she's an educator.
"This experience just confirmed that I really love teaching little kids," Kramer, who will pursue Early Childhood specifically, said. "I just love watching them. It's just the little things that they do and watching them all interact with each other. It's been so cool."
It's amazing, Kramer said, how many different college classes Bancroft-Rosalie students can take.
"Our school just really prepares us for whatever field we want to go into."