Friday Night Frights: In place of homecoming dance, Seward students bundle up, sit in for frightening flick
Friday Night Frights: In place of homecoming dance, Seward students bundle up, sit in for frightening flick
By Tyler Dahlgren
For the better part of eight months now, Seward students have rolled with the pandemic's punches.
"They've been resilient, as I think kids all across the state have been," said Seward High School Vice Principal Jill Johnson. "They go with the flow. They know that wearing masks and social distancing when possible is what helps the health department in keeping us here."
Students have been flexible, willing to adjust to protocols and procedures at the drop of a hat, and they've been positive, generally reluctant to complain. Such was the case when the 2020 Homecoming Dance scheduled for the weekend of September 4th was cancelled. Although not a huge surprise, the news was naturally still a bummer.
"Going into this year, most people knew that we weren't going to be able to be in close contact, so a dance wasn't going to be possible," said senior Anna Hughes, president of the Bluejay Leadership Team (Student Council). "People weren't necessarily upset when the dance was cancelled, but more accepting of the fact that this is how it's going to have to be this year."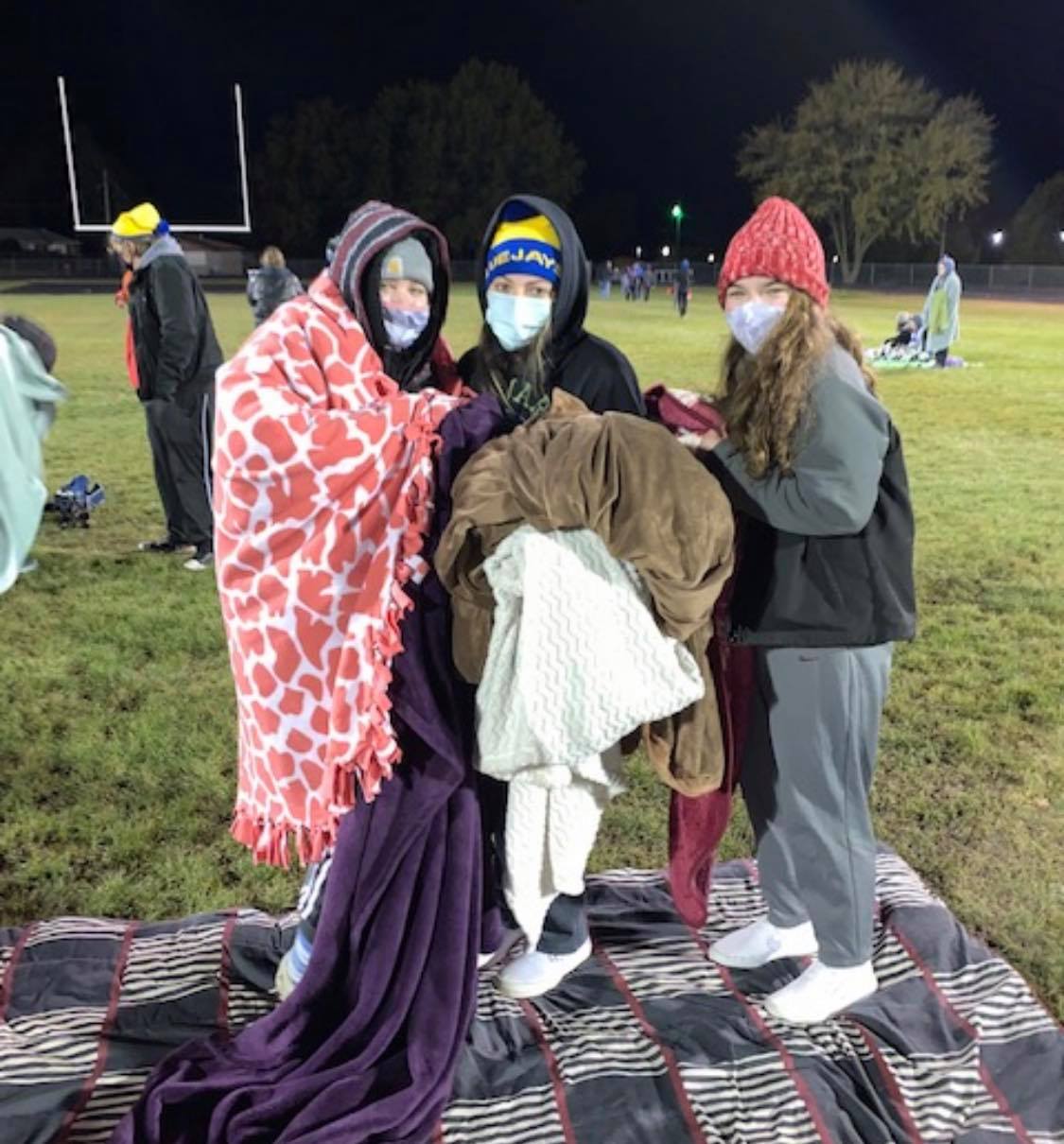 With so many opportunities already taken from them since March, the student body celebrated Homecoming Week like in any other year. The theme was a "Netflix Homecoming", with designated "dress up" days during the week and a big win on the gridiron over Gross Catholic on Friday night.
Still, the Bluejay Leadership Team wanted to give students a chance to make memories. Students knew staff would feel the same way.
"I knew that Seward would find a way to do something else because homecoming is a big thing," said senior Mason Larson. "I knew that it wouldn't be cancelled altogether."
Though there couldn't be a dance, there was still plenty of fun out there to be had.
"We really wanted to come up with something that we could do to replace the dance that would give the kids a chance to have some fun," said Kristen Upton, who teaches Spanish at SHS and, with Johnson, advises the leadership team. "The students have done such a good job of keeping great attitudes and pushing through. We thought it was important to come up with something they could enjoy."
Students voted between four events, including a bonfire, a post-prom style party and an outdoor movie night. The latter won with the most votes. The SHS Booster Club rented a huge, inflatable screen and Seward students gathered on the football field after a hard-fought game with Aurora to view "A Quiet Place", the hit horror suspense-thriller from John Krasinski.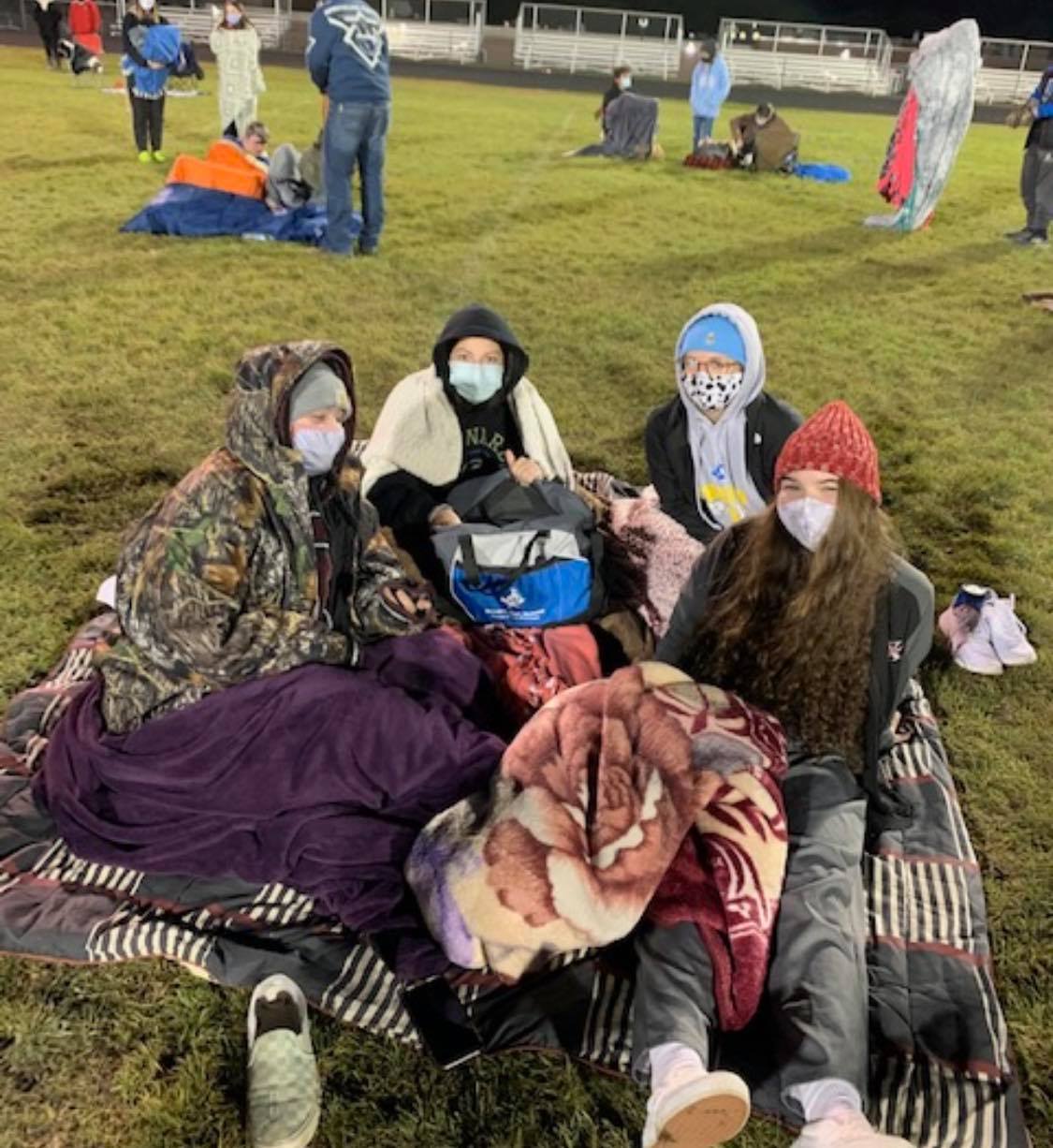 "People were pretty happy that we came up with an alternative, and that the administration was so supportive in trying to put on something else fun for us," said Hughes.
Given how resilient Seward students have been through the pandemic, it didn't surprise Johnson to see more than 70 students brave falling temperatures that hovered in the low (and I mean low) 30s. Originally, over 200 Bluejays had registered, but that kind of turnout in those kind of temperatures is undeniably impressive, especially given the fact that many students had spent the majority of the day outside.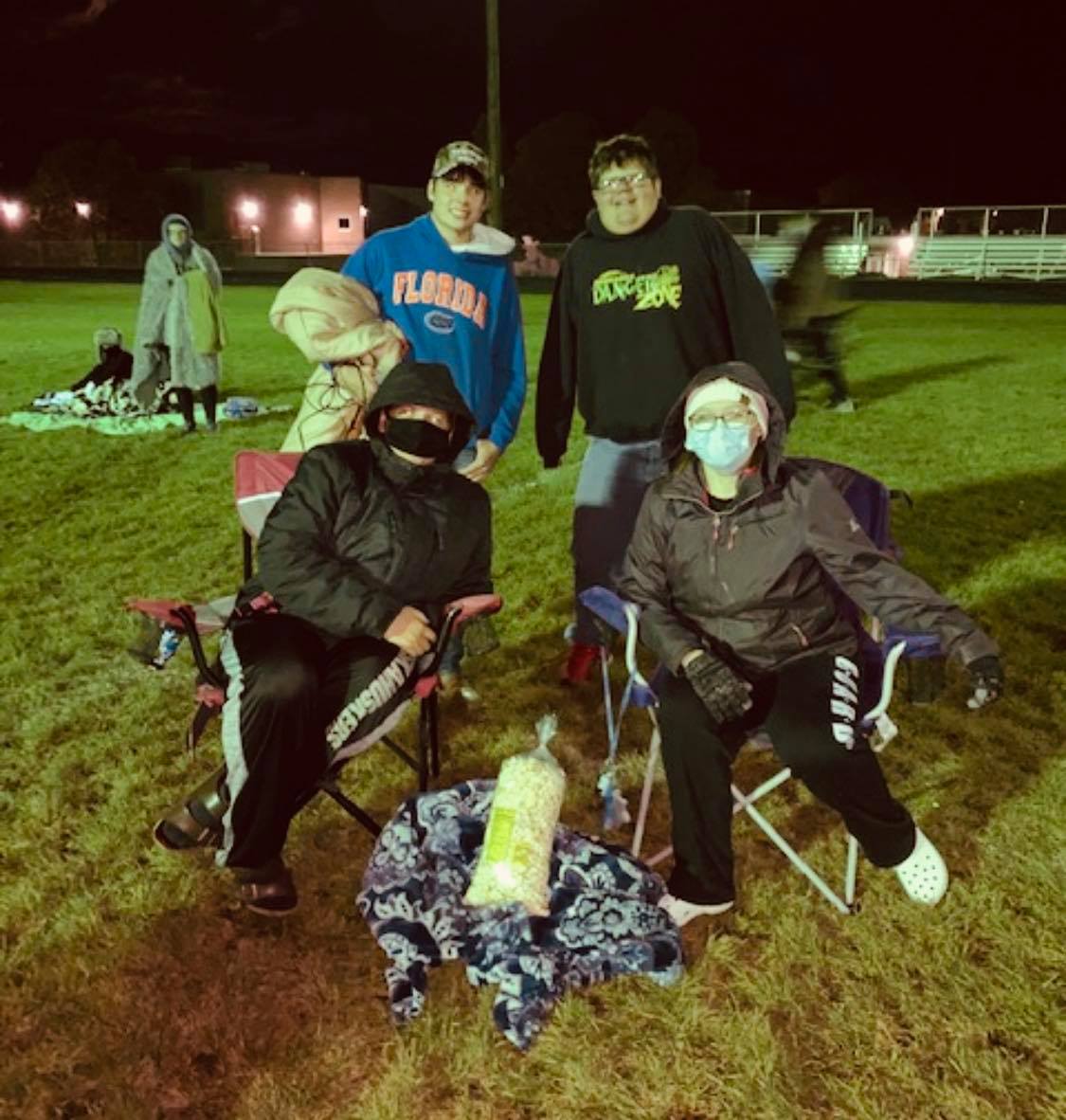 "Our boys and girls cross country teams made it to state, our girls were state champions, we had our football game at home with a ton of students there cheering them on and the band performing beforehand, so kids had been out in the cold weather all day," Johnson said. "We just have a lot of things to celebrate, and I just love that our kids really wanted to do this."
Prizes were drawn earlier in the day and handed out during the movie. Concessions were available, too. As for the movie selection, anybody who's already seen "A Quiet Place" knows that a largely empty high school football stadium in the pitch dark is the perfect setting for a spooky viewing.
"It definitely freaked me out," said senior Ross Brown, himself a recipient of a prize pack. "I had Nerds, Fanta and Cool Ranch Doritos. It's like they knew me."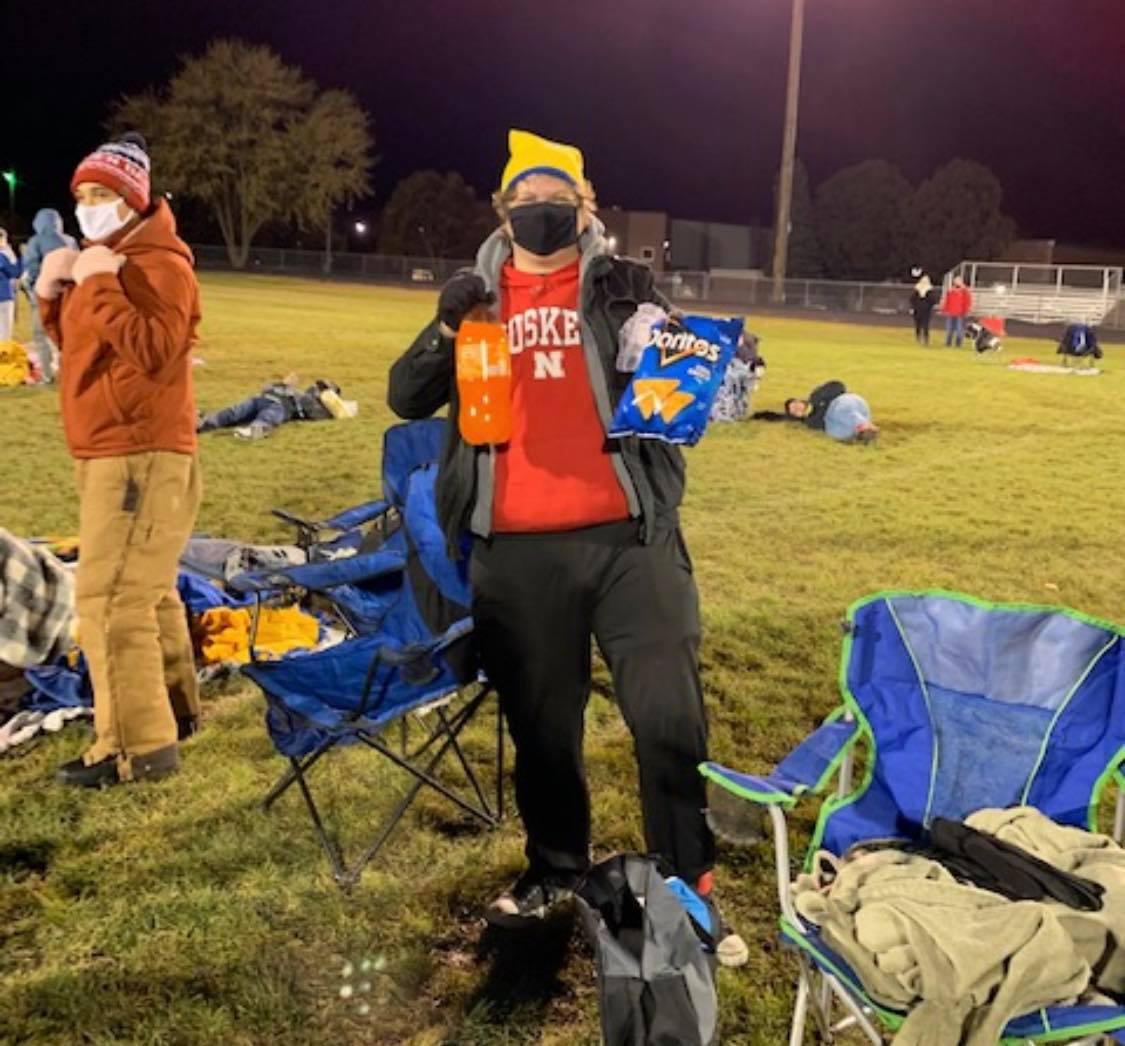 The jump scares, in particular, were well-received, said Larson, especially for those in attendance, like himself, who hadn't yet seen the film.
"It was eerily quiet sometimes, because of the movie and because we were outside spread out," said sophomore prize winner Dominique Newton.
All in all, Fright Night was a success, something fun the students will be able to look back on from the wild, unprecedented fall semester of the 2020-21 school year.
"I was just glad we did something rather than nothing," said junior Sam Matthias.
It wouldn't have been possible without the Bluejay Leadership Team's direction and initiative, Johnson adds.
"They're an awesome team that's been really willing to step up and help whenever we've asked," Johnson said of the student council, which also prepares gifts for substitute teachers and operates a room service-style coffee cart for the staff in December among many other ventures. "There's seventeen of them, and they don't argue. They just throw out lots of great ideas and then come to a consensus and act on it. We sort of just sit back."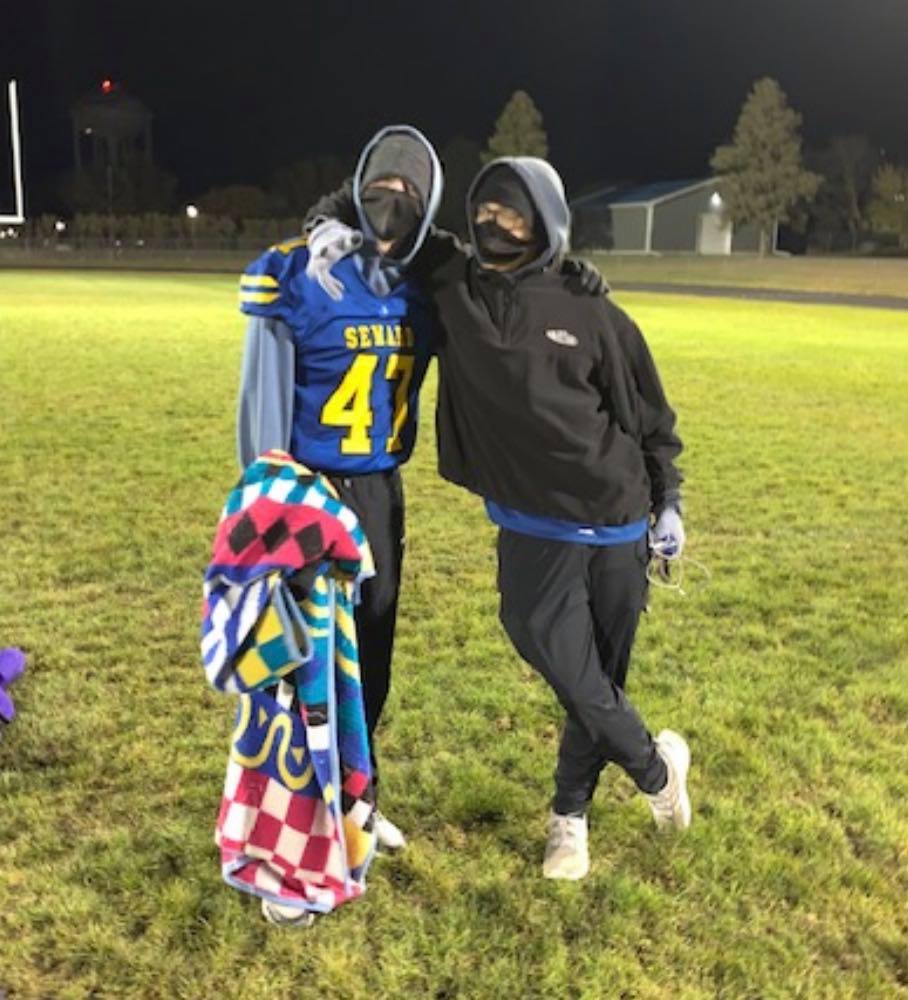 The group is responsible and, as previously stated, positive, said Upton. In 2020, those are invaluable traits.
"They're really important to our school," she remarked.
On one really chilly night in October, as John Krasinski and Emily Blunt ran for their lives from extremely horrifying "Death Angels"on the big screen overhead, more than 70 bundled-up Seward students felt a sense of normalcy again.
"It kind of felt like just a regular movie night," said Larson. "Just like going and hanging out at your friend's house, crowded in the living room for a scary movie night. It felt pretty normal, except for these things (tugging on his mask)."
The group nods in agreement, and then falls silent for a second before Brown speaks up.
"It was a lot colder, though."