ESU 15's PLC Process Day creates big-time collaboration opportunities for SW Nebraska teachers
ESU 15's PLC Process Day creates big-time collaboration opportunities for SW Nebraska teachers
By Tyler Dahlgren
One by one, teachers from the nine school districts within ESU 15's coverage area came filing into McCook's Evangelical Free Church on a Wednesday morning in mid-September.
By 8:55, the line outside stretched the length of the parking lot. The scene was somewhat reminiscent of the droves of Husker fans waiting for Scott Frost's signature on Fan Day, but this was just a PLC day at a church in Southwest Nebraska. Or so we thought.
After more than 350 educators from Chase County, Dundy County/Stratton, Hayes Center, Hitchcock County, Maywood, McCook, Southwest and Wauneta/Palisade had retrieved their itineraries and filled the church's auditorium, nationally-renowned keynote speaker Jimmy Casas was introduced by ESU 15 Staff Development Director Kelly Erickson.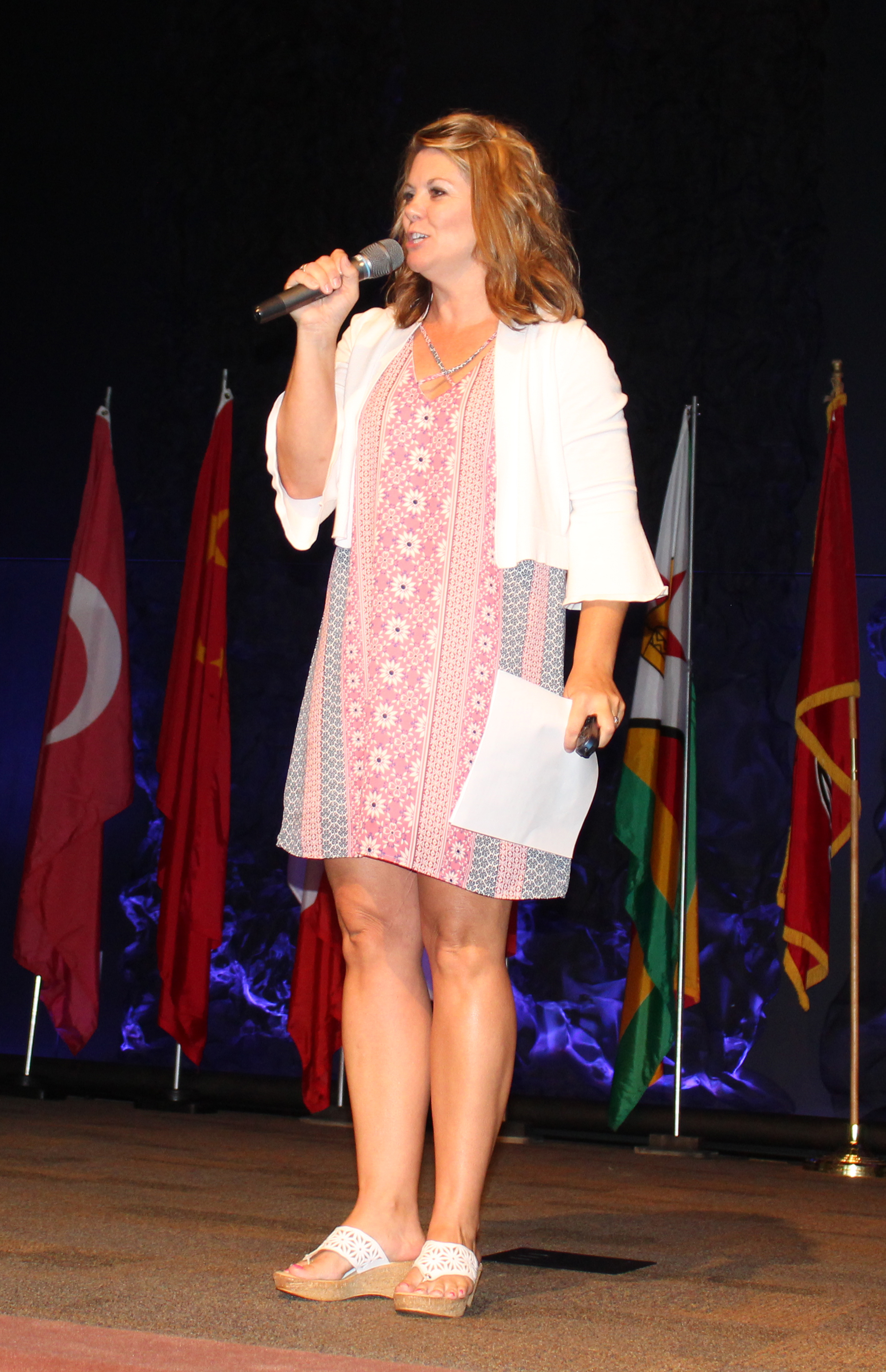 Above: ESU 15 Staff Development Director Kelly Erickson welcomes the more than 350 educators to the PLC Process Day on September 19 in McCook before bringing keynote Jimmy Casas on to the stage.
PLC Process, which got its start in 2012-13, is a collaborative process unlike any other. This event, which happens every school year, is a day unlike any other.
"We follow the Solution Tree's PLC model," said Erickson, who was hired in 2013 to implement PLC Process. "In the beginning, the ESU paid for each school to send two representatives to a PLC Summit in Phoenix to receive training on the process."
Six years later, administrators from all nine schools have attended a PLC Summit put on by Solution Tree. Numerous teachers have done so as well.
PLC Process, as it's come to be known, began in the second semester of that first year, with teachers from each grade level and subject area across ESU 15 congregating for full days of idea-swapping and practice-sharing.
The three main focuses of PLC Process have remained consistent, though material covered has evolved and varied tremendously over the last six years.
1.) Focus on learning, not on teaching.
2.) The data drives decisions.
3.) Collaboration is the key to improving student learning.
---
In a Sunday School classroom in one of the church's now-lively hallways, three teachers sit in on a roundtable discussion.
There's Alicia Shirley, a 1st-grade teacher at Maywood. She's in her 14th-year, and has served as the school's STACK assessment coordinator for three years.
Next to her sits Betsy Johanson, a third-year school counselor from Wauneta/Palisade. Prior to that, Johanson spent six years teaching all sorts of subjects, from social studies to English to P.E., at the middle and high school level.
Richard Smock teaches 11th-grade American History at McCook, by far the largest school district in ESU 15's map. McCook has been implementing PLC Process in its own district for eight years, and started dismissing classes at 2:00 every Wednesday seven years ago so teachers could have collaboration time with their district teams.
"McCook has served as strong leaders in this ESU-wide PLC movement," adds Erickson.
I came with a set of questions, though I came up with many more during the rousing keynote speech from Jimmy Casas, who urged the teachers in attendance to realize their purpose.
Admittedly, I didn't know what I was walking into. PLC Process is a big deal in ESU 15. The teachers come revved up, excited to interact with their peers from surrounding districts. These three teachers were willing to share their experiences within this Professional Learning Community.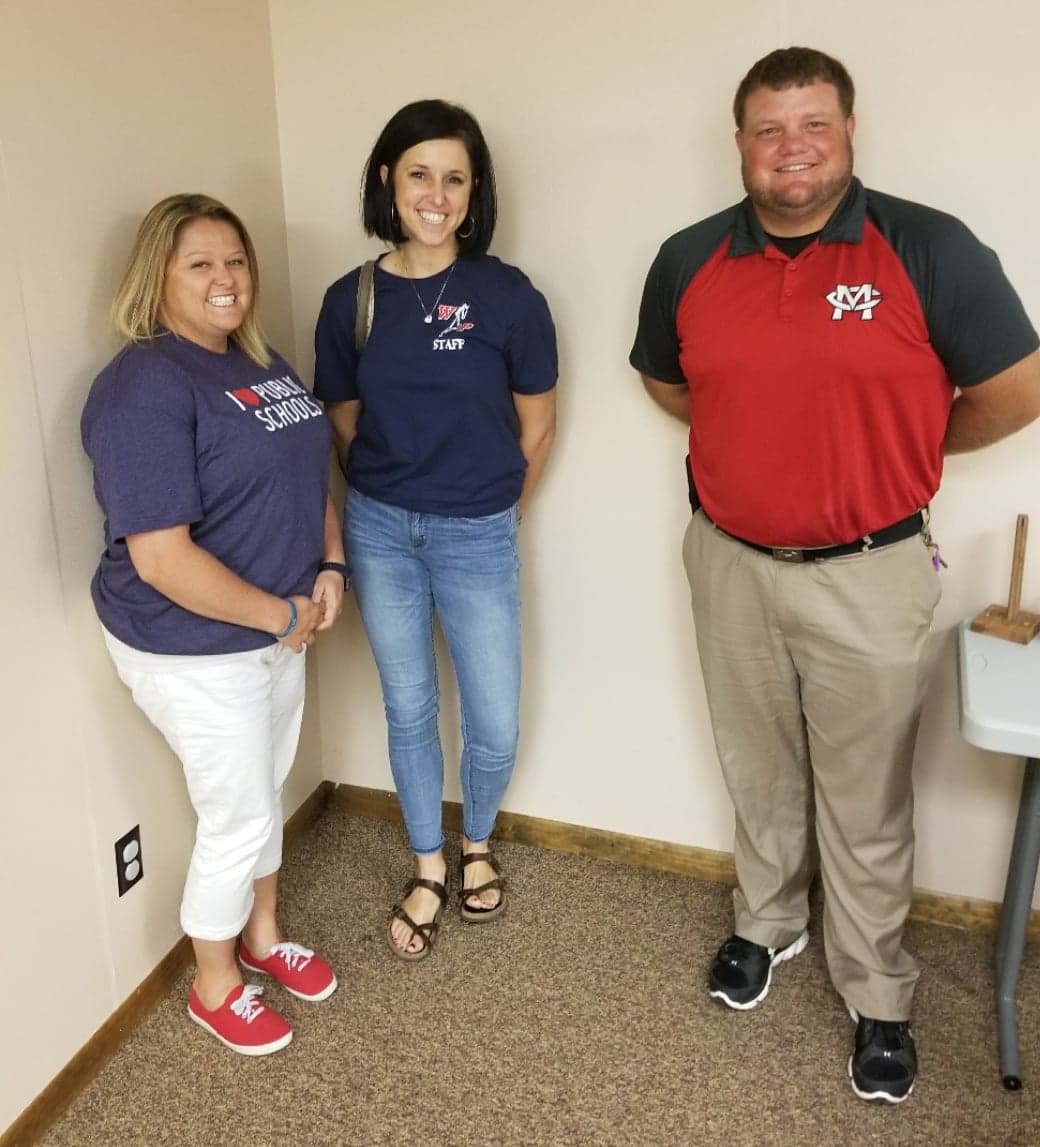 Above: The three participants in our PLC Process Roundtable Discussion, from left, are Betsy Johanson, Alicia Shirley and Richard Smock.
Here's the Q&A!
Q: In what ways have you seen your classroom grow stronger as a result of PLC Process?
Smock: As a first-year teacher, being thrown into PLC Process and being exposed to this type of collaboration, I really learned from other social studies teachers. We came together in core groups, and everybody brought different ideas. It really exposed me to some veteran teachers that have been doing this for 20 years and some other young teachers that came with fresh and unique ideas. You tweak them a little bit to how you think your class is going to run. I have brought probably a dozen different activities or lessons to use in the classroom back from here.
Shirley: It has been really nice because we only have one first grade teacher in Maywood. It's just me. So these PLC Process days provide an easy way to swap resources and bounce ideas. We've started this PLC Triad with Hayes Center and Wauneta/Palisade, where we will go and visit another classroom in a different district and see those teachers in action. We'll say 'Can we take a picture of this wall?' or 'I like that idea!'. It has been really nice to see it in real life.
Johanson: There is truly a sense of camaraderie as well. We are all singletons within our small buildings. At PLC Process Day, we get to interact with other teachers going through the same things we are. We support each other and give each other resources. We help each other find our purpose again, like Jimmy Casas said. We cheerlead for one another.
Smock: There is a lot of moral support as well as academic support.
Q: Have you found ways to collaborate when you don't physically meet?
Johanson: Our group definitely has. We share emails back and forth. We have a Google Doc folder just for us. We pop things in there.
Shirley: We have the website, www.realframeworks.com, which everyone is using to collaborate. If someone is covering the Civil War, for example, you just check into what is on there.
Smock: We are definitely getting to the point where we are using the website more and more. We are plugging more stuff into it and utilizing it as a tool.
Q: How valuable is it to be able to talk with someone that walks their miles in the same shoes as you?
Smock: I feel that sometimes the ideas in your own four-walled room can grow stagnant and that can become frustrating, but this helps us realize 'I am not the only one.' I point to the veterans in the social studies group. They say 'This is what I do', and that insight is awesome because I would have never have come up with some of these things on my own. Being able to pull from that input is so valuable.
Shirley: Just the fact that maybe it took that veteran teacher 20 years to come up with that, but you don't have to struggle for 20 years and your students don't have to go through 20 years of you struggling before you can become great.
To pass on and share what is best for our kids, that is the most important take-away from days like today. In the beginning, we would meet in this room and be like 'Hey, we play you Friday night, you're the competition,' but through the years, that narrative has went away and now it's just about focusing on what is best for all the kids in our ESU. We are not really competing with each other any longer.
Johanson: Now, we feel comfortable saying 'Hey, if you are on your way by can you drop this off?' Before, that wasn't happening. We existed kind of on our own islands. We were seven miles this way or seven miles that way. Now, it's more about the kids. It doesn't matter where you are from, it's more about how we can get the kids what they need.
Q: Focus on learning, not teaching. What does that mean to each of you?
Johanson: My 13 kids are going to be different than everyone else's 13 kids, so I've got to figure out how to reach my 13 kids in a way that will best suit them. So it's about taking what I gain from days like today and utilizing that material and those resources in my interactions with students.
Shirley: Teaching is what adults do, and learning is what kids do. This PLC Process has helped us see that it really is about kids and not about adults.
Smock: One of my college professors would say 'You have got to teach, not preach, and make your subject matter relatable so that it sticks.' For a social studies guy, it can be easy to say 'Constitution Day is Monday, so we will be going over Article 1, and memorizing Article 1.' We have to get away from that. We have to explain it in a way that is creative and we have to adapt to our audience. PLC Process gives us the tools to do that.
Johanson: I look back on my first year straight out of college, and I almost feel bad. I felt like I HAD to teach this and this and this. You zoom through the year and through the curriculum and you kind of forget the little things. Learning isn't going to happen if we don't first focus on the little things. That has evolved. You have to fix the basics first.
Shirley: I think every teacher is always trying to do their best. Nobody comes in intending to give a B-Team effort on any day. The work in the PLC Process helps us know what awesome teaching looks like. It makes us hold ourselves to a higher standard of learning, not just teaching.
Q: Part of PLC Process has to do with the maximization of resources, a crucial element for you educators in this part of the state, where 30 miles might exist between towns and between districts. What kind of new technology have you been able to utilize throught PLC Process?
Smock: You definitely are provided a number of resources. Textbooks, smartboard and a projector. As a first-year teacher, that's what I had. Now we have Google Classroom, the Google Docs, our website. The sharing ability we have access to opens the doors to constant collaboration. It makes 30 miles between towns not seem like 30 miles.
Johanson: It makes me feel old, but when I started, I didn't have a projector or a smart board. We didn't get iPads until four or five years after I'd been here. Now, I have a smart board in my room. We have a computer card and four iPads in our room. We do so much more technology-wise now, and have that much more exposure to things. It's crazy how much we can do now.
Q: It would be easy for you to exist on an island. It would be easy to do things in your school the way they've always been done. Why do you feel the need to continue to search for innovation to implement in your classroom?
Smock: We are dealing with a new generation. I'm not saying they are that much different than generations past, but they do crave more modernization. The old way of standing up there and expecting the kids to take notes, it just doesn't work today. It doesn't work for the kids, it doesn't work for us, and it doesn't work in the world.
Johanson: There for a while, that is how our staff was. We had a more veteran staff, and they were pretty headstrong against change. It's how it had always been done, and it seemed to work fine, so they figured we didn't need to mess with it. Now, the veteran teachers we have are on board. Change is tough, though. It's tough to have to learn all of this, but they've seen it pay off now.
We might struggle, but I think it helps the kids to see that we are struggling every now and then. Especially my littles. They see that and think 'Oh, she makes mistakes too, so it's okay, we just have to start over and try again.' I think that is important for the kids to see that even as adults, we will make mistakes. It's part of learning.
Shirley: Some of these kids we are teaching today are going to be a part of the 22nd century. Literally a whole different world. We can't just prepare them for right now. We have to prepare them to be learners for whatever world they are going to live in. It's not going to be the same world we lived in, so we can't just give them skills for today. We have to give them the ability to learn and adapt to what the world is going to be when they grow up.
Q: Focusing on results, have you seen PLC Process make a difference in student achievement and learning.
Johanson: I think so. I think we have changed our way of thinking and doing, which has in turn helped them realize the importance we place on their learning. We tell them 'You can be successful. You can do this.' So they kind of get pumped up and think 'My teacher is holding me to a high expectation, so I want to make them proud. I want to show them how good I can be. I can be the best I can be.'
Shirley: PLC Process makes us all better teachers, and that no doubt impacts student learning.
Johanson: State standards are overwhelming to almost everybody. The data says if you taught every state standard, it would take 20-22 years. So to find the essentials, that is what is key. In order for my kids to achieve, I have to expose them to these essentials. Essential learnings in the PLC Process was how we started. We unpacked all standards. It is a very specific process, identifying those essentials, but we don't have to do it alone.
It would be almost impossible and overwhelming, but you come here and have this team of teachers doing the same thing you're doing, under the direction and leadership of Kelly and ESU 15, it makes a powerful impact on the work we do.
Kelly is amazing. If you have a question, even if it isn't PLC-related, I can shoot her an email and she will respond right away. She gives positive affirmation. If you're struggling, she will come to your room. ESU 15 is great. I never hesitate bringing a question to them.
Smock: They will give you as many resources as they can find.
Q: Why do you love working in Nebraska's Public Schools?
Johanson: I was born and raised in Nebraska. To this day, I can remember my kindergarten teacher and wanting to be like her. I always say she is the reason I teach. I wanted to do what she did. She made it fun. I loved coming to school. I want to give my kids every opportunity I possibly can in order for them to have something positive in their lives.
I want to be that positive consistency. They are my students. They have my attention. They know I care for them and am going to do everything I can for them while I have them.
Smock: Born and raised in Nebraska, too. With this area, you kind of know everybody. Being able to reach out to that next generation and learn their names before they become adults, before they join the community, that is awesome to me.
As an educational system, Nebraska has stood up for individual teachers being able to teach in their way and to me that is so valuable. These are our standards, and we have to hit them, but we have some freedom to teach. There are other states out there that aren't really like that. It is truly special the freedom we have to innovate.
Shirley: I have hope for the future of Nebraska, and that hope is best played out in public education.