Early College High School Puts 143 Millard South Graduates a Step Ahead: "They're rock stars. They're going to go on and run the world."
Early College High School Puts 143 Millard South Graduates a Step Ahead: "They're rock stars. They're going to go on and run the world."
By Tyler Dahlgren
At any given time, there are 600 Early College High School students inside the walls of Millard South High School.
Six-hundred.
That's nearly a quarter of the student body. When the school held its graduation ceremony at Baxter Arena last Saturday, 143 seniors walked across the stage to receive their diplomas having already earned an associate's degree from Metropolitan Community College.
They're the best and the brightest. Future engineers and doctors and psychologists. And after four years of rigorous curriculum in the district's innovative and, having just completed its seventh year, established Early College program, they're doubling up on diplomas and degrees and diving into 143 very bright futures with a major leg up.
"It's just awesome to see their excitement and fervor for education," said Millard South's Early College Coordinator Amy Sweets. "They are rock stars. They're going to go on and be so successful. These are the people who are going to run the world."
It's mid-May, about two weeks from graduation, and six seniors sit around a table in a conference room near the school's entrance. They're there to talk about the program they entered as freshmen, about their trials and triumphs and what all they learned. And yet, it's difficult to steer the conversation away from the future. Perhaps that's the loudest praise one can sing for the program.
Their future is now. They've got hours and hours of transferable college credits in hand, and boy are they ready for it.
"Early College has basically knocked off two years of college and that's really the biggest selling point and what drew me in when I was in eighth-grade," said Ben Bartholow, who will attend Wayne State and pursue psychology. "You don't really understand the cost of college at that time, but you know it's two years sooner that you can get out of college. So that's what pushed me to do it, and it's been an awesome experience."
The program, which just graduated its fourth class, exists and thrives through partnerships with Metro and the University of Nebraska-Omaha, where more than 30 percent of graduates enroll. Their credit hours are accepted at UNO, and most everywhere else in the country, and students who complete the four-year plan can make the transition from high school to college with as many as 70 credit hours in hand.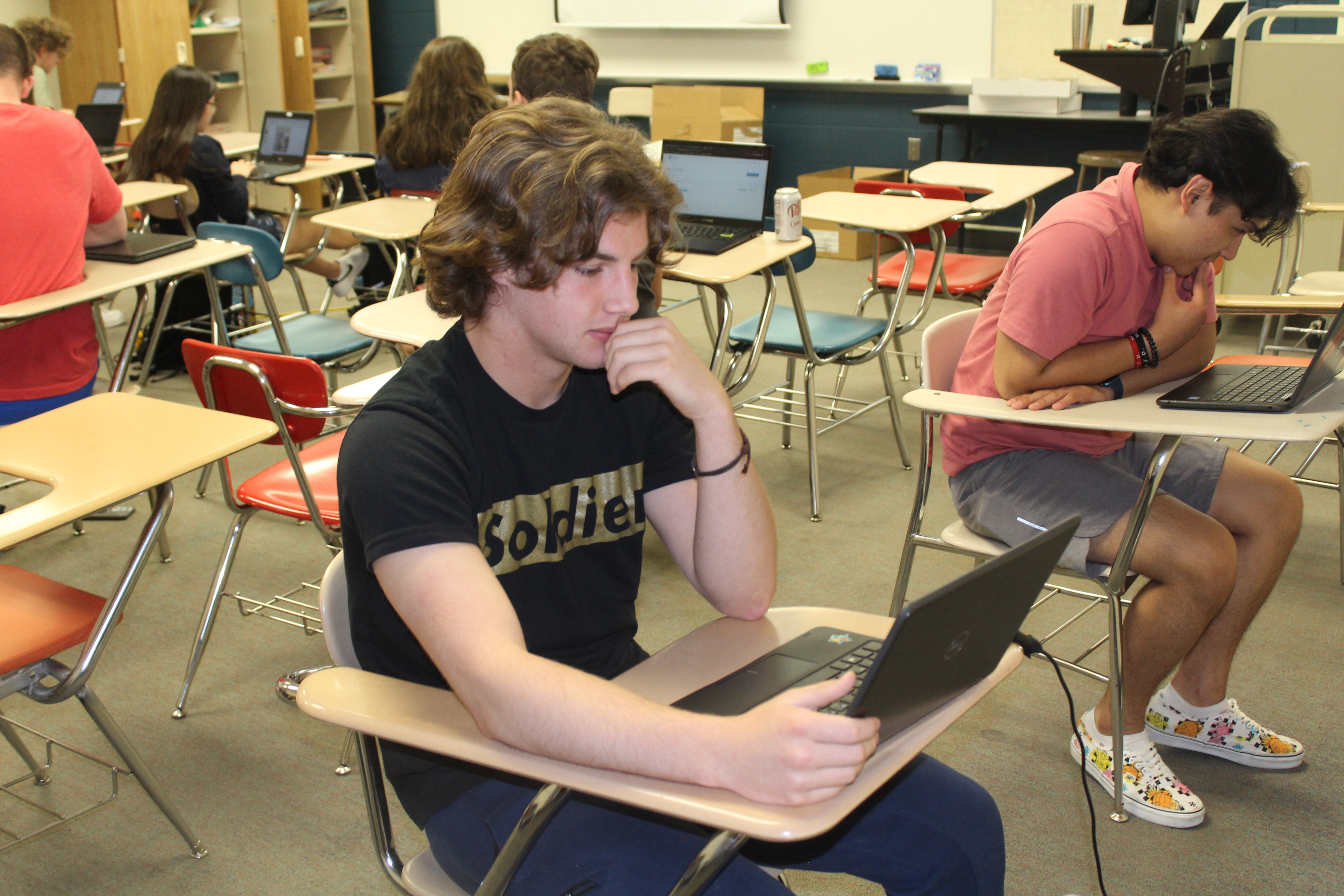 "That's one of the goals, too, is keeping our best and brightest in the area," said Melanie Olson, Millard Public Schools Coordinator of Secondary Programs.
When Millard South began putting the program together, they discovered a high number of highly-educated teachers who held master's degrees in specific content areas that qualified them to serve as adjust professors. The staff's eye-opening pool of talent can be attributed to the hiring process in place.
"We've been really fortunate because, over time, we've hired a lot of non-traditional to education teachers," said Assistant Principal Andrew Pinkall. "There's not a hand-written rule, but we tend to hire people who are coming to education after having done something else because they have reflected on their life choices and decided they belong in the classroom."
With those credentialed educators as a foundation, and with institutions like Metro and UNO on board, the program took off. Metro approved both the rigor level already in place at MPS and the qualifications for collegiate instructors.
"You really can't have this type of program without that depth, because it requires a master's or the correct number of hours in a content area in order to teach at the collegiate level," Olson added. "It's the people, at Metro and Millard, who are really dedicated to all of the students that keep this program going strong."
Right now, Millard South has approximately 50 educators with a master's in a particular content area. Metro CC is a key and essential cog in the operation. A proud one, too.
"The benefit for Metro is that we're helping the community," said Kayla Gillian, MCC's concurrent enrollment navigator. "MCC is very community-based, so seeing this succeed has been so rewarding. This is the cool kid in Nebraska. This is what all the concurrent enrollment credits that schools are doing is modeled after. This is what they want to do. That's a huge success for Metro."
Early College students are blended in with general education students. There might be extra writing prompts or a couple additional essays for EC students, but nothing absurd. The rigor is built-in, so much a part of the experience that it can often go unnoticed.
"We maybe get a little more homework, but it's pretty typical to a normal student," said Katie Bartholow, who will major in forensic science at UNL.
"I always took all the highest courses anyways, so regardless of Early College or not I'd be doing all the advanced classes you can find, I'm just getting more out of them than I would had I not entered the program," said Gabriel Madena, who one day hopes to be an aerospace engineer and is well on-track. "I'll be able to finish my master's in four years, and that's because of the Early College program."

"I'm planning on being an engineer in the future and they have a lot of math course work," said Antonio Garcia. "And I think it's really helped me make sure that I'm in the harder class, make sure I'm getting the college level workload so that when I come into college I'm fully prepared to handle that."
Elly Vo plans on entering the biomedical field, and will head to UNL in the fall with the luxury of taking more exploratory engineering classes.
"Getting those general ed credits out of the way, I'll be really fortunate to have more time on my hands to take the classes that I truly want to take," Vo said.
Early College allows for that freedom, and though Millard South French teacher Terri Wright's two daughters went through the program and prospered on the other side, she viewed the experience, from a parent's perspective, as a win-win.
"I knew that if they failed, they'd fail successfully," Wright said. "That even if it didn't go exactly as they'd planned, they would still be further along than they would if they hadn't tried it."
Wright's daughters were successful. They're both headed towards careers in engineering, and her son, an incoming freshman, will enter the program in the fall. Her oldest was a senior by the end of her first semester at UNL, where she's studying biological systems engineering. She walked on campus with nearly 90 credit hours in hand.
"I would compare it to a track meet," Wright said. "If you have a fast heat, you're going to run a little faster yourself. If you have a slow heat, you might run a little slower yourself because you can't relatively tell. So, I guess these guys are running in a fast heat."
They've been in the fast lane for so long that a trip around the track feels like a walk in the park. Easy, like a summer breeze.
"They're wonderful human beings because they work hard and they are learning how to overcome so much in their academic lives, in their social lives and personally at home," said Sweets. "All of the skills they're learning in their classes are just setting them up to continue to meet any obstacle they come across and succeed and really just blast through it. It's amazing and encouraging to see their enthusiasm and their drive and their focus."
When Carly Decker graduated from Millard South in 2020 and headed to the gulf coast for her freshman year at the University of South Florida, she did so with an inkling of what to expect at the next level. Early College helps make that transition easier, and she was excited to learn that USF had accepted all of her credits.
"Going into college, I was already prepared for the rigorous coursework and all the studying I was going to have to do," she said.
Just two years later, Decker is a 20-year-old college graduate moving on to the master's program for social work at USF. Her fellow students at USF were surprised to hear of the opportunities she was afforded in high school. Some, particularly the ones taking general ed courses, were even a little envious.
"Everyone was just really impressed with that and would say 'Oh my gosh, I wish my high school had a program like that,'" Decker said. "And I answered, 'Yeah, I was pretty blessed to go to Millard South and to have that experience and opportunity.'"
Decker has a word of advice for students entering or currently going through the Early College program.
"Try not to stress yourself our, because it's really not as hard as it seems," she said. "If you put your mind to anything, you can get it accomplished. Just believe in yourself."
Kind of like Sweets believed in her.
"This girl's going to take over the world," Sweets said of Decker, who Zoomed in to the interview from The Sunshine State. "She is amazing and resilient and a ray of sunshine. Her future clients will be so lucky to work with her."
The program acclimates the students to college life well before graduation, too. Madena, for example, took advantage of the free tutoring offered at MCC when he was taking AP Calculus BC. His peers shared similar experiences.
"Early College gives us a lot more understanding of college, because we have to work with Metro and take a lot of guidance form them," said Ben Bartholow. "It gives us more of a general understanding of how things work so that we're more prepared and less 'What am I doing? Where am I going?'"
Students apply for the program when they're in 8th-grade, an intense age to begin focusing so heavily so far down the road. That's why the district has been so intentional about marketing it to families of incoming high school students. Millard South holds parent nights, sends home letters and promotes the program on social media. A few years ago, a "Bridge to Early College" was implemented at Central Middle School. The early exposure has paid dividends.
"We're trying more and more to spread the word at the fifth, sixth and seventh-grade level, so that these families can start preparing for this and make informed decisions," Olson said.
We asked the group if they'd sign up for the experience again or recommend it to incoming Patriots.
"Yes, do it," Vo said. "They accept a lot of people and almost all your friends you're going to make in high school are going to be in Early College, too. You'll have a lot of people in the same boat as you."
That's precisely what drew Sophia Nkwocha, who will be at UNO in the fall, to the program in the first place.
"I always liked the idea of being with like-minded students who wanted the academic challenge and were dedicated to it," she said.
It's easy to make friends when you're around like-minded people, Katie Bartholow added.
"And it's usually the same group of people in every class and we're all involved in the same activities," she continued. "You just make friends and stay friends."
Their friendships reach beyond the classroom. Early College students form a solid bond while chasing a common goal.
"They go to each other's houses outside of school and do practice take-home tests together," Wright said. "And they love it. They just love each other so much. It's cool to see them support one another."
One day, they'll be aerospace engineers and forensic scientists and psychologists and biomedical scientists. But on this morning in May, they're just friends sitting around a table talking excitedly about the future. Just like they were four years ago, when they embarked on this journey through Millard South's Early College program.
The future's just as bright now as it was back then.
"Yeah, we're all besties," said Vo. "You can quote that."