A Day in the Tent with the Elkhorn, Elkhorn North Bands
A Day in the Tent with the Elkhorn, Elkhorn North Bands
By Tyler Dahlgren
Very much like the product being sold out of stands across Nebraska- the spinners, fountains and especially the grand finales- there's a science to working a tent filled with fireworks.
First and foremost, you have to know what you're selling.
Pick an area of expertise and, well, do what you have to do to become an expert. For the Elkhorn and Elkhorn North band members working the Bellino tent in the Family Fare parking lot off 204th Street, it's a salesman's science.
"You just have to pick a general area and then get a general feel of what you're selling and who those fireworks in your area appeal to," said Cody O'Donnell, a sophomore at EHS who plays the bassic clarinet. "When people ask questions, you know all the answers before long."
O'Donnell himself is a fan of bottle rockets, which were on the shelves in Nebraska this year after a long absence. He was one of six working the tent on Friday, two days before the Fourth, joining two fellow EHS and two Elkhorn North students in an effort to raise money for each program's booster organization.
The boosters provide support throughout the year for things left out of a normal school budget, such as meals during marching competitions and on long road trips and extra staffing during special band events. They're essential to band operations, and this a unique and collaborative way for two schools in one district to come together and fundraise.
"The more we can keep that idea of 'We're all one community and one band family' together, the better," said Elkhorn North band director Matthew Rom, who spent an entire decade directing the EHS band before handing the reigns off to Kyle Dreessen and moving to his new school (a little ways) north. "Things like this help us keep some of those ties, even though we did split into two schools.
EHS and ENHS are no strangers to collaboration. They team up often and kick off each summer marching with Elkhorn South in the Elkhorn Days Parade. The community, Rom said, loves it when their bands join forces. This operation is just an extension of that partnership.
"Doing it together and splitting the proceeds is the easiest way to do it," Rom added.
This is the second year that the two schools have teamed up in the tent, and the first in their new location, which was flanked by the EHS Band trailer, an enticing caveat for fireworks-seekers wishing to support a good cause in the buying process.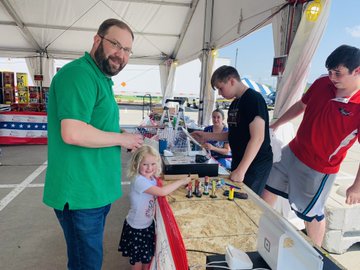 For the students, who volunteer for shifts that run three hours at a time, raising money for their band while spending time and building camaraderie with peers is what it's all about. Connecting with the community is the cherry on top of an already-worthwhile experience.
"It's always really nice to see that people care about things like this," said Elkhorn North junior Jadon Webster, tuba section leader for the Wolves' band.
O'Donnell agreed.
"It's a great experience, not only raising money for our program but also interacting with the community, too," he said. "Not only as a band member, but as part of the community ourselves."
Though the location change may have led to slower traffic initially, the community's support was felt and appreciated.
"It's also nice when families who used to have kids in band stop in to support us," said Elkhorn junior Michaela Todd.
The kids get letter points for volunteering, a big bonus and reward according to Rom. One of the four tent managers (Rom, Dreessen and two parents) is always present, and the students swap shifts from eight in the morning until eight at night.
"Working here lets you interact with people you don't usually interact with, especially here at the cashier station," Webster, who attended EHS as a freshman and enjoys reconnecting with familiar faces, said. "It's good to see old friends. Like Michaela and I, for example, we had World Geography together two years ago."
Like Webster, EHNS senior Dominick Quintana is a former Antler himself, attending the school through his sophomore year before switching to North.
"It's a friendly atmosphere and it's really nice seeing people I used to know," Quintana, who plays the Bari Sax said. "We all work well together and everyone is willing to help both each other and our customers out."
Though the students are working hard, this stretch of the summer is a nice reprieve from the yearlong grind of a high school band. After the Fourth of July, summer band lessons and fall show preparations rev right back up and, before long, summer camps catapult the students directly into a new school year.
"Summer, I would say, is all about practice," O'Donnell said with a smile. "Practice, practice, work at the fireworks stand, and then just more practice."
Sales as of Friday had been steady, but the crew was looking forward to a late push over the weekend. The new location may have played a part in the slower traffic, but positioning the band trailer close to the highway did pay dividends. Several shoppers credited those giant Antlers for luring them in.
"They'd say 'Oh, I definitely saw the trailer and that's where I'm going to get my fireworks' or 'I'm glad I was here to support the band,'" Rom said. "That's really nice and really validating to hear. Some of the customers have kids or grandkids in the band, but plenty didn't and were really happy to support us."
Overall, O'Donnell said, Elkhorn is a friendly community.
"There's not really that much clashing between the schools, and we all just support each other."
Two bands under the roof of one tent. Selling colorful noise to make music of their own.
An in-synch summertime symphony.