Cultivating Culture: Welcome to Shickley!
Cultivating Culture: Welcome to Shickley!
Wednesday, September 25, 2019
By Tyler Dahlgren
A Small School with a Powerful Culture
The career path that led principal Erik Sokol to the delightfully quaint town of Shickley, Nebraska was, in essence, one long case of culture shock.
Pleasant culture shock, that is.
Sokol spent his first decade as an educator in the Phoenix, AZ area, where he was born and raised. He coached at the high school he attended. He loved what he was doing.
Class sizes, however continued to grow larger and larger while resources and funding dwindled at an alarming rate. Benefits began to fade, too, and Sokol wondered how he was going to support his family moving forward.
"I have a twin sister who married a guy from Nebraska and relocated here, and she said 'You know what? Get out of the big city and come to Nebraska. It's a great place to raise a family,'" he recalls. "My wife and I prayed about it, God opened a door, and here we are."
Eight years ago, the Sokols made the move to the Heartland. From the land of millions to North Platte (population: 25,000), where he taught at nearby Hershey. Then there was two years at Bruning-Davenport, and another at Freeman.
Living and working in Arizona, administration never appealed to Sokol. Things changed when he made the move to Nebraska, where the ability existed to influence change and develop more interpersonal relationships that would ultimately lead to a more positive experience for each and every student.
"When you talk about resources and funding and what rural schools in Nebraska do for kids, it's phenomenal," Sokol said.
When he came to Shickley two years ago, Sokol heard the "Welcome to Mayberry!" jokes and laughed. In a short amount of time, he started to realize those "jokes" were almost based in reality. He had landed in a special place.
"Everybody around here has so much pride in the school," Sokol said. "They want to continue to see great things happen here, and there is such an affinity and a system of support for these kids."
Small, but impactful. That's exactly how 2nd-grade teacher Caroline Mosier describes the district, which is home to an innovative early-education program called "Diapers to Diplomas", one of the only of its kind in the state.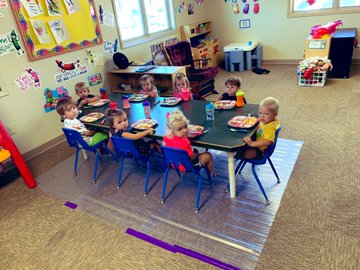 "We're very fortunate because though we have such a small district, we're a very powerful school district," Mosier said. "We are proud to have our own school, a lot of towns our size no longer can, or they're combining schools. We're still able to have our own school, and that's very important to the community.
The district co-ops with Bruning-Davenport in athletics, and the Eagles are usually near the top in all-sports standings at the end of the year. In other activities, the school held on to its Shickley Longhorns moniker. For the last decade, the co-op has been a blessing, though it took some getting used to at first.
"You're taking three very, very successful schools, communities and towns, who are very prideful in the things they've done and accomplished," Sokol said. "And now we get to share that."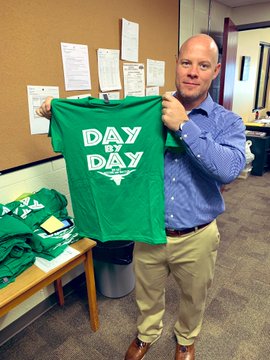 Shickley Public School is also supported by one of the finest school foundations in the state. It helps to keep them competitive academically. The district is 1-1, and has produced numerous impressive scholars.
"The success is really fun when you look at it because it's not just in sports, it's also in academics," Sokol said. "Our kids are hitting on all cylinders, and that's certainly what we want. I think a lot of that was in place before I arrived. People would say 'Shickley's a great place'. And, sure, on the outside looking in it looked that way. But on the inside now, being with those that are here and make this place what it is, it really is a special place."
Math teacher Sandi Snyder is in her 28th year at Shickley, and has felt a part of the school's family culture for the better part of three decades.
"We're all there for each other," Snyder, who gets invited to three or four weddings a year by former students, said. "We all have each other's backs, and we treat our students the same way."
---
Part Two: A Special Type of Kid
Ask a Shickley teacher about the type of students who roam these halls and pull up a chair.
They're likely to go on a while.
"We have great kids," said 5th-grade teacher Zac Schlegel, a 2007 Shickley graduate. "I think a lot of that is how they're raised. They're taught how to be hard workers from an early age."
Every single teacher we talked with during the visit used "respectful" when describing Shickley students.
"They're very welcoming to new people, too," said Snyder. "We just have awesome kids. We are in a unique place. I think as long as the teachers respect the kids, they learn that respect and give it right back."
When Sokol moved to Nebraska, he was impressed right away by how involved small-school students are in extra-curricular activities. It happens naturally in a small school. Every student is part of the district's heartbeat.
"It was like, wow, the starting quarterback is also in choir and competing in Quiz Bowl," Sokol said. "These kids are involved in everything. And the community supports everything."
Senior Regan Alfs is a standout athlete and also placed third nationally in FBLA for a business plan she formatted last year. Her involvement in FBLA has taken her across the country, from San Antonio to Baltimore to Anaheim.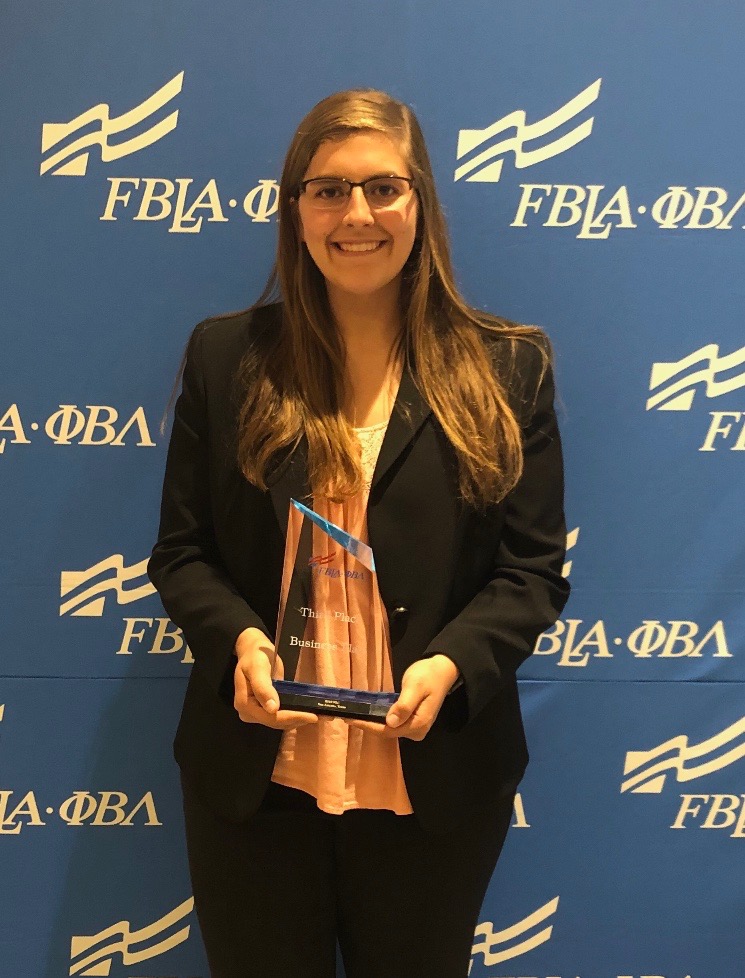 (Pictured above: Regan Alfs placed third nationally in FBLA Business Planning last year after coming in fourth at nationals the year before)
"It makes you a better person," Alfs said of being heavily involved. "Between digging into the business side through FBLA and volleyball and basketball, it teaches you to work together and other life lessons, but also allows you to be with your friends."
Sitting next to Alfs is senior Alyssa Nolt, a state-qualifier in speech, who moved to the "tight-knit" community when she was in second-grade.
"I would definitely encourage younger students to take in as many activities as they can, just because it's a great opportunity to get to know your peers better and to make connections with people outside of your school," Nolt, who is also involved in music at the school, said.
Just inside Shickley's doors sits a yellow bench with the words "In a world where you can be anything, Be Kind" carved into its frame. If my morning spent at the school is any indication, the folks here take these words to heart.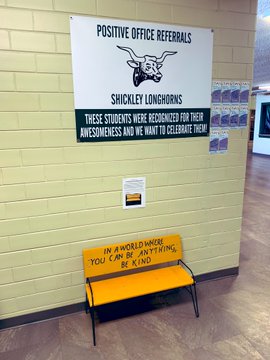 "We're very kind to each other," said Alfs, who plans to study at UNL and one day become a teacher. "Being in a small school, you are friends with everybody, so you can kind of tell if something's bothering someone and you know how to comfort them. Having a positive, upbeat environment helps."
As seniors, Alfs, Nolt, and their classmates take it upon themselves to pass that friendliness along to younger Shickley Longhorns.
"As upperclassmen, we try to help out the younger kids who may be confused and we try to just reach out and get to know them," Nolt, who wants to study at Hesston College to become a music therapist, said. "I've really appreciated all the encouragement and support that Shickley has provided."
And if the community ever wonders if they're unwavering support is appreciated, Alfs is here to testify that it is. Every single day.
"We are very blessed because we grew up in a community that always wants us to be successful and they'll support us no matter what, whether we're fundraising to go on a trip for FFA or playing a volleyball game or competing in a speech meet," she said. "Our community wants us to be our best and watches out for us."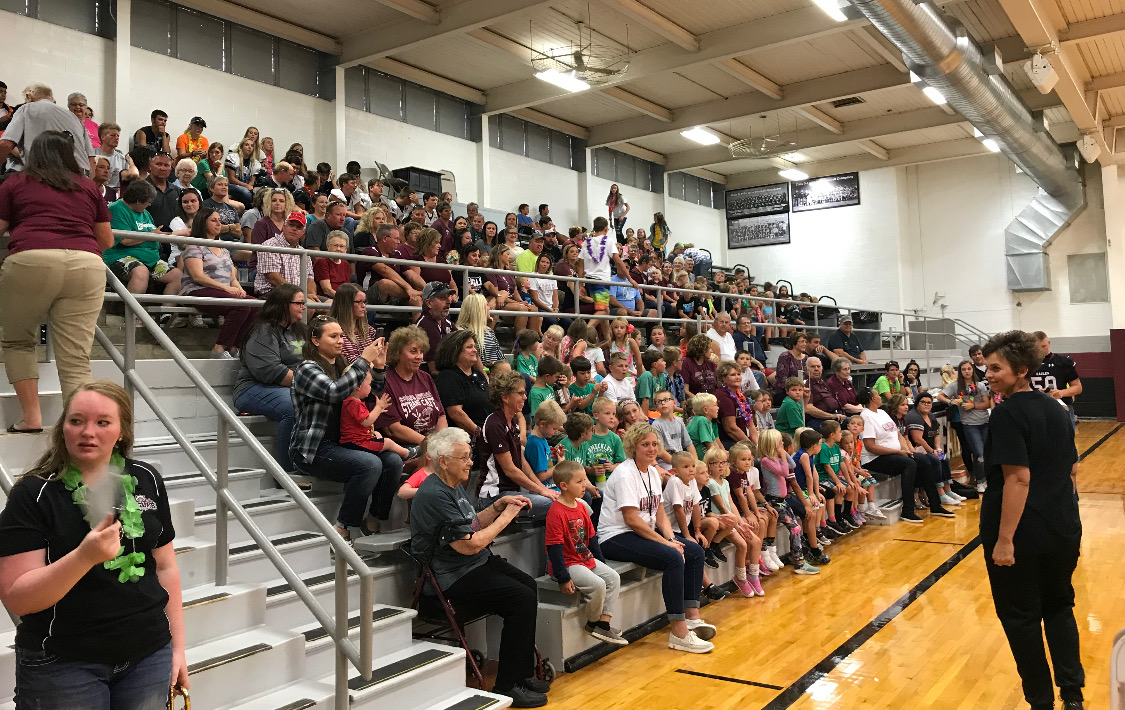 It's the positive experiences had by students that draw many back to Shickley down the road, when they have families of their own.
"You form relationships and bonds here that make students want to actually come back," Mosier said. "A lot of students are coming back and making careers here."
And if their roads lead elsewhere, they've got an entire school cheering them on.
"Most importantly, if we've done things right, these kids will shine and succeed after graduation," said Sokol.
Welcome to Shickley.
"This has been such a great place to work, I can't come up with a reason I'd ever leave," Snyder said. "There's just not another place I'd rather be."
---
They said it!
"We're all very competitive and like to be successful in everything that we do. So, if it's a practice, we're willing to come in early. Everybody is on the same side, not against each other." –Regan Alfs
"It's definitely important, knowing that your administration backs you up with everything you're doing. I've always felt that here."-Zac Schlegel
"I think I really started figuring out I wanted to be an educator when I was like a junior or senior in high school. I really started picking up on what my teachers were doing and how their love and their drive to make us better kind of transferred to me."-Schlegel
"Schools like ours want to make sure that we do what we can to remain vibrant and to remain innovative, so that we can keep our doors open for years to come."-Erik Sokol
"I think the fun thing is, it's just genuine. We have genuinely great kids, and we have teachers and a staff that care about those kids."-Sokol
"I have different students who graduate and come back and say 'Hi Mrs. Mosier! I remember when we did this or we did that in your class!' or 'Second-grade was so much fun!' And we'll talk about how they're doing in college and how they're lives are going."-Caroline Mosier
"I feel our teachers are very supportive and always willing to go the extra mile to help us, even if it means they have to come in early or stay late. They just want us to be successful."-Regan Alfs
"We really are blessed to have such a great community supporting us in whatever we're doing."-Alyssa Nolt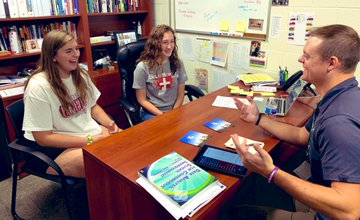 (Above: Alfs, left, and Nolt, right, talk about what it's like being a student at Shickley Public School during NPSA's visit on Sep. 18)
"We have a lot of kids who graduate from Shickley with 20-plus college hours. It's amazing to me that these kids can do all that they do. But you know what? They find a way."-Sokol
"We support them. We support them in what they do here in school and what they do after they leave here. And the community supports them as well. We have a plant sale here that I help with and we usually sell more than $20,000 worth of plants."- Sandi Snyder
"I've just always wanted to be a teacher, and just seeing a kid that gets something that they've struggled with, that's the most rewarding part of what I get to do."-Snyder