Crazy Cool Classrooms: A cozy den, a spacious studio, and comfort in the space between
Crazy Cool Classrooms: A cozy den, a spacious studio, and comfort in the space between
Friday, September 7, 2018
By Tyler Dahlgren
Want to get the creative juices of a class full of eighth-graders flowing?
"Draw Mrs. Garrick with a beard!"
That should just about do the trick.
Emily Garrick's second year of teaching art at Adams Middle School in North Platte is under way, and her five-minute "Daily Draws" to kick-start each class period (draw a loaf of bread at a disco was another hit) aren't the only splashes of zest she uses to promote quick-thinking.
You should see her digs.
There's a den near the front of the classroom, where students lounge while dreaming up projects. Think Red Foreman's basement, but with more color.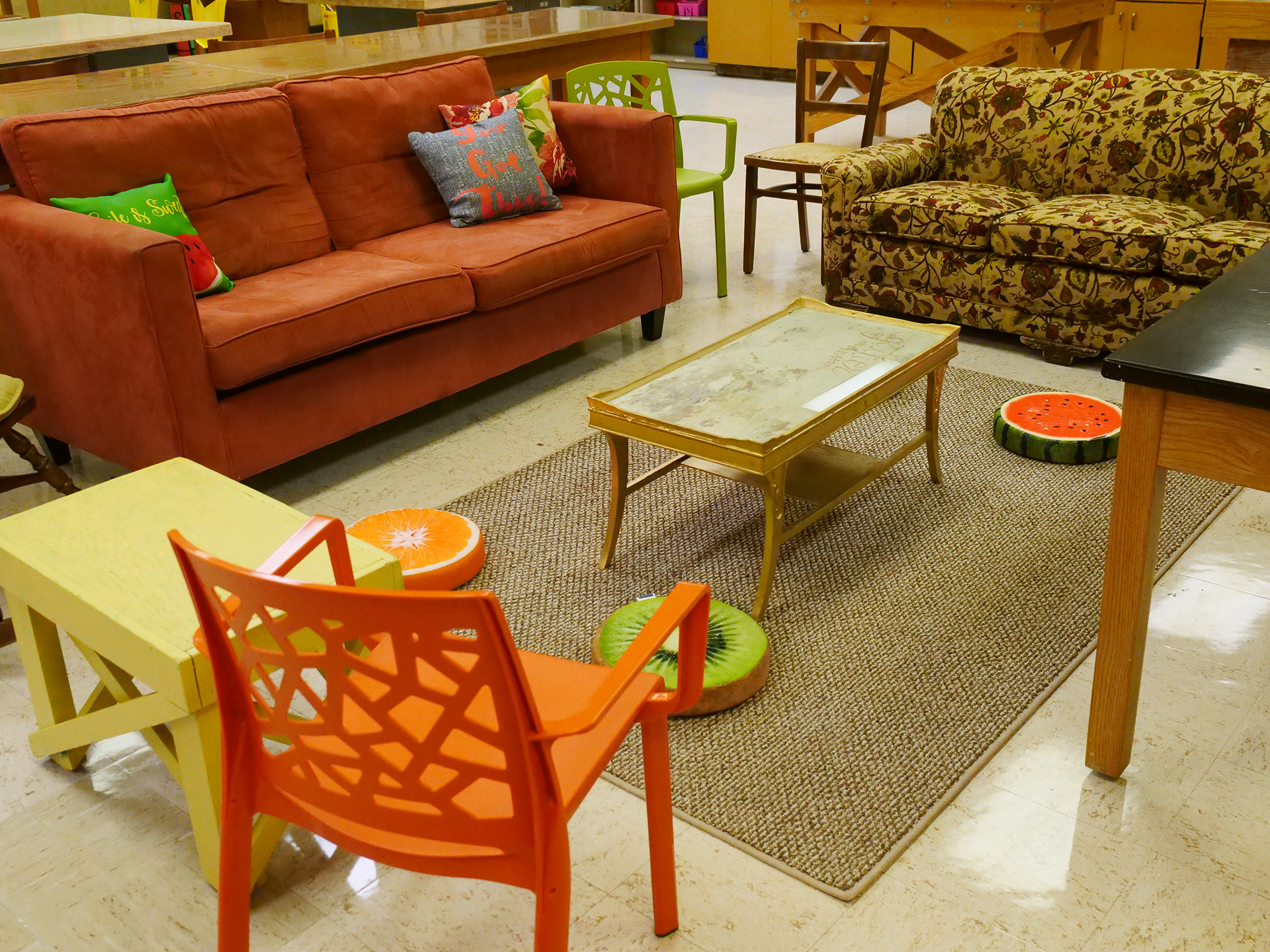 "This is what makes my art room most unique," said Garrick, who is in her fifth-year teaching overall. "We have super old grandma couches, a center table and a rocking chair. Most of the furniture you see was found at garage sales or donated to my classroom by people in the community."
Garrick started putting together her classroom almost before turning the page on the 2017-18 school year. She had too many ideas to wait much longer, and even hand-painted a few pieces of her old furniture herself.
"I was here the day after school got out," Garrick said. "I had all these ideas of ways I could improve my classroom and I wanted to just go ahead and start. A lot of what I did was actually under way before my summer started."
Garrick says she's lucky to have as large of a space as she does, but noticed throughout the course of last year a disconnection between her, the class material and curriculum and her students.
"I started looking around trying to figure out 'Okay, what is the issue here?'" she said. "It felt a lot like an environment issue rather than a student issue."
She didn't feel comfortable in her own classroom, so found it difficult to expect it from her students. Flexible seating was one option, but to paint or complete a clay project, a student is better served sitting at a stationary desk.
"When you are sitting at a table, however, instructing and critiquing and driving those discussions, those conversations can sometimes feel a bit sterile or cold," Garrick said.
And so "The Den" came to life. As a result, so did Garrick's classroom.
"It is almost weird how much of an impact it has had," she said. "I figured it would make a difference, otherwise I wouldn't have done it, but it has totally changed the atmosphere and the environment of our area."
In the back half of the class is a spacious studio, where projects concocted in the den come to life. There's also an art meme board, an art history challenge area and a small library and reading space.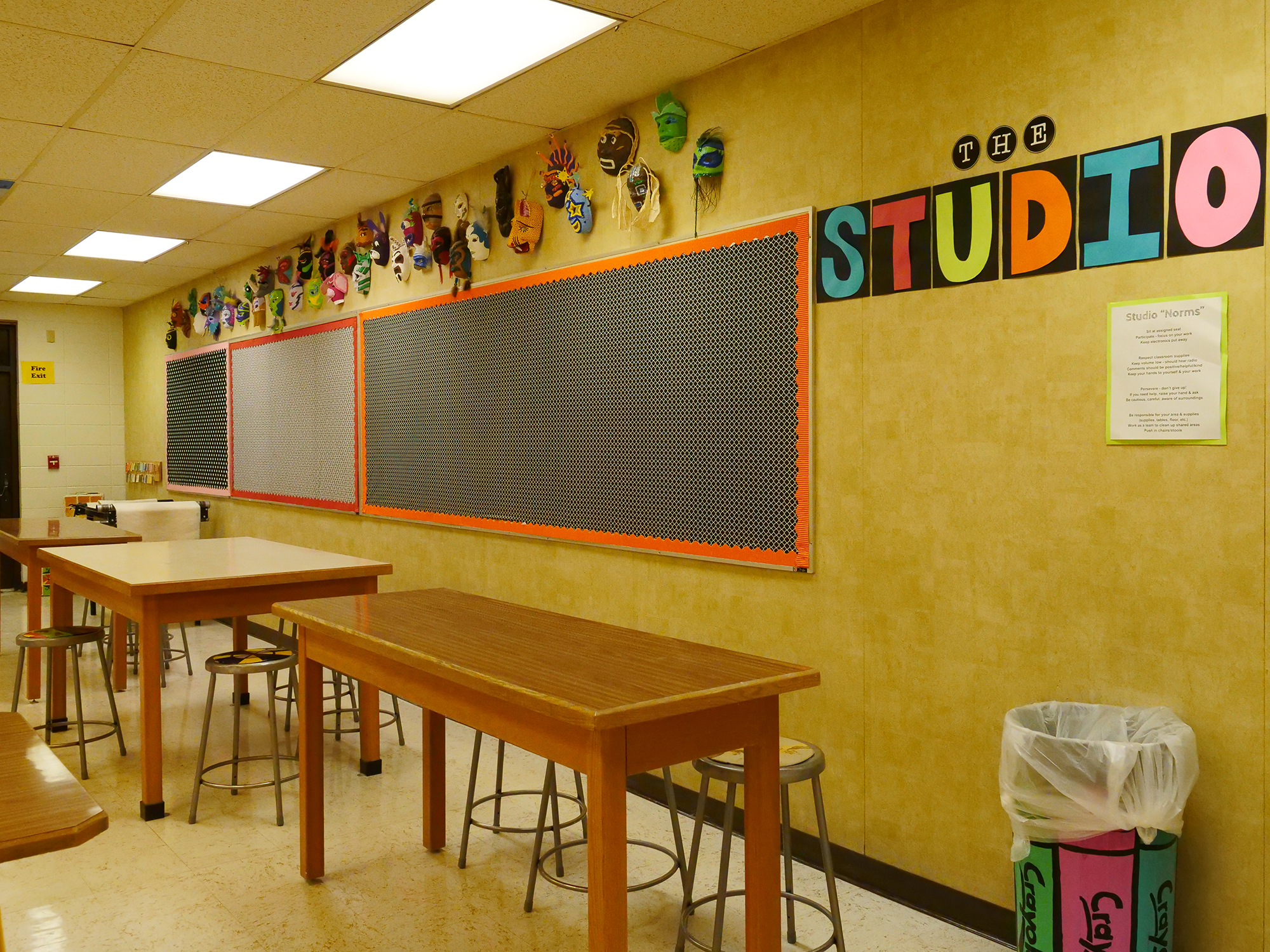 Garrick is currently creating a station for students to stage and photograph their artwork before uploading it to Artsonia, a digital portfolio site. Her classroom has a color scheme, too, and is always very organized.
"I don't want it to feel chaotic," said Garrick. "I want them to come in, know where things are, and take ownership of the classroom. Ultimately, this is their space just as much as it is mine."
For Garrick, the most important part of her job is creating an environment her students feel safe in. Creating artwork takes a certain input of vulnerability, she said, so any extra step to make a kid feel comfortable is one she is happy to take.
"I want it to feel like home to my students," Garrick said. "I want it to be a place where they can come and take risks and ask for help when they need it."
Becoming a teacher was a gradual process for Garrick. She found the path to education after two years of pre-med in college.
"I realized that I was missing something creative in my life," Garrick said. "I needed something where I felt like I was pouring into other people and making a difference."
Teaching filled that void.
"Everything I teach, I try to tie it back to a life skill," she said. "There is sometimes this mentality that elective or "explore" classes don't matter or are just for fun, but when you are in an art class and solving problems on a regular basis, that is a life skill you are going to use forever."
She wants to help her eighth-graders find passion and discover interests, whether they happen to be in art or not. Ten years down the road, hopefully they'll look back their time with Mrs. Garrick, remember the grandma couches, and smile.
"Most of all, I hope they walk away feeling like someone believes in them."